35 Best Burgers Brought to You by All Day I Dream About Food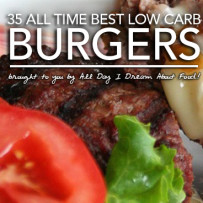 Planning an easy, yet tempting 4th of July Bash is super easy this year. Think you have to settle for boring hot dogs and burgers or go off plan? Stop the presses! If you haven't planned what to eat on the 4th of July, drop everything and run. I said, "RUN!" Yes, run to my friend Carolyn Ketchum's mouth-watering, award-winning, low carb keto and diabetic friendly food blog, All Day I Dream About Food. Carolyn collected 35 of THE Best and Most Delicious Low Carb Burger Recipes from around the blogosphere, after tirelessly searching high and low for creative and tempting taste treats.
If you love burgers as much as Fluffy Chix Cook does, you'll hold eternal gratitude to Carolyn Ketchum for collecting and presenting this amazing burger recipe collection that defies the ordinary and goes for taste-sensation-status! Burgers like Burrata (A type of fresh cheese similar to mozzarella that melts into creamy-oh-so-creamy nonsense. Burrata means "buttered" in Italian.) stuffed burgers with smoked bacon, or brie and caramelized onion stuffed burgers.
Burgers like Roasted Garlic Butter Burgers and Jalapeno Chicken Burgers. Uuuuuuu-MAMI!!! Say it, "Umami!"
Hold me now.
Is this heaven?
But don't stop there! There are 33 more mind-blowing burger recipes.
And guess what? Carolyn posted about Fluffy Chix low carb rolls!! What??? Crazy cool, right?
In case you've lived in a cave the past 4+ years and don't know Carolyn Ketchum, creative genius behind All Day I Dream About Food, writer, photographer, baking whiz kid, food blogger, mommy, athlete and staunch ambassador to the low carb keto and diabetic community, then you've really missed out. Her photos temp, but her recipes deliver fantastic flavor that satisfy without spiking your blood sugar and insulin. So you really can enjoy that favorite Carolyn meal that may only last moments on the hips without them lasting forever on your hips!
Great job, Carolyn on an amazing round-up and writ-up! We LURVE your work and your blog makes us all happy here in Fluffy Chixville!
Be sure to catch Carolyn online:
All Day I Dream About Food blog
Read more Fluffy Chix Cook at the Archives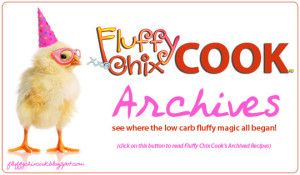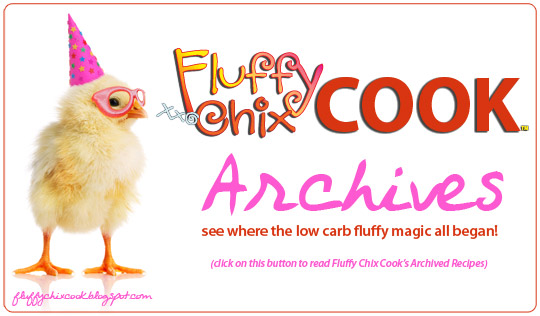 Copyright © 2014 Fluffy Chix Cook. All rights reserved.
We are not dieticians, nutritionists or medical professionals. The materials on this blog are for informational (and fun) purposes only. We do not fact check, nor do we worry about sources. Please do your own fact checking. We encourage you to look things up and check with your doctor or health care professional before acting on anything seen on Fluffy Chix Cook. xoxo