All Day I Dream About Food's Mushroom Brie Burger – A Burger Tale of Brie Proportions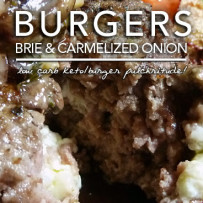 Burgers are a low carb keto chix best friend. All of the flavor and robust satisfaction with none of the worry about blood sugar roller coasters, a moment on the lips-forever on the hips, guilt, shame, or insulin spikes…as long as that burger is served sans buns or with a low carb bun sturdy enough to thwart that big bad burger and show it who's boss. Join Fluffy Chix Cook as they explain why Carolyn Ketchum of All Day I Dream About Food made the perfect low carb burger, suitable to enjoy over and over again.
This is a fluffy burger tale of brie proportions—true story.
I have a deep dark confession. In the dark recesses of my heart, I'm a one-trick-pony. I glom onto a favorite dish and holy cow, it'll take dynamite to pry my cold dead hands away from the flavor profile of that dish. I'm like that with high carbage cheese enchiladas from El Fenix restaurant in Dallas. I'm like that with the mushroom swiss burger from Jax Burgers here in Houston. I'm like that with carnitas from Mama Ninfa's on Navigation. And last but certainly FAR from least, Carolyn Ketchum's Brie and Caramelized Onion Stuffed Burger from All Day I Dream About Food.
Most of you know me for the tweaker I am, finding it nearly impossible to make a recipe as written. But I took the jump and forcibly sat on my hands the first time I made Carolyn's Brie Burger and boy howdy, was I glad? The sheer perfection of tasting the flavors of the individual ingredients produced an explosion of flavor that worked in such concert together, I swear I heard heavenly harps and a choir of angels singing, I weep a little at the memory. Hyperbole? Nonsense! I cannot make this stuff up!
After that first experience with Carolyn's Brie and Caramelized Onion Stuffed Burger, it was a no-brainer. I locked onto the recipe with all the tenacity a one-trick-pony can muster. Now, every time I'm faced with making burgers for dinner, I ponder substituteskys, but never manage to make it past CK's brie burger. Seriously. I try.
Recently, I even opened the burger content up for discussion on Facebook in our facebook group, My Low Carb Keto Cooking. MLCKC is a closed Facebook group devoted to sharing low carb keto recipes, meal plans, and tip & tricks for living a low carb keto lifestyle, and is co-administrated with a whole slew of heavy hitters including: Carolyn Ketchum of All Day I Dream About Food; Brian Hall of BHSystems; LeeAnn Mullen Teagno of Cut the Wheat, Ditch the Sugar; Sam Paul of Smokin' Low Carb (FB group); Dinah Cox Moore  of I Love Low Carb (FB group); Karen Johansen (Pinterest board); and Allison James Gismondi  (Pinterest board). But I still came back to Carolyn's brie and onion burger! Why? Cuz I love it! It's delish—the Tower of Pisa!
Ever heard of a Jucy Lucy? A Jucy Lucy is a burger stuffed with cheese and cooked in some manner until the inside of the burger is molten lava, invented by a South Minneapolis neighborhood joint called Matt's Bar. But, let me repeat that…molten lava. Molten. And it's pure heaven! Carolyn's burger is a brie Jucy Lucy. For those of you who've experienced the lusciousness of warmed or baked brie, am I right? Tell me I'm right! Anyway, Carolyn's brie burger is melted brie goodness coupled with the sweet, slight toothesomeness of caramelized onions, and the rich earthiness of mushrooms. It's a Mona Lisa of the hamburger persuasion. Simple. Classic. Epic.
So I took the vote, then chose the brie burger and was primed and loaded for bear! *sob* *hic*
This time however, I fell down on the job as the boss of cheese and ketchup. Woe is me, it's time to make the burgers and bam! What happens? Out of onions.
Waa Waa Wahhhhhhhh……gbye—thanks for playin!
How can this be? We are NEVER out of onions. Civilizations have been lost for less. Catastrophe ensues, sock monkeys cry and screech, and the word "break-up" gets uttered by someone—maybe it was Zippy.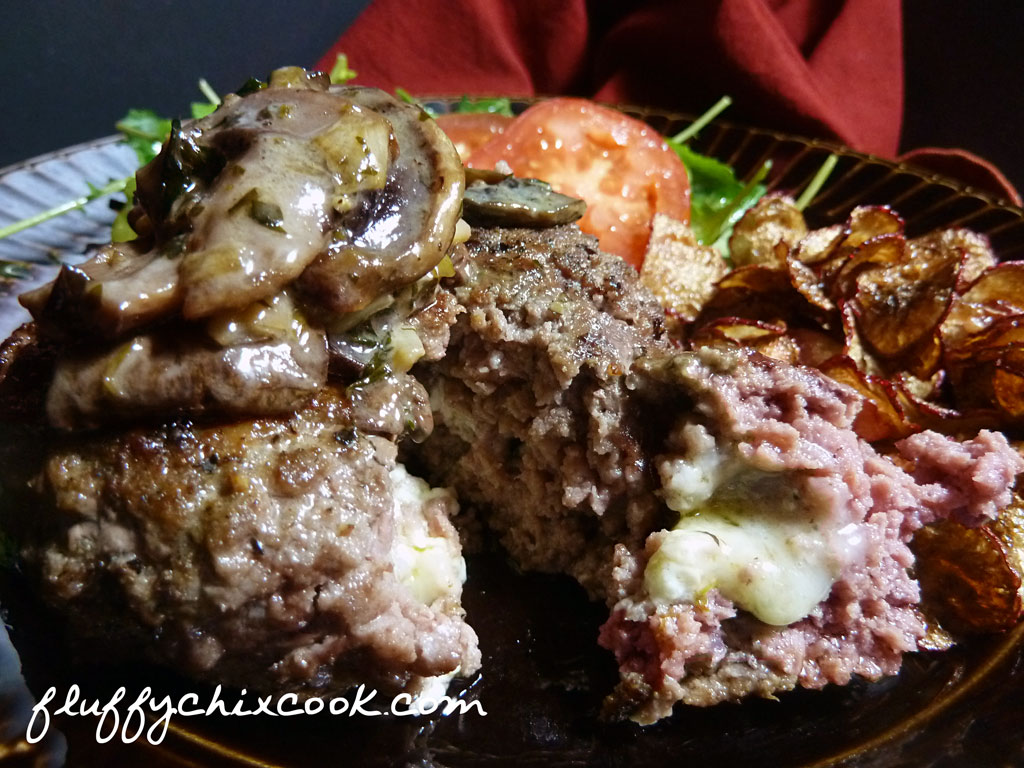 So what does any cook worth their salt do? Sure I coulda sent Denny to the store, but trust me, that would not have ended well for me, my friends. Instead, we improvised. Now the improvisation was very good, don't get me wrong. But it wasn't Carolyn Ketchum's Brie and Caramelized Onion Stuffed Burger. And the photo attests to this; they can't compare to hers. But it was a good burger experience—just not mind-blowingly fantastic—and the sautéed mushrooms are always good, especially on hearty, fatty grilled steaks. But my mushrooms overwhelmed the St. André cheese in the burger and completely dominated the grass fed beef. No balance. Brains, but no beauty, or common sense.
By the way, St. André cheese is produced on the Normandy coast in France and is a triple cream, pasteurized, aged cheese with a soft white rind, similar to brie. It's more buttery and creamy than a typical brie and the texture is definitely more buttery—no wonder! St. André is 70% fat—a low carb keto dream! And we love it with so many things. But it is better as a stand-alone cheese, because of its delicacy, than it is a team player—it's almost too mild to use with other heavy flavors like mushrooms, sherry or beef. I like the strength and personality that pure brie brings to CK's burger.
So in conclusion. What's your takeaway from this fluffy burger tale? Carolyn's Brie and Caramelized Onion Stuffed Burger rocks the casbah—every time, hands down, a make-again-and-again-favorite. My eleventh hour substitution could not hold a candle and when faced with the choice I had to make earlier, take my advice: just pay the piper and make the store run? mkay? You won't be disappointed! Oh and sometimes, one-trick-ponies win the race!
Now quickly children! Run over to Carolyn Ketchum's blog, read her recipe, ogle the droolicious photos at All Day I Dream About Food, and then leave her a bit of lovin' in the comments section of her brie burger post. Declare her Chancellor of Burger Town. Then make the Brie and Caramelized Onion Burger thrice weekly forthwith, and all will be right with your world! Swearsies.
The End.
Fluffy.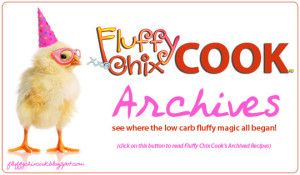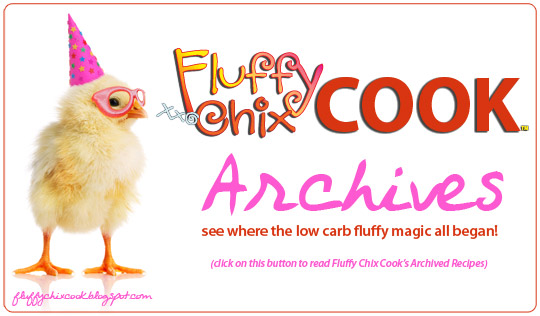 We are not dieticians, nutritionists or medical professionals. The materials on this blog are for informational (and fun) purposes only. We do not fact check, nor do we worry about sources. Please do your own fact checking. We encourage you to look things up and check with your doctor or health care professional before acting on anything seen on Fluffy Chix Cook. xoxo