An Egg Fast Recipe | Psylli Pumpkin Spice Pancakes with Salted Caramel Syrup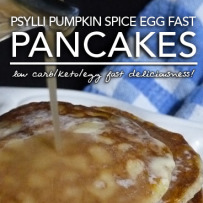 Egg Fasts, while a successful stall-breaking method for many, can often cause diet boredom, especially with anything having to do with eggs. Break out of your low carb keto Egg Fast rut with Fluffy Chix Cook. Enjoy festive, fall inspired, Psylli Pumpkin Spice Egg Fast Pancakes with a side of eggs fried in bacon drippings and drive boredom right out of your vocabulary! Eggs, they're not just for breakfast anymore and make terrific BRINNER Egg Fast meals in 30 minutes or less! Would you believe eggs are the main ingredient in their low carb keto stack of Psylli Pumpkin Spice Egg Fast Pancakes?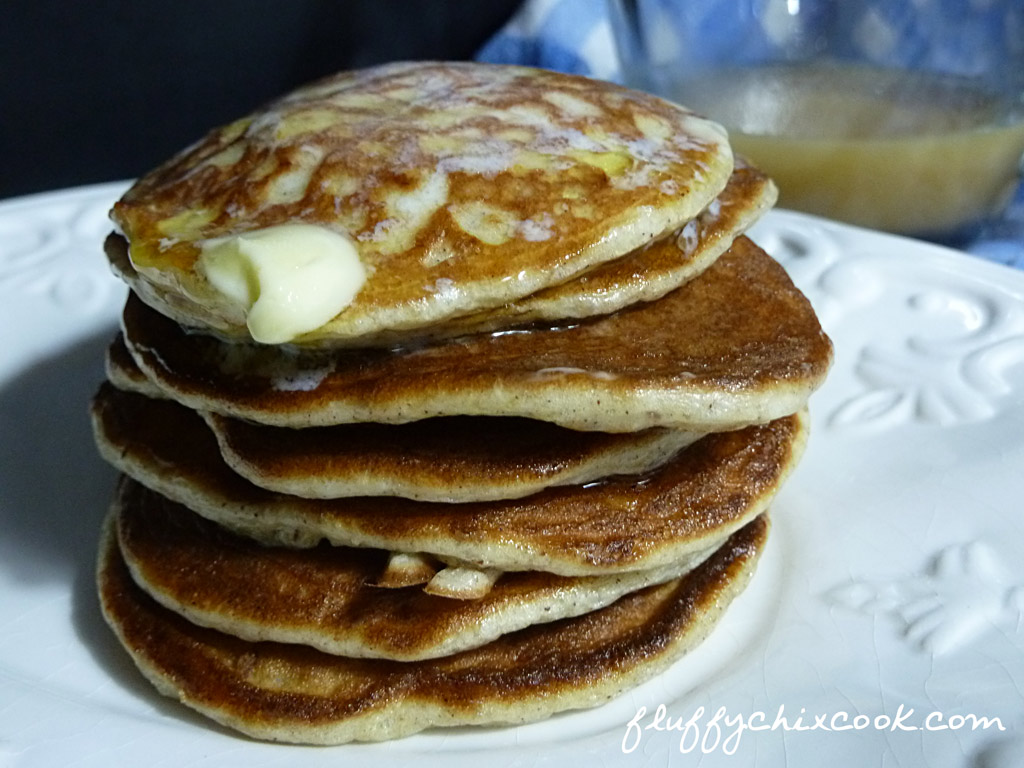 We don't know about you, but sometimes we fall into a one-trick-pony rut. In the Fluffy house, we develop favorite low carb keto recipes. Over time, these favorites become bullies! They hang around for weeks—months even! Before we know it, we find ourselves cleaving only unto them with unoriginal, pedantic, and repetitive low carb keto meal behaviors. Schlep to the kitchen, make the same thing, shovel it in, clean up, bed. Rinse and repeat; the same low carb keto meals, night-after-night, day-after-day. Gah!!!!
Ring. Ring!
"Hello Calgon? Take me away!"
Our one-trick-pony behavior is especially prevalent in the Fluffy's Egg Fasting routine. We have our TNT favorites. And as you know, Egg Fasting isn't complicated. How difficult is it to crack an egg and cook it? Right? I'm right! Unfortunately for you, we adore things like soft boiled eggs with gobs of grass fed butter. Delicious, nutritious, comforty, but hardly scintillating blogging material! (Although the truffle salt brings a certain sexiness to the scene…)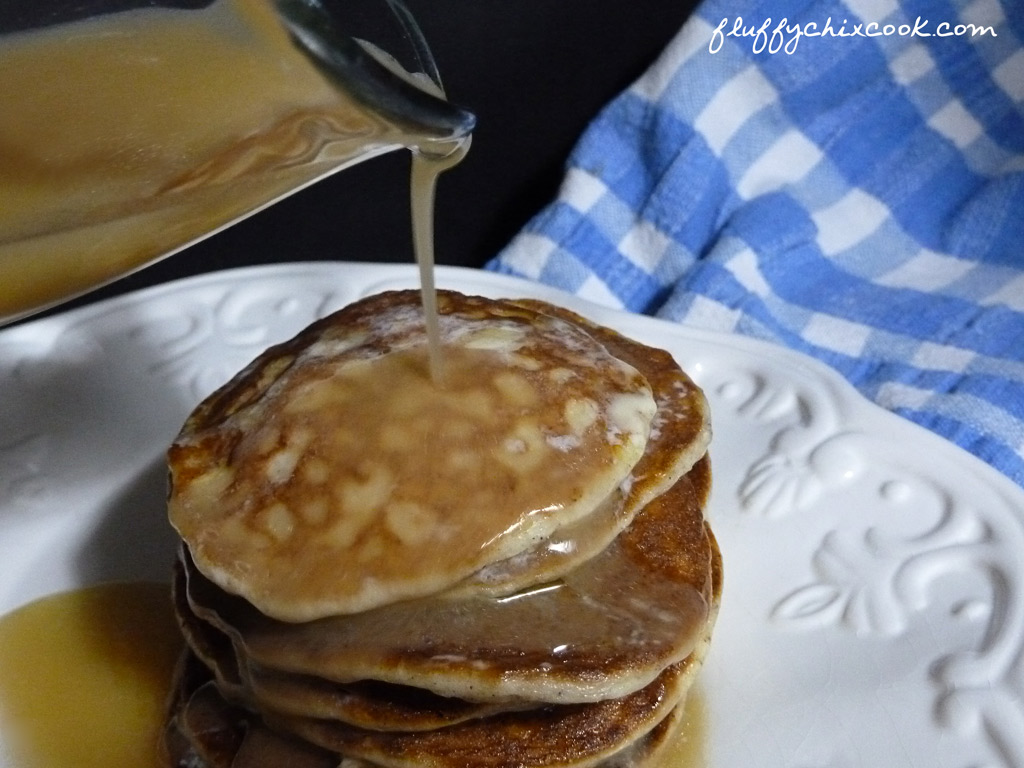 Egg Fasting (scroll down to #10), for those of you who are unfamiliar, is a type of modified fat fast, created by gosh only who knows! There are many derivations of the Egg Fast dating back to before we began low carbing, 14+ years ago. In those days it was often called the "meat and egg fast," then people started trying "meat only," and "egg only" fasts, and over the years these fasts have been enormously successful for many (including the Fluffys). Many famous peeps have developed their versions: Dana Carpender of Hold the Toast, Jimmy Moore of Livin' la Vida Low Carb, and Mellissa Sevigny of I Breathe, I'm Hungry, to name a few. Fluffy Chix even came up with their own set of Egg Fast Rules distilled from the rules written by fellow food blogger Mellissa Sevigny, combined with Jimmy Moore's rules. (We added a couple of things to fit our unique needs such as psyllium husks, our old friend.)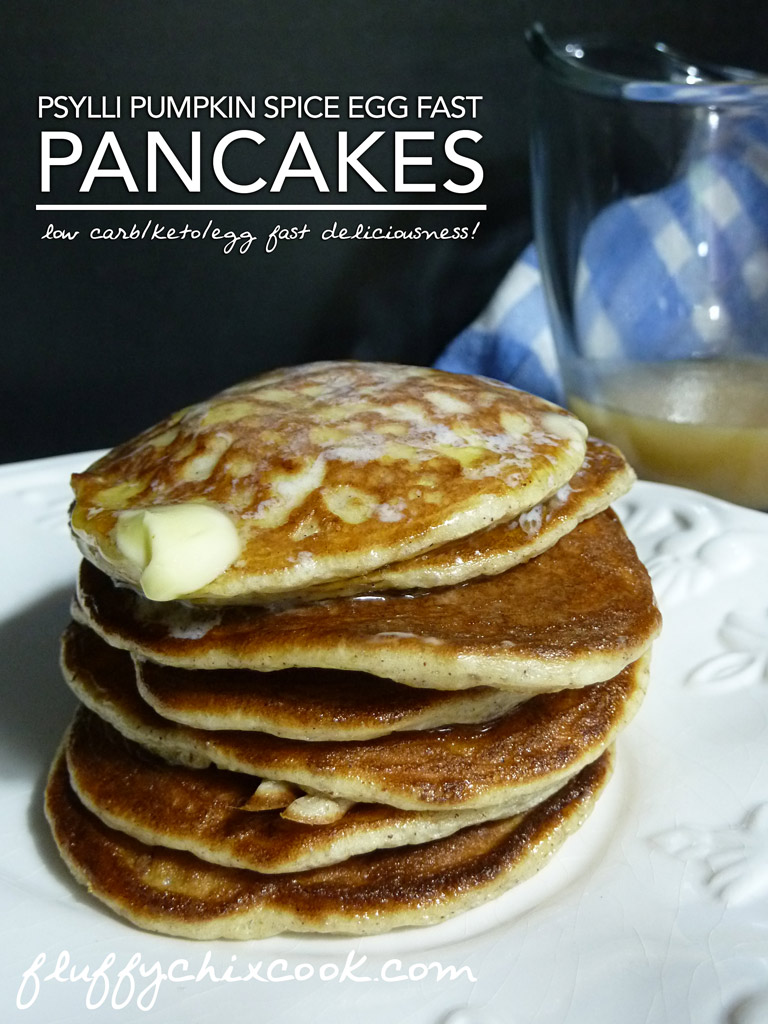 Anyway, we digress! We've found in the evenings that a big plate of softly scrambled eggs cooking in grass fed butter or bacon drippings, topped with shredded cheese, finished with a spoon of salsa just hits the spot! It's warm, filling, comforting, insanely simple, quick and doesn't leave us looking around at each other wondering, "Where's the beef?" But come on! Every night? Every dang, single, Egg Fast night? How long can Shangri La last? The honeymoon's end must loom, and a break-up must be eminent, right?
To spice things up and break the scrambled eggs-cheese-salsa dominance prevailed by said scrambled egg, Egg Fast bully, we took our love to town. We decided to try a little dalliance with a wonton plate of Psylli Pumpkin Spice Egg Fast Pancakes (Shew! What a mouth full!) and a side of fried eggs (in bacon drippings, of course…). We warn you now, the egg piccys are nothing to write home about. Eggs smothered in bacon drippings aren't too purty, not even with lipstick on that pig—but boy are they TALL on flavor! And the Psylli Punkin Spice Egg Fast Pancakes aren't too shabby either. The pumpkin spice plays right into fall weather (non-existent in Texas), and the salted caramel syrup tastes like Mrs. Butterworth had it on with the caramel and chocolate syrups! We don't want you to think we just dreamed up these yummy pancakes out of thin air! Way back when, before we had all these products, Atkins '72 days, LCF recipe board, we had protein pancakes. Some made them with cottage cheese, others clued into making them with cream cheese, then protein powder came out and re-wrote the entire ballgame. Recently, Mellissa of I Breathe, I'm Hungry came out with Snickerdoodle Crepes, and repopularized the notion of making crepes and pancakes out of eggs and cream cheese-Bravo Mellissa!! Can you believe that? I hear from soooo many fellow Egg Fasters they are THE BOMB! So be sure to check them out, too! They will surely help cure your Egg Fast Blues! So again, don't let egg fatigue in the door! Switch up your Egg Fast!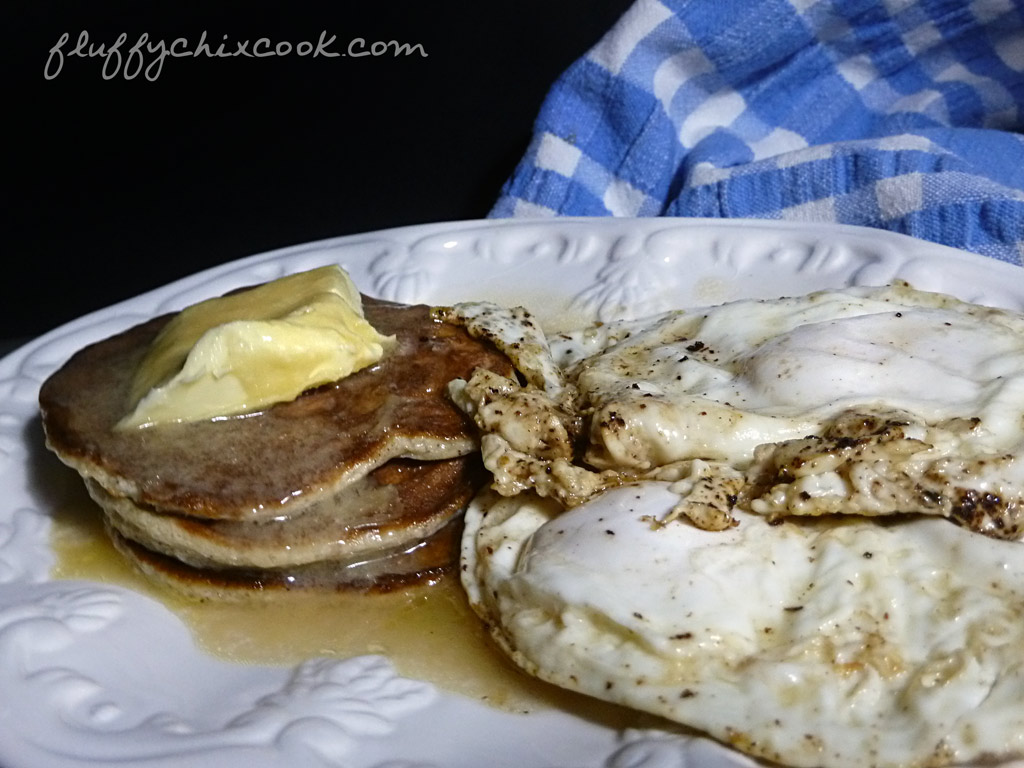 Hope you like this hearty stack of low carb keto-liciously delicious Egg Fast inspired pancakes. Please write a little love note in the comments below letting us know how they worked for you or if you'd like to see any changes! BTW, we think Ron Swanson would approve this Egg Fast recipe.
For more Egg Fast Recipes and Meal Plans click on the links!
These pancakes make a credible substitute for the read deal full-throttle Mile High Silver Dollar Pancakes. They taste fabulous and are a great addition to any Egg Fast plan. The Salted Caramel Syrup is so good you could eat it with a spoon.
Ingredients
Topping

2 tablespoons butter
Instructions
Soften cream cheese in microwave for 10 seconds. Add all other pancake ingredients and whisk or stir with a spatula until everything is combined. Smush out any lumps with a spatula.
Heat nonstick pan and brush with olive oil. Drop pancake batter in full tablespoons (about 1 1/2 level tablespoons). Cook on medium high heat until set and golden, then flip and cook on the second side—about 45 seconds per side.
Top with butter and Salted Caramel Syrup.
Notes
We'll steer you straight, the texture of these pancakes could be a bit more bready, but the taste is dyn-o-mite. We prefer our Mile High Silver Dollar Pancakes, but they aren't EF friendly. As an Egg Fast meal, however, they rock! Many will find these pancakes perfectly delish and not even notice the texture difference from our Mile High Keto Silver Dollar Pancakes (seriously awesome texture). You can thin the Psylli Egg Fast Pumpkin Spice Pancake batter out with water or egg whites and make crepes with them, but the Fluffys prefer the Lo Lo Wraps as crepes. It would be tough to eat an entire recipe (and too many carbs for Egg Fasting), but serve a short stack (4-5) with a couple of fried eggs with runny yolks and you have a substantial and very satisfying Egg Fast meal for those mornings when you just want something different, or for a BRINNER meal (breakfast for dinner).
Serving Ideas Serve with butter, salted caramel syrup and eggs fried in bacon grease for a delicious Egg Fast meal.
Nutritional Information
Per Pancake (9 Yield): 73 Calories; 7g Fat (87.4% calories from fat); 2g Protein; 0.56g Carbohydrate; 0.22g Dietary Fiber; 0.34g Effective Carbs
Per 2 Servings: 330 Calories; 33g Fat (87.4% calories from fat); 8g Protein; 2g Carbohydrate; 1g Dietary Fiber; 1g Effective Carbs
Copyright © 2014 Fluffy Chix Cook. All rights reserved.
http://fluffychixcook.com/an-egg-fast-recipe-psylli-pumpkin-spice-pancakes-with-salted-caramel-syrup/
Copyright © 2016 Fluffy Chix Cook. All rights reserved.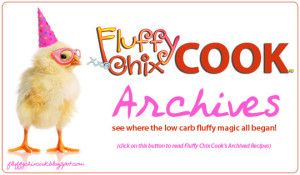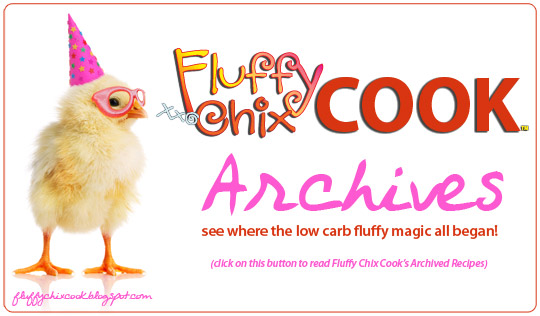 Copyright © 2014 Fluffy Chix Cook. All rights reserved.
We are not dieticians, nutritionists or medical professionals. The materials on this blog are for informational (and fun) purposes only. We do not fact check, nor do we worry about sources. Please do your own fact checking. We encourage you to look things up and check with your doctor or health care professional before acting on anything seen on Fluffy Chix Cook. xoxo