Bacon Egg & Cheese BOB (Breakfast on a Bun) | Low Carb & Gluten Free | Induction Friendly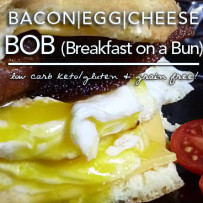 Do you dream of convenient low carb breakfast food you can actually eat on-the-go or take with you on the road, or to the office? Fluffy Chix Cook has an answer to this dilemma and you may be surprised to find that BOBs or Breakfast on a Bun can be morphed into a healthy low carb portable breakfast food. Yes, low carb, gluten & grain free and diabetic friendly breakfast sandwiches do exist!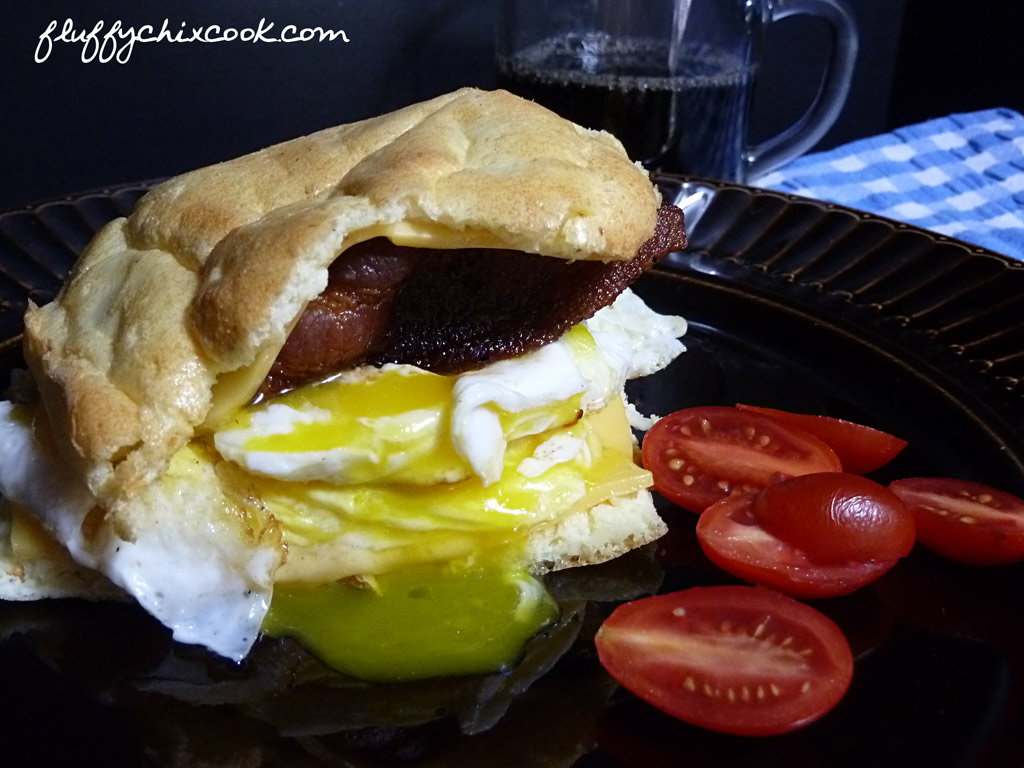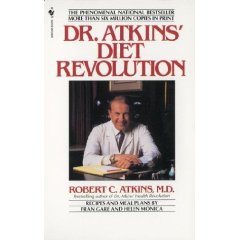 This is another one of those "non-recipes" where I threaten to teach how to boil water, next. The real recipe comes in the form of the Basic Revolution-ary Roll recipe inspired by the original from Dr. and Mrs. Robert Atkins in the DR. ATKINS DIET REVOLUTION ('72) recipe section. I monkeyed around and took a good recipe that used cottage cheese in it (induction friendly at that time, but suddenly OWL in today's NEW ATKINS FOR A NEW YOU aka NANY version), and added some things to give them more body: pork rinds for structure and gluten-like texture, protein powder (optional and not Page 4 legal), which give them more sturdiness and a more bread-like texture, and mozzarella cheese, also for structure. I added spices and a little mustard to disguise some of the egginess.
What you add to this low carb keto delight in the form of an extremely portable and convenient BOB or breakfast on a bun, is up to you. We could be here for days Bubba Gumping the hayull (Texan for h-e-double-hockey-sticks) out of it. But there's nothing too big or too small for a low carb keto BOB! Just do it! You won't regret it. And how could you regret portable breakfast convenience that only costs you 2g of carbs from your daily 20g carb budget? I know I can't.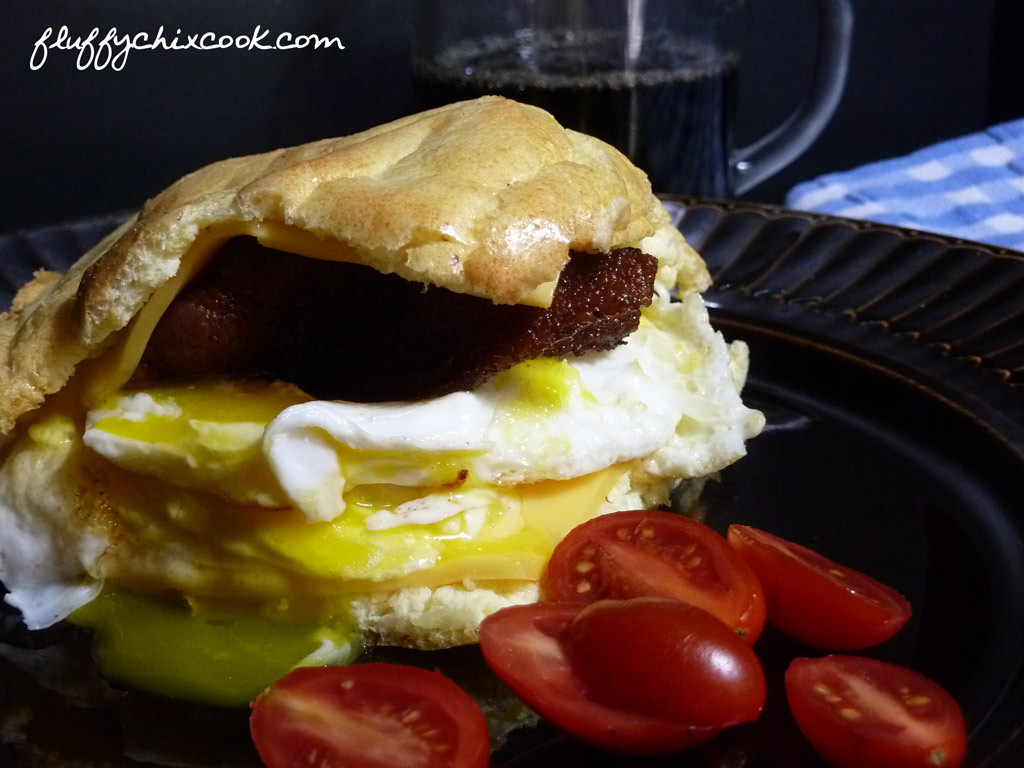 I've put this BOB recipe in the form of a true recipe, just so you can see the nutrition totals and get an idea for quantity. Although, it's not a strict quantity! The picture shown here is a loose interpretation. I used 2 eggs in it; one hard and one over medium to have a runny yolk. You'll also see two pieces of cheese and 2 pieces of bacon. Maybe it should have been called a 2x2x2 BOB? See? Anything's possible!
Bacon Egg & Cheese BOB (Breakfast on a Bun) | Low Carb & Gluten Free | Induction Friendly
What's easier than portable meals? Everyone loves the BOB, just ask Jack. He knows! Make Revolutionary Rolls and store them in the fridge or freezer for meals in minutes.
Ingredients
1 serving Basic Revolution Rolls
1/2 tablespoon unsalted butter
1 large egg
1 teaspoon bacon grease
2 bacon slices, fried crispy and drained
1 ounce cheddar cheese-or one slice Deli Deluxe American Cheese
Instructions
Heat a nonstick skillet with 1/2 tablespoon butter over medium high heat. While pan heats, split a Revolutionary Roll into top and bottom halves. Place bun face down (cut side down) in hot pan. Toast until golden. Remove roll from pan. Add thinly sliced cheddar to the bottom half.
Add bacon grease to the same skillet. When melted, add a large egg. Break the center and distribute egg yolk throughout the egg white or make an easy over egg with a runny yolk. Fry until done throughout, turning once—about 2-3 minutes. Remove and place on top of cheese side of the bun. Add bacon and place the top on the sandwich. Enjoy!
Notes
We grew up eating hard fried egg sandwiches for breakfast. I can still remember how their fragrance spread throughout our tiny Ranch-style house. Thanks to Dr. Atkins and his inspiration for these No Sugar No Starch versions of our Revolutionary Rolls - a sandwich is possible once more and for only 2g of carbs. Where's the diet, again?
By the way, for those of you saying, I don't have time to make one of these every morning! Be still! Make them ahead on Sunday morning. Cool them completely and wrap individually in plastic wrap. Then place them into a big zip top bag. B/T (Bag & Tag: Item, Date, Quantity if Applicable) and into DS9 (Deep Space 9 aka the deep freeze. When morning rolls around, or the night before, remove a BOB and place in the fridge to thaw overnight, or take it to work and nuke it to enjoy with plenty of hot coffee!
Serving Ideas Serve with a mug of hot coffee and cream.
Nutritional Information
Per Sandwich with Cheddar: 487 Calories; 41g Fat (76.8% calories from fat); 26g Protein; 2g Carbohydrate; trace Dietary Fiber; 437mg Cholesterol; 2g Effective Carbs
Per Sandwich with American: 453 Calories; 39g Fat (77.5% calories from fat); 23g Protein; 2g Carbohydrate; trace Dietary Fiber; 2g Effective Carbs
Copyright © 2010 Fluffy Chix Cook. All rights reserved.
http://fluffychixcook.com/bacon-egg-cheese-bob-breakfast-on-a-bun-low-carb-gluten-free-induction-friendly/
Copyright © 2016 Fluffy Chix Cook. All rights reserved.
Copyright © 2010 Fluffy Chix Cook. All rights reserved.
We are not dieticians, nutritionists or medical professionals. The materials on this blog are for informational (and fun) purposes only. We do not fact check, nor do we worry about sources. Please do your own fact checking. We encourage you to look things up and check with your doctor or health care professional before acting on anything seen on Fluffy Chix Cook. xoxo