Barbecue Chicken Quarters – Low Carb |Sugar Free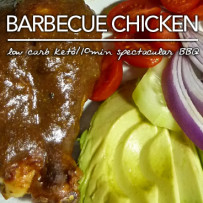 You love barbecue. But you didn't fall off the turnip truck yesterday. You watch Food Network, the Cooking Channel, Bravo and BBQ Pitmasters. You KNOW commercially prepared barbecue has a boatload of sugar and sugary type ingredients—in the rubs and the sauces! So buying prepared barbecue is out. Where do you find delicious, healthy low carb, sugar free barbecue recipes? Recipes that don't take eleventy billion years to prepare? Well, there comes a time when we all must face the cold, harsh, reality of life. Not everyone owns a smoker or grill. *sob*. We should change that, one grill/smoker at a time—maybe a barbecue non-profit? And not everyone is willing to trade a few hours or an entire day for the genuine, real deal. What's a low carber to do?

Sooooo, what do you do when you want that gooey barbecue chicken flavor and messiness, but you can't afford the sticker shock from the barbecue joint and you KNOW they use tons of hidden sugars? Where do you get a genuinely decent low carb barbecue chicken recipe that takes all of about 11 minutes from fridge to plate? Well, Fluffy Chix Cook Barbecued Chicken Quarters is your ticket to Atkins Induction and Page 4 friendly BBQ-titude. Sure, we'll tell you right now. It's a fake. It's a low carb convenience recipe and uses products and shhh, there is sucralose involved. We burn with shame. So it might not be right for you. We understand. But just hear us out.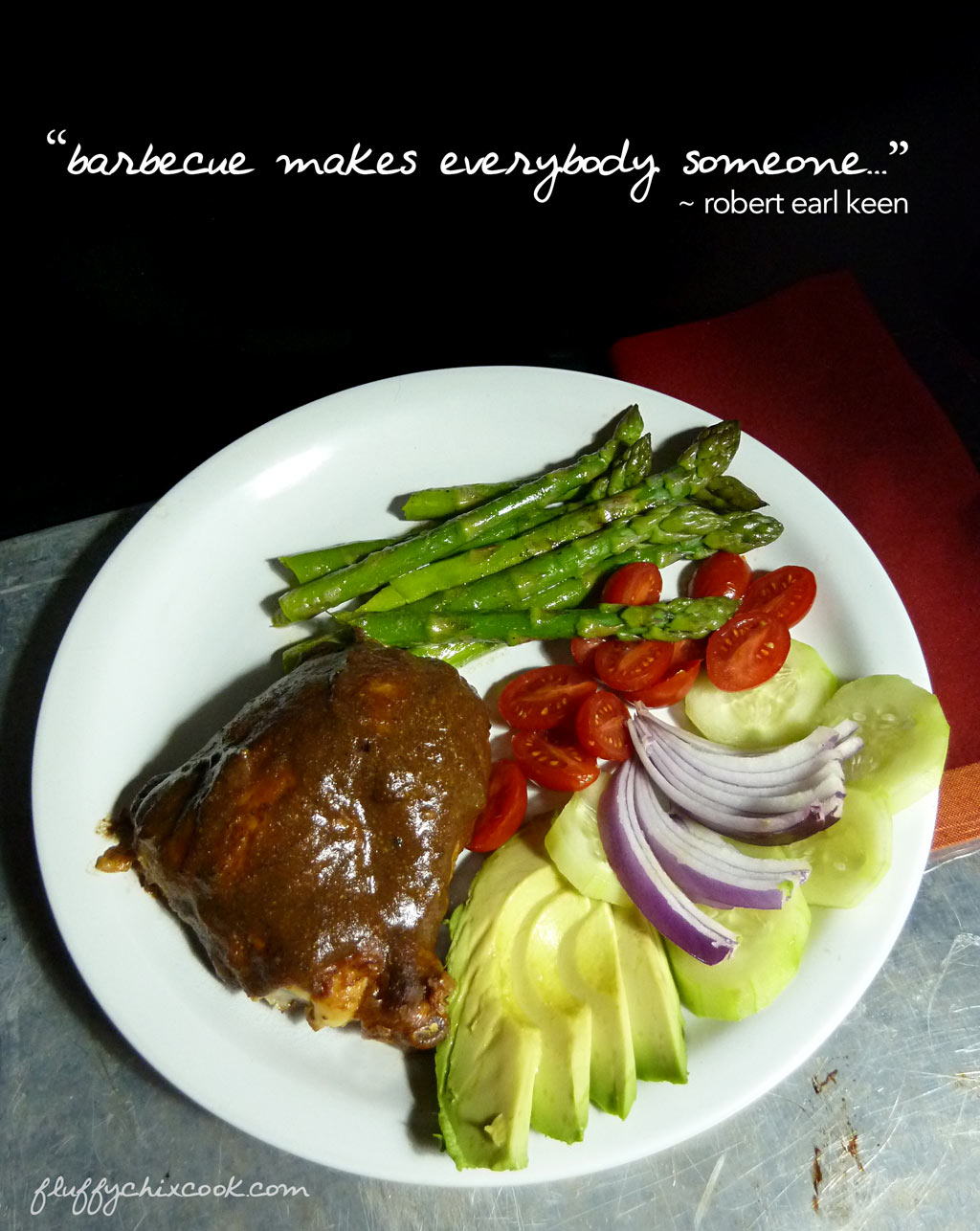 In the early days of low carbing, when you're riding that big-old, cold turkey and wondering if you can do this thing…this breaking-up with all that lovely food that made you sick, tired and maybe—er—fluffy? You're feeling a little trepidation, some fear and a LOT overwhelmed. What do you eat? How do you afford it? How do you have the time or energy to cook from scratch? What are safe low carb keto foods? And dammit Janet! Where do you get your sugar free barbecue fix?
That's when Fluffy Chix Cook relies on the low carb easy button. We want meals on the table in 15-20 minutes or less, ideally. We want simple. We want big, bold, beautiful flavors. We want to be able to count on using a few convenience items—time will come later in the low carb keto continuum, when you wean off from convenience and become more selective. But one baby step at a time grasshopper. For now, today, we want easy. And we want yummy! Prepacked low carb rotisserie chicken is a nutritional bargain. Each chicken yields about 20 ounces of cooked meat (about 4 cups) and costs about $5.99. That's about $4.79/pound, much cheaper than deli meat and few preservatives (maybe). Costco even sells leftover rotisserie chicken meat in a big 5 pound sack, picked and ready for you, for much less per pound. So pre-made chicken can be a low carb convenient trick that actually saves money in the bargain.
This healthy low carb Barbeque Chicken Quarter recipe removes the questions and fear from those early days on the cold turkey, or on the wall. Sugar free, diabetic friendly, filled with flavor—and you don't even have to slave over a hot grill. We think you'll like it.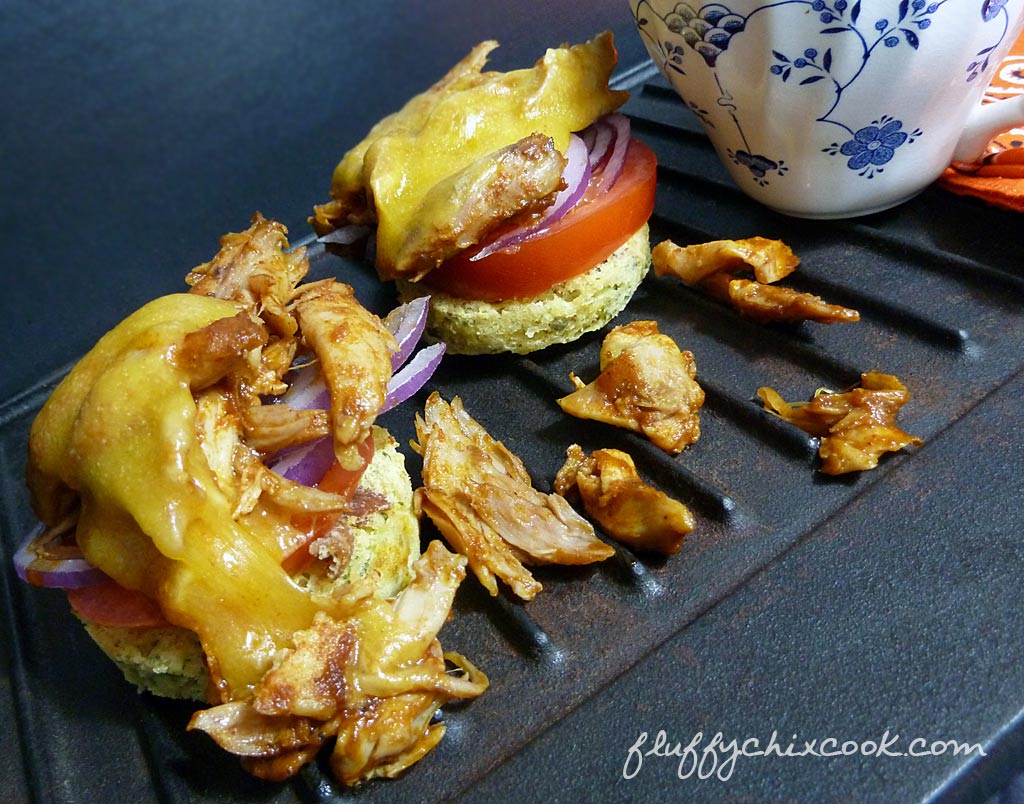 Although, the pictures show a full quarter (leg and thigh) in the low carb bbq recipe, the absolute easiest option is pulling the chicken into chunks or strips while it's fresh from the store and still warm. Either eat the skin as a snack while you work, or B/T skin and bones for use in bone broth—we'll get to the bone broth recipe soon. Swearsies. Now you have that moist, luscious chicken ready to roll! Then the day you go to eat, just throw the sauce ingredients in a nonstick skillet, cook a minute or two and toss in a bunch of chicken. Heat another minute or two and boom. Done, baby!! Go to Keto Town!
Please give it a go and let us know how it worked for you. Use your favorite sugar free, zero carb or near zero carb barbecue sauce. We like Walden Farm barbecue sauce because it is zero carbs and because it dresses up well with spicy additions. It's convenient. And if you don't like chicken, maybe you prefer low carb BBQ Sloppy Joes? We've got you covered there, too. Pulled Pork? Simple, just use either the sauce recipe below or use the BBQ Sloppy Joe Sauce to make our Slow Cooker Pulled Pork into instant BBQ Pulled Pork the same we described in the paragraph right before this one. And if you hanker for a sandwich, then throw this low carb BBQ on a keto-licious bun and enjoy. Get your Q on, hon!
Barbecue Chicken Quarters – Low Carb |Sugar Free
Low Carb Barbecue Chicken in a jiffy—perfect for your first night flying solo on the NSNS Diet with Dr. Westman or if you're on Atkins Induction. Enjoy it on the bone or pull the chicken into chunks for tasty and easy tacos, salads, soups and wraps. (Save the bones for bone broth!)
Ingredients
Variations

1 rotisserie chicken quarter (leg and thigh)
1 rotisserie chicken quarter (breast and wing)
Instructions
Mix the first 6 ingredients through fresh ground black pepper in a small bowl.
Broiler Method: Move oven rack to top shelf. Preheat broiler on high with the door cracked (about 3-4 minutes). Line baking sheet with nonstick aluminum foil. Place chicken "nice side down," with bones up if using the breast, thigh or wing.
Brush half of the sauce onto the top side of the chicken. Place pan under broiler and broil 3-5 minutes or until sauce and skin begins to go brown in spots. Watch it closely. Don't walk away and let it burn. Flip chicken and baste with remaining sauce. Return to broiler another 3-5 minutes or until brown in spots. Remove and serve immediately. Don't forget to turn the broiler off and leave the door cracked until cooled down!
Stove Top Method: You can also skin and de-bone the entire chicken. Reserve the bones in a bag, B/T and freeze them for bone broth next week. Pull the meat into chunks, portion, label, place half in the fridge and half in the freezer.
Place sauce in a small nonstick skillet over medium high heat. Add a portion of pulled chicken (about 5-6 ounces = about generous 1 cup) to the pan. Sauté 2-3 minutes, until chicken is heated throughout and sauce has thickened a little. Remove to a plate and enjoy!
Notes
This is dedicated to all those who lack a grill or smoker but still crave sugar free, low carb keto-licious barbecue. No it isn't authentic. There, I said it.
Look, it IS store-bought rotisserie chicken (be sure to look for super low carb chicken varieties—1 carb per serving or less.) Prepared rotisserie chicken is a bargain from a time and money standpoint. Each chicken yields between 3-4 cups of cooked meat, or about 20 ounces and makes convenient and quick weeknight meals. Dress it up with different low carb sauces or use it as an ingredient in salads, casseroles, tacos, wraps and sandwiches. Next week you'll learn how to make your own chickens in a slow cooker, to save even more money.
Serving Ideas Serve with your favorite veggie (s) or salad. Especially delicious with green beans, roasted broccoli, roasted Brussels sprouts, Smashed Fauxtatoes and asparagus, or coleslaw!
Nutritional Information
Per Leg and Thigh (about 5 1/2 ounces of meat and skin): 274 Calories; 16g Fat (52.8% calories from fat); 30g Protein; 1g Carbohydrate; trace Dietary Fiber; 105mg Cholesterol; 1g Effective Carb
Per Breast and Wing (almost 6 ounces of meat and skin): 285 Calories; 14g Fat (45.1% calories from fat); 37g Protein; 1g Carbohydrate; trace Dietary Fiber; 105mg Cholesterol; 1g Effective Carb
Copyright @ Fluffy Chix Cook. All rights reserved.
http://fluffychixcook.com/barbecue-chicken-quarters-low-carb-sugar-free/
Copyright © 2016 Fluffy Chix Cook. All rights reserved.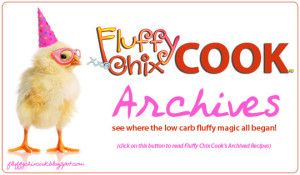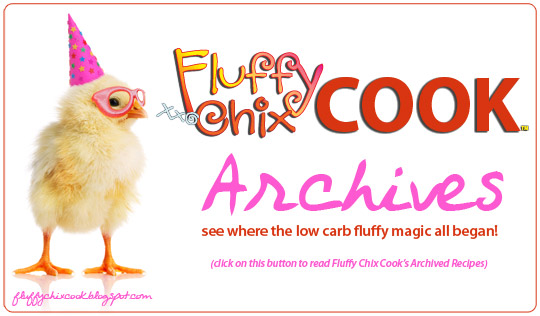 Copyright @ Fluffy Chix Cook. All rights reserved.
We are not dieticians, nutritionists or medical professionals. The materials on this blog are for informational (and fun) purposes only. We do not fact check, nor do we worry about sources. Please do your own fact checking. We encourage you to look things up and check with your doctor or health care professional before acting on anything seen on Fluffy Chix Cook. xoxo