Basic Psylli Wraps – Low Carb | Gluten Free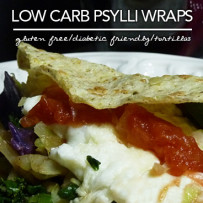 Looking for a healthy low carb tortilla or wrap to put convenience and Tex-Mex back into your low carb diet? We don't blame you. That was one of the first missions Fluffy Chix Cook undertook when they went low carb 14 years ago. Low carb Psylli Wraps are quick and easy and taste neutral, a blank canvas to build flavor and deliver the guts or tasty bits of the taco or wrap.
Growing up in Texas, tortillas became part of our daily diet almost as a birth-right. Congrats, Mrs. Fluffy Chix, you've given birth to a healthy, baby, fluffy chix, and you must now feed her Tex-Mex and especially, tortillas on a thrice weekly basis for the next 18-21 years or until her emancipation. I think it's a rule that if you live in Texas (and it's double for Texas natives), you must have an up-close and personal relationship with tortillas and tortilla chips. In fact, we've been known to break-up with restaurants based solely on the lacking quality of their chips (deep fried tortillas wedges) and salsa.
So it should come as no surprise when I tell you that giving up low carb tortillas in favor of a low carb ketogenic lifestyle was as substantial as cutting off a limb. Phantom pain was involved. And deprivation with its mean, ugly, vicious and relentless whining voice and biting teeth were the second half of that team. I knew I had to invent a low carb tortilla PDQ or die trying. But it had to be either Induction friendly, or Atkins OWL (On-going Weight Loss) friendly and it couldn't spike my blood sugar when tested with the glucometer. Tall orders.
There are so many low carb wrap and tortilla recipes out in the universe. Just google it and see if I'm right! And I've created more than a few versions during the past 14 years living as an Atkins-neer. Most of those recipes exist in the
Fluffy Chix Cook recipe archives
, just do a search for tortillas and you'll see! Some were more awesome than others. They all tasted very close to the real-deal high carbage counterpart. But many fell short in the integrity department—always coming up a bit shy in the stability department with wet fillings issues.
Enter DocP and her psyllium experiments.
Karma ensued.
And the earth shifted a tiny bit on its axis. Did you feel it?
This wrap recipe works so well, it made the cut to the new Fluffy Chix Cook website. Yes, they're that good.
Seriously. These low carb wraps—you say wraps, we say tortilla— are deceptively simple, only 4 main ingredients in the purest iteration. And if you can make a pancake or crepe, you can make a Psylli Wrap. The secret is keeping the batter very pourable so the tortilla is very thin and spreads around the pan quickly and neatly before setting. Don't be askeered, you'll get the hang of it within the first one or two.
Low carb, gluten free, and diabetic friendly, Psylli Wraps are very Atkins Induction friendly. But they fall into a "shade of Page 4, gray. Dr. Westman's Page 4 Diet allows Metamucil for those who experience tummy troubles. The ingredients in Metamucil are primarily psyllium husks with a few less than savory cohorts contributing to flavor. You drink this viscous, rather unappealing sludge and the result is…well, the earth moves.
Fiber and a Low Carb You
The traditional belief is that a low carb diet doesn't give you enough "important" fiber and that a recommended dietary fiber threshold exists for optimum health. This is part of a fiber myth.
Chris Kresser does an excellent job of debunking the fiber myth
. But, there are some people who need a fiber supplement due to health reasons. Maybe you take medicines that slow your bowel functions? Maybe you have medical conditions that require an outside source of fiber stimulation? Susie T. is one of those needing to keep up with fiber with a little bit extra each day. Thank you very much cancer and chemo. Her go-to sources of fiber are glucomannan (soluble fiber), coconut flour (soluble and insoluble fiber) and psyllium husks (soluble and insoluble fiber). Just a little bit each day is enough to keep bowel functions normal. But, it's important to know, when adding fiber to your diet, add it slowly and be sure to hydrate. Drink plenty of water to offset any bulking action from the added fiber. Do NOT exceed the serving size in the recipe, because afterall, psyllium is ALL fiber!!!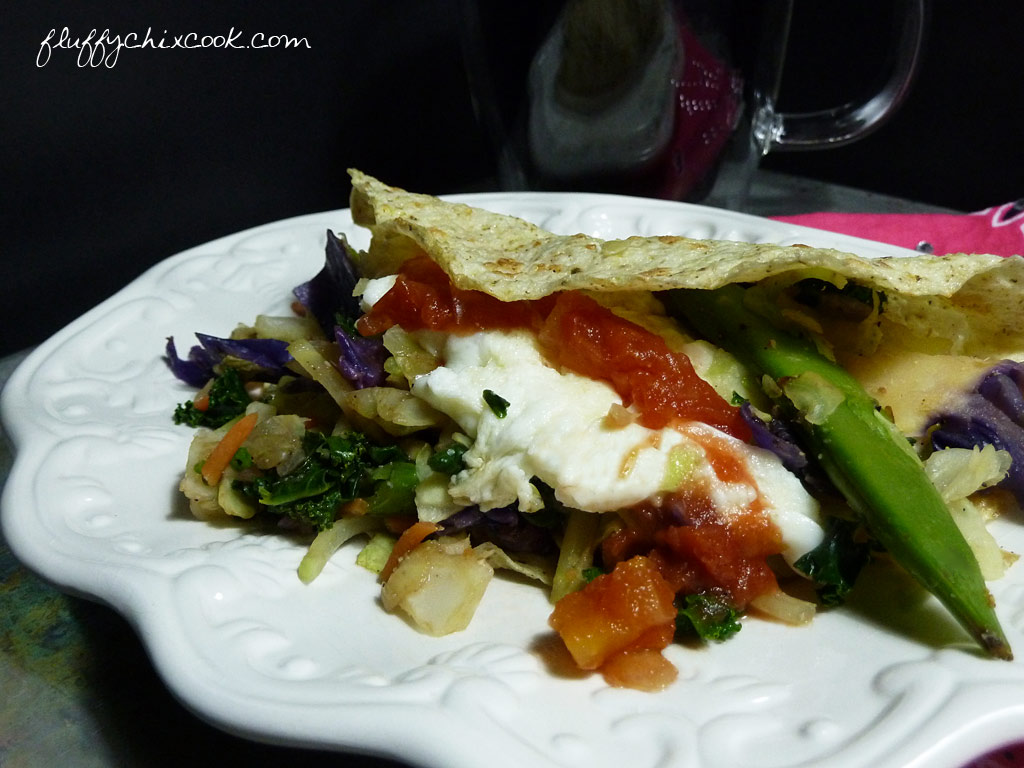 Fluffy Chix Cook chooses to play a little fast and loose with Dr. Westman's Metamucil rule, preferring to chew our fiber instead of drink it. Enter Psylli Wraps—a terrific source of fiber via whole psyllium husks, no unsavory ingredients and tastes fantastic! And? They also make the earth move, and fill you up.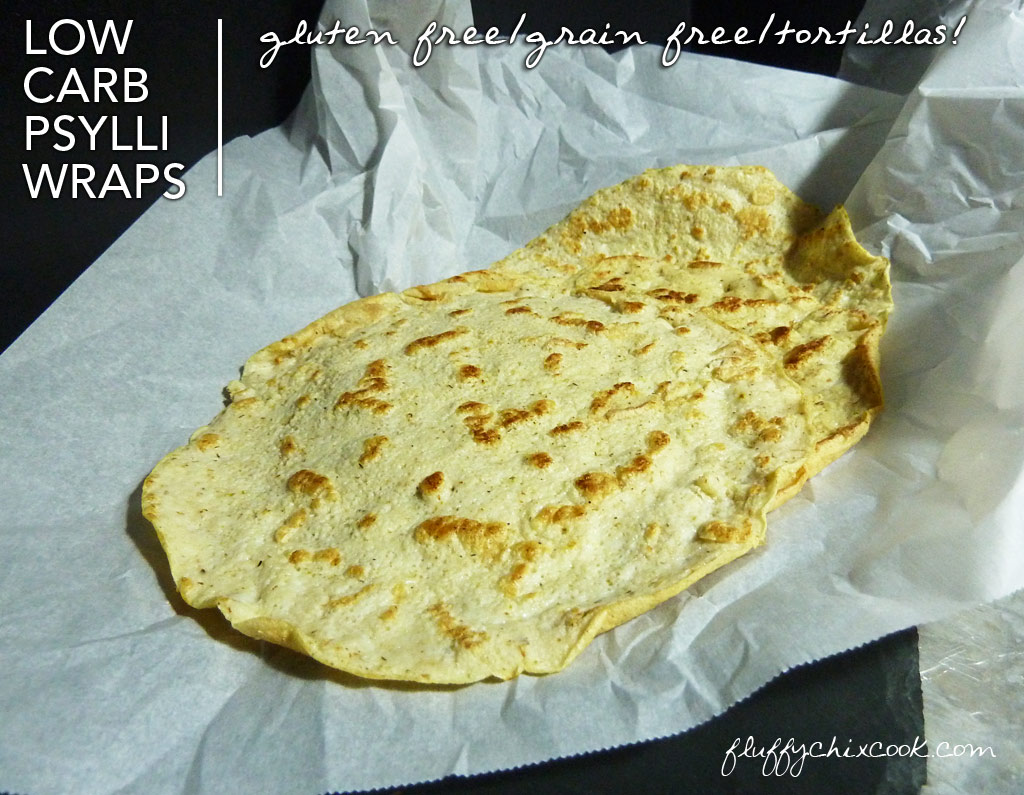 Each Psylli Wrap contains about 1.75g of whole carbs and most people will eat 1-2 wraps totaling 3.5 carbs will give you between 1 1/2-2 1/4 teaspoons of whole psyllium husks. So make sure to try these slowly and drink lots of water! Try one and see if it fits within your 20g whole non-netted carb budget. We think the pros outweigh the cons. They work as great for tacos and wrap fillings of every denomination as they make great enchiladas, crispy tostadas and pasta subs in low carb lasagna. What do you think?
And just to confuse you, we have 3 version to date (and counting)! Each brings something different to the low carb keto table. Some will be right up your wheel house and others will not, you decide.
Here are the links to the different versions of low carb keto Psylli Wraps
Basic Psylli Wraps – Low Carb | Gluten Free
This is DocP's low carb psylli wrap recipe, tweaked a bit around the edges to lower the carbs even more. We so appreciate her contribution to low carb keto fulfillment! We have our tortillas now...our preciouses.
Ingredients
Instructions
Combine dry ingredients, stirring to mix well. Pour egg whites into dry ingredients. Stir with a spoon or small spatula until you have an even, lump free batter. Batter should be very pourable, like a thin crepe batter. If it's not thin enough,

add more egg white

. Do NOT add water or any other liquid—they will stick and turn brittle.
Heat a nonstick skillet over medium high heat. Spray pan with olive oil spray. Measure 2 Tbsp of batter at a time, into a small cup. Pour batter into the pan all at once. Swirl quickly to distribute batter like a round crepe. Cook until set on one side. Edges will begin to curl slightly. Flip and cook on the second side. Each tortilla takes about 90 seconds to fully cook.
Once both sides are set, flip back and forth in the pan, until you see brown spots on each side. The texture changes from semi-moist and dries out like a tortilla. Cool on a clean dish towel.
Store cooled tortillas in an airtight container in the fridge up to a week, or freezer up to 1 month.
Notes
Notes: This recipe works great for any meal! It doubles and triples well. Make only enough for the week. It's a great way to get your psyllium in without drinking Metamucil—for those who are challenged by occasional irregularity!
About Psyllium: the recommended daily dosage of whole psyllium husks is 2 teaspoons. Please make sure to drink plenty of water when eating foods containing psyllium and made sure you do not gorge on Psylli Wraps! The Fluffys actually now prefer making Lo Lo Wraps (see Recipe Index). We eat 1-2 wraps per day and drink lots of water. Psyllium is not appropriate for everyone, please ask your doctor if it's ok for you to include it in your diet.
Serving Ideas: Use with your favorite taco or wrap filling, or in enchiladas, tostadas or lasagna.
Nutritional Information
Per Tortilla (no added spices): 21 Calories; 0g Fat (0.0% calories from fat); 3g Protein; 1.75g Carbohydrate; 1.25g Dietary Fiber; 0mg Cholesterol; 0.5g Effective Carbs
Per Tortilla with Spice Variation: 22 Calories; trace Fat (0.1% calories from fat); 3g Protein; 1.75g Carbohydrate; 1.25g Dietary Fiber; 0mg Cholesterol; 0.5g Effective Carbs
Copyright © 2012 Fluffy Chix Cook. All rights reserved.
http://fluffychixcook.com/basic-psylli-wraps-low-carb-gluten-free/
Copyright © 2016 Fluffy Chix Cook. All rights reserved.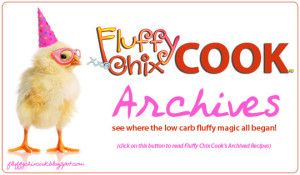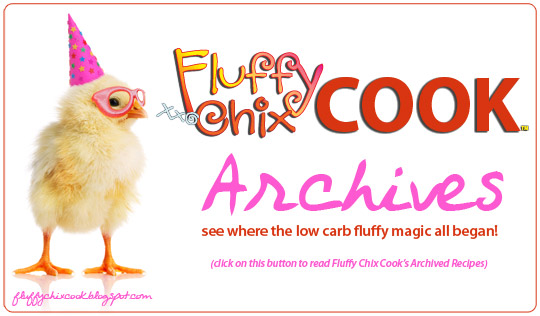 Copyright © 2012 Fluffy Chix Cook. All rights reserved.
We are not dieticians, nutritionists or medical professionals. The materials on this blog are for informational (and fun) purposes only. We do not fact check, nor do we worry about sources. Please do your own fact checking. We encourage you to look things up and check with your doctor or health care professional before acting on anything seen on Fluffy Chix Cook. xoxo