Beefy Alfredo Zoodles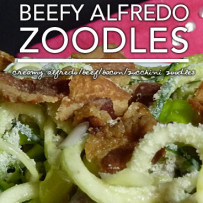 Do you crave your high carb favorites like potatoes, rice, bread and pasta? Living a ketogenic (keto) low carb lifestyle doesn't mean you must life a life of deprivation. You don't have to live without your favorite recipes or foods. But you do have to reinvent them into low carb counterparts. Lucky for you there are talented food bloggers who spend countless hours re-creating your favorite meals into ow carb, often gluten free, and diabetic friendly recipes. Fluffy Chix Cook created a healthy low carb keto-happy beefy alfredo noodle recipe that fills the craving for high carbage pasta. Satisfaction is only a recipe and a little imagination away.
I live in a family of carb monkeys. Seriously. We're from the South and Texas in particular and we as a group love our deep fried everything and crispy crunchy, dippy thingys and anything that looks like high glycemic, gooey, cheesy, casseroly, mischief. No wonder our Southern states are populated with some of the most weight and metabolically challenged people in the United States. And make no mistake. It's a true tragedy and nothing to brag about (yes I'm ending on a preposition). Southerners were raised on corn pones, fried chicken, fried okra, fried green tomatoes, chicken fried steak, fried shrimp and seafood, fried catfish, and hush pupp-ehs. And we love them. Make no mistake about it. Give me cream gravy and rice or mashed potatoes and I'm happier than a pig in mud!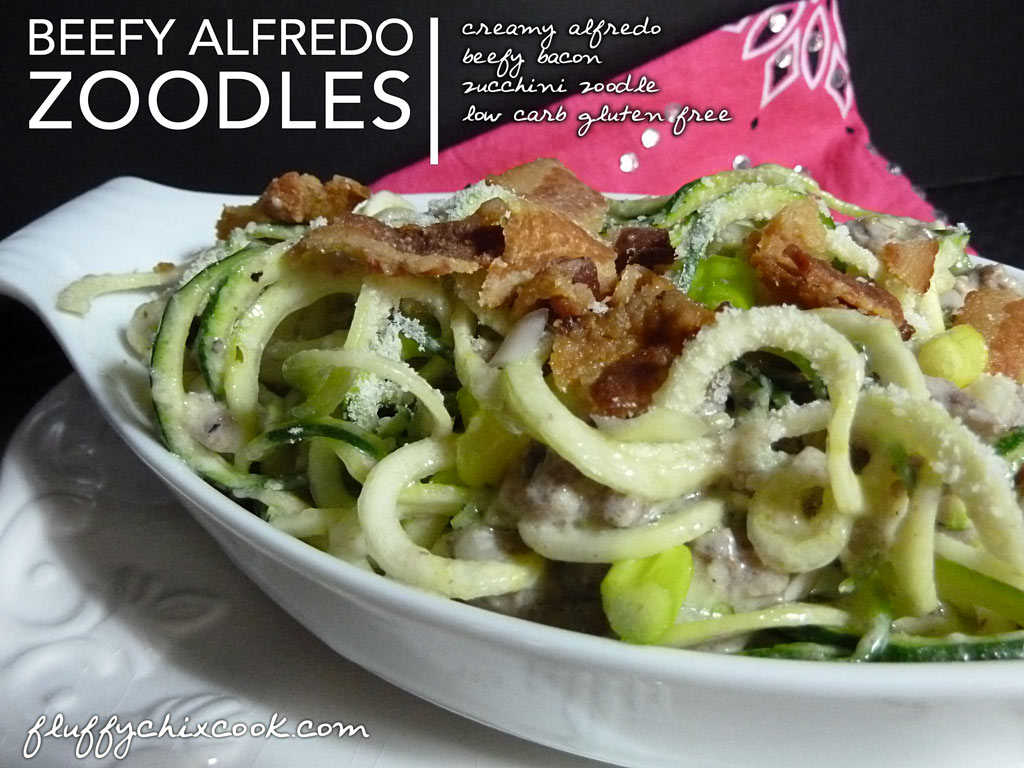 I knew 14 years ago, when we started our low carb walk, that it would be easy to recreate the deep fried family favorites as low carb 2.0 renditions. I knew potatoes and rice could be reasonably subbed for low carb variants. But no way did I ever think I could figure out a solution to pasta. Holy cow, baby. If we don't have macaroni salad at a barbecue, mayhem could ensue. And if this DFSW can't twirl…well, world might as well stop.
It should come as no shock to know one of the top priorities in life, after choosing a committed low carb keto lifestyle, was finding a low carb pasta replacement. I decided I could wait on the macaroni salad thing, in favor of long, luscious, sauce-bearing noodles. I am choosy, too. I wanted a pasta replacement capable of doing twirls! I needed it to wrap lovingly around my fork and behave just like real pasta. In short, I needed a SDS (sauce delivery system). And let me just tell you, 14 years later? Pasta continues to be in huge demand in the Fluffy Chix Cook kitchen. So maybe we were Clair E. Voyant, because we knew, we needed to resolve the high carbage pasta version's absence, or risk low carb diet fatigue and possible failure.
The day I found zoodles and my spiral slicer, I nearly jumped for joy. The "crahps wah say-uv-ed," (DFSW for, "Oh Lordamercy, life as we know it shall continue without further drama.") My preciouses (pasta) came to live permanently in this new low carb life. Life was good, once more.
Now you may be asking—what is a zoodle and how do you zoodle? We talked about it in depth in the Skillet Beef with Zoodles post and discussed the various methods for zoodling. There are so many ways to create zoodle-icious pulchritude of pasta joy, ranging from cheap to holy moly hula-mula (aka expensive). Choose the one the fits your pocket book, but any/all work great for this dish.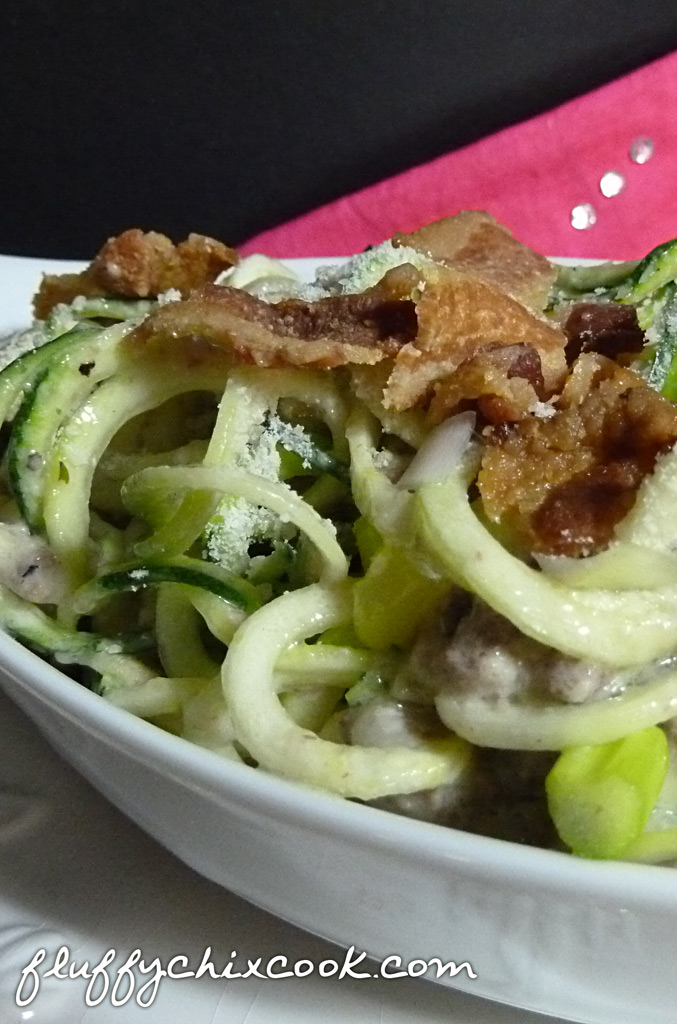 Beefy Alfredo Zoodles represent a conflagration or perfect keto storm of Lucky Leftovers. The beef ingredient derives from a purposefully leftover-driven Skillet Beef recipe. The Alfredo Sauce should be made and kept in the fridge at all times. Ok, that's Fluffy Chix Cook's opinion. It keeps about 2 weeks (shhh, don't tell the food police). The bacon crumbles get cooked in advance and stored, ready for instant access. Instant nirvana in under 10 minutes fridge to table.
Creamy Dreamy Hamburger Helper-ish main course made from Lucky Leftovers! Gotta love having a plan and being organized! Did we mention Beefy Alfredo Noodles are low carb and gluten free?
Ingredients
Instructions
In a nonstick skillet over medium high heat, add mushrooms and a pinch of kosher salt. Dry sauté until mushroom slices turn golden—about 2-3 minutes. Add mushrooms to a microwave safe bowl and mix with Skillet Beef, Easy Alfredo a la NS2 Diet and zoodles. Toss to combine. Taste. Does it need kosher salt and fresh ground black pepper? Add it!
Top with shredded mozzarella and crumbled bacon. Cover and nuke on high for 1 1/2 minutes or until piping hot. Top with grated Parmesan cheese and chopped green onions. Enjoy.
Notes
This is a quick meal, especially when building it from Lucky Leftovers, just begging to be used! It satisfies the urge for creamy pasta noodles and comes together quickly for weeknight meals. Just what the good Doctor (Westman) ordered!
Serving Ideas: Serve as a complete meal with a big glass of sparkling water—or enjoy with a simple side salad and House Vinaigrette.
Per Serving: 643 Calories; 49g Fat (69.5% calories from fat); 39g Protein; 10g Carbohydrate; 2g Dietary Fiber; 155mg Cholesterol; 8g Effective Carbs
Copyright © 2012 Fluffy Chix Cook. All rights reserved.
http://fluffychixcook.com/beefy-alfredo-zoodles-2/
Copyright © 2016 Fluffy Chix Cook. All rights reserved.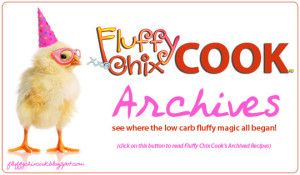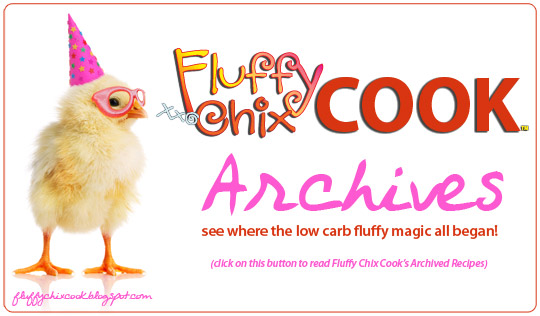 Copyright © 2012 Fluffy Chix Cook. All rights reserved.
We are not dieticians, nutritionists or medical professionals. The materials on this blog are for informational (and fun) purposes only. We do not fact check, nor do we worry about sources. Please do your own fact checking. We encourage you to look things up and check with your doctor or health care professional before acting on anything seen on Fluffy Chix Cook. xoxo