Beefy Alfredo Zoodles – Dr. Westman's No Sugar No Starch Meal Plans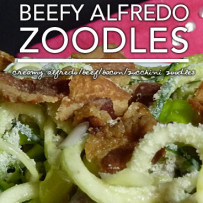 Fluffy Chix Cook prepares Day 6 of Dr. Westman's and Duke Lifestyle Medicine Clinic's No Sugar No Starch Page 4 Meal Plan featuring a low carb ketogenic breakfast sure to wake you up. Are you looking for spicy low carb breakfast options? Spicy Tex-Mex Scramble takes minutes to prepare and brings a taste of Tex-Mex joy to your low carb lifestyle. Lunch uses Lucky Leftover rotisserie chicken to make delicious chicken club Ranch lettuce boats and Deviled Egg halves, very filling. Dinner is satisfying Beefy Alfredo Zoodles to satisfy more pasta, comfort food cravings and a crispy romaine in garlicky House Vinaigrette. There's even room for dessert, sugar free gelatin! Who would be hungry on this meal plan? The full Page 4 friendly day rings in at 20g total, non-netted carbs.
Day 6 of Dr. Westman's No Sugar No Starch Diet begins today. (Note about the scale: Because I'm such a turtle-slow loser, I've decided to stay off the scale until Sunday. That's no mean feat, because I'm a daily weigher. Every day the same routine: get up, get nekkidy, get pottied, get weighed, commence with coffee and other rituals.

So it feels a little out of balance to eschew the scale. And the scale is PIS*ED, let me tell you! It's screaming at me like a banshee in a gale force wind, to just bring my panty-waste-you-know-what stuff over to her and get on the scale. Jeeze!)
I'm a Tex-Mex freak being from Texas. So knowing I can still eat my beloved spicy chiles and chilis ROCKS! Give me jalapenos and cilantro or give me death! Still feeling good. Nothing new to report here. It's just another beautiful summer day in Houston, Texas: 95+ degrees in 70% humidity (but it's a dry heat! 😉 ) NOT!
BTW – I'm a new kick…so simple: Chicken Club Boats prepared chicken, bacon, 4-5 grape tomatoes diced or sliced thinly and Creamy Ranch Dressing drizzled over it. Couldn't be more simple, especially for quick lunches, but soooo clubby!
Find the list of Page 4 friendly foods in Dr. Westman's publication. Cheap at amazon.com, along with his instructions.
Join fellow Page 4 Groupies in the Facebook group dedicated to following Dr. Westman's Page 4 plan. Learn more about the lifestyle and how to accurately implement it into your life.
Here's the link to the group: https://www.facebook.com/groups/DukeLowCarbSupportGroup/
My Goals For Week 1:

1. Keep weekday meal prep to a minimum.

[Try to prep ahead (which I already missed cuz I didn't cook on Sunday like I should). Will try to get a couple of hours in the kitchen today to bust a move with make-ahead recipes.]

2. Keep recipes super simple and 1-2 servings only.

3. Eat ONLY until hunger is satisfied and NOT until full!

(Even though the portion I computed and allowed myself is reasonable, I will try to follow my hunger and quit eating at the first sign of being full! If I'm not hungry, I will not eat and will skip the meal. So the menu below represents the maximum of what would be consumed today.)
2014 | WEEK 1 | DAY 6 | DR. WESTMAN'S NO SUGAR NO STARCH (PAGE 4) DIET MEAL PLAN | BEEFY ALFREDO ZOODLES (20g WHOLE CARBS)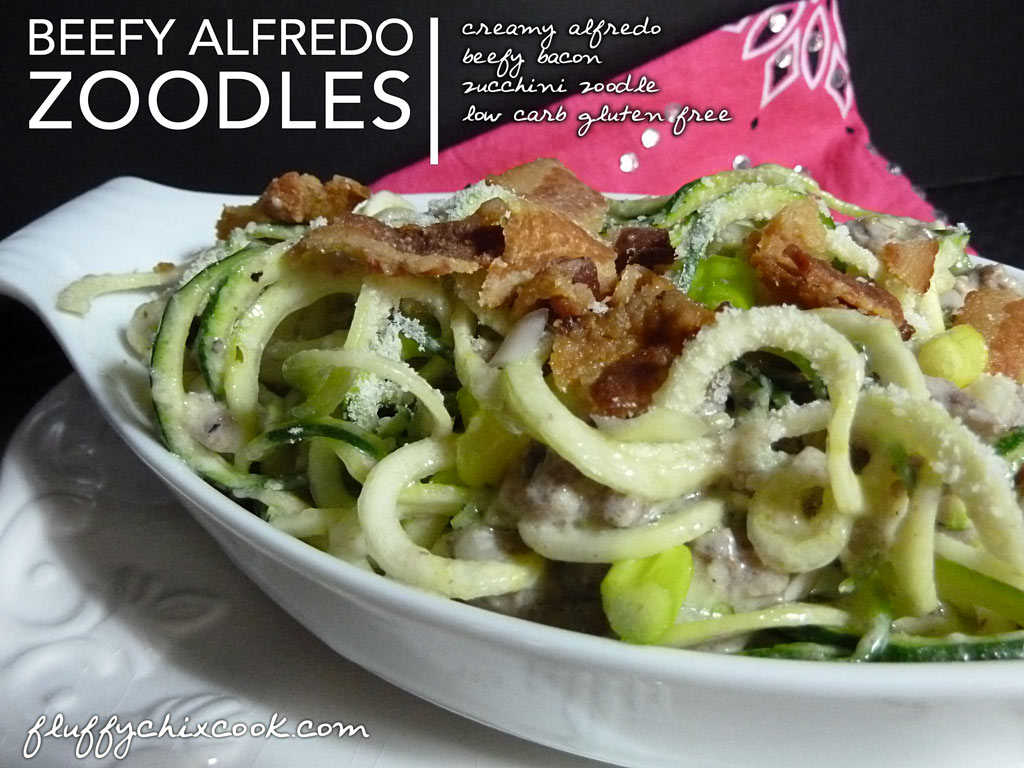 Breakfast
Coffee or Tea with Heavy Cream
Spicy Tex-Mex Scramble
Lunch
Chicken Club Lettuce Boats
Deviled Egg
Dinner
Beefy Alfredo Zoodles
Romaine Lettuce with House Vinaigrette
Dessert
Sugar Free Gelatin
Daily Totals: 1665 Calories; 136 Fat (73.8% calories from fat); 88g Protein; 20g Carbohydrate; 4g Dietary Fiber; 16g Effective Carbs
20 grams of whole non-netted carbohydrate for the day!

Breakfast:
coffee or tea and cream (103 Calories; 11g Fat (92.8% calories from fat); 1g Protein; 1g Carbohydrate; 0g Dietary Fiber; 1g Effective Carb)
2 cups decaff coffee, black, unsweetened
2 Tbsp heavy cream
1 servings Spicy Tex-Mex Scramble (464 Calories; 39g Fat (76.3% calories from fat); 24g Protein; 3g Carbohydrate; trace Dietary Fiber; 3g Effective Carbs)
Lunch:
3 Chicken Club Lettuce Boats (250 Calories; 19g Fat (67.4% calories from fat); 17g Protein; 4g Carbohydrate; 1g Dietary Fiber; 3g Effective Carbs)
2 ounces rotisserie chicken, shredded
3 romaine heart leaves
4-5 grape tomatoes, quartered (about 1 ounce)
1 slice bacon, crispy and crumbled
2 Tbsp Creamy Ranch
1 serving Deviled Egg (2 stuffed halves) (195 Calories; 18g Fat (85.7% calories from fat); 6g Protein; 1g Carbohydrate; trace Dietary Fiber; 1g Effective Carbs)
Dinner:
1 serving Beefy Alfredo Zoodles (643 Cals; 49g F (69.5% calories from fat); 39g Protein; 10g Carbohydrate; 2g Dietary Fiber; 8g Effective Carbs)
1 serving romaine with House Vinaigrette (52 Calories; 5g Fat (80.8% calories from fat); 1g Protein; 2g Carbohydrate; 1g Dietary Fiber; 1g Effective Carbs)
Dessert:
1/2 cup serving sugar free gelatin (0.0% calories from fat); 1g Protein; 0g Carbohydrate; 0g Dietary Fiber; 0g Effective Carbs)
Fluffy Chix Cook makes quick work of zucchini noodles using our favorite spiral slicers aka zoodlers! Here are two of the most popular and the Paderno spiral slicer is still on sale for a great price. You can also use the Veggetti, on sale at a lower price than I sat at our Walgreen's and Walmart this week is a great low tech and budget-conscious way to make noodles. You're more limited by the zucchini or vegetable circumference with it, but it works great. Both are available through Prime as of today.
For more recipes visit Fluffy Chix Cook Recipes or visit Fluffy Chix Cook's Recipe Archive!
READ MORE FLUFFY CHIX COOK RECIPES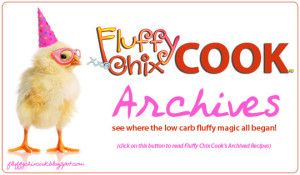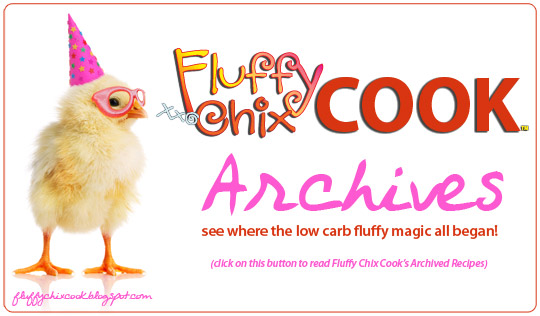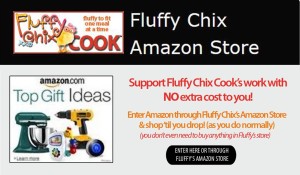 You may notice a discrepancy when adding the total carbs shown by line-item. Do not be overly concerned. MasterCook 9 rounds numbers, so when the individual recipes are combined in a daily meal, the total is calculated to include decimals points. This may result in a +/- difference of 1-2 g of carbs. The Daily Total value is the more accurate figure. Thanks and sorry for any inconvenience!
Copyright © 2014 Fluffy Chix Cook. All rights reserved.
We are not dieticians, nutritionists or medical professionals. The materials on this blog are for informational (and fun) purposes only. We do not fact check, nor do we worry about sources. Please do your own fact checking. We encourage you to look things up and check with your doctor or health care professional before acting on anything seen on Fluffy Chix Cook. xoxo