Behind the Scenes of Low Carb Keto Summer FEAST with a Fluffy Chix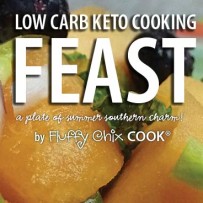 Fluffy Chix Cook is so excited to bring you the Summer FEAST, 40 low carb ketogenic recipes celebrating the heart of Southern comfort food cooking. This edition features bright summer veggies and dishes to help keep your kitchen cool, especially during the dog days of summer. Join the Fluffys and their special Featured Guest Carolyn Ketchum, creative genius behind All Day I Dream About Food for 212 pages of low carb keto recipes, tips, tricks, history and Southern Fun and enjoy Carolyn's no-churn Raspberry Cheesecake Ice Cream Sandwiches. (Shhhh! Don't give it away, but we hear there may be chocolate involved!)
Behind the scenes of Summer FEAST. The Summer FEAST came out great and we were beyond thrilled with it. What's not to love? It has 40 action packed low carb keto recipes that practically drip Southern charm! Not only did we include many of the Fluffy Chix TNT (tried 'n' true) heirloom favorites such as Fried Green Tomatoes, Okra and Tomatoes, and  Bacon Ranch Crack Bread, but we also brought you new and exciting recipes such as Southern Pickled Shrimp, Pickle Chicken with Jalapeno Bacon Relish, Yellow Squash Casserole, Better Thank KFC Coleslaw, Sesame Ginger Glazed Cod, and Grilled Margherita Pizza (oh you heard us…GRILLED pizza, and yes, we ARE shouting)!
But this edition we are especially excited because our dear friend Carolyn Ketchum, master mind of the hit low carb ketogenic, and diabetic friendly food blog, All Day I Dream About Food, joins us with a section of summer recipes that will keep your food preparation minimal, your kitchen cool, the kids and hubs happy, and leave you time to sit on your back porch eating one of her delectable no-churn ice cream treats! Can you tell me how gorgeous these Raspberry Cheesecake Ice Cream Sandwiches on chocolate wafer cookie crusts look? Can you even believe that fruit DOES fit into a low carb lifestyle? Raspberries are very low glycemic, making them a perfect choice (with proper portion control) for low carb keto and diabetic diets! We thank Carolyn and sing her praises as an artist, a food visionary, and a true friend! (So don't buy Summer FEAST for us, buy it to see Carolyn's wonderful recipes and gorgeous photos and tips! $4.98 for 212 pages of wow.)
We are also beyond thrilled to bring you the work of another dear friend–Lore Deus. Lore is a "behind the scenes" gal who prefers to work quietly in the background making awesome recipes and taking brilliant photos. She's been a recipe tester for Fluffy Chix for quite some time, and has worked with us to produce some of our most treasured recipes like the Neapolitan Pizza Crust recipe that appears in the Summer FEAST. She also helped create the Mixed Berry Cobbler that appears in the Sweet Finishes section. Maybe you don't know this, but Lore is a genius with a camera too. You'll see many of her photos in Summer FEAST. Lore is a low carb success story! She's lost over 104lbs living a dedicated low carb keto lifestyle and is just a walking poster child for the efficacy of this WOE (way of eating). We hope to see more of Lore's recipes, photos and kitteh in future editions!
This month the Fluffys were smokin' it with recipe production and photo sessions. Some days shooting as many as five different layouts and recipes! Holy mother of DFSWs (Delicate Flowers of Southern Womanhood) the world round! We had so much food coming out of our pie holes we didn't know what to do with it! And we are eating leftovers…oh there are leftovers! Mr. Fluffy seriously thought we'd moved a Chick-Fil-A into the house, there was so much Pickle Chicken laying everywhere! Let me just tell you that Yellow Squash Casserole reheats like an amazing Southern champ!!!
Oh and hay! Did we forget to mention that there is Banana Puddin' Poke Cake involved in Summer FEAST?
We want to invite you to grab your Summer FEAST today. Those of you who are already member of the Fluffy Chix Inner Circle have a Bonus Issue waiting for you! When you use the Coupon Code we e-mailed you yesterday, you will receive a complimentary Sneak Peek glimpse of Asian Feast | Savor the Flavor of Asia, coming out in Spring 2016. It's a 29 page e-pub filled with everything you need to make a 3-4 course full-on low carb keto Asian dinner for your family: Egg Rolls with Egg Roll Dipping Sauce, Egg Drop Soup, Combination Lo Mein and Pork Egg Foo Young. Can you believe the Egg Rolls (photo & recipe by Lore Deus) are only 1g of Effective Carbs per roll? We're stoked!
Read more about Summer FEAST in the Fluffy Newsstand. OMG the low glycemic, diabetic friendly Fire and Ice Salad calls our name, as do the Cheesy Bacon Onions Bombs!
Or you can also just get right to it and go make that bad boy yours! Skip to go, collect $200, and buy the Summer FEAST now. 🙂 Can't wait to hear back from you!!! We would love to publish photos of your work with the Summer FEAST recipes on the Facebook page!
Check our more about the Low Carb Keto FEAST Cooking Series from Fluffy Chix Cook. Each edition focuses on one particular feat celebration or one specific genre of food made over and recreated into healthy low carb keto recipes the whole family will enjoy–even your carb monkeys!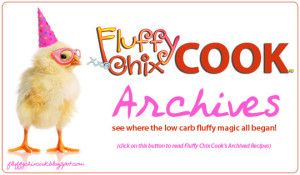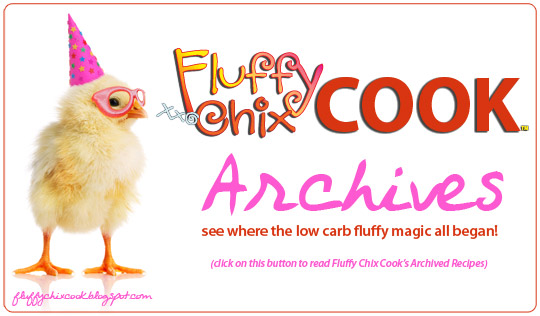 Copyright © 2015 Fluffy Chix Cook. All rights reserved.
We are not dieticians, nutritionists or medical professionals. The materials on this blog are for informational (and fun) purposes only. We do not fact check, nor do we worry about sources. Please do your own fact checking. We encourage you to look things up and check with your doctor or health care professional before acting on anything seen on Fluffy Chix Cook. xoxo