Better than KFC Original Recipe Fried Chicken Fingers|Low Carb and Gluten Free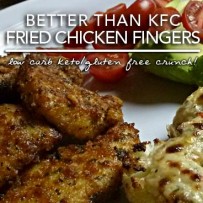 Follow Fluffy Chix Cook on their journey to obtain the low carb KFC Original Recipe Fried Chicken and the truth behind the Colonels 11 secret herbs and spices. If you're looking for a dynamite fried chicken (or chicken finger) experience, then here's your low carb keto ticket to a great plate of fried chicken! (Ok, the Fluffys may have added a couple of extra spices to make this BEYOND KFC Original Recipe Fried Chicken.)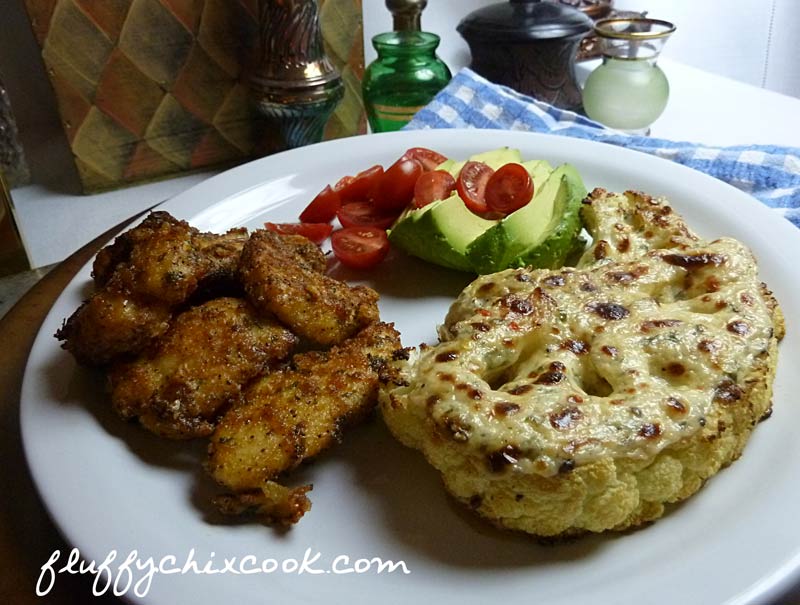 We never visited KFC until we were in our teens. True story. Why would we, when we had our own female colonels living under our very own roof? WaWa, Mama, and Cakki could fry chicken better than anyone—so Colonel Sander's convenience was dead to us. Then sometime in the mid '70s we happened to stop at a KFC while taking a road trip to the coast and lord-a-mercy. I thought Mama was gonna have a freakin' heart attack. She got so excited over the Colonel's Original Recipe that Mama went on strike and refused to stand in a hot kitchen frying chicken, ever again—so help her God. Win one more American housewife convert for the Colonel. Damn you Lex Luther!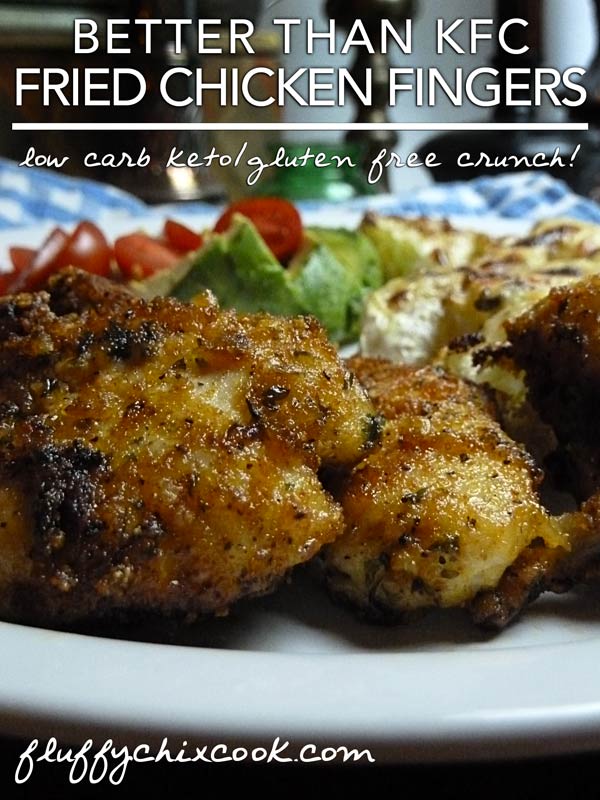 Of course, by that time, WaWa had gone home and Cakki was married raisin' her own young uns. And we had little recourse but to be propelled along with Mama's fixation with the Colonel and his Original Recipe. We spent long hours in heated discussion about the 11 Secret Herbs and Spices and about how he kept his chicken so moist and juicy. And we never did crack the secret code much to Mama's chagrin.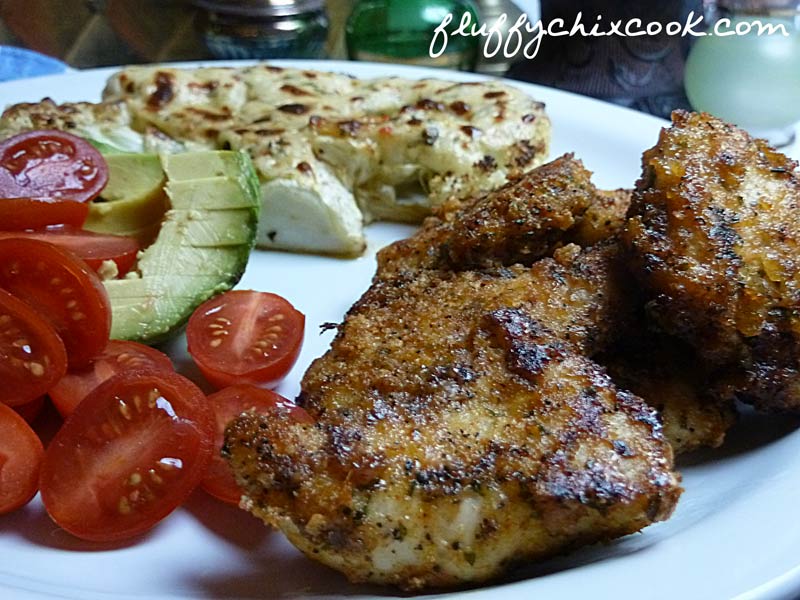 Today's KFC, besides being carbalicious and off limits to the Fluffys (as we're dedicated raconteurs of low carb keto grub), is not what we knew in the 70s. And it's definitely different from the 1940s ORIGINAL, Original Recipe—or so we hear from many out on the WWW (world wide web). We hear tales of vanilla bean, cloves, and things that go bump in the night! OMG, that could scare a Southerner off her feed! So Mr. Fluffy and I put on our thinkin' caps and cranked up the old search engines and got to researching the Colonel's 11 secret herbs and spices and we don't mind tellin' you. There are a ton of different opinions and formulations with a wide array of…let's just say, inventive variations! Whoooo doggy! But we wanted to see if Fluffy Chix Cook could come up with a variation pleasing to our low carb palates!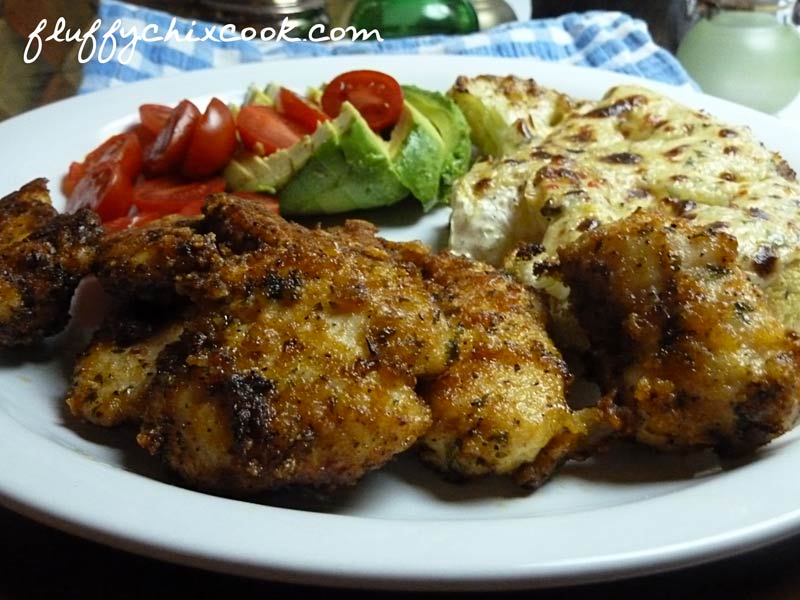 We came upon a Reddit thread filled with talk of the Colonel and his original recipe and saw pictures of two "supposed" formulations of the 1940s spice blend. So we decided to take a turn at bat and see if we could come up with pleasing chicken, reminiscent of the Colonel's Kentucky Fried Chicken Original Recipe. Mr. Fluffy is a breast man (ironic since my double mastectomy), so we went for easy. Chicken fingers and nuggets are way quicker and easier to cook than bone-in chickie boobs.
The results? MMMMMmmmmMMMMM intriguing! Very dang good low carb fried chicken if we do say so ourselves! The crust was softly crisp like KFC Original Recipe, and the spice mixture was nicely balanced and delicious. In summation, we thoroughly approve our 15 Not-So-Secret Herbs and Spices and love our low carb Original Recipe Fried Chicken Fingers. They aren't exact; we maintain they are BTKFC (better than KFC) Original Recipe Chicken! Come on, where else have you had a full plate of fried chicken for 3g Effective Carbs?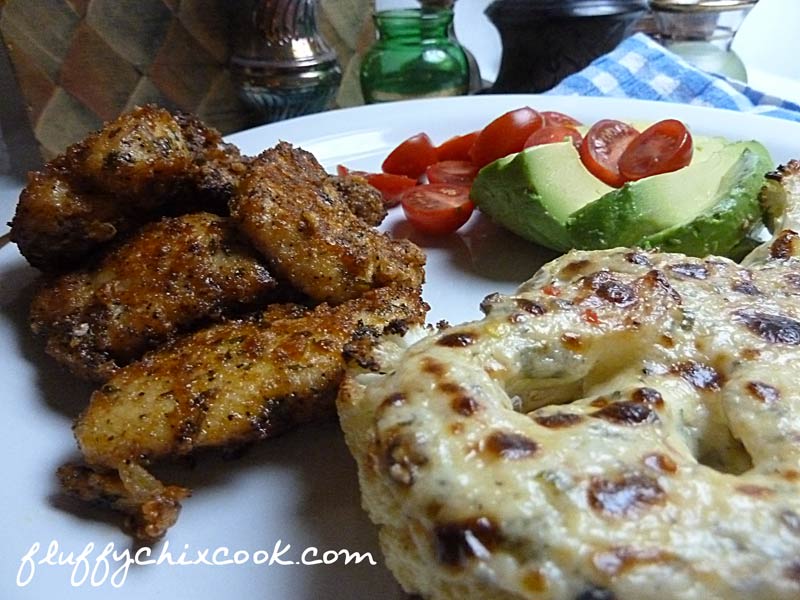 Hope you will try the recipe. Yes, it does take a little time to measure out the herbs and spices! But, it's worth it. Please race back and share your thoughts, ideas, and versions of the Colonel's 11 Original H&S! Oh and for a little something different, try our Cauliflower Steaks with this rockin' cheese sauce! And if you have to have a dipping sauce, it's hard to go wrong with the Fluffys' old fashioned Creamy Ranch Dressing or the Bloomin' Onion Sauce from the February FEAST e-book (a bargain at only $1.99). And if you absolutely, positively must have Mashed Fauxtatoes instead, give ours a whirl.
Here's the pan we use to fry chicken! Can't beat that cast iron, but nonstick insures your crust won't wind up in the bottom of the skillet!
Better than KFC Original Recipe Fried Chicken Fingers|Low Carb and Gluten Free
I'm just gonna tell you now, we ripped off a Reddit post about KFC secret herbs and spices and chose between a couple of different versions to come up with this taste treat. It's not exact--we have 15 not-so-secret-herbs-and-spices, cuz come on? Why stop at 11? But these chicken fingers came out great and we had happy bellehs!
Ingredients
Chicken Fingers

1/4 cup Greek yogurt--or low carb regular yogurt (White Mountain 8g Carbs/cup)
1/4 cup mayonnaise (Hellmann's or Duke's)—or Basic Mayonnaise
2 pounds boneless skinless chicken breasts, cut into fingers or nuggets.
Frying

peanut oil—or your favorite high temp oil (the Fluffys love lard)
Garnish

kosher salt—or sea salt
Instructions
Mix the yogurt and mayo in a small bowl using a spatula. Place trimmed and cut chicken fingers, chicken tenderloins, or nuggets into a large zip top bag. Add yogurt and mayo mixture. Marinate for 2-4 hours in this mixture. Remove and shake off most (but not all) of the marinade. We kinda use our fingers as squeegees. Place fingers on a platter or foil lined sheet pan. Sprinkle all sides of the chicken with 1/2 of the Secret Herbs and Spices. Using foil to line the pan makes for easy clean up. Just pull up the foil and throw it away and then a quick wash of the pan means no more raw chicken contamination!
Stir remaining half of the Secret Herbs and Spices into the Dredge. Mix with a fork to fully incorporate. Place some of the Dredge in a pie plate. Add a few tenders at a time and coat with the Dredge. Press crumbs into the chicken so that it really adheres to the flesh. Lay the fingers out on a dry plate or platter. (Psssst, we use the same sheet pan we used to season the fingers. We just throw the gooey foil away and use the pan itself to lay out the breaded fingers. Repeat dredging the remaining fingers or nuggets. Let them air cure for 30 minutes while assembling the rest of the meal and heating the oil in a heavy skillet.
(Tip: we love to use an empty spice bottle with big holes to put the Dredge into and shake it onto a dry plate. Then add a few fingers and shake more Dredge on top. It makes breading easier and keeps the Dredge dry so that it adheres better.)
Heat about 1/2-inch of oil in the bottom of a heavy skillet over medium high heat (nonstick or cast iron work great). Place about 6 fingers into the pan--don't over crowd. You want the fingers to fry quickly, not boil and steam. Cook about 2 minutes per side, flipping once. Fingers should cook in about 4 minutes, 5 minutes tops.
Remove and drain on a wire rack placed over a clean sheet pan. Sprinkle immediately with kosher salt or sea salt as soon as they come out of the oil. Enjoy!
Notes
Because 11 secret herbs and spices weren't enough for the Fluffys, we distilled a basic collection from 2 recipes reporting the original spices used to make the 1940s version of the Colonel's secret recipe. Thank you Reddit for a fascinating thread on all things KFC Original Recipe! And knowing as Southern cooks for more than 40 years and 3 generations of Southerners that no chicken gets cooked without at least having garlic powder in the seasoning, we added 2 more bonus spices and an extra herb for an even 15 secret herbs and spices. And because we don't like to make our hearts race from MSG, we threw out that bad boy, Accent, a meat tenderizer and MSG laden additive.
We also said sayonara to the brine, cuz it's a PIA and instead soaked the chicken fingers in a little yogurt and mayonnaise mixture. The yogurt tenderizes like buttermilk, and also acts as part of the wet dredge. The mayo helps the dredge solidly adhere to the chicken. So the chicken goes straight from the marinade into the seasoning and then into the dredge. Mama used to use mayonnaise as a coating to adhere breading for our shake and bake oven fried pork chops and chicken legs when we were kids. The gelatin powder in the Dredge forms a solid coating helping to keep the breading in place. (Thanks to Maria of Keto Adapted for this great idea and to our friend Allison for using it and showing us in application how well it works in a deep fried crust! Take a gander at Maria's Corndog Recipe that has gelatin in the batter!)
Serving Ideas Serve with coleslaw and Mashed Fauxtatoes ya big dummeh! 🙂 Of course we heart our Bloomin' Onion Sauce as a dipping sauce with these. Find the Bloomin' Onion Sauce in February FEAST. Creamy Ranch Dressing is also the bomb!
Nutritional Information 1/4 recipe (about 4 fingers) 515 Calories; 25g Fat (45.8% calories from fat); 62g Protein; 6g Carbohydrate; 1g Dietary Fiber; 5g Effective Carbs
1/6 recipe (about 3 fingers) 343 Calories; 17g Fat (45.8% calories from fat); 41g Protein; 4g Carbohydrate; 1g Dietary Fiber; 3g Effective Carbs
Copyright © 2015 Fluffy Chix Cook. All rights reserved.
http://fluffychixcook.com/better-than-kfc-original-recipe-fried-chicken-fingerslow-carb-and-gluten-free/
Copyright © 2016 Fluffy Chix Cook. All rights reserved.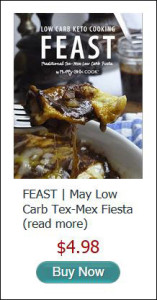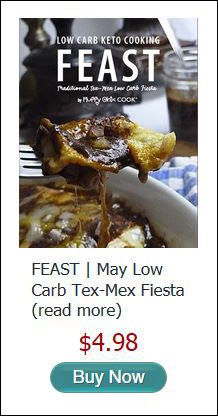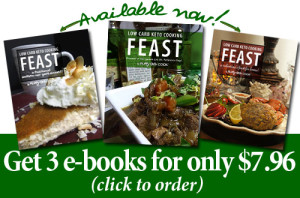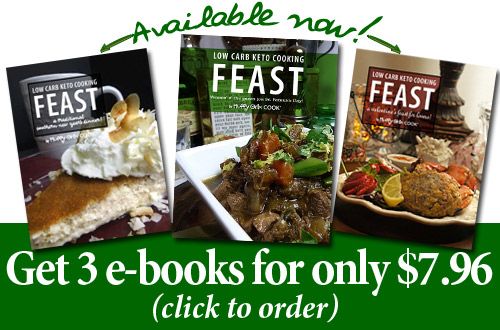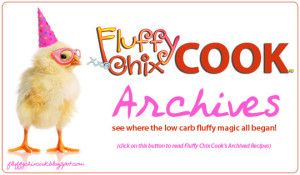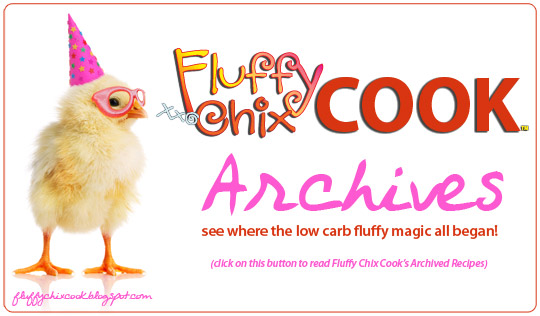 Copyright © 2014 Fast Days – Healing Days. All rights reserved.
We are not dieticians, nutritionists or medical professionals. The materials on this blog are for informational (and fun) purposes only. We do not fact check, nor do we worry about sources. Please do your own fact checking. We encourage you to look things up and check with your doctor or health care professional before acting on anything seen on Fluffy Chix Cook. xoxo