Beyond Amazing Chicken Burgers – Low Carb and Gluten Free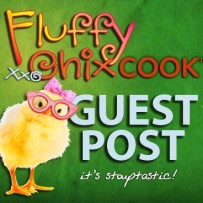 Join Fluffy Chix Cook in welcoming a special friend and guest blogger, the talented Allison James Gismondi. Allison shares her family TNT recipe for low carb gluten free Beyond Amazing Chicken Burgers and we're so excited. Allison's entire family eats low carb and have lost a collective 180lbs to date. Find out why they love these moist and flavorful low carb keto chicken burgers and find out how she made them keto friendly. Fat's your friend!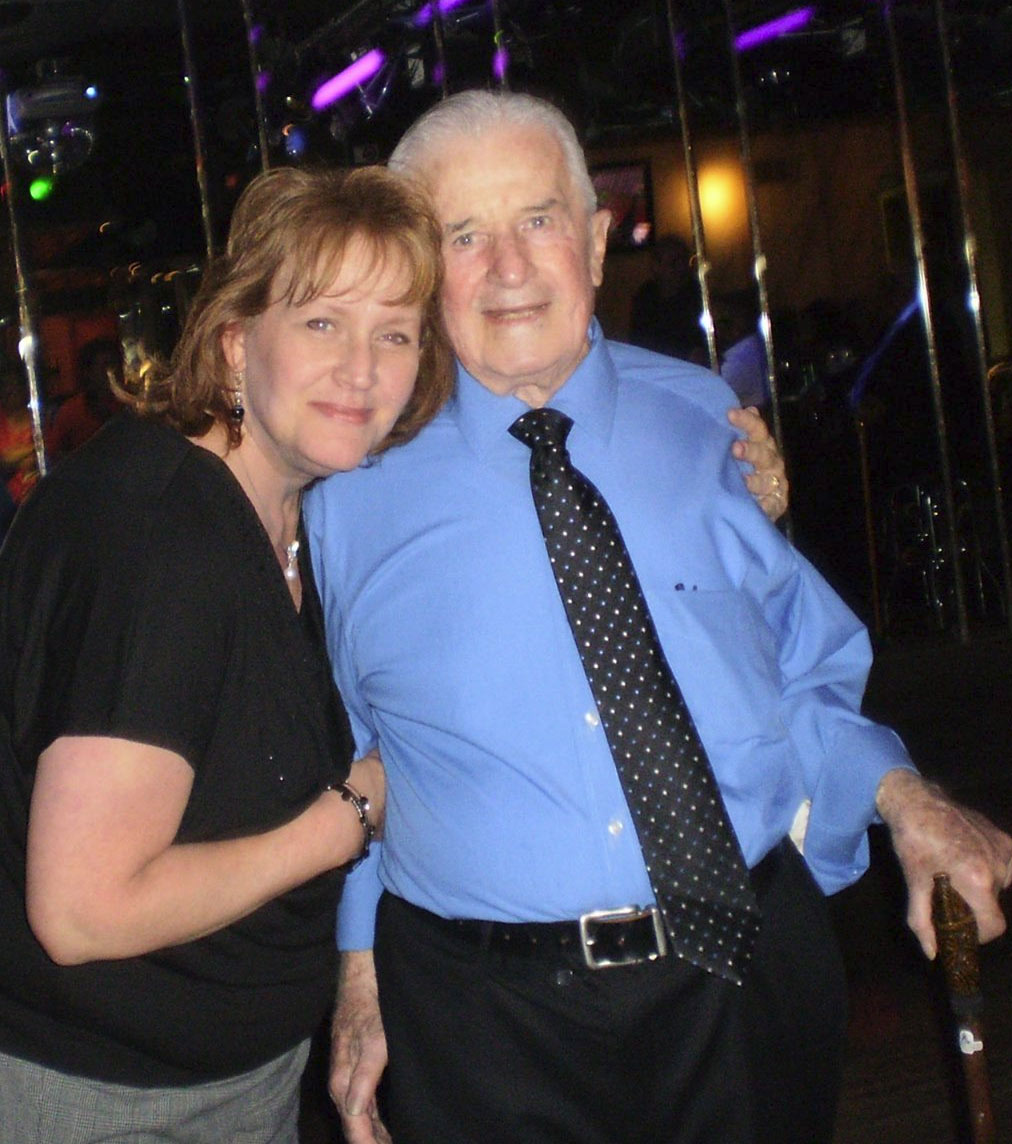 You may remember reading our dear friend Allison James Gismondi's Success Story here on Fluffy Chix Cook, but just in case you didn't get to read it, please check it out. The transformation she has made for herself and her family by taking them off of their high carb diet is inspirational and practically magic! Not only have they lost 180 pounds collectively, but they've helped improve the severity of several conditions including type 2 diabetes and autism. When we saw Allison's low carb keto chicken patties, we were instantly jealous! You can see the juiciness of the patties. What  a smart addition of ground pork because it adds healthy fat and improves the keto numbers while adding flavor and moisture. And roasting the veggies first is total genius! We know you'll love Allison's guest post. Please join Fluffy Chix Cook in welcoming Allison James Gismondi and her low carb keto Beyond Amazing Chicken Burgers!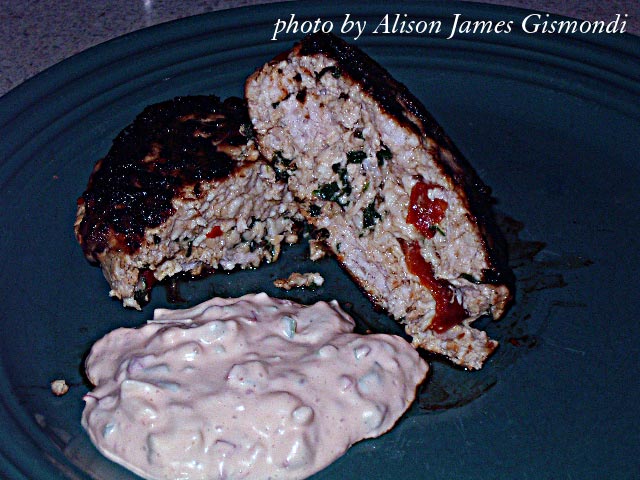 When I cook for my family it is always low carb, but never boring. So far we have been low carb now for over two years and my family has a combined weight loss of over 180lbs. I find it is easy to feed a family with low carb food as long as you keep it fun and delicious.
It is important to incorporate fat into your diet for a healthy brain, but also because fat makes food taste better! That is why when I made up this recipe I used ground pork too. It gives the usual chicken burgers lots of flavor. Oh, and I don't buy the reduced fat ground chicken either. Hey, as they say, "Fat is flavor."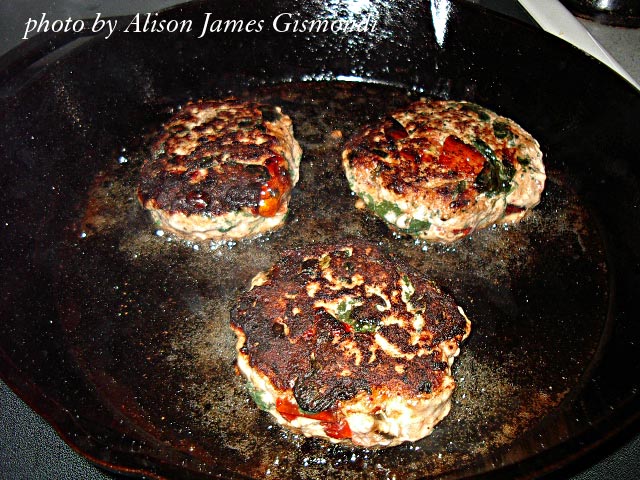 I love to cook, yes, but I love to play around in the kitchen even more, trying new recipes all the time. I do love to come up with my own spin on whatever I am cooking. I remember back in the day when I served chicken burgers, and honestly, they were not that good. I was once the victim of believing fat was not good for you and tried to cook low fat for my family. They grew up on skim milk, cereal, brown rice, and yes—Eeek, I used margarine and low fat products! Well, we were all overweight so something wasn't right. It wasn't until I started cooking with fat and lowering carbs that my kids started losing weight. And now we love chicken burgers. Especially these because they are filled with healthy fat and flavor!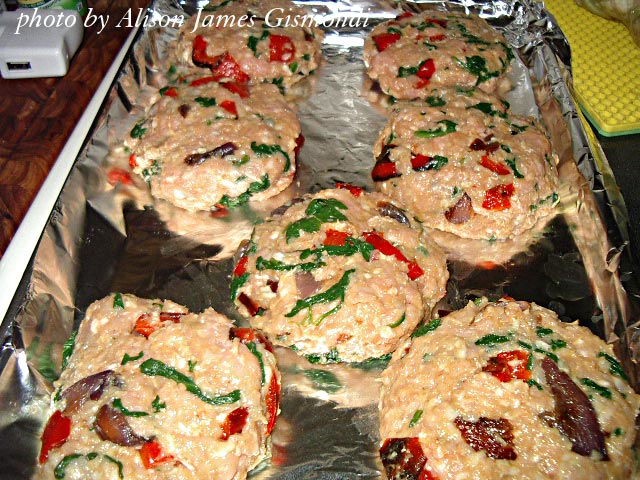 When I thought of ingredients for these burgers I tried to come up with lots of flavors cause let's face it, chicken meat can be bland so you have to help it out. I know that any time you roast a veggie, any veggie, it magically becomes a party in your mouth and to me, becomes the most delicious experience. So of course I put flavorful roasted veggies in the chicken burgers. The spinach is a good binder and also adds extra flavor and nutrients.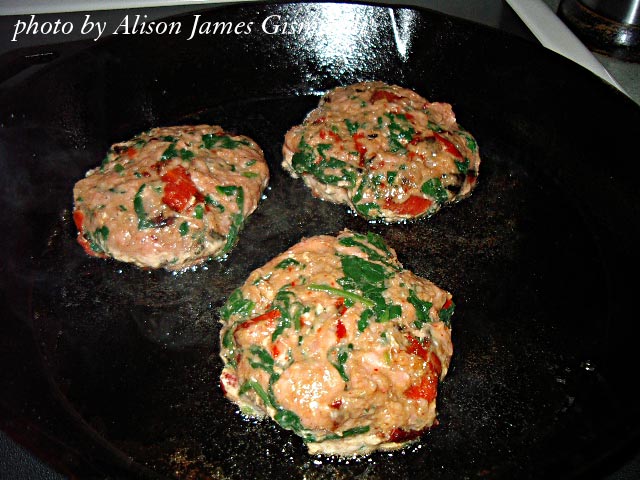 I use plain yellow mustard a lot and love the flavor, so I decided to use it for part of my seasoning. But, it needed a kick. I use reduced balsamic vinegar to add a big boost of flavor. Yes, there are carbs in balsamic vinegar, but when spread across 8 burgers, the impact per burger is minimal. Balsamic vinegar tastes so much richer than regular red wine vinegar. It's also thicker so it doesn't water down the mustard as much as another vinegar.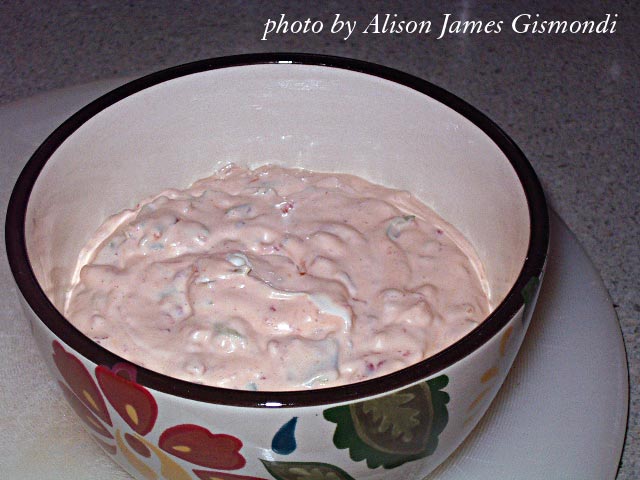 All of these flavors are just fantastic in this chicken burger recipe and you will love them. But the extra bonus is that I serve these Beyond Amazing Chicken Burgers with a super-simple Spicy Mayo mixture. Spicy Mayo is a staple in my house. I actually make this every week in triple batches and have it on hand in the fridge at all times. I love to dip celery and cukes in it and we make the best turkey lettuce wraps with it. My son loves it with his eggs. I really believe you will love it too. You can play around with it and make it really, really, spicy or make it mild if you prefer.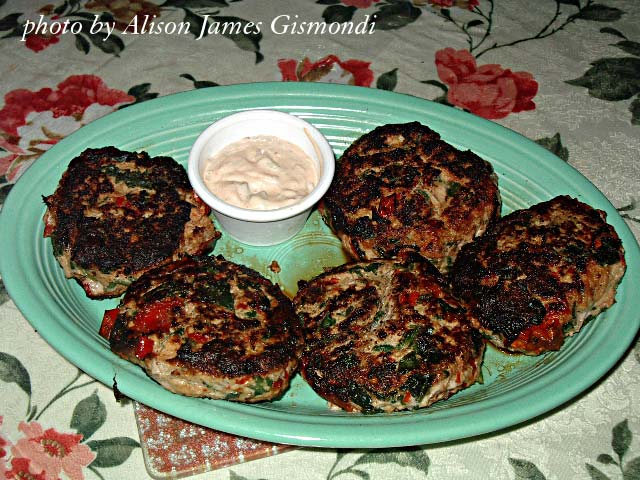 If you decide to try these burgers I know you will love them too. Enjoy! And please be sure to come back and leave a note to let us know how you liked them!!!
Also, please come visit my Pinterest board!
Beyond Amazing Chicken Burgers – Low Carb and Gluten Free
Beyond Amazing Chicken Burgers by Allison James Gismondi are perfect low carb keto flavor-filled patties of roasted veggie joy. Mustard, balsamic vinegar syrup, and roasted veggies give this chicken and pork patty big flavor.
Ingredients
Spicy Mayo (Make 2 ¼ cups)

1 cup Hellmann's or Duke's mayonnaise—or Basic Mayonnaise
10 Scallions, finely chopped
3-4 tablespoons Sambal Oelek (more or less depending on your taste)
Instructions
Spicy Mayo

The day before, or the morning you make your burgers, it is best to make the Spicy Mayo, because the scallions intensify flavor the longer it sits. Just put all ingredients in a bowl and mix well. Store in an airtight container in the fridge. You are gonna love this stuff!

Burgers

Pre-heat oven to 425°.
Seed and cut peppers into strips. Put in large bowl. Cut onions into bite size chunks and add to the peppers. Toss with olive oil to coat evenly. (I use my hands to massage the veggies and really let the oil coat each piece.
Dump veggies onto a large heavy baking tray lined with nonstick aluminum foil. Spread out in single layer skin side up. Roast about 20 minutes or until all the peppers skins are slightly black and onions are caramelized.
While peppers and onions roast, steam an 8ounce bag of fresh organic baby spinach and let it cool. Let spinach cool completely before handling and cut into bite size pieces and put aside.
In a small bowl combine the mustard, balsamic syrup, Tamari, and rice wine vinegar. Mix well. I like to add a few drops of EZ Sweets but taste and adjust to your liking.
Crumble meats into a very large bowl. Mix to evenly combine meats before adding your other ingredients. After combined add mustard mixture. Use your hands to thoroughly incorporate the mustard mixture throughout the meat.
Dump in the peppers and onions and spinach into the meat mixture. Using your hands, mix this together evenly. Use gloves! This is messy!
Now form all your patties and place them on a sheet tray. They will be a little wet and sticky, but the spinach helps to act as a glue. Let the patties sit while you heat a heavy frying pan on medium high heat with about 1-2 inches of coconut oil, suitable for frying. We use Spectrum. A cast iron pan is ideal for this. While oil heats, season the top side of the patties with kosher salt and pepper. Fry in batches, 4 to a pan, or wrap the raw patties separately and freeze what you don't want to cook. But you may as well cook them all because they make great leftovers, nuked for about a minute.
When the oil is very hot carefully pick up patties and place seasoned side down. (They will be very soft and mushy handle carefully. They will firm up during cooking.) Now, don't move them. Let them crust up and get nice and stiff. Cook on medium high for about 8 minutes, depending on the size of the burger. Make sure before you turn them they release easily, or they are not ready to turn. Before you turn, season the second side with salt and pepper.
After turning cook another 6 minutes on medium high and then reduce heat to medium low and cook another 6-7 minutes to cook thoroughly. Remember you are cooking pork and chicken so you want them cooked well done. Enjoy!
Notes
The whole family loves these Beyond Amazing Chicken Patties and fight over the last one on the platter. My son Steve eats the Spicy Mayo on eggs and we love it as a veggie dip for healthy snacks, so make plenty!
Serving Ideas Serve hot with Spicy Mayo. I find these don't need a bun at all but you could use your favorite bun recipe. They are great with a great salad too.
Nutritional Information per patty (no mayo) 254 Calories; 16g Fat (58.4% calories from fat); 22g Protein; 4g Carbohydrate; 1g Dietary Fiber; 3g Effective Carbs
per tablespoon (Spicy Mayo) 39 Calories; 4g Fat (96.3% calories from fat); trace Protein; 0.29g Carbohydrate; trace Dietary Fiber; 0.29g Effective Carbs
Copyright © 2015 Allison James Gismondi. All rights reserved.
http://fluffychixcook.com/beyond-amazing-chicken-burgers-low-carb-and-gluten-free/
Copyright © 2016 Fluffy Chix Cook. All rights reserved.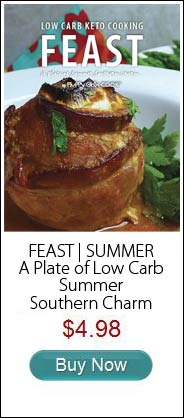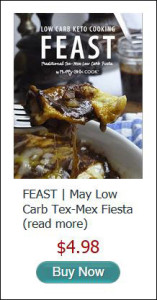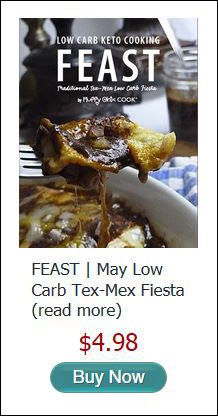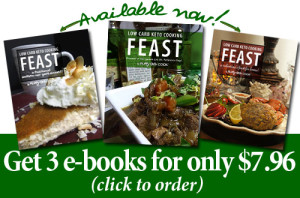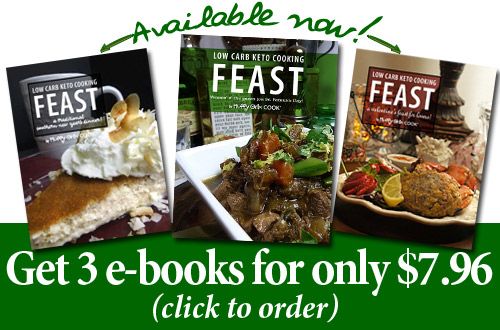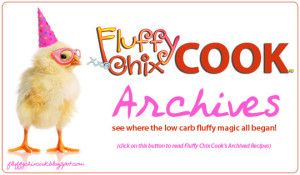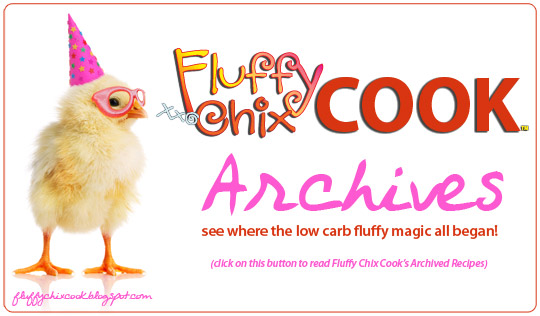 Copyright © 2015 Fluffy Chix Cook. All rights reserved.
We are not dieticians, nutritionists or medical professionals. The materials on this blog are for informational (and fun) purposes only. We do not fact check, nor do we worry about sources. Please do your own fact checking. We encourage you to look things up and check with your doctor or health care professional before acting on anything seen on Fluffy Chix Cook. xoxo