Blue Cheese Vinaigrette – Low Carb | Gluten Free | Sugar Free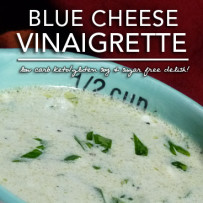 Many people have developed dependence on bottled salad dressings, but have you read the ingredients in them, lately? What the heck is Blue Lake 24 and why do we need it in our blue cheese dressing? If you're like Fluffy Chix Cook, you want a sugar free, gluten free, honest to goodness keto blue cheese dressing that fits into your low carb lifestyle. We want choices! Give us a healthy keto blue cheese dressing! Well relax, just relax, cuz we're about to color your world blue.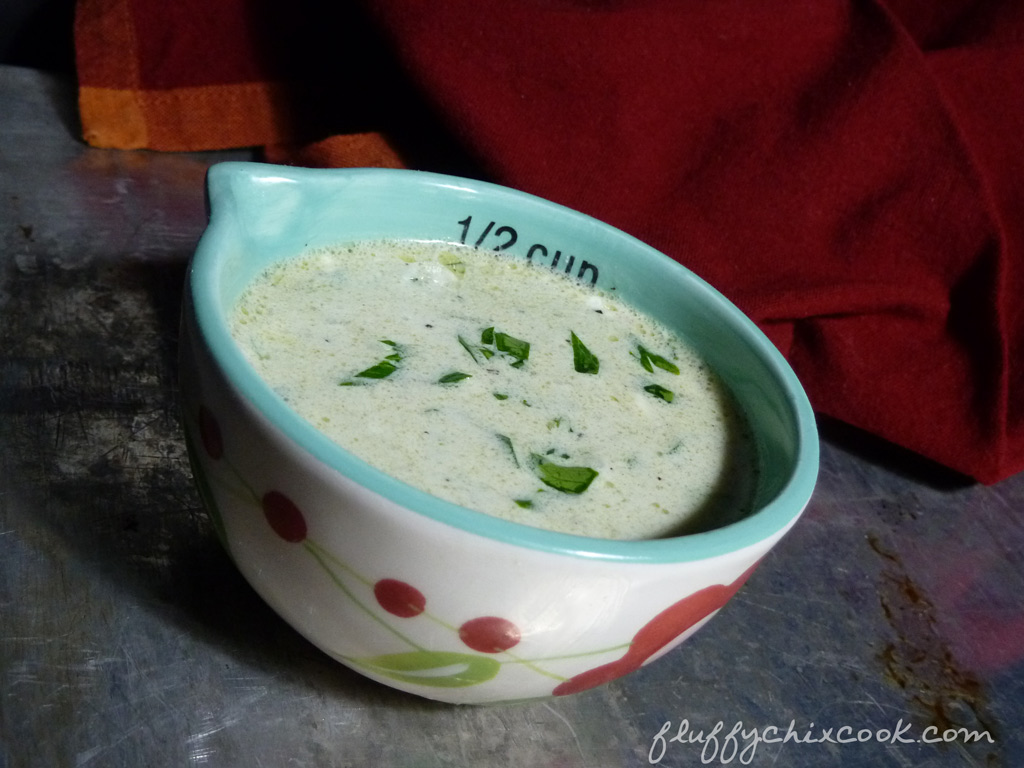 We want to ease you into the world of homemade dressings. They're a piece of cake and Fluffy Chix almost always has 3 dressings in rotation in the fridge. Now, let us confess…we LIKE a bit of refrigerator roulette on items we suspect have a sell-by-date long past conventional advice and wisdom. So we DO play R2 (refrigerator roulette) with salad dressings. It's not impossible to lose them to the dark side, but you kinda always see it coming when that happens. With so much vinegar in salad dressings and salt, the beasty bugs head for greener pastures—like those bags of salad mix we're all so found of using for a quicky. But we digress—and so dressings last 2-3 weeks in our fridge.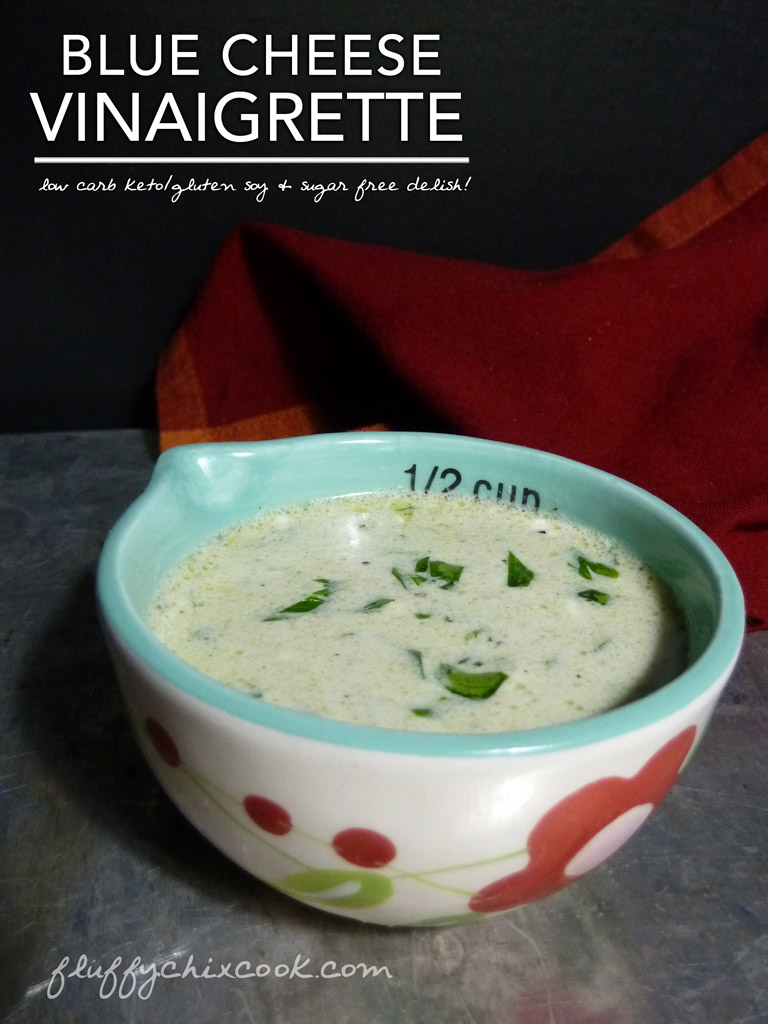 Blue Cheese Dressing of one kind or another (creamy or bc vinaigrette) alternates with Secret Sauce aka Thousand Island Dressing, and we always keep House Vinaigrette made ahead and ready to go—and Creamy Ranch…oh how could we live without you on the left hand side of the second shelf? So those are the players and today we're gonna give you the first of two blue cheese salad dressings. Blue Cheese Vinaigrette or the other recipe, Creamy Blue Cheese Dressings, should NEVER contain sugar, nor should they ever, never, ever-never, supposed to be made with Miracle Whip (not keto) or salad cream (also not keto). The end. Now go get the recipe. hehe
This is serious business. People are particular about their salad dressings and we were blessed to be raised by DFSW's who understood the value in a good homemade Green Goddess or Blue Cheese Dressing. The Junior League woulda locked up the women in our houses and hauled 'em off to volunteer somewhere if they ever suspected any other type of dressing besides homemade.
Low carb, sugar free, Blue Cheese Vinaigrette is actually an Easy Button recipe and derives from a Lucky Leftover. Yep, we'll stop at nothing to use leftovers in this house! Using House Vinaigrette as a base means this keto dressing mixes up in less than a minute start to finish. We cain't make this stuff up! And we can swear you won't have blood sugar issues by eating a responsible portion, no hidden sugars, no blue lake eleventy billion. Nothin' but honest to goodness real food and it's Atkins Induction or Phase I friendly and Westman's Page 4 Diet friendly, too. It's "just" thick enough to enrobe crispy lettuce and not so thick it has a hang time.
So let's make some Blue Cheese Vinaigrette!
Blue Cheese Vinaigrette – Low Carb | Gluten Free | Sugar Free
Creamy, salty blue cheese mixes with House Vinaigrette for an Easy Button morph into an extraordinary salad dressing!
Ingredients
Instructions
Make House Vinaigrette or plan to have it made with a 1/2 cup available for the recipe.
Mash blue cheese into a coarse paste. Mix with mayonnaise and heavy cream until evenly combined. Blend in House Vinaigrette and stir until creamy and well-blended. Store in an airtight container up to a week or two.
Notes
This Blue Cheese Vinaigrette is meant to be thinner; like creamy vinaigrette. It has the feel and taste of a hearty blue cheese dressing without being gloopy and heavy. Awesome on crispy lettuce!
Serving Ideas Blue Cheese Vinaigrette works great on salads and veggies as well as a dipping sauce for chicken wings and fingers.
Nutritional Information
Per Tablespoon: 38 Calories; 4g Fat (90.9% calories from fat); 1g Protein; 0.31g Carbohydrate; trace Dietary Fiber; 0.31g Effective Carbs
Copyright © 2014 Fluffy Chix Cook. All rights reserved.
http://fluffychixcook.com/blue-cheese-vinaigrette-low-carb-gluten-free-sugar-free/
Copyright © 2016 Fluffy Chix Cook. All rights reserved.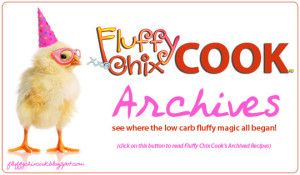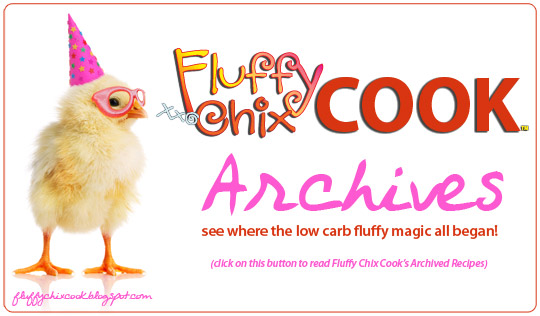 Copyright © 2014 Fluffy Chix Cook. All rights reserved.
We are not dieticians, nutritionists or medical professionals. The materials on this blog are for informational (and fun) purposes only. We do not fact check, nor do we worry about sources. Please do your own fact checking. We encourage you to look things up and check with your doctor or health care professional before acting on anything seen on Fluffy Chix Cook. xoxo