Cheesy Balsamic Stuffed Mini Peppers – Keto Allergy KISS Day 3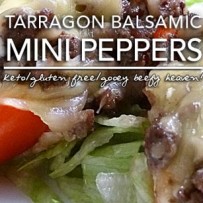 Low carb keto Cheesy Tarragon and Balsamic Stuffed Mini Peppers are another quick and easy (KISS) meal for anyone following a low carb lifestyle. They're perfect for Induction plans where carbs are kept super low and for allergy rotation/elimination plans where you also have to keep ingredients very simple and minimal. Fluffy Chix Cook demonstrates how to produce a comfort food meal while still keeping things KISS (keep it simple sweetie). Keto KISS meals are perfect weeknight meals because they take less than 10-15 minutes of actual hands-on-prep time.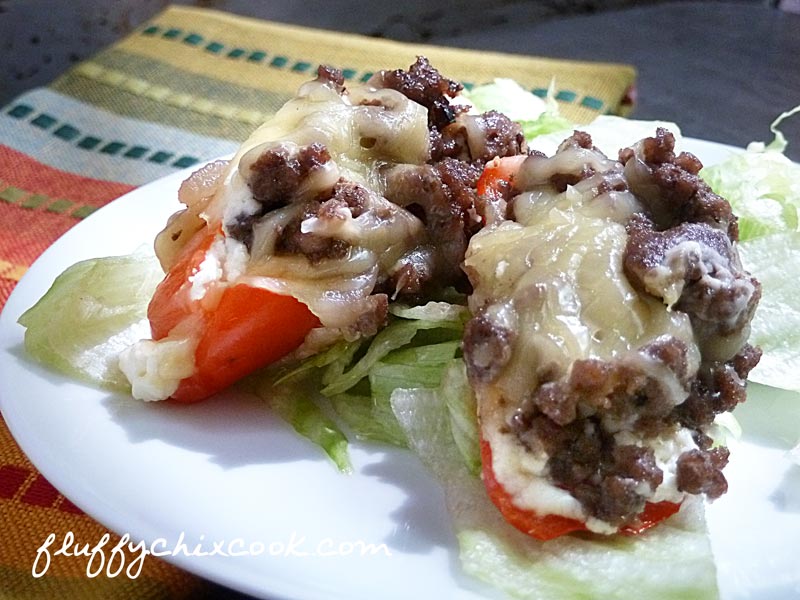 Day 3 Beef/Dairy/Nightshade/Aster (Composite)/Fungus Day! Yippee! I have to be honest, this is Mr. Fluffy's favorite day because he is The Beefeater and Day 3 is dedicated the one he loves…beef! hehe.
We kept things simple and just made a quick cheeseburger on iceberg for lunch (and of course, since I'm not rotating, I jazzed mine up), and then we tested the Nightshade Family for dinner. Dinner was a slightly more complex meal, BUT it was still KISS worthy. 🙂
And we're thrilled to report that he is symptom free from yesterday's meals with zero tongue or lip swelling. Additionally, the hives be a goin' away! Buh bye hives! They continued to dissipate yesterday and this morning are only faint red areas on the backs of both arms.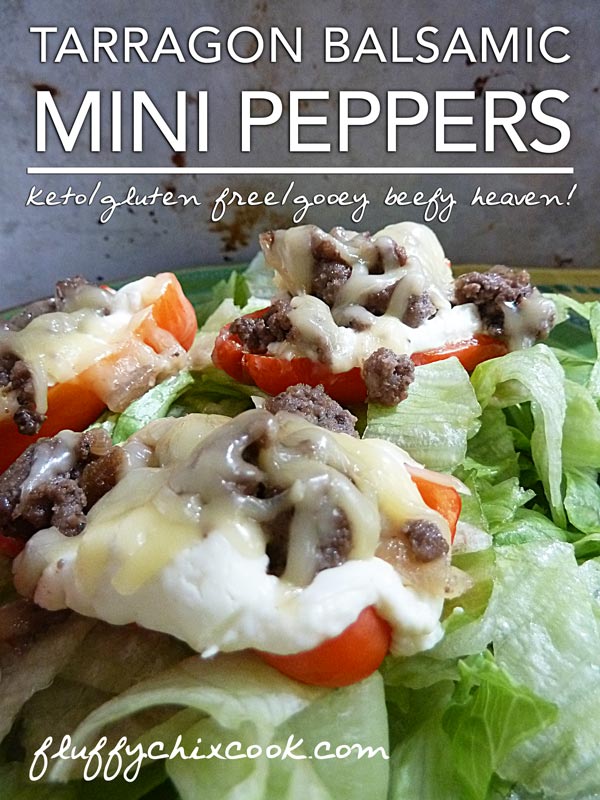 Beef or Bovid Family is an important day because this protein family includes some of the most major players in a majority of low carbers' meal plans. Here's a list of what's included in the Bovid Family:
Beef, Bison and any dairy components from the milk of these animals.
That may not sound huge, but hells! That's heavy cream, sour cream, crème fraiche, Greek yogurt, and cheeses—to the moon and back, Alice! And we were very afraid that Mr. F.'s allergies were becoming problematic for red meats. That doesn't appear to be the case! Hallelujah! The last thing we want is for Mr. Fluffy to have issues with red meats, because it would also screw him for any Beef Family alternates!
Alternate Protein Families for Bovid (Beef) Family Days:
Ovis Family = lamb, mutton, sheep, and goat, all milk/dairy from those animals
Game Family = deer, elk, moose, and caribou (reindeer)
And if someone has an issue with red meats, all of those families would be suspicious and you'd need to tread very carefully to not eat any particular sub-member more than once every 4th day (or longer). Because he's not sensitive to these families, we're allowing him to eat a type of food more than once per 24 hour period during his rotation day. For him, it doesn't seem to be an issue, but it might be for you—YMMV (your mileage may vary).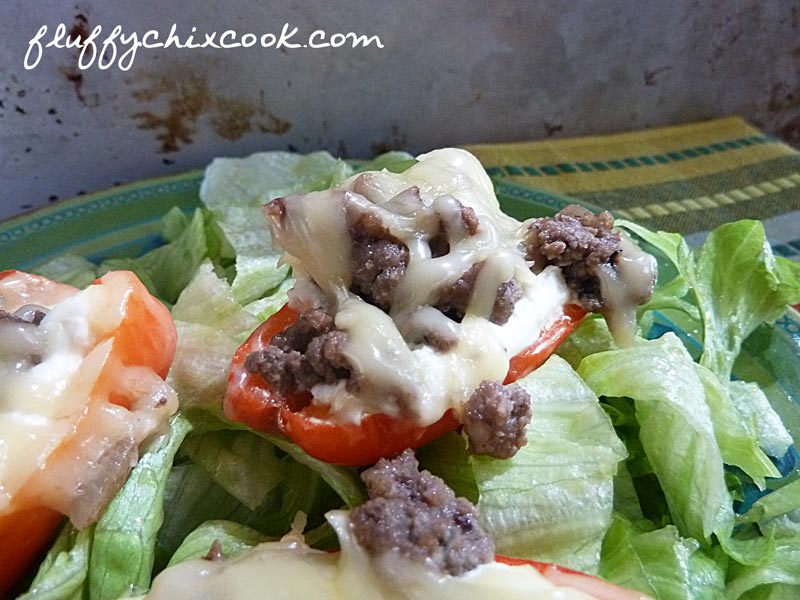 We went all out for dinner last night and made a super simple Cheesy Balsamic Tarragon Beef Stuffed Mini Peppers-perfectly keto KISS. Ohmahgerd. So good and so dang easy. Took us only 10 minutes of hands-on-time to prep the peppers and make a quick side salad (Aster Family = most lettuces, artichokes, and sunflower seeds.) Mr. Fluffy gave it a 9 out of 10 wings up and you know he never gives 10s—except that one time in banned camp.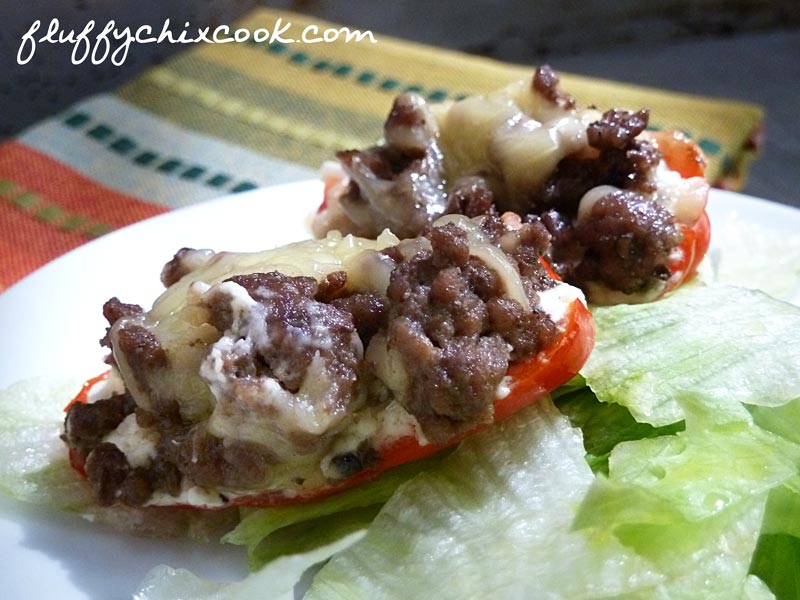 
Hope you will make our delicious low carb stuffed mini peppers and fly back here and leave us a message about how you liked it.
One note about balsamic vinegar, please. It's important that you look for a brand with the absolute FEWEST ingredients—because cheap balsamic vinegar has many nasties in it such as HFCS, sugar, caramel color, artificial flavoring, MSG and other preservatives. You will pay more for the good stuff, but our bottle has literally lasted 2 years. Ideally balsamic vinegar should have only 1 ingredient: grape must (and for those of you eliminating molds, you should omit balsamic from the recipe below). We have to admit to making our own Fluffy rotation rule here, because although we're staying away from dried herbs and spices, mushrooms, truffles and aged cheeses for now in an effort to see if mold is an allergy for him, we did make the exception with balsamic vinegar last night and also added coffee to our rotation—both are possible sources of mold contamination.
Oh and btw, never underestimate the power of a tasty Gouda cheese! It tasted creamy and unctuous as a cheddar cheese replacement in the Stuffed Mini Peppers!
If you want to catch up with us and view Keto KISS Allergy Elimination/Rotation Meals for Day1 and Day 2, you know the drill; click on the links! Don't forget the Pumpkin in Browned Butter!
FULL DISCLOSURE: I must confess I was a bad and unsupportive Fluffy. The cheeseburger piccys show a Big Mack Daddy Salad. I am apparently incapable of doing a rotation diet and taking one for the team—eating what Mr. Fluffy eats. I jazzed up my burger with Deli Deluxe American (cuz that's how I roll), bacon bits (not part of Day 3 rotation) and also added some purple onion and quick pickle cucumber strings because I heart them so much and must have them anytime cheeseburgers are served. Our quick and healthy Thousand Island Dressing is the bomb and turns it into a Big Mack Daddy Salad. So it's still a KISS Induction meal, but fancier than Mr. F.'s meal, and definitely not Allergy Rotation Diet approved!
DAY 3 – MR. FLUFFY'S LOW CARB KETO ALLERGY MENU
B-coffee
3 fl ounces heavy cream
L-3 ½ ounce 80/20 Burger Patty
sea salt
freshly ground black pepper
1 ½ ounces cheddar cheese
2 cups romaine hearts, chopped
D-6 halves Balsamic Tarragon Beef Stuffed Mini Peppers
Side Salad
1 ½ cups iceberg lettuce, shredded
2 ounces grape tomatoes, halved
2 tablespoons extra virgin olive oil
1 teaspoon balsamic vinegar
sea salt
freshly ground black pepper
Daily Totals: 1481 Calories; 122g Fat (74.5% calories from fat); 77g Protein; 18g Carbohydrate; 5g Dietary Fiber; 13g Effective Carbs
Day 3  FOOD FAMILIES
Bovid (Ground Beef & Dairy)
Aster or Composite Family (Lettuce, Tarragon)
Mint (Most fresh herbs—omitting because we've used this family 2 days straight)
Nightshades (Tomatoes, Chiles, Peppers)
Fungus (Mushrooms, Truffles, etc—omitting to rule out mold sensitivity)
Grape (Balsamic Vinegar, Red Wine Vinegar, Cream of Tartar)
If you really want to Geek Out! Here's the Chart of ALL the foods we could choose from for Day 3 foods. This doesn't look like deprivation to me. Does it to you?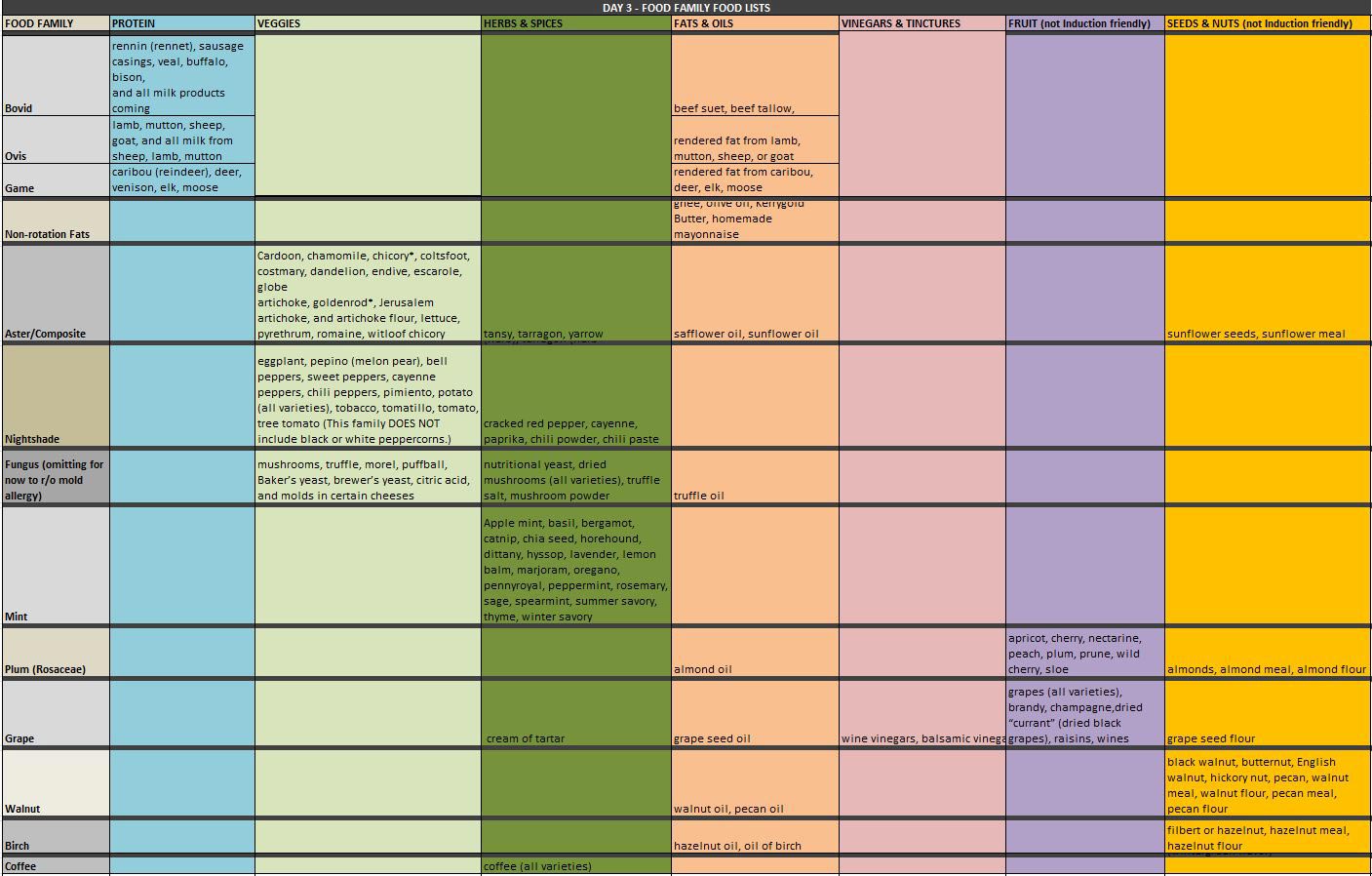 (Click to enlarge image.) Visit this pdf to see the full Food Family Allergy Rotation List and book by Lisa Lunde.
Cheesy Balsamic Stuffed Mini Peppers – Keto Allergy KISS Day 3
Low carb keto Beef with Tarragon Stuffed Mini Peppers require no fancy ingredients and take only minutes to prepare. Great for Induction or for a Keto Allergy Rotation Plan!
Ingredients
Stuffed Peppers

12 ounces 80/20 ground beef
1 tablespoon red chili pepper, seeded and minced (optional)
2 tablespoons fresh tarragon, chopped—or 1/2 teaspoon dried tarragon
1 tablespoon Balsamic Vinegar of Modena (Kirkland's)
sea salt
freshly ground black pepper
3 ounces cream cheese
6 mini peppers
1/2 cup shredded cheddar cheese—or your favorite cheese (we used Gouda)
Instructions
Crumble beef into a large nonstick skillet. Add chopped fresh hot chile such as a fresh tabasco pepper, tarragon, balsamic vinegar (be sure to get an organic balsamic that is purely fermented grapes), sea salt, and freshly ground black pepper. Cook until meat is browned and veggies are tender.
While meat cooks, split mini peppers in half, lengthwise and discard seeds. Divide cream cheese and fill each pepper half with a portion. Top with beef mixture and sprinkle with grated cheese.
Bake in a 350° oven for 15-20 minutes or until cheese is melted and gooey. Serve 4-6 pieces on a bed of simple salad, per person.
Notes
ow carb keto Balsamic Beef and Tarragon Stuffed Mini Peppers are a great take on stuffed peppers. Who knew cooking with only fresh herbs would be so easy peasy? The quality of the balsamic matters, especially if you have allergies. The more you spend on balsamic, the fewer adulterations and chemicals—and it lasts forever when you're only using 1-2 tablespoons in a recipe, so do consider that aspect. Using Gouda in place of shredded cheddar ups the flavor and the nutrition since Gouda is very high in naturally occurring K2, an important vitamin that helps direct hundreds of cellular functions.
Serving Ideas Serve with a quick side salad and an oil and red wine vinaigrette.
Nutritional Information
per half 98 Calories; 7g Fat (67.9% calories from fat); 6g Protein; 1.5g Carbohydrate; 0.42g Dietary Fiber; 1g Effective Carbs
per 4 halves 391 Calories; 29g Fat (67.9% calories from fat); 25g Protein; 6g Carbohydrate; 2g Dietary Fiber; 4g Effective Carbs
per 6 halves 586 Calories; 44g Fat (67.9% calories from fat); 37g Protein; 9g Carbohydrate; 3g Dietary Fiber; 6g Effective Carbs
per 4 halves with side salad 483 Calories; 38g Fat (71.5% calories from fat); 26g Protein; 8g Carbohydrate; 3g Dietary Fiber; 5g Effective Carbs
per 6 halves with side salad 724 Calories; 57g Fat (71.5% calories from fat); 39g Protein; 13g Carbohydrate; 4g Dietary Fiber; 9g Effective Carbs
Copyright © 2015 Fluffy Chix Cook. All rights reserved.
http://fluffychixcook.com/cheesy-balsamic-stuffed-mini-peppers-keto-allergy-kiss-day-3/
Copyright © 2016 Fluffy Chix Cook. All rights reserved.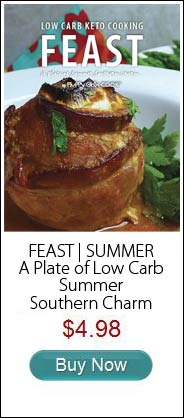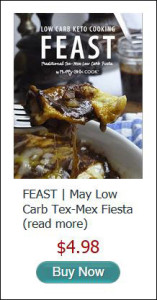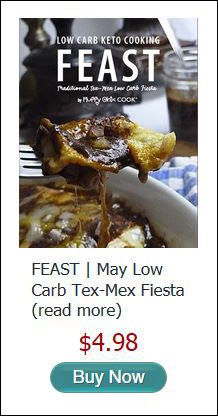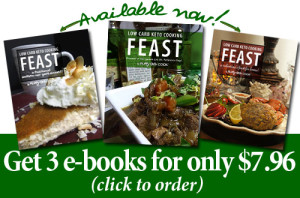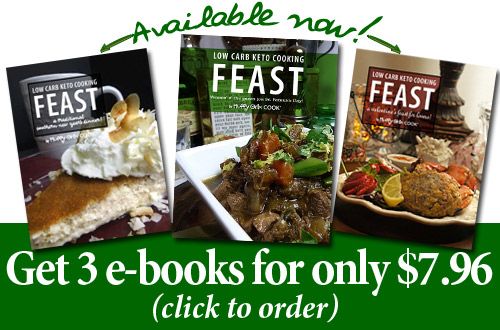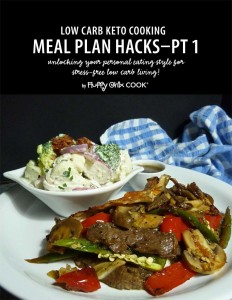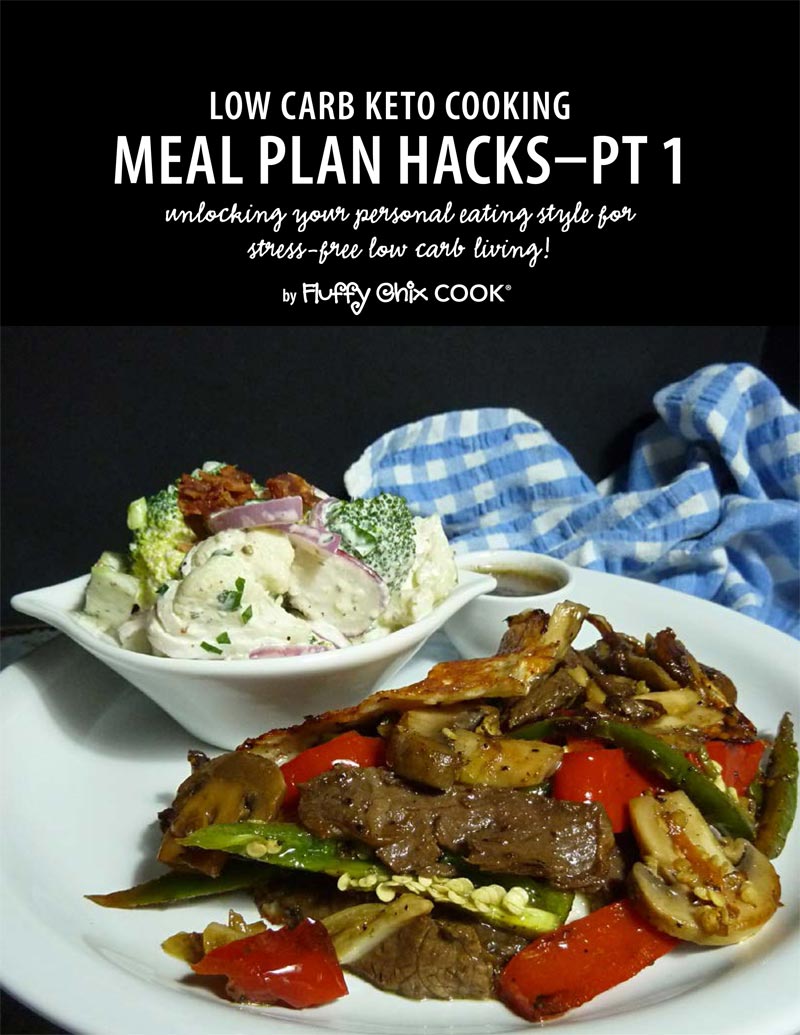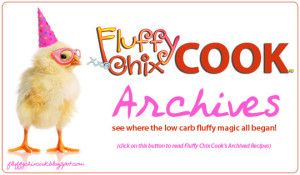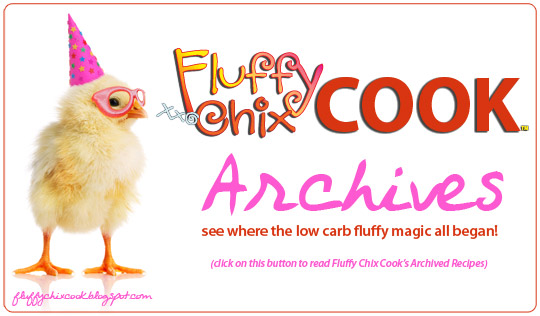 Copyright © 2015 Fluffy Chix Cook. All rights reserved.
We are not dieticians, nutritionists or medical professionals. The materials on this blog are for informational (and fun) purposes only. We do not fact check, nor do we worry about sources. Please do your own fact checking. We encourage you to look things up and check with your doctor or health care professional before acting on anything seen on Fluffy Chix Cook. xoxo