Chimichurri Sauce – Naturally Low Carb Keto Love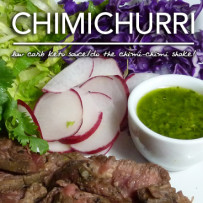 If you can make salad dressing, then healthy keto-licious and low carb Chimichurri Sauce will rock your world. It's as simple as putting the ingredients in a food processor or pulsing in a blender or with a stick blender, until everything is minced very finely, then drizzling in the good stuff, the unfiltered extra virgin olive oil. Poof, 5 minutes and you have a super low carb, gluten free and diabetic friendly Chimichurri Sauce to make any protein or veggie proud!
How often do you get bored with your food? We hear tales and laments of boredom from low carbers and diabetics, all the time. No offense (and I'm not talking to you), but t's usually (not always) from those who either don't like to cook, or have a low tolerance for cooking. These people are the ones still treating this WOE (way of eating) as a diet, not a lifestyle, and usually eat the same things week-in and week-out, failing to explore their low carb keto options. But in Fluffy Chix low carb keto reality, boredom is completely optional. That's right, you heard me. It's a matter of choice. Simple steps help break monotony. You don't have to be a 4 star Michelin chef to make the weeknight dinner, either. Breaking diet monotony does not mean meals need to become an event or project. Who has time for that?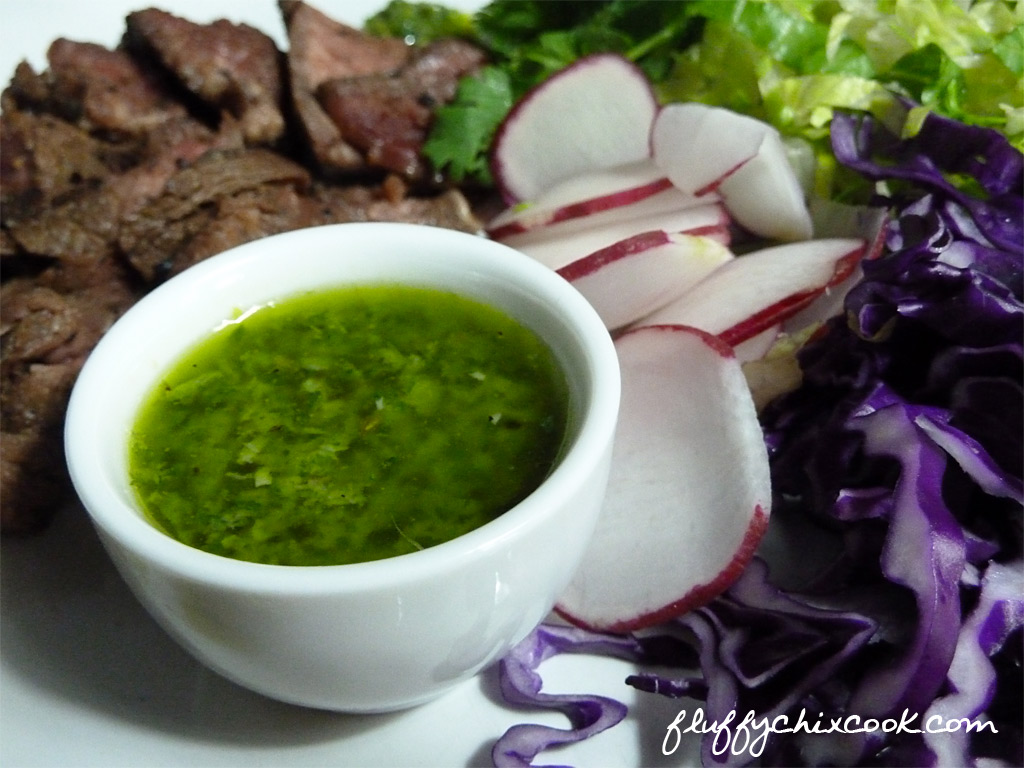 The easiest way to shake things up, because let's face it…weeknight meals must be simple and on the table in less than 30 minutes—ideally in under 15 minutes—is to "repurpose things," To make this speedy transformation from fridge to table reality, Fluffy Chix Cook uses Lucky Leftovers to transform or repurpose into new, complex, compound recipes. Never eat the same thing twice, even if you have 4 days worth of roast sitting in your fridge. Jeeze, if we had to eat plain old roast every night for a week, we'd get bored too. But we don't. We trick it out, tart it up, throw some lipstick on it, and Svengali it into shepherd's pie, or hash, enchiladas or chile relleno. In fact, we have our evil way with it. And if you cook roast rare enough, the leftovers make heavenly salads and low carb street tacos and gourmet sandwiches, each having a different flavor profile. Lucky Leftovers (low carb and keto) have worked so well for over 14 years—keeping boredom at bay and cutting food loss to near-zero!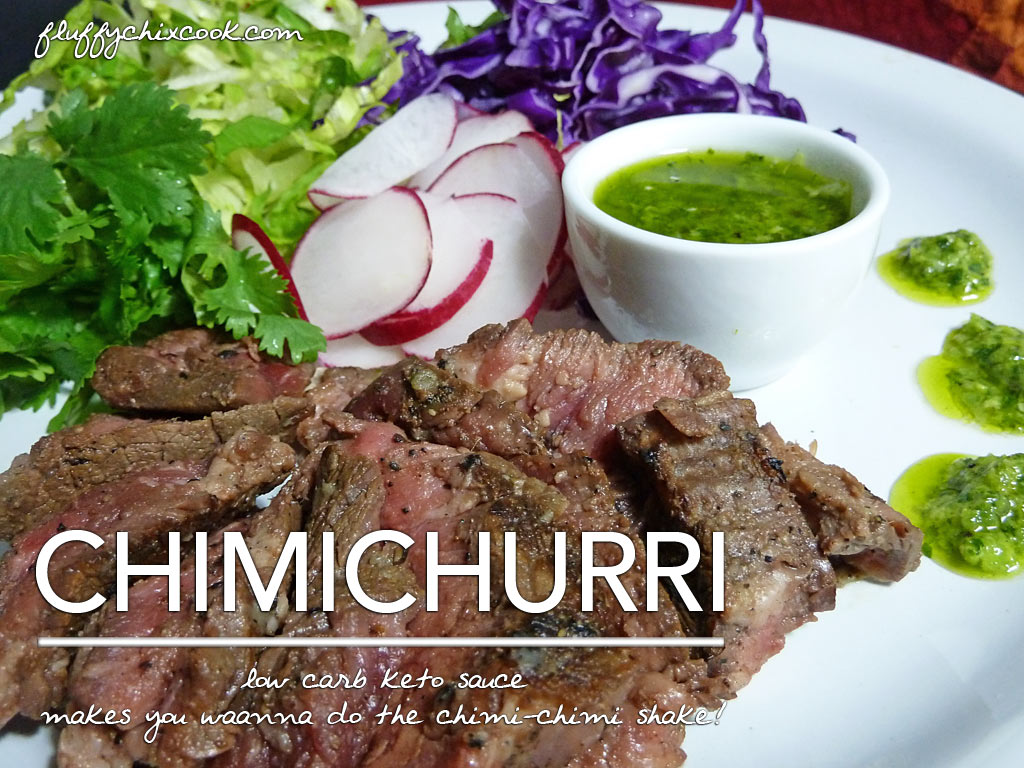 But how do you change flavor profiles of a basic leftover recipe? You shape shift flavors through spices, sauces and Lucky Leftovers. But let's pretend you don't have leftovers and you want to shake things up, anyway. A no-brainer way to get a low carb meal on the table, muy pronto, is to go super simple. Grill or pan-sear a piece of meat or seafood, which takes 5-10 minutes from fridge to table. But that "can" get boring over the long lifetime haul, even with butter! So why not spice it up with different sauces? Remember, Susie T. is the Condiment Queen and as reigning DFSW, she's pro-sauce and pro-salsa—especially in the hot, summer months, and most especially when making these sauces and salsas isn't any harder than making a homemade salad dressing. Create quicky sauces while the protein is cooking—in that 5-10 minute window. Sauces are a low carber's secret to lifelong bliss. Many sauces are easy peasy and take very little time to make; and…you look like a top chef doing it.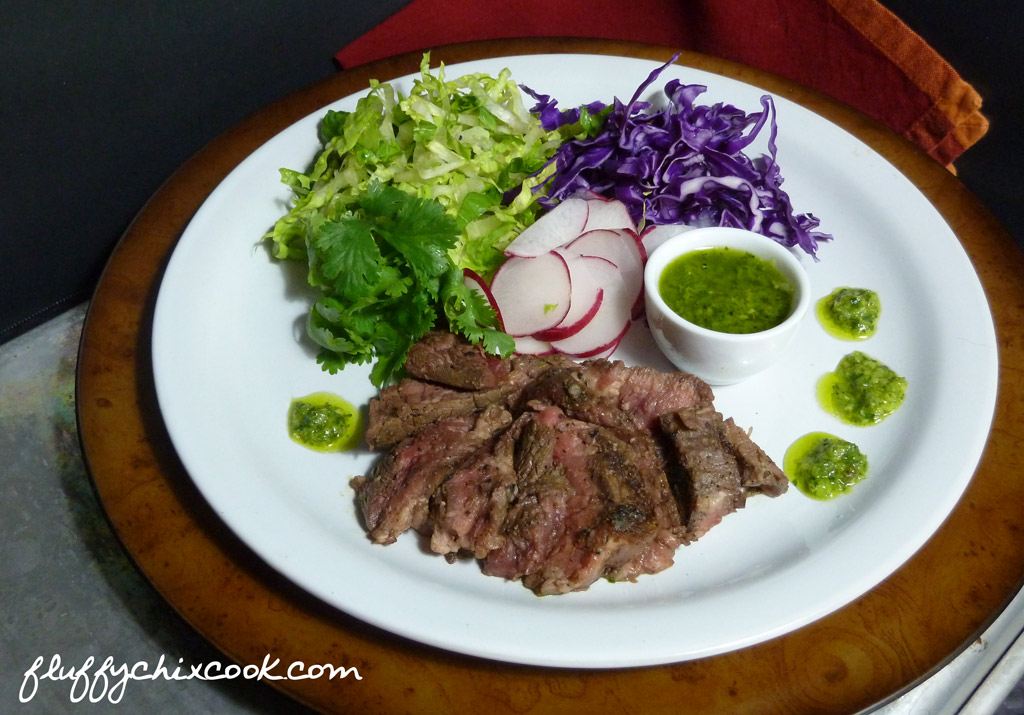 Chimichurri Sauce is a quicky sauce that's a meal time rock star. Chimichurri is naturally low carb and has a great ketogenic profile of fats to carbs/protein. Packed with cancer fighting vitamins, minerals and phytonutrients from the parsley, garlic and cilantro it performs as a super hero, boosting meal nutrition with stealth. Your family won't even know you are upping their nutrition. There is a down side to Chimichurri. You HAVE to use fresh herbs for the main characters in this recipe; there are no subs for them. We also use fresh herbs for the basil, oregano and thyme, because we have them in pots on the patio, but it's ok to go with dried herbs for the supporting cast. (We don't measure the fresh oregano, basil and thyme, just go by taste.)
Try Chimichurri Sauce on everything and be sure to mix it into Basic Mayonnaise. AWESOME! We spread Chimichurri Mayonnaise on Fluffy Chix Cook low carb and Induction friendly, Focaccia Bread, then top with sliced chicken breast, or rare roast beef or lamb, or roasted pork, spinach, fresh mozzarella and tomatoes. Holy cow, what a low carb sandwich.
Let us know how you like it and what your favorite use is for the Chimichurri!! (Don't you love saying that word?)
Chimichurri Sauce – Naturally Low Carb Keto Love
This classic Argentinian sauce works great on any grilled or pan seared protein. Simply awesome on tacos, sandwiches and made into souped-up mayonnaise! Naturally low carb, Chimichurri is a ketogenic and nutritional powerhouse!
Ingredients
Instructions
Combine first 10 ingredients in a mini food processor. Pulse to chop finely. Transfer to a mixing bowl. Slowly whisk the olive oil into the herb mixture. Taste and season with kosher or sea salt and fresh black pepper. Stir with a spoon and enjoy.
This South American classic sauce works great on any grilled or pan seared protein, from beef to seafood and veggies, too. Simply awesome on tacos, sandwiches, salads and made into souped-up mayonnaise! To die for as a dressing for grilled veggies!
Notes
We can't think of a single protein this sauce doesn't brighten. It turns ordinary into something worth perking up and taking notice. Try it liberally on sandwiches. Mix a bit in Basic Mayonnaise for a delicious sandwich spread.
Serving Ideas Serve with your favorite grilled meats or veggies.
Nutritional Information
Per Tablespoon: 41 Calories; 5g Fat (96.6% calories from fat); trace Protein; 0.3g Carbohydrate; 0.08g Dietary Fiber; 0mg Cholesterol; 0.22g Effective Carbs
Copyright © 2012 Fluffy Chix Cook. All rights reserved.
http://fluffychixcook.com/chimichurri-sauce-naturally-low-carb-keto-love/
Copyright © 2016 Fluffy Chix Cook. All rights reserved.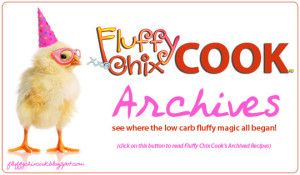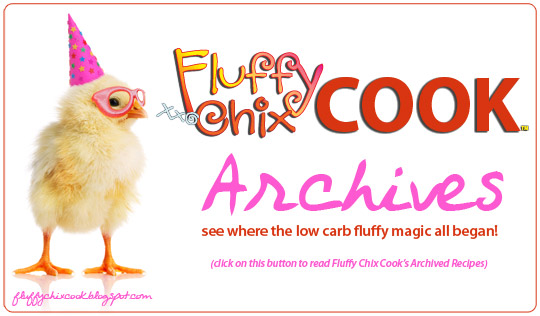 Copyright © 2012 Fluffy Chix Cook. All rights reserved.
We are not dieticians, nutritionists or medical professionals. The materials on this blog are for informational (and fun) purposes only. We do not fact check, nor do we worry about sources. Please do your own fact checking. We encourage you to look things up and check with your doctor or health care professional before acting on anything seen on Fluffy Chix Cook. xoxo