Cobb Salad – Low Carb & Gluten Free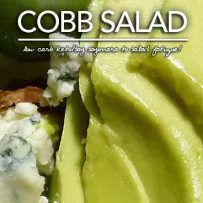 Do you get tired of everday, boring salads in your low carb lifestyle? Have you every wondered what a composed salad is and if you need to eat one? Composed salads offer low carb keto freedom from salad boredom and are far from plain Jane. Composed salads such as the famous Niçoise Salad or humble Cobb Salad are salads tossed with a garlicky vinaigrette and then stacked with each component individually arranged on the plate in an attractive array of bounty. Join Fluffy Chix Cook in making the basic but complexly delicous keto salad treat.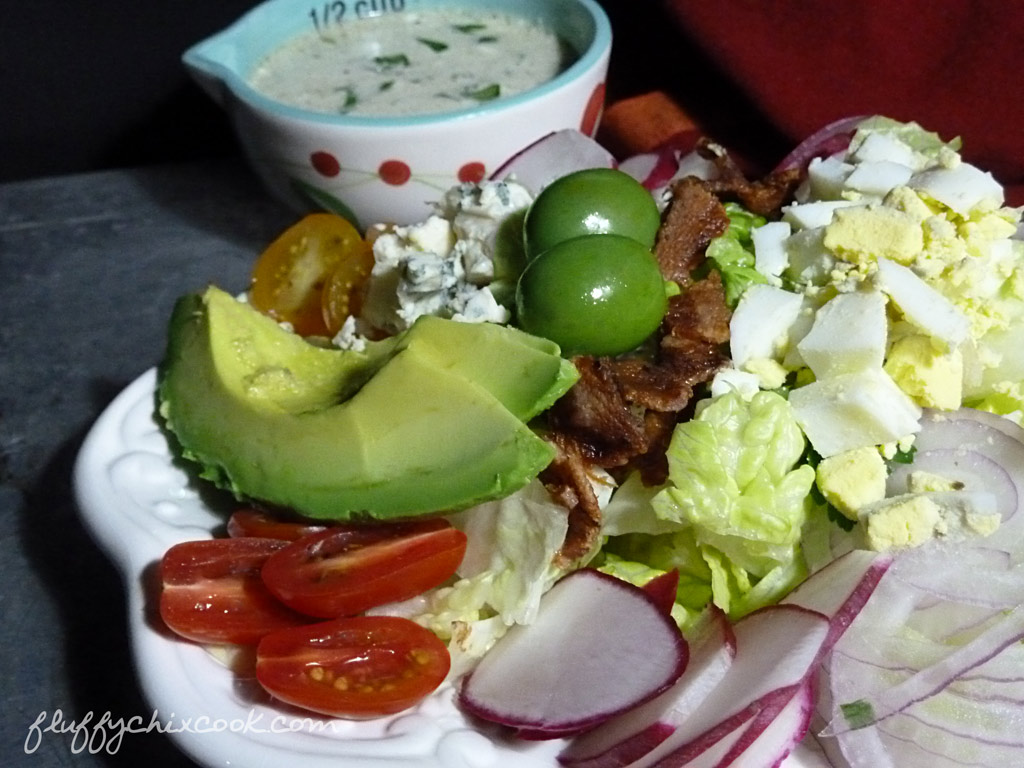 Salads are healthy and all the low carb keto diet physicians-gurus, like Dr. Westman from the Duke No Sugar No Starch Diet aka PAGE 4 DIET and co-author of the up-coming book KETO CLARITY with Jimmy Moore, wants you to eat at least 2 cups of raw veggies a day with the emphasis on green leafy veggies. And sure leafy greens add great chew factor and add important vitamins and minerals, boosting cancer fighting potential of ketogenic diets, but sometimes being "Popeye-good" gets to be a drag. And let's face it…salad fatigue happens. It does. And when that happens Fluffy Chix like to tart salads up and put lipstick on 'em.
Ok it's proverbial lipstick and the salads can't really become trampy…
Cobb salad traditionally contains breaded, fried, chunks of succulent chicken, but does it have to be fried? Of course not! Use any leftover chicken you have on hand or prepare it fresh, specifically for the Cobb Salad.
Here are a few of Fluffy Chix Favorite Cobb Salad Meats:

Low Carb Oven Fried Chicken Tenders (from Fluffy Chix Cook Archives)
Rotisserie or Baked Chicken (homemade or store bought)
Grilled Chicken Breasts (homemade or store bought)
Pan Seared Chicken Breasts (homemade or store bought)
BBQ Chicken Wings
Suicide Wings
Heroin Wings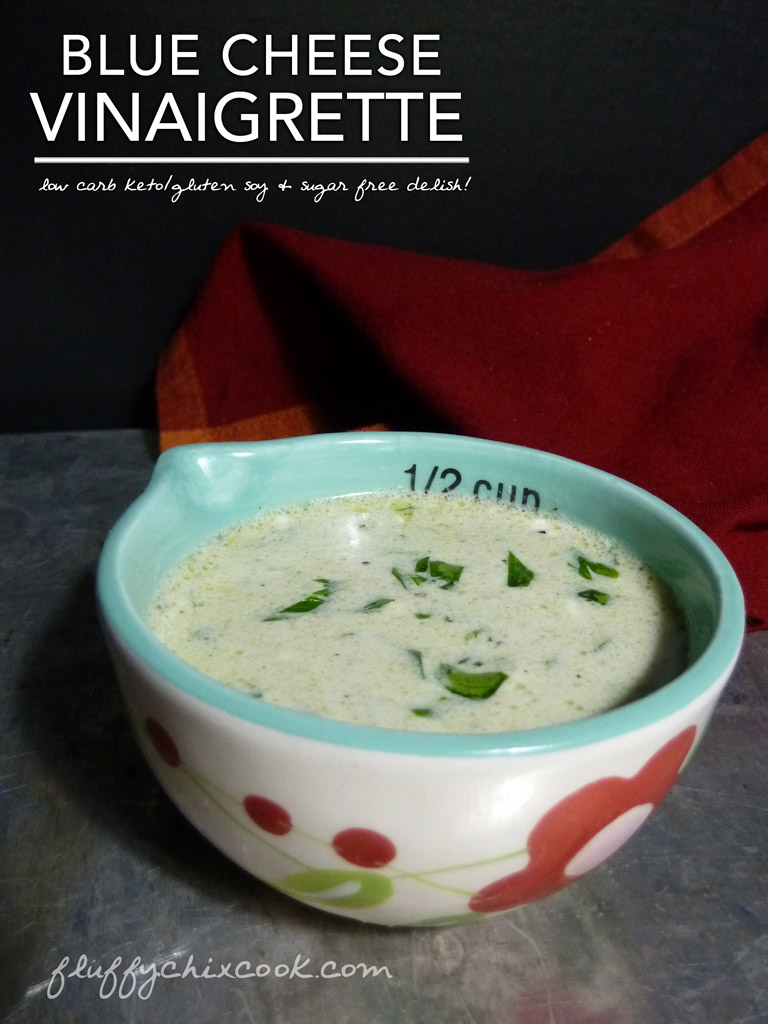 We love the interplay of toppings, too! The creamy egg and avocado mixed with salty bacon and crispy veggies like romaine hearts, radish, cucumber, red onion—oh my! And the sultry blue cheese! Low carb Cobb Salad tastes especially decadent with blue cheese crumbles AND Blue Cheese Vinaigrette. Our House Vinaigrette tastes fantastic on the salad, too! There's nothing boring about the combination of these ingredients. And the best part? Composed salads make you look like a culinary rock star. They feed the eye while feeding the tummy in 10 minutes. Swearsies.
JUST A SIDE NOTE: You maybe feel concern about the total non-netted carbs in keto-licious Cobb Salad, but don't sweat it. This is a full meal, no extras needed beyond the protein choices. And 10-12 grams of non-netted carbs still leaves you plenty of room to eat low carb in your other meals. Dr. Bernstein, the noted diabetes specialist and author of DR. BERNSTEIN'S DIABETES SOLUTION, who pioneered the use of the home glucometer and "eating to your meter" to normalize blood sugar, recommends 12 grams of non-netted carbs for lunch and dinner. So it's well within recommendations.
We hope you give the uncommon Cobb Salad a spin and tell us how you like it. Leave us a comment or share with your friends, whydoncha?
What's your favorite salad? We want to hear from you!
Cobb Salad – Low Carb & Gluten Free
A super easy and quick bowl of salad, perfect for Induction or Dr. Westmans's No Sugar No Starch Page 4 Diet. This salad will never leave you singing the salad blues. It fills you up without filling you out.
Ingredients
Salad Base

2 cups romaine hearts, torn or chopped
2 cucumber slices
2-3 grape tomatoes (about 1/2oz), halved
2-3 red onion slices, slivered (about 1/2oz)
1 radish, sliced thinly
2 tablespoons House vinaigrette—or Bue Cheese Vinaigrette
Toppings

½ cup rotisserie chicken, skinless, pulled into chunks—or your favorite protein (about 2 ounces)
1 ounces avocado (about 1/8), peeled and sliced thinly
1 large egg, hard boiled, shelled and quartered
1/2 ounce blue cheese, crumbled
1 slice bacon, cooked until crispy, crumbled
Instructions
Toss salad ingredients with House Vinaigrette. Arrange components on top of romaine base. Either grate or chop boiled egg or place hard boiled egg quarters on the side and top with crumbled blue cheese and bacon. Enjoy!
Notes
A super simple lunch or dinner treat. Trust us when we tell you the House Vinaigrette or Blue Cheese Vinaigrette, makes all the difference! Sure, you can use a store bought dressing for convenience, but the tradeoff for convenience is questionable oils, high PUFAs (poly unsaturated fatty acids), and preservatives. The garlicky flavors of the sharp dressing play so well with the chicken, cucumber, creamy avocado and salty blue cheese!
Serving Ideas A big meal in itself! Serve with a large glass of sparkling water.
Nutritional Information
Per Serving Salad Base Only No Toppings: 120 Calories; 10g Fat (69.4% calories from fat); 2g Protein; 8g Carbohydrate; 2g Dietary Fiber; 0mg Cholesterol; 6g Effective Carbs
Per Serving No Chicken: 315 Calories; 25g Fat (70.5% calories from fat); 13g Protein; 10g Carbohydrate; 3g Dietary Fiber; 228mg Cholesterol; 7g Effective Carbs
Per Serving with Chicken: 495 Calories; 36g Fat (65.1% calories from fat); 33g Protein; 10g Carbohydrate; 3g Dietary Fiber; 313mg Cholesterol; 7g Effective Carbs
Copyright © 2012 Fluffy Chix Cook. All rights reserved.
http://fluffychixcook.com/cobb-salad-low-carb-gluten-free/
Copyright © 2016 Fluffy Chix Cook. All rights reserved.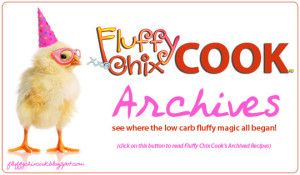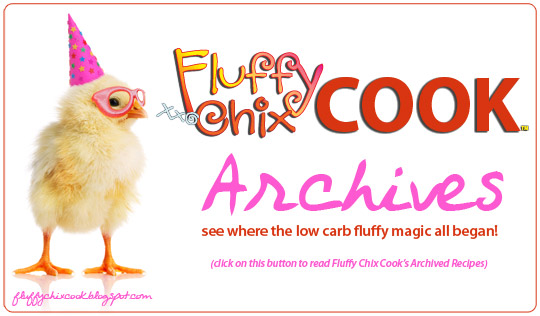 Copyright © 2012 Fluffy Chix Cook. All rights reserved.
We are not dieticians, nutritionists or medical professionals. The materials on this blog are for informational (and fun) purposes only. We do not fact check, nor do we worry about sources. Please do your own fact checking. We encourage you to look things up and check with your doctor or health care professional before acting on anything seen on Fluffy Chix Cook. xoxo