Confetti Slaw – You really can teach an old dog new tricks.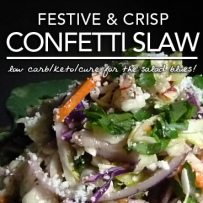 Sometimes, it's hard to break the habit of a lifetime, especially if it involves your favorite mayonnaise and coleslaw. But if you are looking for a change of pace and are ready to give up that sugary, mayonnaise heavy coleslaw in favor of a healthy low carb keto alternative, then Fluffy Chix Cook has a brightly colored, crisp and fresh coleslaw recipe just for you.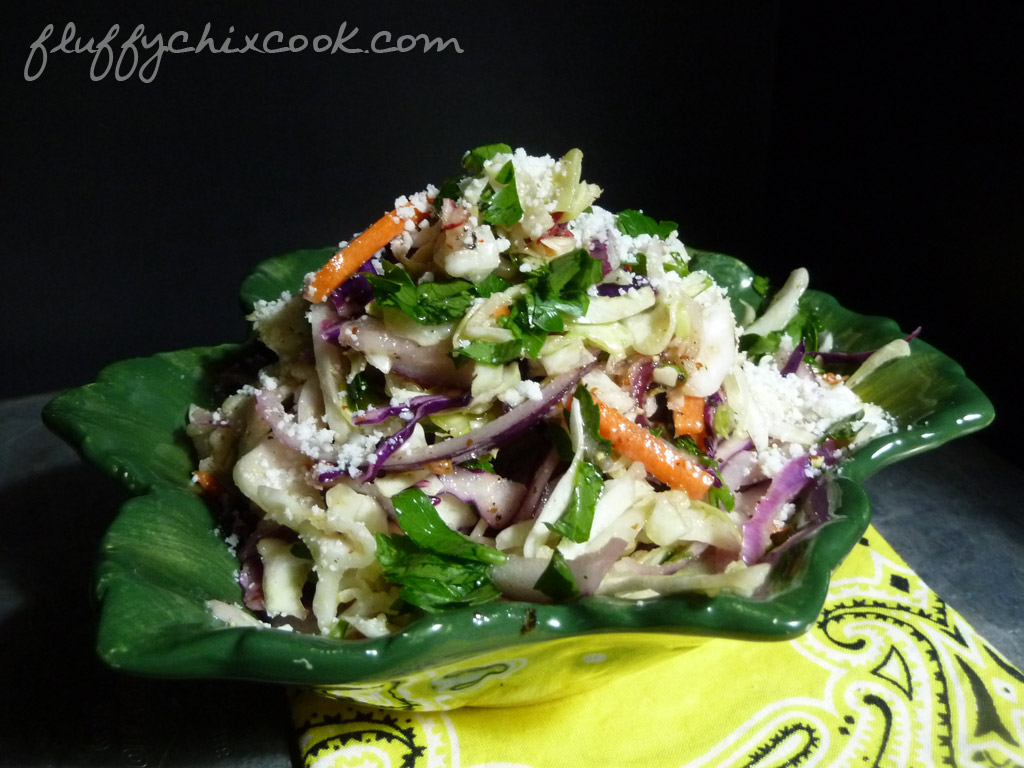 I've never met a Southerner who didn't love coleslaw. Of course, in the South, we're brought up from infancy to adore coleslaw slathered in a creamy mayonnaise dressing. And for many of us, we became accustomed to a sweet dressing (sacrilege). And even more of us only knew of coleslaw thanks to KFC and the Colonel—of course in those non-pc days, we called it Kentucky FRIED Chicken. We didn't try to disguise that we sent our chicken into a pressure cooking fryer to give it that ultra-crispy, delicious flavor.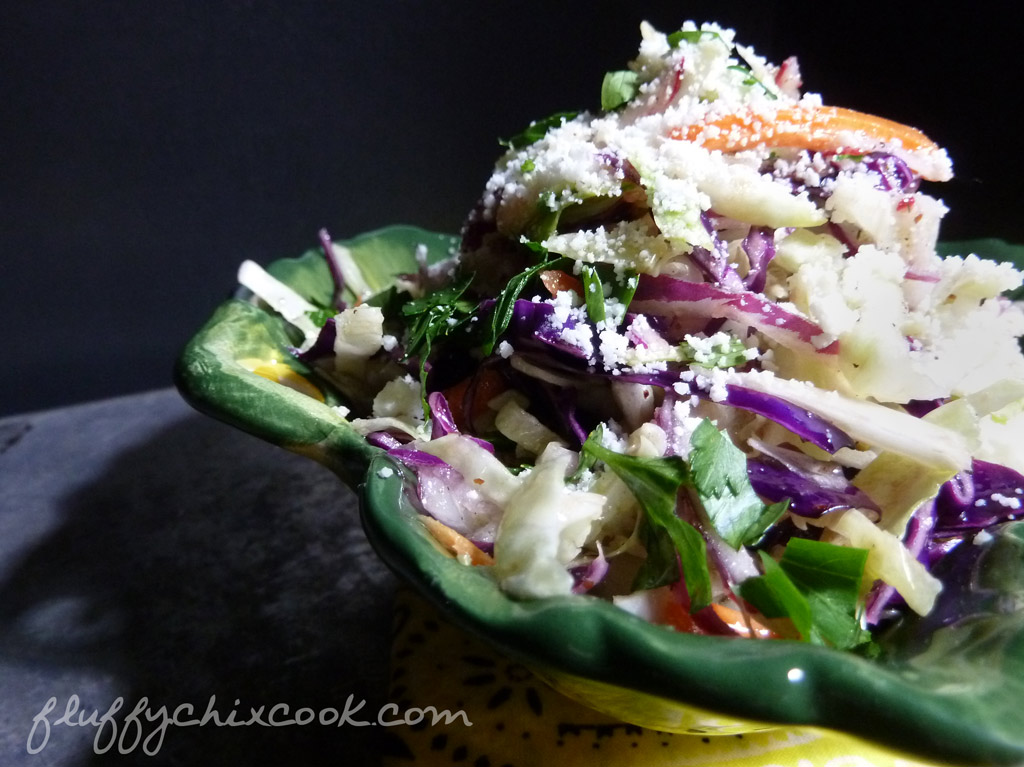 But, I digress. Coleslaw…in Texas we're apt to douse our coleslaw with a few jalapenos or chile peppers and a handful of cilantro and a squeeze of lime. But Confetti Coleslaw is different. And despite being long in the tooth and set in our ways, we have to tell you, it has serious attitude. We believe you will begin craving it.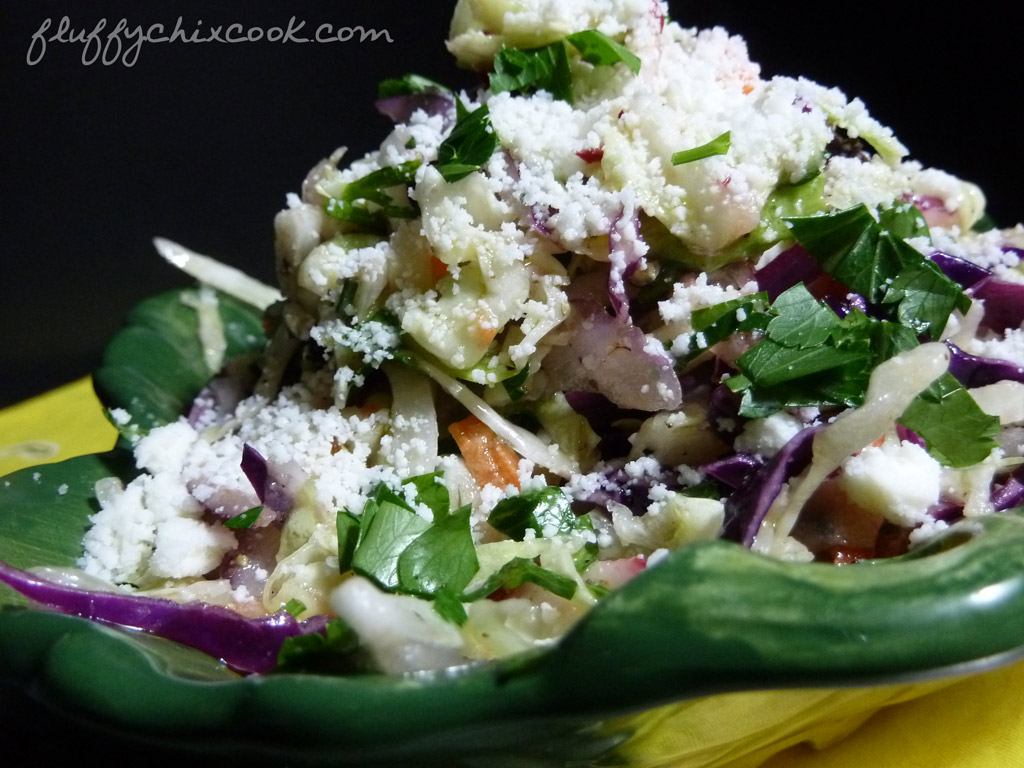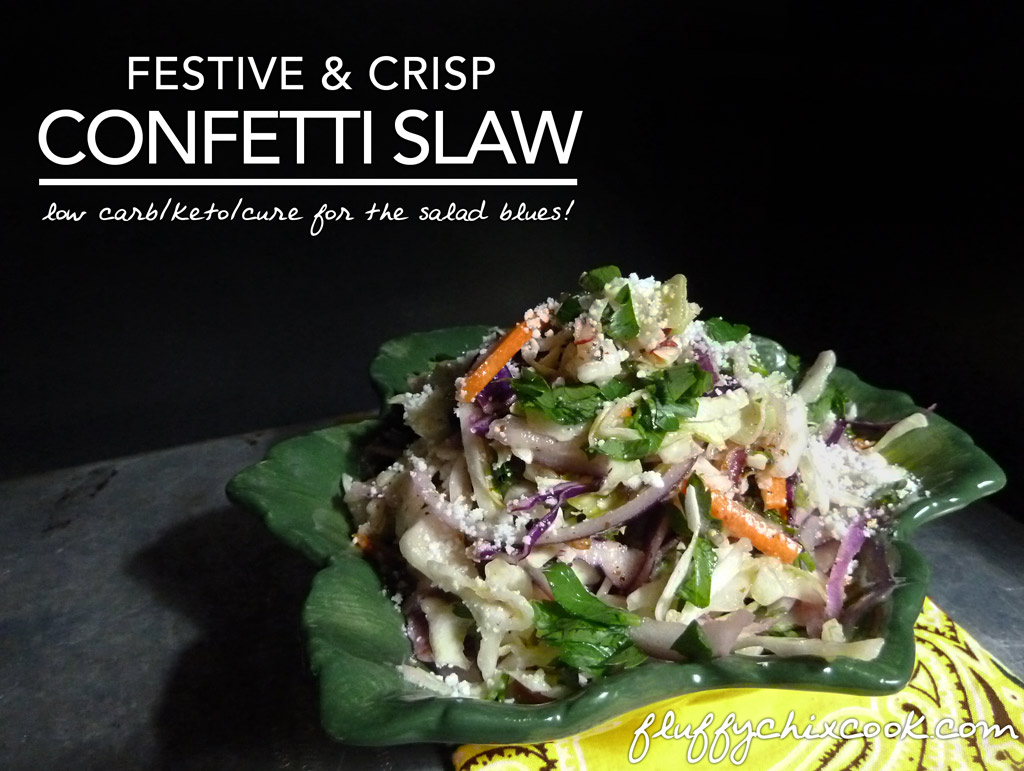 So it's no wonder that many of you (especially you DFSWs) will find this slaw odd and unfamiliar. I still remember the day we first ate coleslaw prepared with a vinaigrette dressing instead of a heavy mayo dressing. The bells rang, choirs sang and I was sure being called up to meet Jesus would be my next activity. It was heaven on a plate and the fact that we were eating it with pan fried venison cutlets just made the experience that much more intense and memorable. I was 10 at the time and cut my teeth on many different food experiences, including escargot—so I was no easy mark, nor easily impressed. I quickly took this new coleslaw variant home and assimilated the entire family. We became a coleslaw family that played both sides of the line: creamy and vinaigrette. (But we never mentioned it in public.)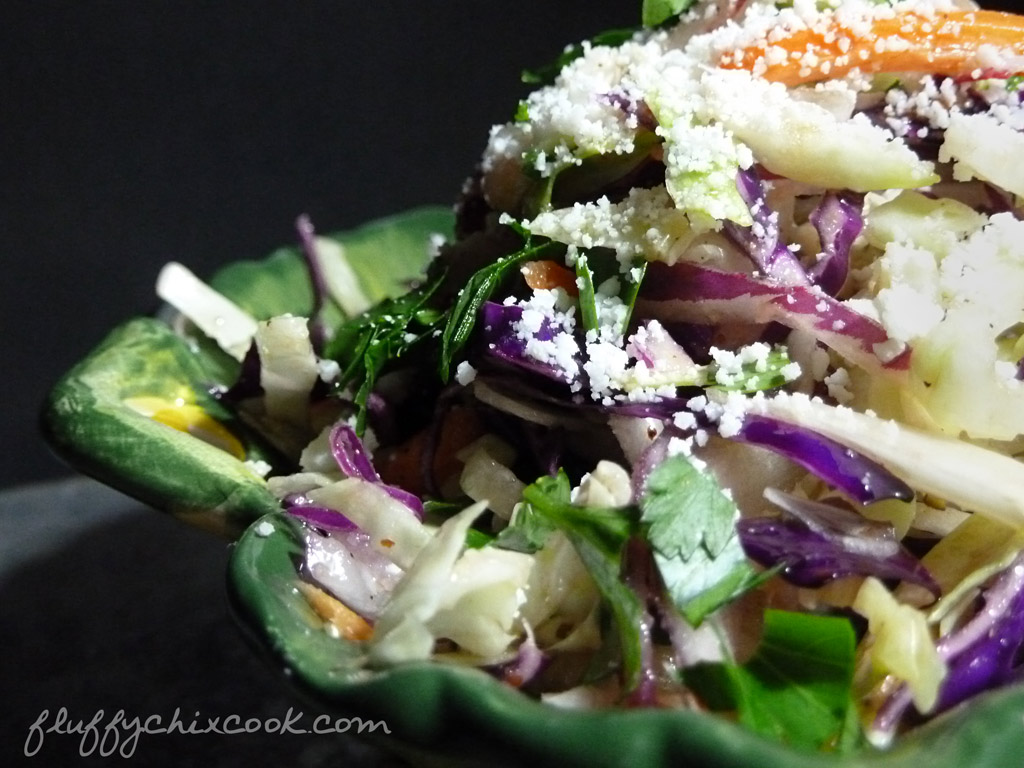 But the thought of that slaw, inspired Confetti Slaw and is a tribute to Mama Peg and her very large garden where we weeded row after row of veggies each day, before being allowed to go play and ride horses. I hope you love it as much as we do—it's the House Vinaigrette that really sets this salad apart and makes it so special.
Confetti Slaw – You really can teach an old dog new tricks.
Delicious, quick and fresh tasting coleslaw makes meals taste bright and light, while satisfying the need to chew.
Ingredients
3/4 cup tri-colored coleslaw mix
1/8 cup red cabbage, shredded
1 large green onion, chopped
1 radish, sliced thin
1 tablespoon Italian parsley, chopped
3 tablespoons House Vinaigrette Salad Dressing
2 tablespoons cotija—or feta cheese crumbles
Instructions
Toss all ingredients together. Season with kosher salt and plenty of black pepper. Enjoy.
Notes
This is one of the Fluffy's favorite quick slaws. The tartness and garlic flavors of the dressing compliment the crisp veggies in the salad. It's best made right before serving, but it's also good the next day (if a little wilted).
Serving Ideas Serve with your favorite protein. Great with fish and seafood and low carb fish tacos!
Nutritional Information
Per Serving: 218 Calories; 20g Fat (79.6% calories from fat); 5g Protein; 6g Carbohydrate; 2g Dietary Fiber; 4g Effective Carbs
Copyright © 2013 Fluffy Chix Cook. All rights reserved.
http://fluffychixcook.com/confetti-slaw-you-really-can-teach-an-old-dog-new-tricks/
Copyright © 2016 Fluffy Chix Cook. All rights reserved.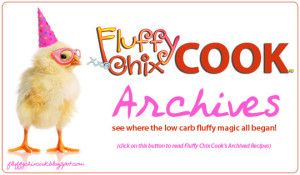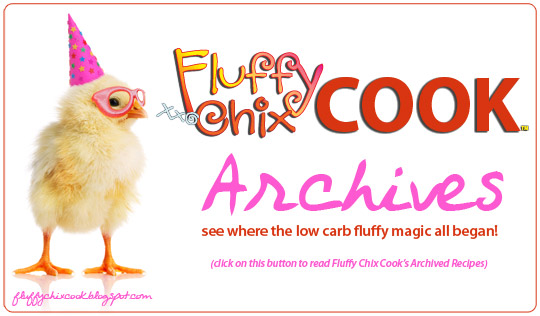 Copyright © 2010 Fluffy Chix Cook. All rights reserved.
We are not dieticians, nutritionists or medical professionals. The materials on this blog are for informational (and fun) purposes only. We do not fact check, nor do we worry about sources. Please do your own fact checking. We encourage you to look things up and check with your doctor or health care professional before acting on anything seen on Fluffy Chix Cook. xoxo