Creamy Broccoli Cauli Salad – Low Carb & Sugar Free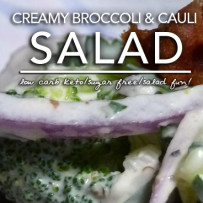 Are you tired of the same old boring salad night after night? Give up greens once or twice a week in favor of this healthy low carb keto salad, packed with bold flavor and crisply creamy marinated broccoli, cauliflower and spicy radishes and red onions. Fluffy Chix Cook brings us a Creamy Broccoli Cauli Salad that's keto and diabetic friendly, completely sugar free. You'll get a big taste of flavor without a big blood sugar spike!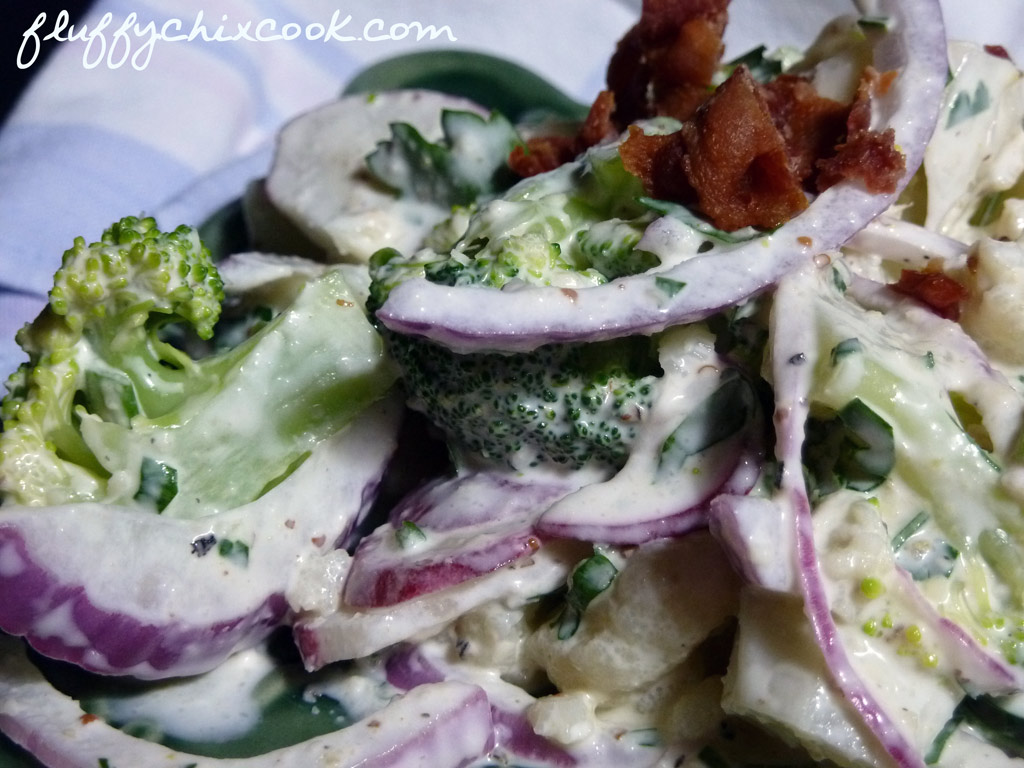 You know, there's more to salad than lettuce and tomatoes, Aldus. Even though we ideally want to get 12-15g carbohydrate per day from our core, low carb veggies, there's no need to let boredom seep into our meal plans. Salads can be made from any low glycemic veggie if you use a little imagination and inspiration. This truth was drilled home to me not too long ago by an online friend, Cathy Briles.
Back a hundred years ago, my sissy Khakki found a recipe (or came up with one) for a marinated vegetable salad that still makes me smack my lips over it, today! The salad featured blanched veggies: broccoli, cauli, asparagus and artichoke hearts in a fusion Caesar-Ranch-style dressing. It was a hit at summer picnics, cook-outs and barbeques and truly starred in the "side show" for a couple of years. Then as sometimes happen, even with great recipes, time flies and we forget; that is, until, someone reminds us of its faded glory.
Cathy Briles is an online friend in one of the Facebook groups and she posted a pic of a salad so F-I-N-E, fine looking, I felt compelled to ask about it. I then warned her of impending rip-offs that were about to occur. I was going to pinch her recipe or at least the idea! Her salad looked so delish and refreshing for a hot summer cookout, I had to ask about it. She explained its origin and how easy it was to make and it started the memories flowing and the questions churning…could I? Would Creamy Ranch work?
Growing up one our families favorite salads was called appetizingly enough, "Mayonnaise Salad," and it consisted of chopped iceberg lettuce, diced tomatoes, green onions, granulated garlic, salt, pepper and Hellmann's Mayo. OMG. So I knew I wanted this salad to resemble that salad from childhood. I also knew the combo of radish and purple onion with lemony goodness is heller good! So off I went.
Cathy, I hope I was inspired by your recipe and didn't completely rip you off! Drop a line and let me know, ok?!!! Hugs and thanks again for sharing your pure genius, cuz this salad rocks the casbah!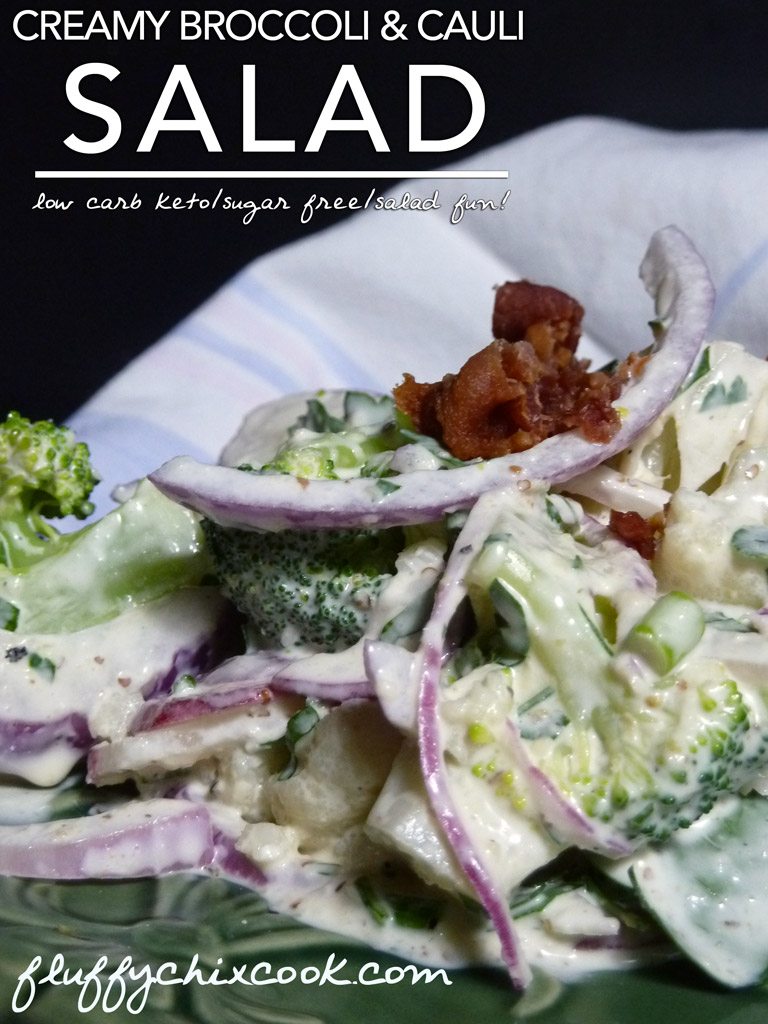 Anyway, this is a DFSW (Delicate Flour of Southern Womanhood) style recipe and I feel certain that our white-gloved grannies perhaps served this at a Junior League luncheon or two-or-three, many moons ago. It's a perfect summer salad and makes you forget all about your salad blues. (You know, that thing called salad fatigue where you get mean and angry just looking at another poor innocent leaf of romaine?).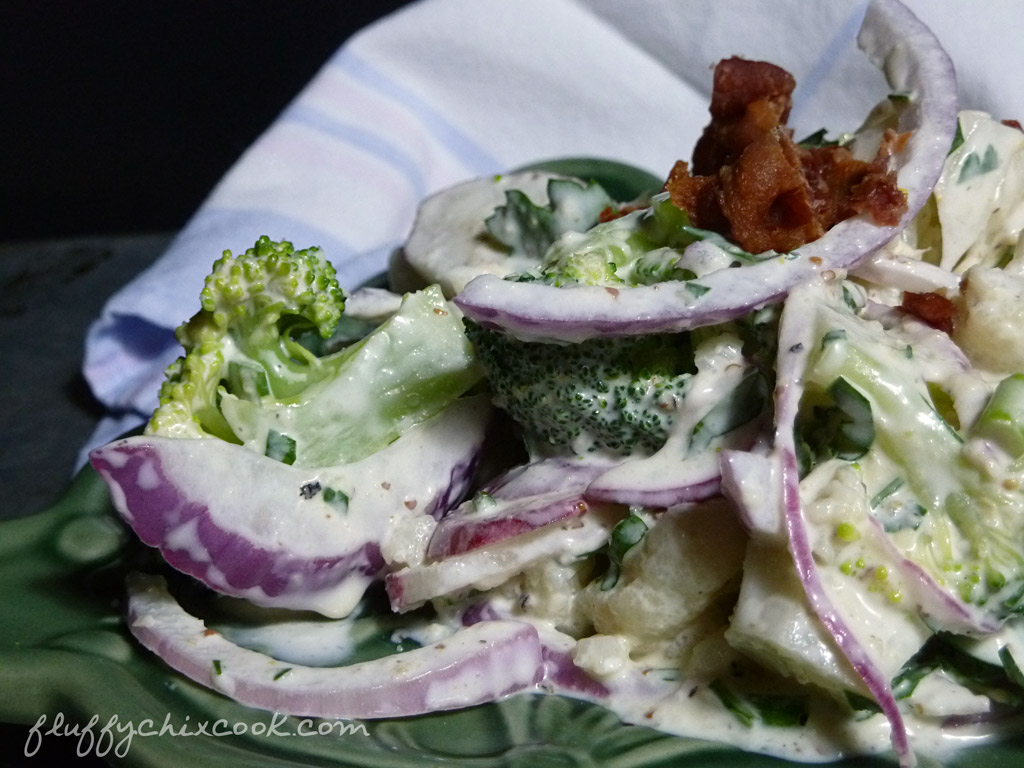 Yes friends, we do NEED leafy greens for brain health, or so says Dr. David Perlmutter and so does Science Daily. Dr. Perlmutter is a practicing neurologist and author of the bestseller, GRAIN BRAIN: THE SURPRISING TRUTH ABOUT WHEAT, CARBS AND SUGAR-YOUR BRAIN'S SILENT KILLERS. And believe me, he has my ear! Our mom had Parkinson's. But if you're tired of greens, go with the brawn that comes from slightly blanched broccoli and cauliflower—princes of the cruciferous world. They carry serious nutritional benefits and reported cancer fighting components in their own right. And make a change, now and then. Your greens will still love you when you return from your dalliance, after those hot Southern nights!
Creamy Broccoli Cauli Salad – Low Carb & Sugar Free
Creamy Broccoli Cauli Salad makes a great change of pace to ordinary salads with lettuce and greens. Creamy, make-ahead, homemade Ranch Dressing adds zing and great herby taste. You might be tempted to skip the fresh Italian parsley, but don't. It really adds to the freshness of the salad.
Ingredients
1/2 cup broccoli crowns
1/2 cup cauliflower floweret
2 radish, sliced thinly
1 ounce red onion, slivered
1 tablespoon Italian parsley, chopped
4 tablespoons Creamy Ranch
1 tablespoon mayonnaise (Hellmann's or Duke's)—or Basic Mayonnaise
1 lemon wedge
1/2 teaspoon lemon zest
1/4 teaspoon granulated garlic
2 bacon slice, crispy and crumbled
Instructions
Cut florets of broccoli and cauliflower into bite-size pieces. Blanch in boiling water for 30-45 seconds. Submerge in ice water to stop the cooking then drain on a clean kitchen towel when fully cooled.
Combine all ingredients except bacon in a large bowl. Add dressing and mayonnaise and toss until combined. Divide between two bowls and top with crispy bacon.
Notes
This recipe was inspired by a friend in My Low Carb Keto Cooking Facebook group. We used to make a similar salad using anchovy paste with added artichoke hearts, but this salad is much simpler and absolutely delicious. The Creamy Ranch works great in this salad!
Serving Ideas* Serve with your favorite protein, wrap or sandwich.
Nutritional Information*
Per 1 Serving:368 Calories; 34g Fat (80.6% calories from fat); 7g Protein; 11g Carbohydrate; 3g Dietary Fiber; 40mg Cholesterol; 8g Effective Carbs
Per 2 Servings: 184 Calories; 17g Fat (80.6% calories from fat); 4g Protein; 5g Carbohydrate; 2g Dietary Fiber; 3g Effective Carbs
Copyright © 2010 Fluffy Chix Cook. All rights reserved.
http://fluffychixcook.com/creamy-broccoli-cauli-salad-low-carb-sugar-free/
Copyright © 2016 Fluffy Chix Cook. All rights reserved.
Copyright © 2010 Fluffy Chix Cook. All rights reserved.
We are not dieticians, nutritionists or medical professionals. The materials on this blog are for informational (and fun) purposes only. We do not fact check, nor do we worry about sources. Please do your own fact checking. We encourage you to look things up and check with your doctor or health care professional before acting on anything seen on Fluffy Chix Cook. xoxo