Creamy Chicken Alfredo Zoodles with Mushrooms – Low Carb Keto Ease!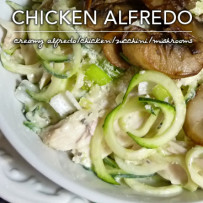 When you're looking for quick weeknight low carb keto recipes and meals, Creamy Chicken Alfredo Zoodles with Mushrooms fits nicely into your carb budget. The creamy sauce and chicken wrapped in twirly zucchini noodles aka zoodles appeases the desire for that high carb nonsense. Creamy Chicken Alfredo Zoodles are a perfect low carb keto pasta replacement. We hope you think so too.
When looking for easy low carb keto meals, make 2-3 different "base proteins" for the week, like our easy Skillet Beef, grilled chicken, or foil chicken—even rotisserie chicken from the store. They should fall into the Lucky Leftover category and be able to morph to fit any cuisine and should be able to rewarm without tasting of leftovers. If you really need to shave prep time, don't be ashamed to use prepared rotisserie chickens from the grocery store. Costco even keeps boneless, skinless, rotisserie chicken waiting for you and it's a bargain! No hassle, only meat.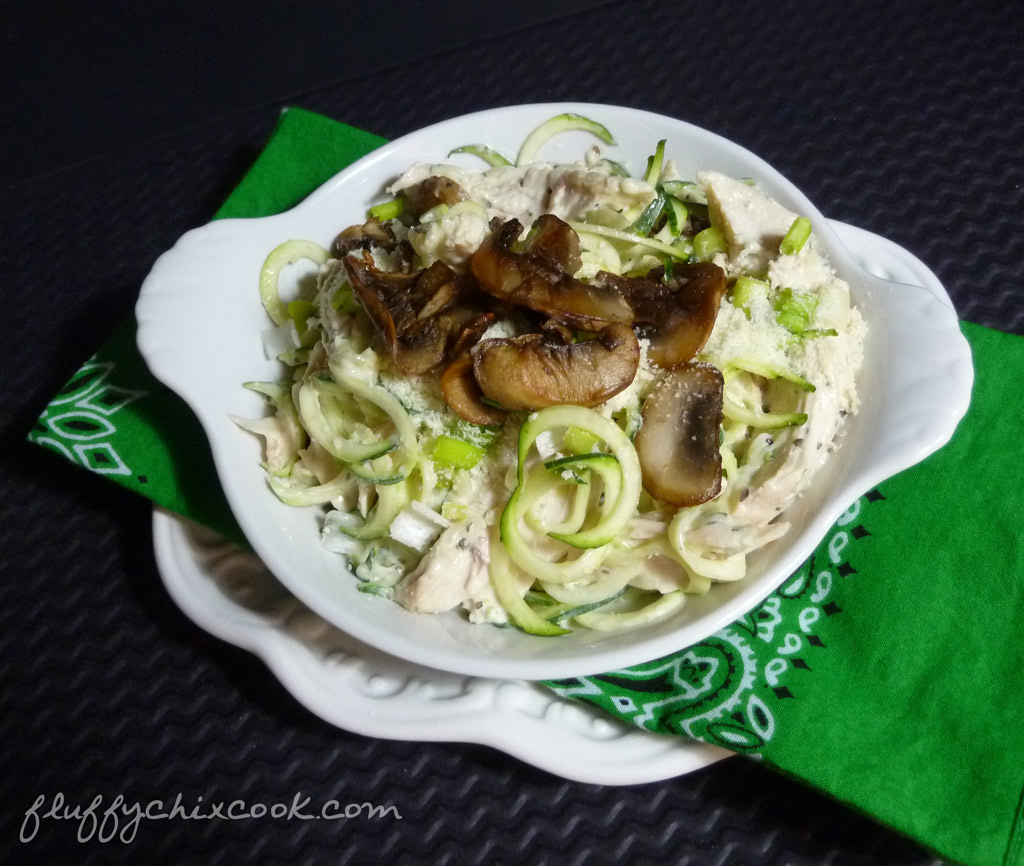 Another method to make weekday meals a breeze (10-15 minutes or less), is to have a couple of sauce or gravies on hand, along with a couple of homemade salad dressings. None of the recipes are laborious. And all can be made ahead and kept in the fridge up to a week—or frozen up to 2-3 months, in a pinch.
Easy Alfredo is a favorite low carb keto sauce of Fluffy Chix Cook. It works great on meats and veggies of any variety. If you've never tried putting a little sautéed Garlic Spinach in the bottom of a couple of mushroom caps brushed with extra virgin olive oil, then topping the spinach with soft scrambled eggs and a bit of Easy Alfredo and some Parmesan…well, you may be deprived. It makes a beautiful Sunday brunch. *drooling here*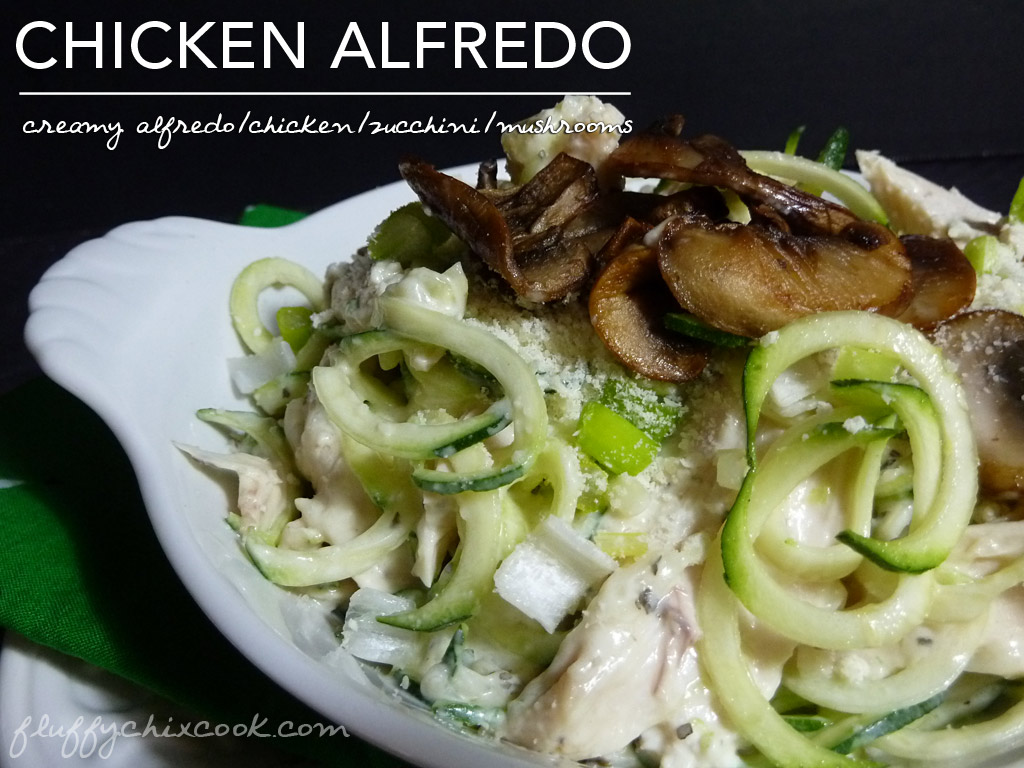 It's no secret we're zoodlers—here at the Fluffy Chix roost. We will zoodle in the morning, zoodle in the evening, zoodle until the chix come home to roost. We're cuckoo for zoodles! It only takes seconds and as discussed in the Skillet Beef with Zoodles post, there are many budget friendly, low tech zoodlers available, including your humble run-of-the-mill veggie peeler.
Definitely give this super easy recipe a shot. You'll find yourself dreaming of new ways to incorporate Easy Alfredo into your daily meals. The cool thing about this sauce is that it doesn't violate the cream budgets imposed by Atkins Induction and Dr. Westman's No Sugar No Starch Diet—Page 4 Diet. We use chicken broth (box or homemade bone broth) for the liquid volume in the recipe, cream cheese and sour cream as the thickening agents and reserve the cream to add richness.
Creamy Chicken Alfredo Zoodles with Mushrooms – Low Carb Keto Ease!
Another easy low carb keto weeknight meal thanks to the semi-homemade approach.
Ingredients
1 tablespoon olive oil
1/2 cup rotisserie chicken, skinned, de-boned, pulled into chunks or cubes—or leftover grilled or baked chicken
2 green onions, chopped
1 large mushroom, sliced
1/4 teaspoon granulated garlic
1/4 teaspoon dried basil
1/8 teaspoon red pepper flakes
1/8 teaspoon fresh ground black pepper
1/3 cup Easy Alfredo—or your favorite low carb Alfredo Sauce
½ medium zucchini, spiralized (cut into zoodles with a spiral slicer or julienne peeler) (about 4 ounces)
1/4 cup shredded mozzarella cheese
2 tablespoons grated grated Parmesan cheese
Instructions
Combine the first nine ingredients in a nonstick skillet. Sauté on medium high until veggies are soft and chicken is heated through. Add Easy Alfredo a la No Sugar, No Starch Diet and zoodles. Toss to coat. Pour onto a microwave safe plate. Top with shredded mozzarella cheese and grated Parmesan. Nuke for 45 seconds-1 minute, until cheese melts and dish is piping hot! Enjoy!
Notes
Sauce from a jar does add preservatives and chemicals. In the early days of switching to a low carb keto lifestyle, it's not uncommon to feel overwhelmed, so we like to utilize FOC (Foods of Convenience) to help you feel in control and cut cooking time. Later on, it will be natural to transition to making sauces and cooking proteins from scratch, such as the Creamy Alfredo sauce and rotisserie chicken in this recipe.
Serving Ideas Serve on its own or with a simple green salad.
Nutritional Information
Per Serving: 651 Calories; 52g Fat (70.9% calories from fat); 39g Protein; 9g Carbohydrate; 2g Dietary Fiber; 169mg Cholesterol; 7g Effective Carbs
Copyright © 2012 Fluffy Chix Cook. All rights reserved.
http://fluffychixcook.com/creamy-chicken-alfredo-zoodles-with-mushrooms-low-carb-keto-ease/
Copyright © 2016 Fluffy Chix Cook. All rights reserved.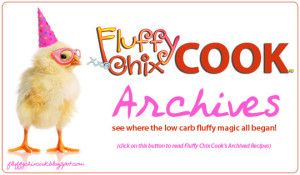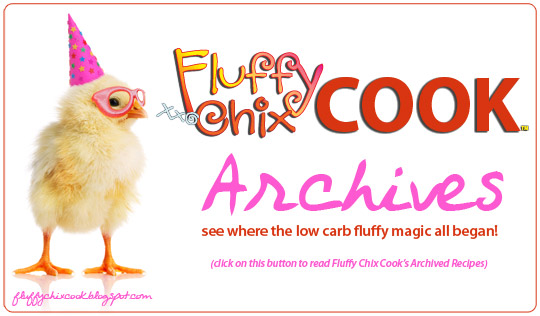 Copyright © 2012 Fluffy Chix Cook. All rights reserved.
We are not dieticians, nutritionists or medical professionals. The materials on this blog are for informational (and fun) purposes only. We do not fact check, nor do we worry about sources. Please do your own fact checking. We encourage you to look things up and check with your doctor or health care professional before acting on anything seen on Fluffy Chix Cook. xoxo