Egg Fast – 08.19.14 – Featuring Eggs Florentine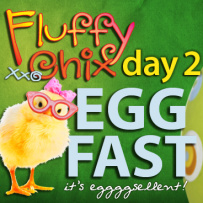 DAY 2 – Fluffy Chix Cook's Egg Fast Meal Plan | Egg Fast meals don't have to be boring! Fluffy Chix Cook loves inventing new recipes designed to make the incredible edible egg, the true star of the show! Breakfast features Tuscan Basted Eggs, elegant but simple. Lunch (because of limited hunger) is simple a Deviled Egg. And dinner is scrumptious Eggs Florentine, a regal dish (yet so simple even novice egg fasters can make them-and love them). Ready in minutes, Egg Fast recipes from the Fluffys satisfy and nourish with every bite.
NOTE ABOUT HEALTHY FATS | BUTTER: Anytime we talk about butter, just know we mean grass fed butter (Kerrygold or homemade) made from the milk from pastured, grass fed cows. Why? Because according to many, grass fed butter provides superior, healthy fats rich in CLA (conjugated linoleic acid-vital for good weight loss and metabolism), fat soluble Vitamins A, D, K2 and E, and free from added hormones, antibiotics, and chemicals. New studies show saturated fats are actually good for your body, and in a low carb keto diet, help shift cholesterol ratios toward the large, fluffy, beneficial type of cholesterol. Fluffy Chix love grass fed butter because it tastes amazing and makes us feel warm and "comforty."
Daily Totals: 1470 Calories; 133g Fat (81.6% calories from fat); 61g Protein; 6g Carbohydrate; trace Dietary Fiber; 6g Effective Carbs
Breakfast – 597 Calories; 57g Fat (84.5% calories from fat); 20g Protein; 1g Carbohydrate; 0g Dietary Fiber; 1g Effective Carbs
2 cups black coffee or tea
1 serving Tuscan Basted Eggs
Lunch – 150 Calories; 13g Fat (80.6% calories from fat); 7g Protein; 1g Carbohydrate; trace Dietary Fiber; 1g Effective Carbs
1 serving Deviled Eggs (2 halves)
1 hardboiled egg, split lengthwise
1 tablespoon Lemony Garlic Aioli (Basic Mayo + 2 tsp lemon zest + 1 tbsp fresh squeezed lemon juice)
Dinner – 724 Calories; 63g Fat (78.4% calories from fat); 35g Protein; 4g Carbohydrate; trace Dietary Fiber; 4g Effective Carbs
1 serving Eggs Florentine
We love this truffle salt. Use it on eggs, on low carb pasta, meats, seafood, and with veggies. It's so versatile and gives great truffle flavor without the expense of buying truffles, which sell for hundreds of dollars each! It lasts a long time, since you don't add a lot to any dish. We're lucky, because our local grocer carries this truffle salt. Our Amazon partner actually offers this at a really good price!
Be sure to check out Fluffy Chix Egg Fast Rules and our other Fluffy Chix Cook Meal Plans.
Copyright © 2014 Fluffy Chix Cook. All rights reserved.
We are not dieticians, nutritionists or medical professionals. The materials on this blog are for informational (and fun) purposes only. We do not fact check, nor do we worry about sources. Please do your own fact checking. We encourage you to look things up and check with your doctor or health care professional before acting on anything seen on Fluffy Chix Cook. xoxo