Fluffy Chix Cook Reviews Char-Broil The Big Easy Oil-less Fryer and Shares The Big Easy Standing Rib Roast Method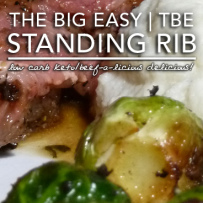 Join Fluffy Chix Cook as they review Char-Broil The Big Easy Oil-less Turkey Fryer (TBE) and discuss how cooking monster cuts of meat can save you money. Learn TBE method of cooking standing rib, sometimes called prime rib, then get ready to celebrate the joys of Christmas and "deep fried Christmas roast beast."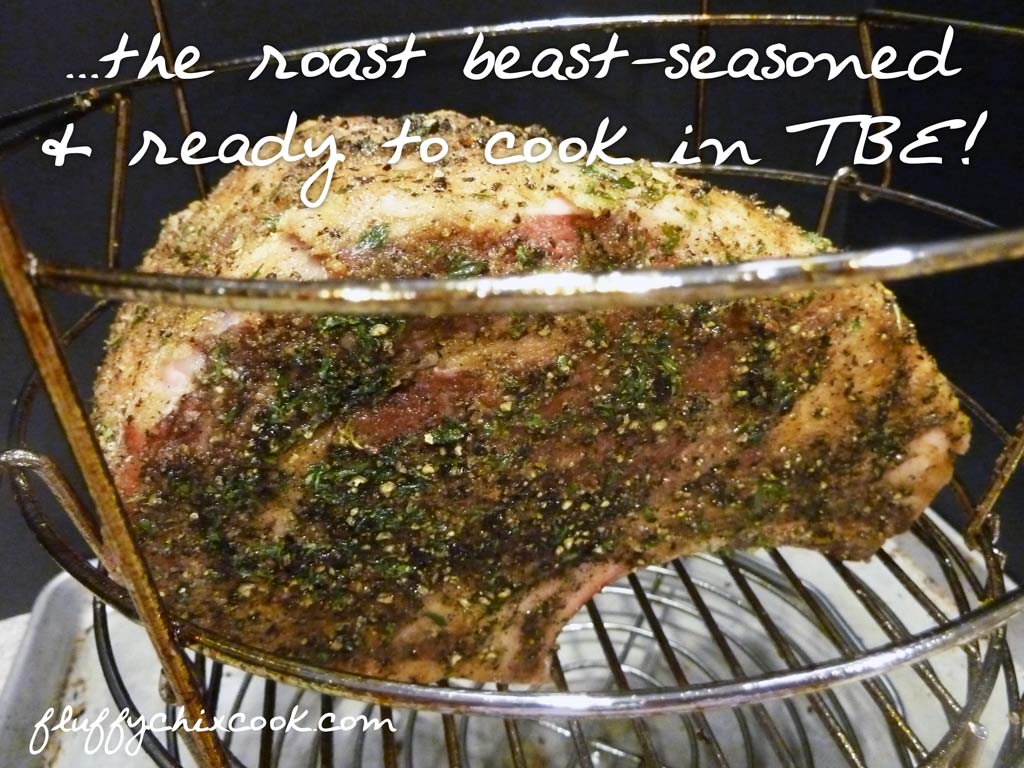 The idea of cooking a huge hunk of meat intimidates many home cooks, but if the Fluffys had one wish this Christmas, it would be to ease their anxiety and make them understand, that reading the method is the hardest part of cooking monster hunks of meat—of any variety! No stress, no crying, no anxiety necessary with the Fluffy method!
The one critical tool for the job, regardless of method, is to have an accurate meat thermometer capable of withstanding great heat. And they're cheap! For as little as $6.50, you can buy a simple radial ovenproof thermometer. You can also use a digital instant read (remove meat from TBE prior to taking temp) thermometer for around $15 bucks. You can also use a remote digital thermometer, although we have not had great luck with this type of thermometer.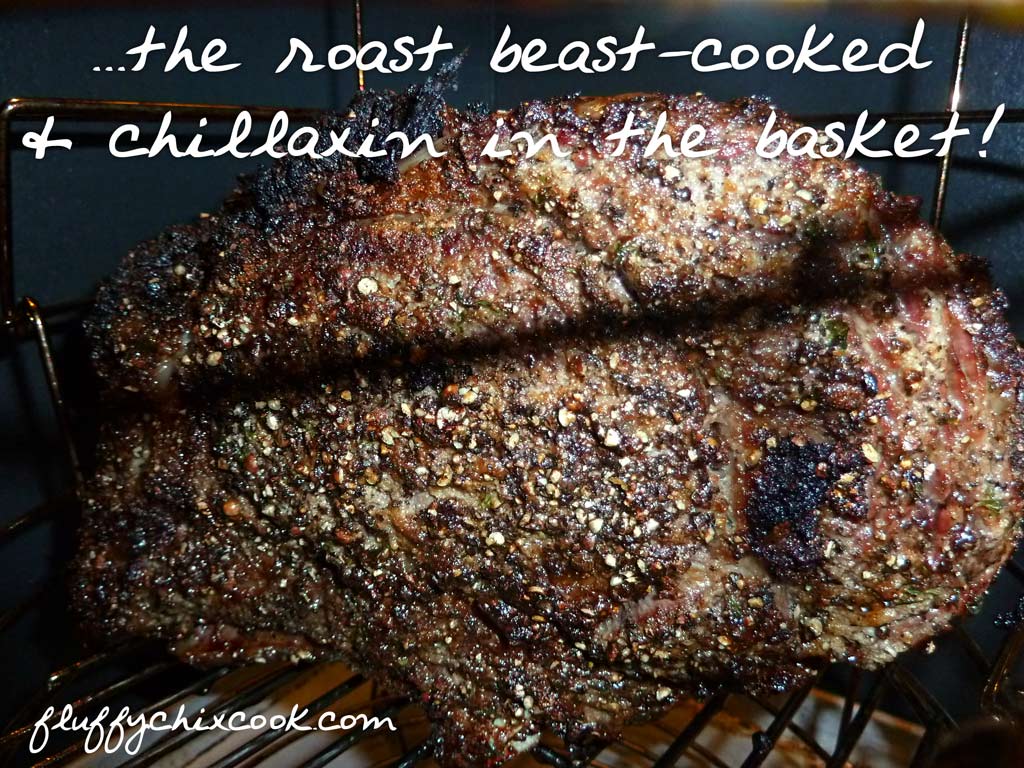 People also fear the cost of big cuts of meat, but in actuality they can be more economical than individual cuts and they usually have much bigger flavor and juiciness. Learning how to roast meats and poultry with different methods, can free you from the tyranny of high store prices.
This is another long post. Apologies. Today the Fluffys are excited to introduce the Char-Broil The Big Easy Oil-less Turkey Fryer (TBE), a propane fueled, outdoor cooking appliance that will eliminate huge vats of boiling oil, risks of house fires, and messy clean-up. After hours of research, we definitively announce TBE is the superior oil-less fryer on the market—and that includes the Char-Broil TBE with the Smoker option!
You can cook any cut of meat (big or small) in TBE. It's all a timing and technique issue. To date, we've cooked: spiral ham (free/lb), pork shoulder ($0.99/lb), pork loin ($1.59/lb), turkey ($0.47/lb), standing rib ($4.48/lb), baby back ribs x2 ($1.97/lb), and chicken wings ($2.04/lb). Now we know we're inclined toward hyperbole, but seriously, if we could name one mandatory piece of kitchen/outdoor equipment you MUST own and be proficient in it would be TBE. The End. Cross our hearts. Since its arrival we have yet to use any other equipment except the vacuum sealer, microwave and toaster oven. We've either been using TBE, or eating the lucky leftovers melded into new dishes. And although we've cooked "big hunks" of meat at every turn, we've actually saved money because we only buy meats on big time Billy Bad A*s sale! Then portion and freeze the leftovers in vacuum bags.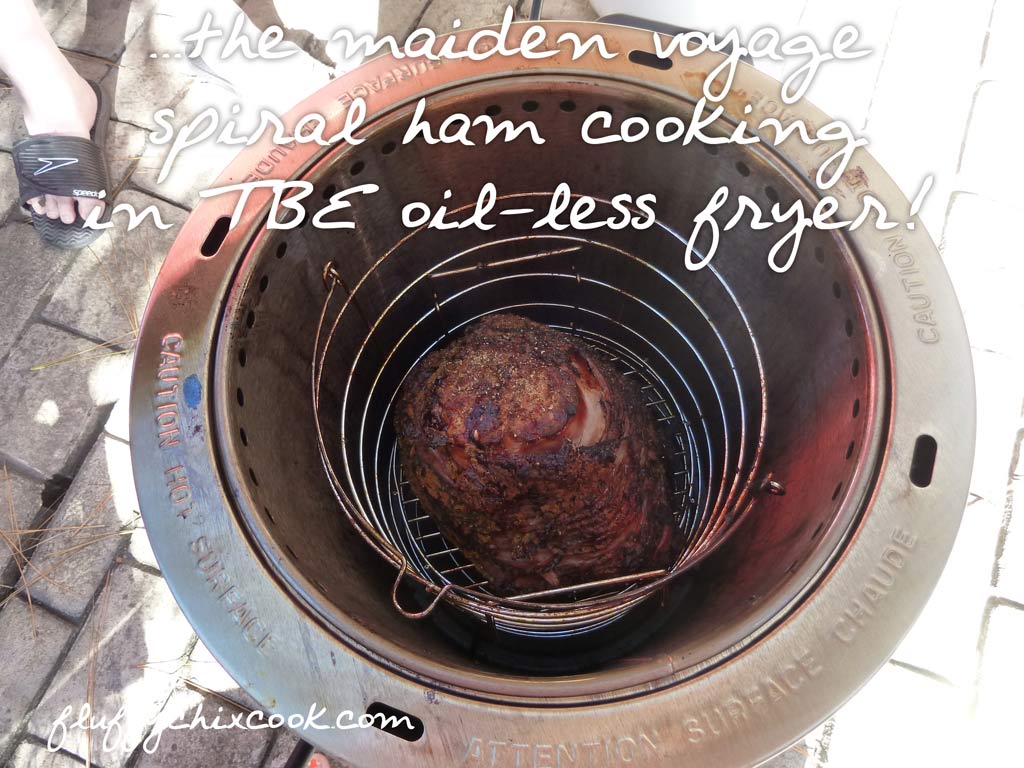 You will find TBE on sale at times, either at the local big box stores, Academy, or local hardware stores or online through Fluffy Chix trusted Amazon partners. It's sometimes available on Prime, so you do get free shipping.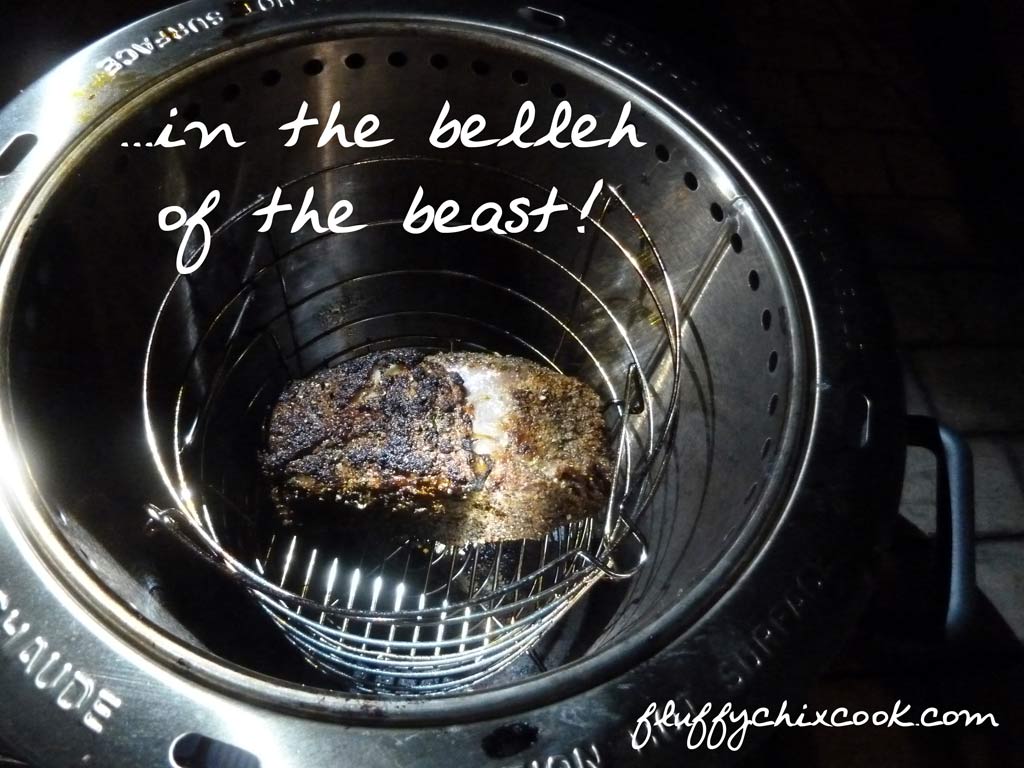 TBE has four (groups of) accessories (each sold separately and we added a fifth:
•Easy Out Basket-A "half basket" that suspends from the rungs of the main basket that comes with TBE. It's a super convenient basket that increases the amount of food cooked at one time. And allows easy removal of all sorts of big pieces of meat. The Fluffys thoroughly endorse this TBE accessory! In fact, it was the first accessory we bought after buying TBE.
•The Accessory Kit—Comes with 2 half racks for cooking chicken drummies and hanging "things" off of, skewer kit and stand, 2 types of rib and meat hooks (4 each). This is a great kit. At first Fluffy Chix did not think it necessary to own, but revised their opinion when they began cooking ribs and anything on a skewer in TBE. The accessory kit means you can cook more wings at one time, easily cook country style ribs, racks of ribs, and chicken legs and thighs in multiple levels. This is the second accessory they would recommend purchasing.
•TBE Cover—if you don't bring TBE into the garage after it cools after each use, then you simply must have the cover.
•Vertical Turkey Stand—Not super necessary, but helps keep whole turkeys and chickens standing upright in the cooking baskets so they cook more evenly and quicker. We highly recommend adding this to your TBE tools.
•Outer Ring of a 9-10-inch Springform Pan—Buy these pans for $0.50/$1 at thrift stores. Throw away the bottom of the pan and use the ring, dubbed a "Tommy ring," in honor of the guy who first figured this out. The TBE has a "dead area" located at the very bottom of the cooking chamber. It's about 3"inches tall, from the bottom of the chamber. TBE cooks hotter, the higher up the cooking chamber the meat is placed. So putting the outer ring in the bottom and leaving it, allows you to place the cooking basket on top of it and foods cook quicker and hotter, yielding a crispier outside and a more moist and juicy inside.
There are downsides or "potential" barriers to the TBE:
TBE cooks with propane, so a full size propane bottle is mandatory.
Some assembly required.
It's as big as a Lil' Smokie Charcoal grill and should ideally be stored in the garage or with a cover.
You have to season the inner chamber prior to the first use and have to spray the cooking baskets and equipment prior to every use.
TBE cooks better and hotter with use. At first, it takes longer to cook things (especially if you don't have the Tommy ring in place, because as the chamber seasons (gets blacker), the temperature and power of TBE increases! So be prepared to have to play with cooking times that may take slightly longer than product estimates in the early days.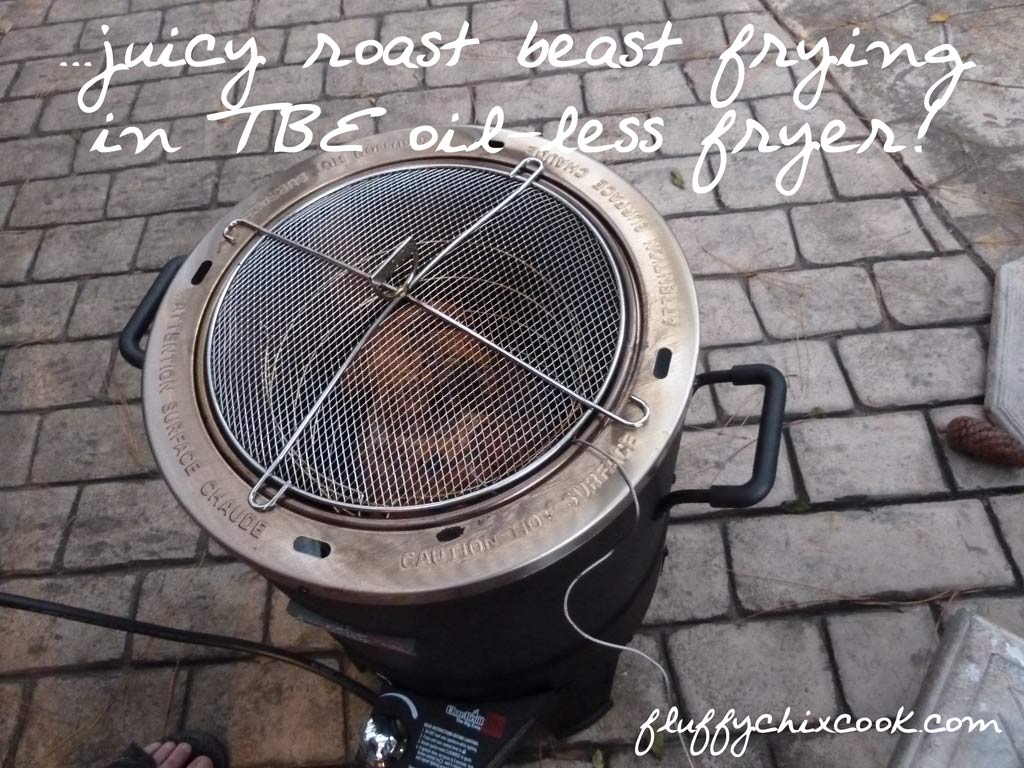 One of the biggest advantages of TBE is easy clean-up.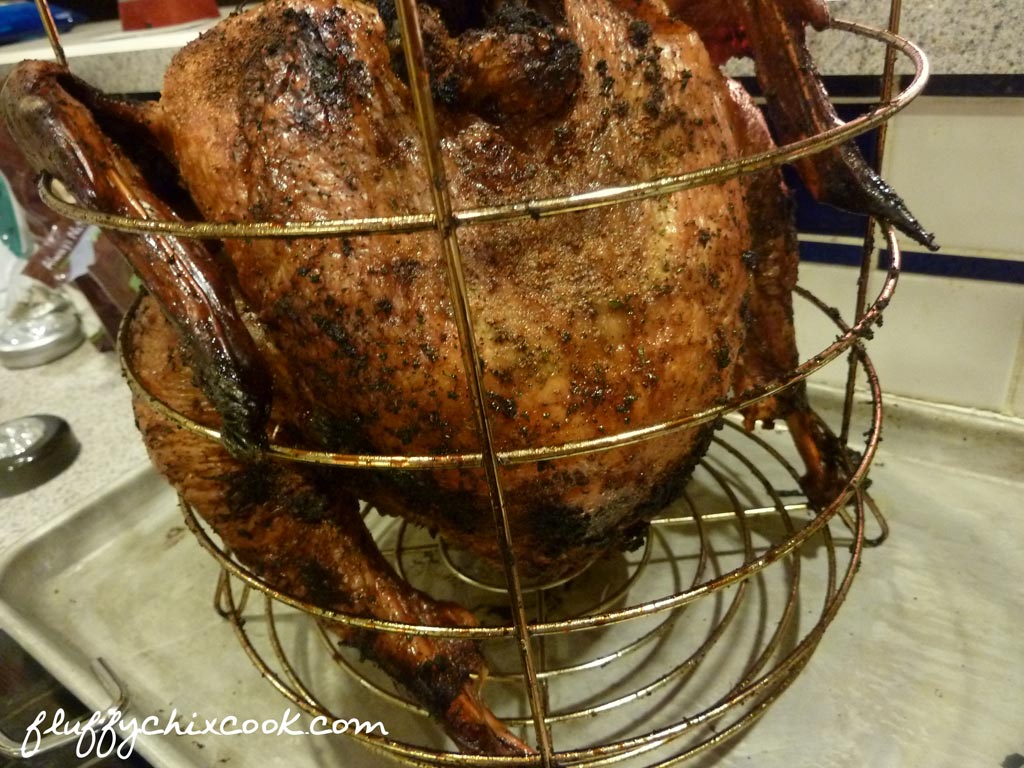 You only have to physically wash the baskets and accessories (skewers, meat hooks), and those get a simple scrub and a spritz in the dishwasher. To clean the inside chamber, you burn off any cooking drippings for 15 minutes following your cooking session. Then brush out any residue and ash before the next use. We use a non-abrasive plastic bristle brush with a long handle. The inner chamber gets sterilized before each cooking session when it preheats for 10-15 minutes with the lid in place, prior to use. In short, think of TBE as a type of high heat grill. The care, space, and procedures are fairly similar.
Fluffy Chix Cook remained skeptical of The Big Easy's rave reviews (found all over the internet)! There are even whole forums and Facebook Groups filled with TBE devotees and outdoor cooking enthusiasts and tons of YouTube TBE cooking tutorials. How could an outdoor grill replace a turkey fryer filled with boiling hot oil? *scoff* So we were totally gob-smacked with the spiral ham and pork butt turned out great, right off the bat! Crispy outside, juicy inside…yum! But we only had to cook our first turkey to be thoroughly and completely hooked on TBE love and magic!
Just. Like. Fried. Turkey.
There we said it.
And no 10gallons of PUFA oil necessary! Score! Merry Christmas!
Standing Rib or Prime Rib = Pure Satisfaction.
Now let's get to brass tacks. Let's talk standing rib roast or prime rib roast. We already gave you Fluff Chix traditional method of roasting prime rib in the Best Standing/Prime Rib Roast. It's no-fail and lovely. But we fell in love with the idea of TBE when we read we could "fry" a standing rib roast. Bahahahahahahahaaha! OMG. You can't fully appreciate that if you are not a DFSW or Texan, because as Southerners and Texans we have the "rap" of frying or barbecuing (BBQing) everything, and TBE appears to do both—at the same time! Yeehawww! And don't forget to make the Horseradish Sauce!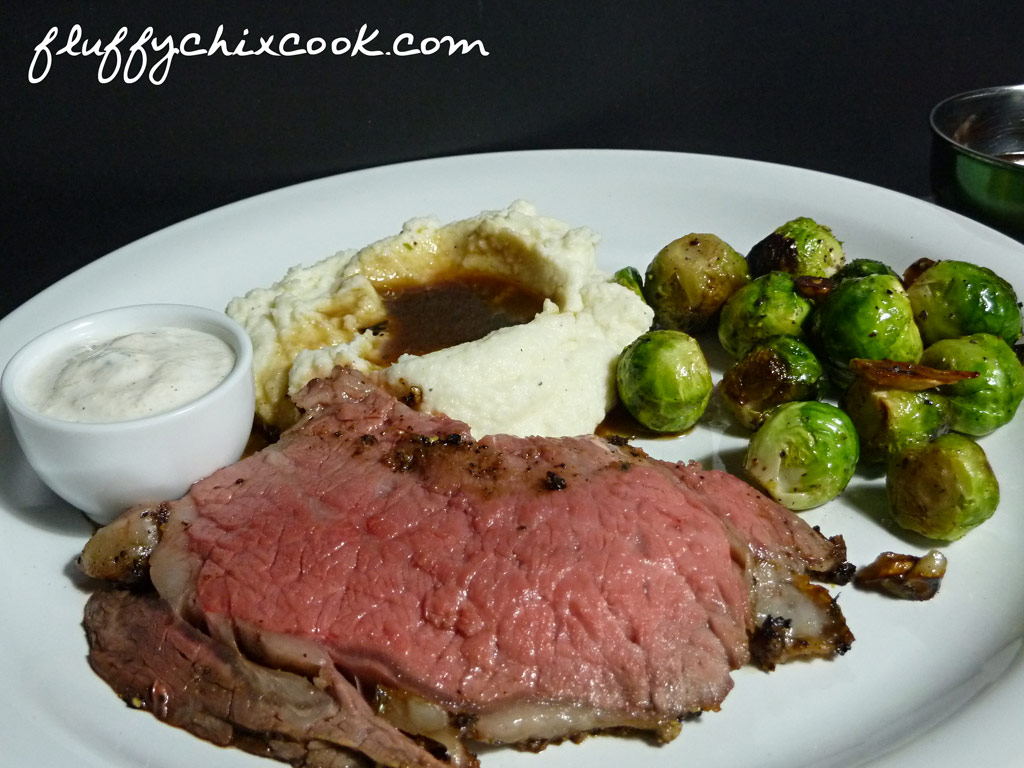 So we used a variation of our Great Steak seasoning on the roast, used TBE's temperature guide as a way to get us into the ballpark and close to the proper temp, then used our thermometer to get us to the exact internal temp. Sheer perfection. After 15 minutes of resting, we sliced it and the meat ran with juices. It was perfectly rosy inside—totally rare in the middle (red with a room temp center) and medium rare (red with a warm center) as you moved out towards the outer cuts of roast. And there wasn't a grey ring or icky, dry morsel on the entire roast. The outside had a beautiful bark and the fat rendered to delectable GBD (golden, brown, delicious—thanks Anne Burrell).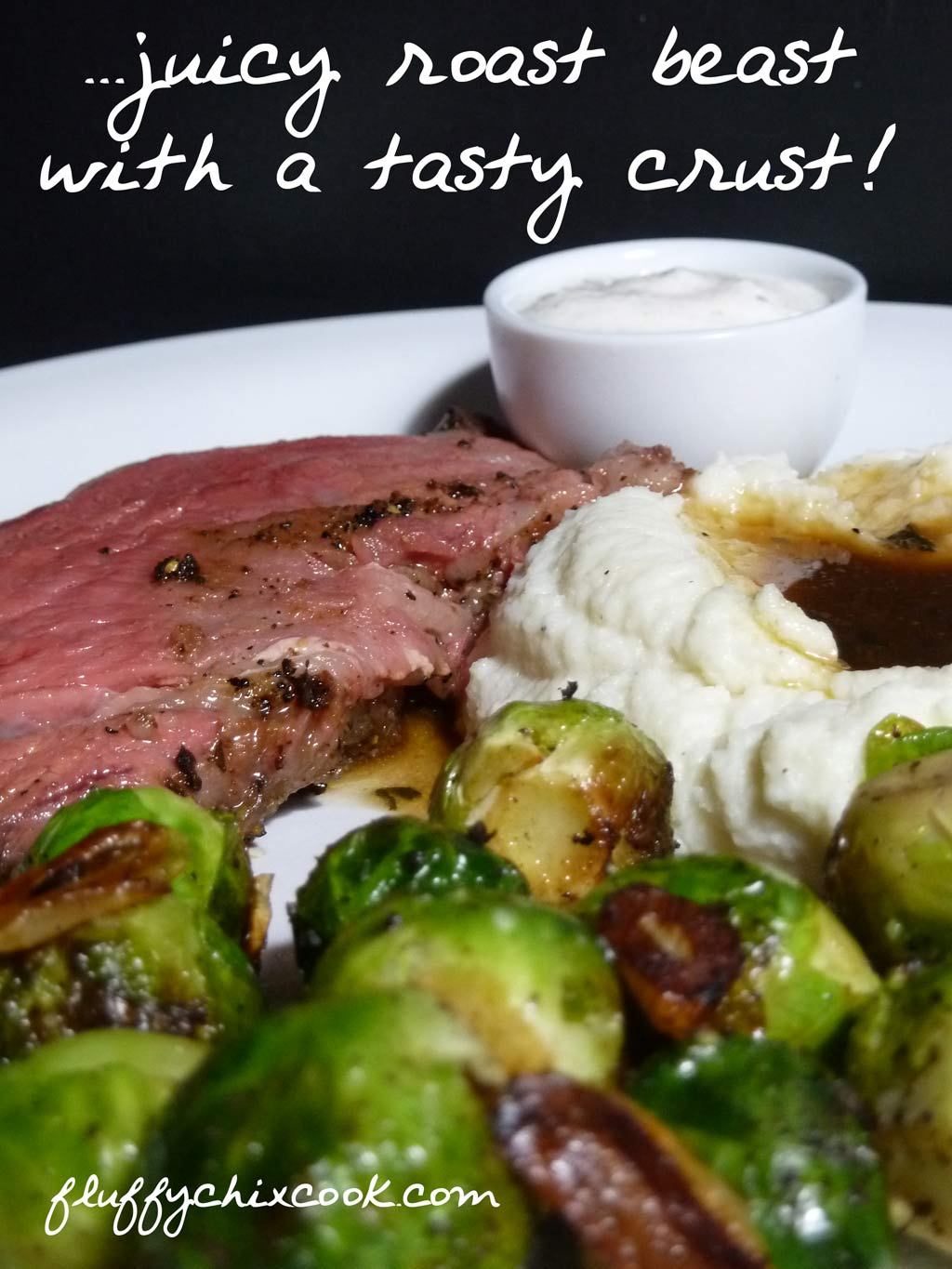 Cooking a standing or prime rib in TBE is crazy easy, just 7 simple steps!
Season meat
Cook for 10-15 minutes/lb with the lid in place
Remove and rest 15 minutes
Slice
Eat
Moan
Rest with your feet up as your minions clean the kitchen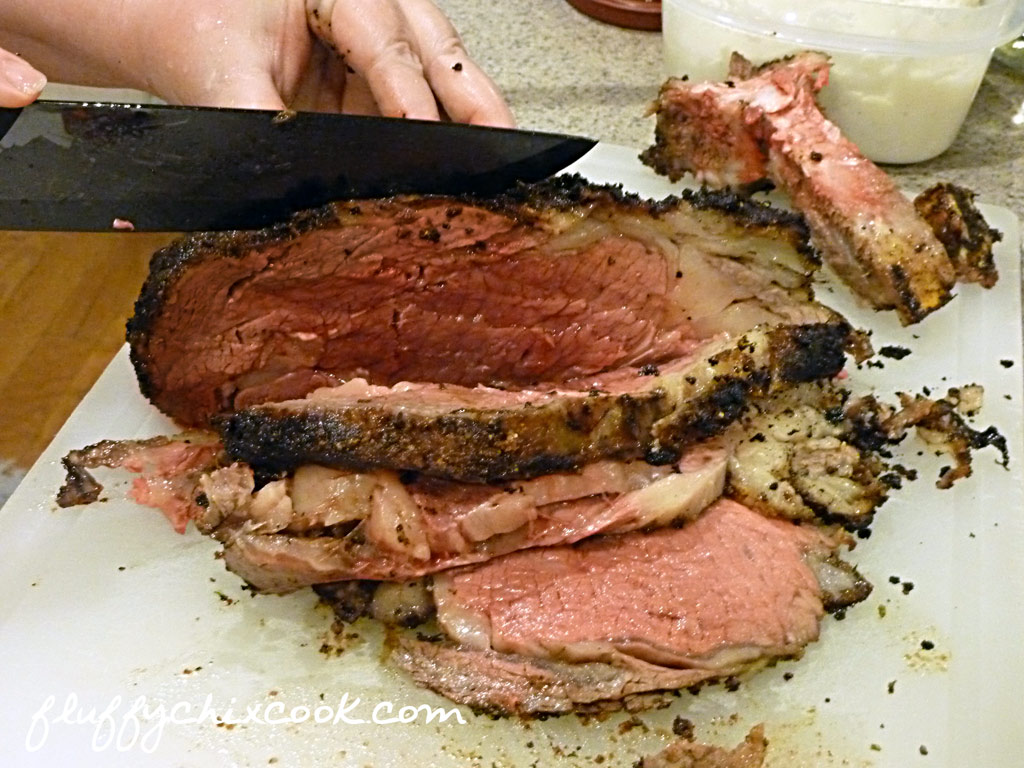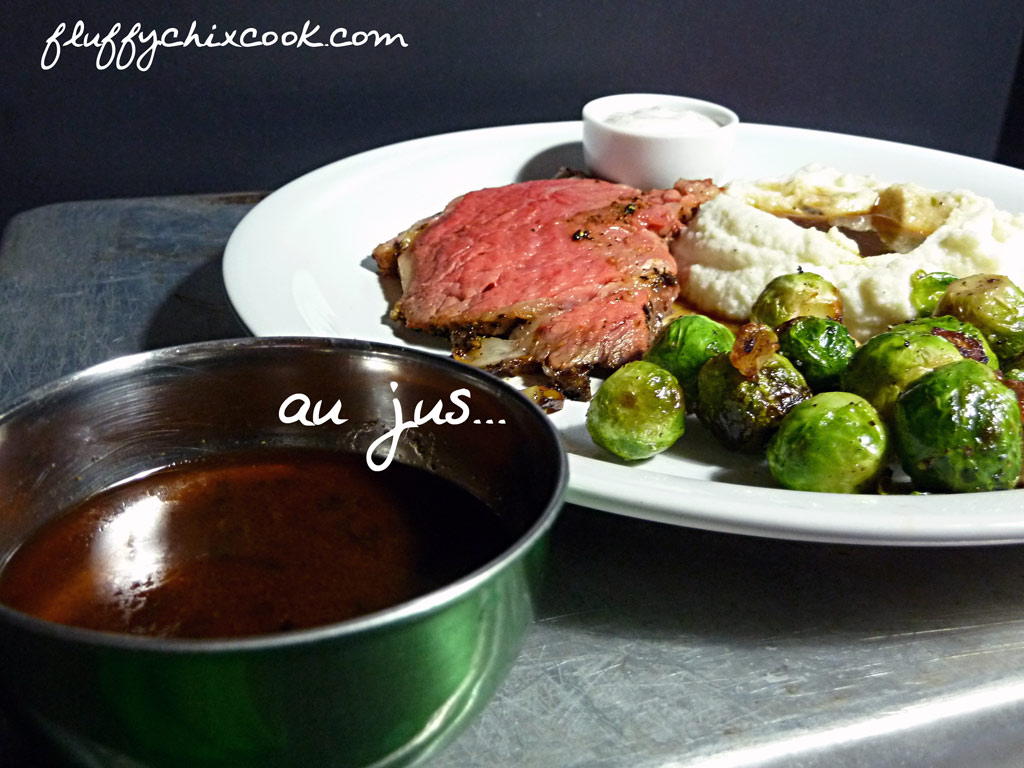 We hope you put the Char-Broil The Big Easy Oil-less Turkey Fryer on your Christmas wish list and hope you will try "frying" a standing or prime rib (just be sure to have Kleenex on hand for tears of joy—they will flow). Then run here and leave us a comment of how much you love it!!!
Oh and in case you need the thermometers, here are Fluffys favorites:
 Radial Thermometer – the most cost effective.
Digital Instant Read Thermometer – still affordable and very accurate, but you can't leave it in the roast while it cooks.
Remote Control Thermometer – people swear by them, maybe we just have a bad one?
Fluffy Chix Cook Reviews Char-Broil The Big Easy Oil-less Fryer and Shares The Big Easy Standing Rib Roast Method
This newfangled method of cooking the Christmas roast beast is a perfect addition to any low carb ketoneer's cooking skills. Crispy crust outside, tender moist beefy insides, Cook by internal temperature and have perfect prime rib every time.
Ingredients
For Au Jus:

2 pounds beef back ribs—or 1 teaspoon of Better Than Bouillon Beef + 1 cup water, then omit the next 10 ingredients through whole garlic cloves)
kosher salt
fresh ground black pepper
Worcestershire sauce
olive oil
8 cups filtered water
1 cup red onion, peeled and coarsely chopped
1/2 cup celery, coarsely chopped
1/2 cup carrots, coarsely chopped
8 cloves garlic, whole unpeeled
2 tablespoons dry vermouth—or dry white wine
1/4 cup low sodium beef broth
2 tablespoons butter
Instructions
Up to 2 days ahead, wash, dry, trim, and season rib roast. Many people tie the roast, but I don't generally tie a bone in roast with intact ribs and fat layers.
(For Bone Broth to Reinforce Au Jus - Optional Step: If you want to make your own bone stock for the au jus, do this 1-2 days, or up to a week, in advance. Season 1-2 large beef back ribs with granulated garlic, kosher salt and pepper. Sprinkle with Worcestershire and olive oil. Place bones on top of mirapoix (onion, celery, carrots and garlic cloves). Roast at 450 ° for 20-45 minutes until bones and mirapoix are browned. Transfer to a slow cooker and add water to cover. Cook on high until stock boils, then reduce heat to low. Cook until broth is rich and thick (about 18-24 hours). If scum rises to the top of the pan during the first hour or two, skim off and discard.
Alternately, you can cook in a pressure cooker or a Dutch oven until stock is very rich tasting and reduced by about 1/3 to 1/2 in volume. You only need about 1 cup of very rich stock for the au jus. Reserve bone broth for au jus. Save the remaining bone broth for other dishes. You will want to remove 2-3 tbsp of beef fat (tallow) from the surface of the leftover bone broth for use in Yorkshire pudding (low carb keto). It's easiest to get the fat off by refrigerating and letting the fat rise to the top, then carefully removing only the fat layer. Reserve broth until it's time to make the au jus.
For Char-Broil Oil-Less Turkey Fryer (TBE), Standing Rib or Prime Rib Roast:
Season generously with granulated garlic, dried parsley, rosemary, kosher salt and black pepper. Sprinkle with Worcestershire and drizzle with olive oil. Cover and chill until ready to cook.
One hour to 90 minutes before cooking, remove meat from ice box and let it come to room temperature. Line the drip pan of TBE with a double layer of aluminum foil. Be careful not to puncture the foil, you want to capture every bit of the meat drippings. The foil lining helps keep the drippings sterile and keeps the drip pan clean.
Preheat TBE on full heat for 10 minutes with the lid placed on top of the cooker. Spray basket with cooking spray.
Place meat bone side down into the basket. Lower basket into TBE. Place lid on top of cooker. Cook 10-15 minutes per pound with the lid on. Check internal temperature of roast at 10-11 minutes per pound. The temp in the center of the largest area should read 125 °-128 ° for rare-medium rare. When meat reaches optimum temperature, remove basket and place on a baking sheet. Rest meat in basket for 15 minutes.
(Note about TBE: Know that the temperature change of the meat moves quickly in the last 5-10 minutes. So at 10 minutes/lb if your meat registers about 110 °, make sure to check it at 5 minute intervals so you don't overcook it!)
While standing or prime rib rests, make the au jus. After the rib roast is cooked and removed to rest out of the Char-Broil Oil-Less Turkey Fryer (TBE), take the drip pan and transfer the juices from the drip pan into a small, heavy saucepan. Add everything from the drip pan, rendered fat and all. Scrape up any browned bits and add them. They're full of flavor! Add 1 cup of bone broth from the stock previously made, or add 1 teaspoon of Better Than Bouillon plus 1 cup of water. Add dry vermouth or dry white or red wine. Cook over medium high and let it bubble away to reduce by half. Once it's reduced by half reduce heat to a bare simmer to keep it from evaporating too much. Au jus must reach a temperature of 180 ° for at 10 minutes to sterilize the jus. If the liquid in the pan is less than 1 cup, add water to make 1 cup. Turn off heat and add butter. Adjust for salt and pepper. Reserve and serve about 3 tablespoon to 1/4 cup of au jus with each portion of standing rib.
To slice standing rib, hold rib up so the largest part of the rib sits on the cutting board. With the flat edge of the knife positioned to be as close to the rib as possible make a long, slicing cut down the rib, following as closely to the bone as possible. Imagine following the bone with the flat surface of the knife as closely to it as you can. You will be left with a very clean bone and an intact piece of meat. Once bone is removed, slice roast into 1/4 to 1/2 inch slices and serve with au jus. (Make sure to return and meat juices from the cutting board back to the au jus. It adds great flavor!)
Notes
This is now the Fluffys' favorite method of cooking standing rib. It's a fast process and doesn't require pre-browning or hassle! And standing rib as you are aware, is the crème de la crème of roasts. I don't care if you call it a standing rib roast or prime rib. It's mostly semantics and the pleasure experience is the same! This is not a meal where you want to even consider counting calories. I warn you now, the calories will scare the bejeesus outta ya! So simply resolve to enjoy and know you are feeding your cells with nutrition from the fat and great source of protein inherent in the cut.
Please serve it with horseradish sauce or if you want to guild the lily, sauce béarnaise. Oh my! Heavenly perfection on a plate! The au jus is a delicious accompaniment and is also a must have to complete the experience.
Standing rib doesn't have to cost a fortune nor does it have to be a multiple bone roast in order to enjoy it. Two people can enjoy a single bone prime rib very easily as shown in our Christmas Eve dinner. We got 2 meals for 2 people out of our thickly cut single bone prime rib. To get a thick cut of a single bone roast instruct the butcher to cut up to the preceding bone on one edge and over to the following bone at the second edge. That way you have a central rib and thick portions of meat on either edge of the rib. If they love your business, they will do it for you! Instruct them to NOT cut off the bone or trim off the fat or tail! You want all of it so you can decide how much fat you want to trim. I don't trim any! And the tail is one of the most delectable parts!
Buying the most marbled cut of sale beef will result in a delicious roast for those of you who are force to observe budgets. I so wish I had the luxury of eating Pat LaFrieda's prime aged beef. It tastes like no other. So fantastically delicious.
The cost per serving of this dish includes the au jus and is a very reasonable $3.05 per person using my sale price on standing rib of $4.98/lb. This is an entirely reasonable price for a feast meal and if you buy this at a steak house the same meal would cost you closer to $25.00 - $30.00 per person.
Because TBE is such a quick cooking process, and there is very little pan juice from it, we either make our own bone broth a couple of days before or we use water and beef bouillon (a more convenient method, but less nutritious and wholesome, to be sure) to increase the volume of the au jus. We add butter in the end for more flavor. Don't forget to remove 2-3 tablespoons of congealed beef fat from the beef bone broth made to supplement the au jus! We'll use it for Yorkshire pudding.
Serving Ideas Serve standing rib or prime rib with au jus, horseradish sauce or béarnaise sauce. Prime rib works great with smashed cauliflower, salted mushrooms, asparagus, broccoli, Brussels sprouts or almost any vegetable. It also works great with a simple salad and House Vinaigrette
Nutritional Information Per 1/4 Recipe (about 8oz beef + 1/4 cup au jus): 870 Calories; 77g Fat (80.6% calories from fat); 37g Protein; 4g Carbohydrate; 1g Dietary Fiber; 3g Effective Carbs
Per 1/6 Recipe (about 5-6oz beef + 3 tbsp au jus): 580 Calories; 51g Fat (80.6% calories from fat); 25g Protein; 3g Carbohydrate; 1g Dietary Fiber; 2g Effective Carbs
Copyright © 2014 Fluffy Chix Cook. All rights reserved.
http://fluffychixcook.com/fluffy-chix-cook-reviews-char-broil-the-big-easy-oil-less-fryer-and-shares-the-big-easy-standing-rib-roast-method/
Copyright © 2016 Fluffy Chix Cook. All rights reserved.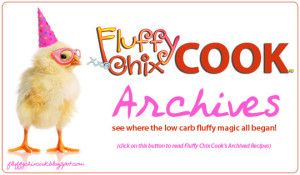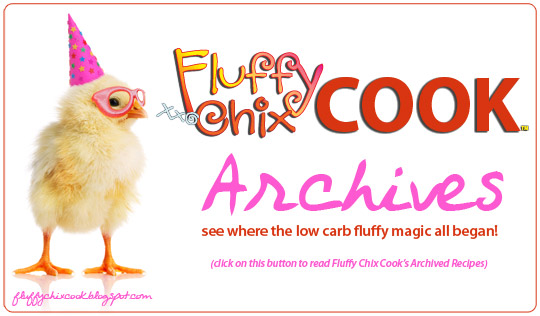 Copyright © 2014 Fluffy Chix Cook. All rights reserved.
We are not dieticians, nutritionists or medical professionals. The materials on this blog are for informational (and fun) purposes only. We do not fact check, nor do we worry about sources. Please do your own fact checking. We encourage you to look things up and check with your doctor or health care professional before acting on anything seen on Fluffy Chix Cook. xoxo