Foil Chicken – Low Carb Keto Convenience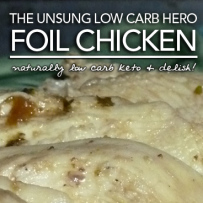 Sometimes cooking low carb keto staples may sound boring, yet many don't know how to cook them! And, when you know how easy, cost-effective, and downright delicious they taste, you might change your tune about the "boring" label. Learn how to make over 2 pounds of juicy chicken for about $3.50 with Fluffy Chix Cook.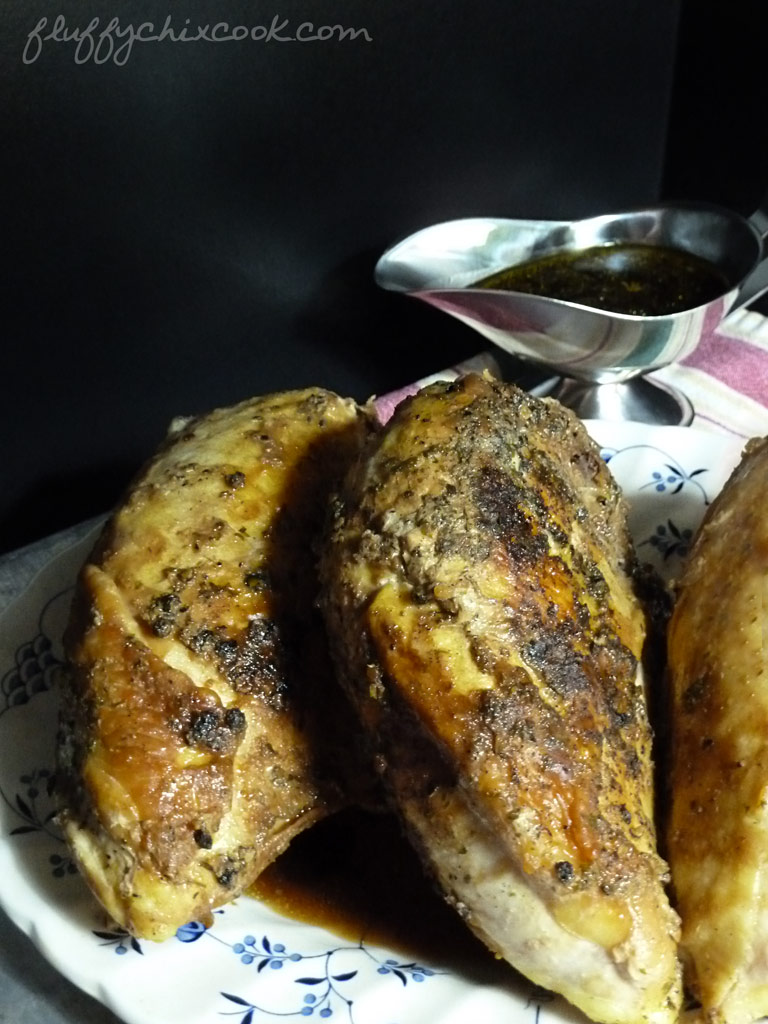 This is the story of a much-maligned, work horse recipe. It's not a sexy looking dish, doesn't have chocolate, whipped cream, icing or bread in it. And yet, it's a staple recipe at our house and runs rings around other low carb keto recipes. This one recipe can cut your rotisserie chicken bill by 50%. People who need to stretch their budget should consider this low carb staple. It's a base meat recipe that will give many meals for only $3.00+ change for spices. Let's say for $3.50, you'll get about 36 ounces of usable white breast meat. It would cost even less if you used whole chickens or used chicken quarters. We can find chicken quarter on sale for around $0.49/lb. Now that's cheap! Holy cow, stop the presses! Now, are you getting a little excited?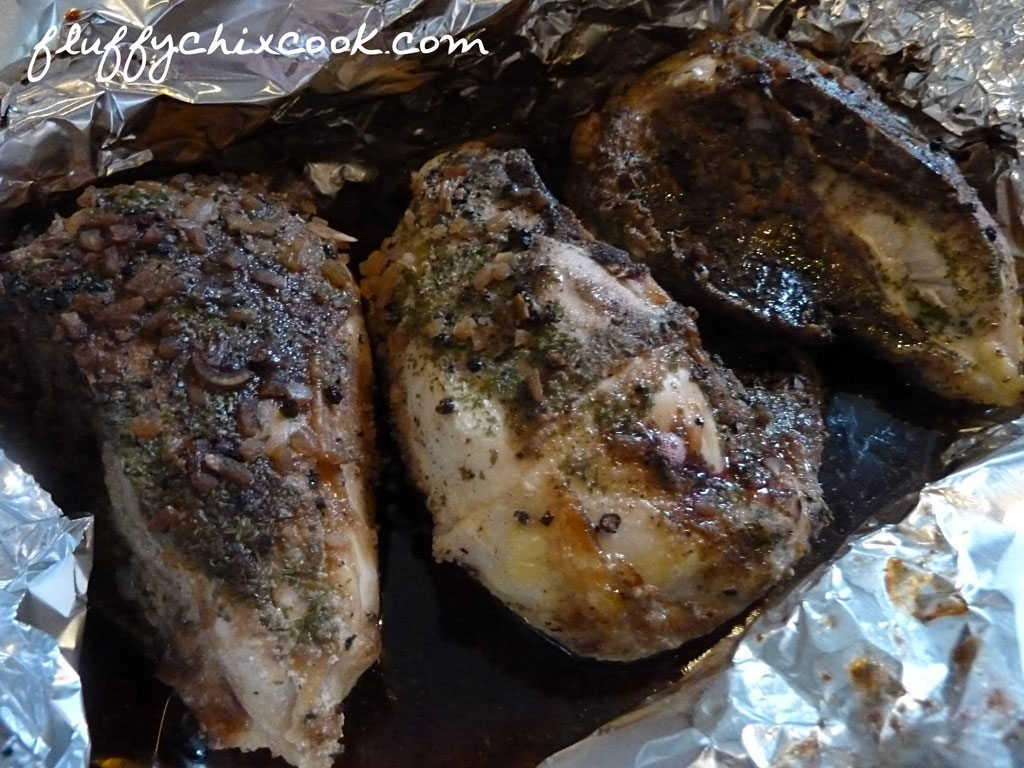 We grew up eating Foil Chicken and never knew Mom was economizing. Naturally low carb keto Foil Chicken just tasted amazing. The chicken was incredibly moist and tender. It had a tone of flavor, and tasted great cold, too. Of course, in the olden days, she just used onion soup mix and soy sauce, but as low carbers, prepared onion soup mix isn't such a wise choice for a keto diet, because it's fairly carby and does have added starch, sugar (and gluten). The Fluffys like using Better Than Bouillon, but feel free to use your favorite brand of bouillon crystals or powder. The pan juices that develop as a by-product of the recipe taste amazing. Use them for onion soup, or gravy! We love to use it as an au jus for the first meal, then repurpose it for several meals thereafter.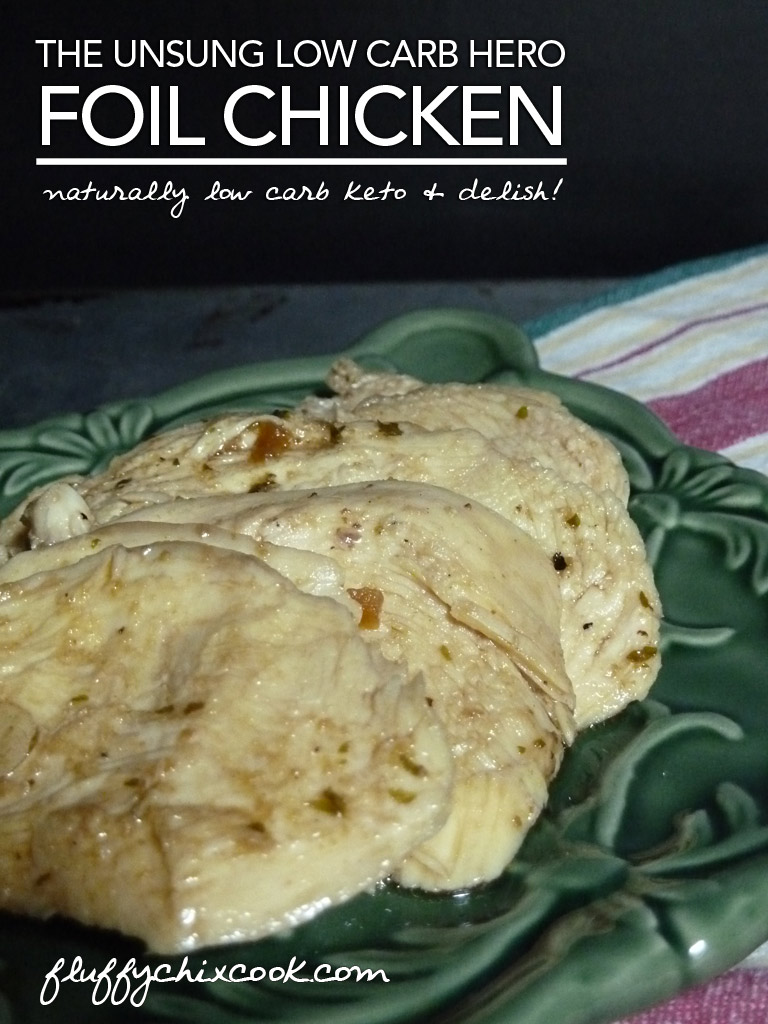 Just a little side not about bouillon, most bouillon has sketchy ingredients in it. So if you're a purist, you would do better to make your own bouillon from bone broth and deep reduction; a demi glace. It will take a very long time, but the result will be nothing short of spectacular. Maybe we'll do a tutorial on that one day–when we have eleventy billion hours to spare with nothing else to do, ok?!
This recipe works great, regardless of the cut used, but we will tell you—it works best with a bone-in piece of chicken. Boneless skinless breasts and thighs would just get too dry, too quickly. Economize and use really juicy, bone-in birds or pieces, and keep the skin on! You'll save money, add flavor and get an added boost of nutrition from the vitamins, minerals, collagen, and fats in the bones and skins.
With most store bought rotisserie chickens, you will average about a 20 ounce yield of cooked meat–between 3-4 cups of cooked meat, and it will cost you between $5.50-$9.00 for those 20 ounces. Yikes! Sure, roti chickie tastes good, cha-ching! Spendy. Especially if "Budget" is your middle name. And foil chicken, in contrast, is cheap as chips and close to effortless, for about $3.50. The oven does all the work—slow cookers need not apply.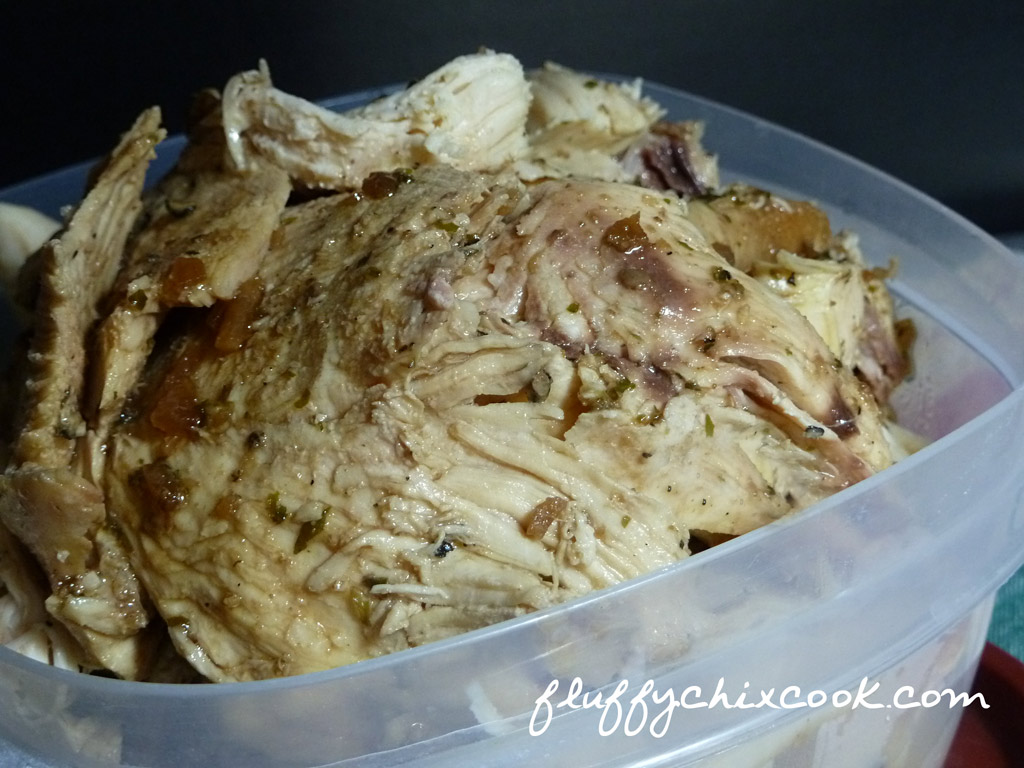 So try the Foil Chicken before casting aspersions on such a homely looking recipe and one that isn't tricked out in bells and whistles. But now you have a secret staple of the Fluffy Chix Sister & Brotherhood! Next, we'll discuss secret handshakes and oaths of loyalty!
Drop a comment to us and let us know how the recipe turned out and what you made with its Lucky Leftovers!!!
Foil Chicken – Low Carb Keto Convenience
Foil Chicken is a quick no-brainer low carb dish we grew up eating. Mom would throw the chicken in a foil pouch with spices and keep in the fridge until dinner. Then into the oven and 1 1/2 hours later, poof—a great dinner and tons of Lucky Leftovers.
Ingredients
Instructions
Place a doubled-up piece of aluminum foil into a baking pan. The piece needs to be long enough to completely enclose 3 large (1 lb each) bone-in chicken breasts, or 6-7 small breasts (about 3lbs of raw chicken weight with skin and bones) in a tightly sealed foil packet. Place breasts rib side up. Smear each breast with 1/3 of the bouillon paste. Just smear the rib side and don't worry about doing the meat/skin side. (That's face down on the foil sheet, remember?)
Sprinkle both sides of the breast liberally with granulated garlic, minced onion and fresh ground black pepper. Sprinkle breasts with gluten free tamari, fermented soy sauce, or coconut aminos and extra virgin olive oil. Wrap foil tightly to seal chicken and spices in a foil cocoon and place in a roasting pan.
Place roasting pan in the center of the oven and cook at 300° for 1 1/2 to 2 hours. When you think it's done, carefully unseal one end of the foil and take a temperature reading. It should be at least 170°-175° in the thickest part. If done, remove chicken from oven and open foil package. There will be a LOT of super flavorful pan juices. Save the pan juices to dip the chicken in or to make gravy, soup, stew or barbecue sauce.
Cool chicken until it's cool enough to work with (about 15-20 minutes). Pull, tear or cut chicken into chunks or slices. Place in a container. Cover with about 1/3-1/2 cup of the pan juices. When completely cool, store in an airtight container up to 5 days—or portion and freeze in 4-6 ounce portions. Remember to B/T (bag 'n' tag)! Enjoy.
Notes
With bone-in chicken breast for as low as $0.89 to $0.99/lb, this meal is a bargain and produces a bonanza of moist, flavor-packed, low carb chicken breasts to use for many different dishes, or as a stand-alone simple protein.
Serving Ideas Use this chicken throughout the week to replace where you might use rotisserie or baked chicken. It makes great Lucky Leftovers when used as the meat base in many types of dishes from soups, salads, sandwiches and wraps, to casseroles and main attractions!
Nutritional Information
Per Ounce (cooked meat only): 69 Calories; 3g Fat (44.5% calories from fat); 9g Protein; 0.53g Carbohydrate; 0.03g trace Dietary Fiber; 24mg Cholesterol; 0.5g Effective Carbs
3 Ounces (cooked meat only): 206 Calories; 10g Fat (44.5% calories from fat); 26g Protein; 1.58g Carbohydrate; 0.08g trace Dietary Fiber; 73mg Cholesterol; 1.5g Effective Carbs
4 Ounces (cooked meat only): 275 Calories; 13g Fat (44.5% calories from fat); 35g Protein; 2.11g Carbohydrate; 0.11g Dietary Fiber; 2g Effective Carbs; 2g Effective Carbs
Copyright © 2012 Fluffy Chix Cook. All rights reserved.
http://fluffychixcook.com/foil-chicken-low-carb-keto-convenience/
Copyright © 2016 Fluffy Chix Cook. All rights reserved.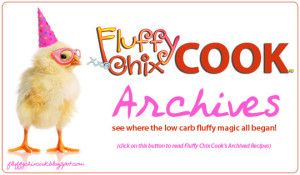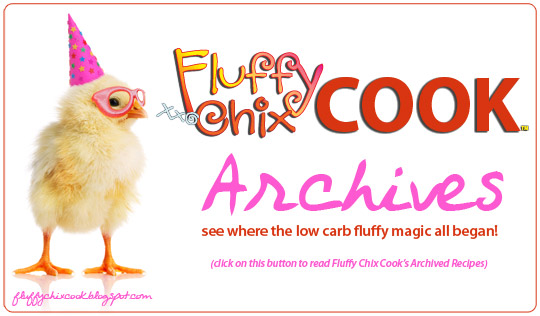 Copyright © 2014 Fluffy Chix Cook. All rights reserved.
We are not dieticians, nutritionists or medical professionals. The materials on this blog are for informational (and fun) purposes only. We do not fact check, nor do we worry about sources. Please do your own fact checking. We encourage you to look things up and check with your doctor or health care professional before acting on anything seen on Fluffy Chix Cook. xoxo