Garlic Spinach – Naturally Low Carb and Gluten Free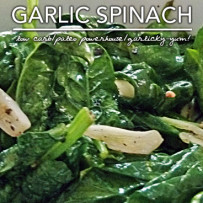 For anyone who needs basic, simple recipes for healthy side dishes like Fluffy Chix Cook's, naturally low carb and gluten free Garlic Spinach, this keto-licious recipe's for you! Not every meal needs to be an event. Sometimes, most times, we need the easy button in our kitchen to get nutritious, yet great tasting meals on the table in minutes. Low carb Garlic Spinach is one of those easy button recipes.
What's your favorite veggie? And how do you like to fix it?
We forget all the time, that people were not born intuitively knowing how to cook or low carb (as if the two are intimately linked). Truth. Most of us fail to comprehend what it means to eat "real, fresh, food." And when that reality exists, even the simplest recipes feel overwhelming, especially to culinary-challenged or to the beginning cook, or beginning low carber for that matter.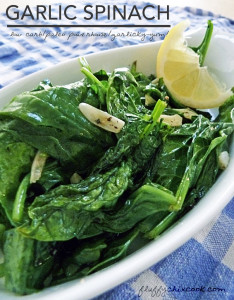 Enter the Easy Button. The Easy Button are groups of recipes so quick and easy, it's embarrassing to call them a recipe. And yet, the beginners need these recipes. And those with experienced, and sometimes jaded palates, may need a swift kick in the reminder about the easy non-recipes. Easy Button recipes do not require measuring spoons. I could care less whether you use 1 clove of garlic or 5, if that's what suits your tastes. As long as you count all the carbs in the ingredients, make it your own! Tweak away! And some of the easiest of the Easy Button recipes are made from veggies, garlic and extra virgin olive oil (plus a coarse grain salt like kosher or pink sea salt and fresh ground black pepper). And once you eat the fresh, Garlic Spinach…well, you may never be the same. We will have ruined you for any other kind of spinach for as long as you live. Fresh Garlic Spinach is a far cry from opening a can of spinach (blech, but awesome in catastrophes like hurricanes or tornadoes), or defrosting chopped frozen spinach (slightly better and great in some casserole or soup/stew applications)…although both have their uses. Fresh, in our book, will always be best.
The main thing to know about spinach is that this is not the place to economize in the kitchen! Economize by buying organic baby spinach in the larger containers at Sam's or Costco, or from your farmer's market. Just don't cheap out and buy the conventional stuff. Spinach tops the list of one of the Dirty Dozen; the most pesticide-laden produce on the planet. No lies. So if you're gonna eat spinach, eat organic, and why wouldn't you eat spinach? Spinach is packed with vitamins, minerals and nutrients: iron, potassium, magnesium, calcium, vitamins C and K1, and so many other trace minerals and vitamins; eat organic baby spinach. Your livah and brain will thank you!
Just give this low carb, paleo powerhouse a try. Fridge to table in 7 minutes or less if you can sliver or press garlic quickly—there isn't even a 5 minute prep. This is a 5 minute dish in the Fluffy abode.
Garlic Spinach – Naturally Low Carb and Gluten Free
Breakfast, lunch, dinner, or Lucky Leftovers, this Induction-friendly side dish perks up any protein for very few carbs and a wallop of nutrition. Doubles, triples or quadruples well!
Ingredients
Instructions
Add olive oil and garlic to a nonstick skillet over medium high heat. Cook 1 minute. Turn off heat. Add spinach, kosher salt and fresh ground black pepper. Stir and toss until spinach wilts. Serve immediately.
If you want a bright pop, add a few drops of a freshly squeezed lemon wedge.
Notes
We love this as a side dish with any protein, but at 2g of net effective carbs, it's a nutritional bargain, it's perfect with eggs for a great Induction start to your day and even with the full 3g carb count, fits healthfully into Dr. Westman's Page 4 Diet.
For a spicy note, add 1/2-1 teaspoon of sambal oelek (Vietnamese chili garlic paste) or sriracha sauce (aka Rooster Sauce), found on the International Food isle in your grocery or available online. They both add great flavor for about 1 carb per teaspoon.
Serving Ideas Serve with your favorite proteins at any meal.
Nutritional Information
Per Serving (1/2 Recipe, About ¾ cup): 77 Calories; 7g Fat (77.9% calories from fat); 1g Protein; 3g Carbohydrate; 1g Dietary Fiber; 0mg Cholesterol; 2g Effective Carbs
Copyright © 2012 Fluffy Chix Cook. All rights reserved.
http://fluffychixcook.com/garlic-spinach-naturally-low-carb-and-gluten-free/
Copyright © 2016 Fluffy Chix Cook. All rights reserved.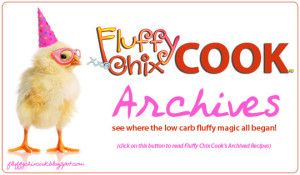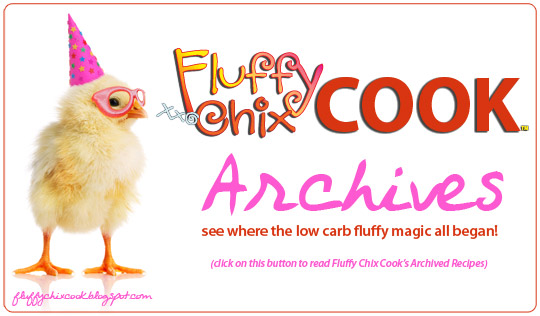 Copyright © 2012 Fluffy Chix Cook. All rights reserved.
We are not dieticians, nutritionists or medical professionals. The materials on this blog are for informational (and fun) purposes only. We do not fact check, nor do we worry about sources. Please do your own fact checking. We encourage you to look things up and check with your doctor or health care professional before acting on anything seen on Fluffy Chix Cook. xoxo