Gordon Ramsay's Steak and Fluffy Chix Pan Sauce – a low carb keto love child in the making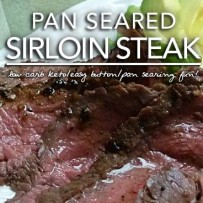 How do you cook great steak? It's one of the burning questions on every low carb ketoneer's mind. Do you broil, grill, pan sear? So many confusing choices, but which one yields the easiest, most dependable and repeatable experience–perfect steak, every time? Join Fluffy Chix Cook as they explore this topic and feature Gordon Ramsay's technique for cooking the perfect steak, start-to-finish. No grills need apply.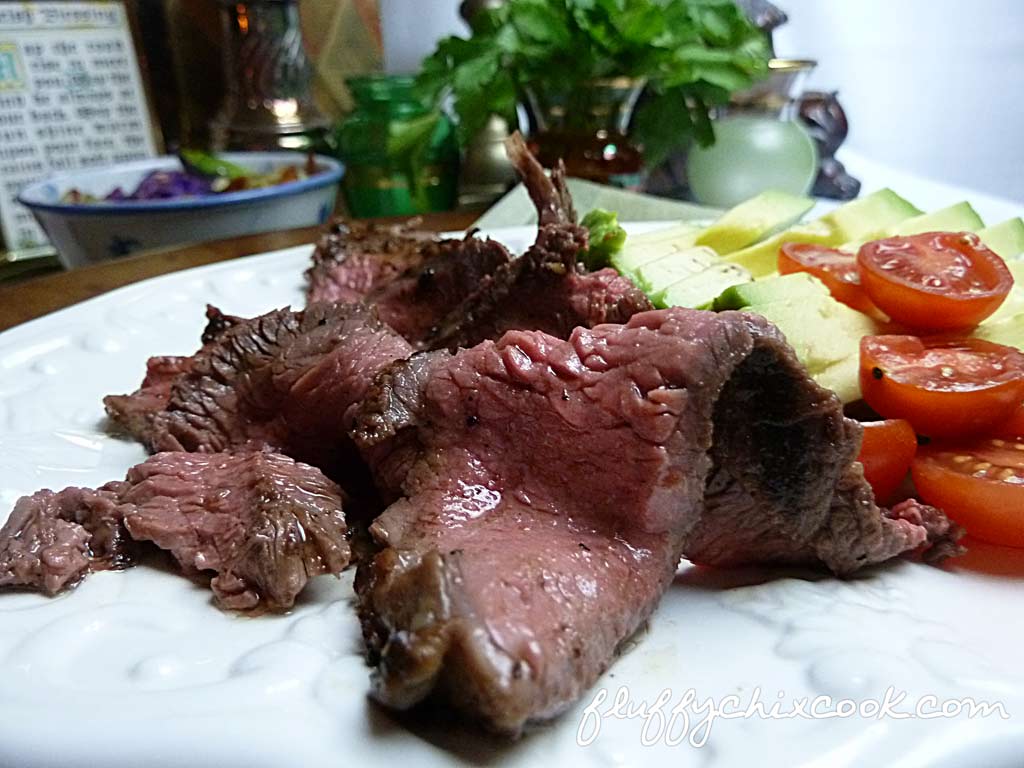 We are Texans and Southerners. We were born with antique silver spoons in our mouths (from our great great grannies' secret stashes brought over from the old country), and bottles of granulated garlic, kosher salt and black pepper in our grubby little mits. And we are foodies. We know. We feel the cognitive disconnect. Foodies…granulated garlic. *gasp* But, even though we are foodies, we are Southerners first, and taking away our granulated garlic is tantamount to making us cook with our right hands tied behind our backs, because Southernese beats Foodie in the rock-scissors game of DFSW (delicate flower of southern womanhood) life. Seriously. (So continue to expect recipes from the Fluffys that glorify and salute our beloved Southern Trinity.)
But that's just what Gordon Bleeding Ramsay challenged us to do with his amazing video that makes cooking a great low carb keto rock star dish, er, we mean steak, super-duper simple. One of the big cooking challenges in a low carb keto lifestyle is adding flavor to quickly cooked proteins without burning the source of those flavorants (ie herbs, spices and condiments). And yet, quick cooking methods should be a staple in a low carb ketoneer's life. Why? Because it means simple and quick; two qualities we all need, especially on weeknights.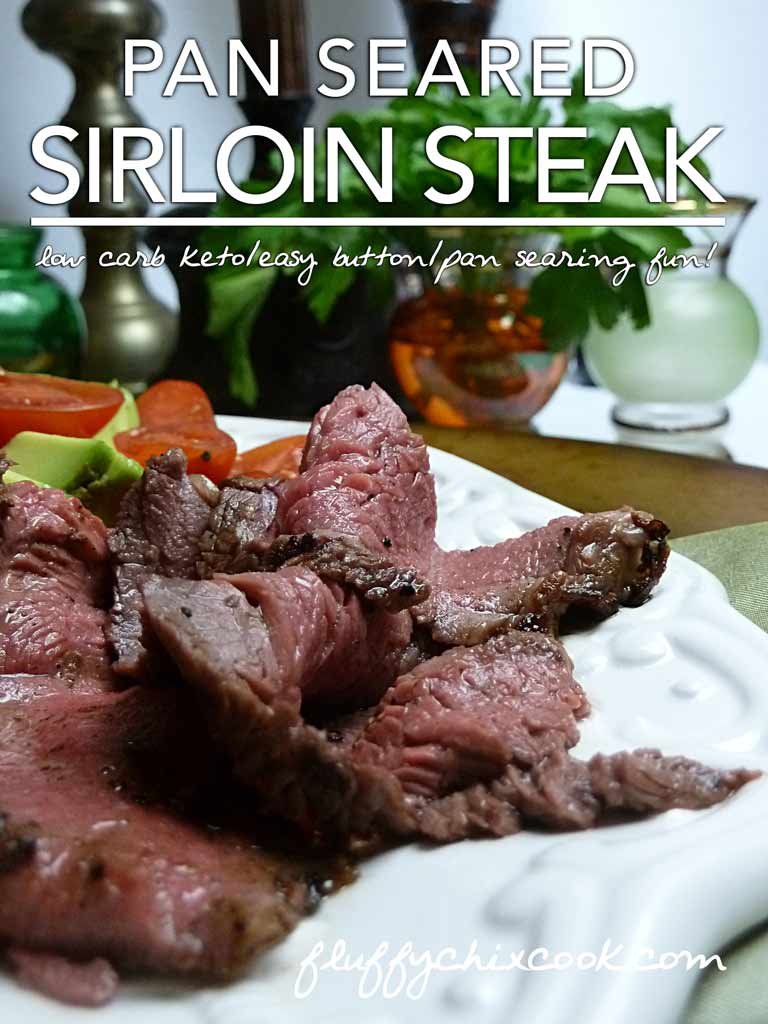 When the Fluffys get down and dirty with quick cooking aka "dry" or high heat cooking methods, we tend to use dried spices. We believe they resist burning a tiny bit more than fresh herbs and spices; plus the dried herbs and spices stay on the protein better. They conveniently live in our pantry, ready to go at a moment's notice. And dried herbs and spice rubs bring a much more intense flavor, especially to meats. And there you have it, our generationally pre-determined need for the Holy Trinity of Southern Spices: salt, pepper, and granulated garlic. Hallelujah and pass the lard.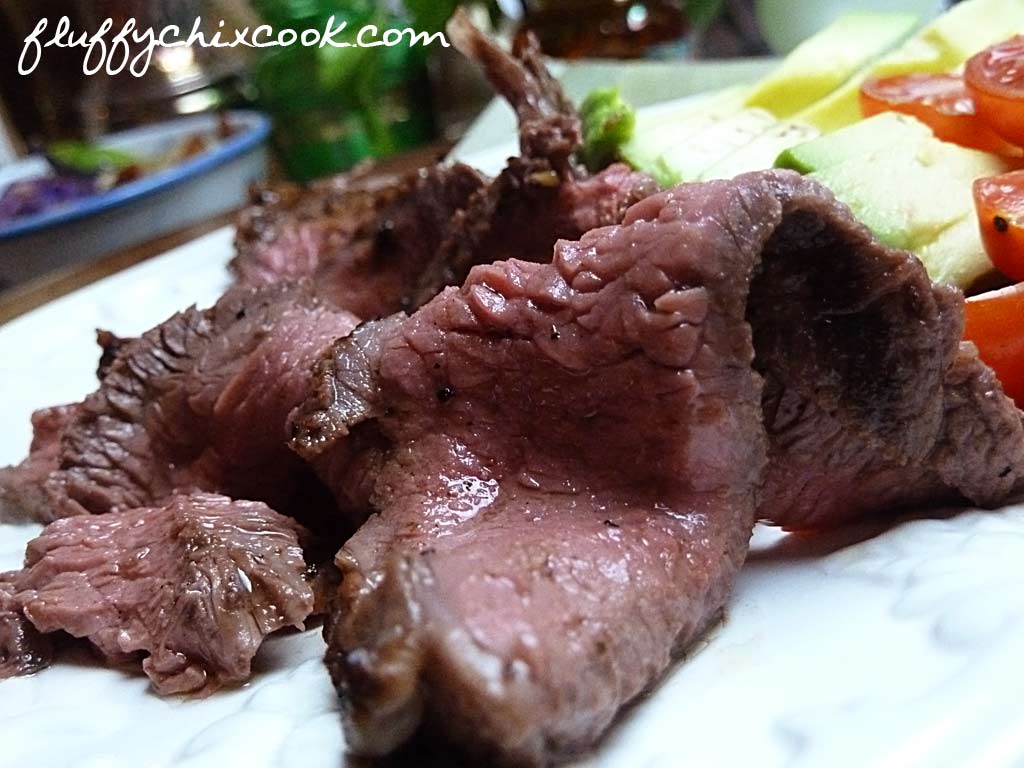 Gordon's technique, a classical French technique known as pan roasting or pan searing (Remember we did that with the chicken a couple of weeks ago on the Fluffys' Facebook Page?) utilizes fresh garlic and herbs. We were intrigued. And we'll tell you right now, it's the best $2.00/pot you'll ever invest in your cooking—planting your own fresh herbs. (more later) We routinely use Ramsay's (actually classic French cooking) method when building any type of pan gravy, which we make while the steak rests, because convolutedly, fresh herbs and fresh garlic cloves give a much different and more sophisticated flavor to a pan sauce than dried herbs and spices. It's just that you guys don't always have fresh herbs hangin' out on your patio and we don't want to create barriers to cooking and enjoying Fluffy Chix low carb keto recipes.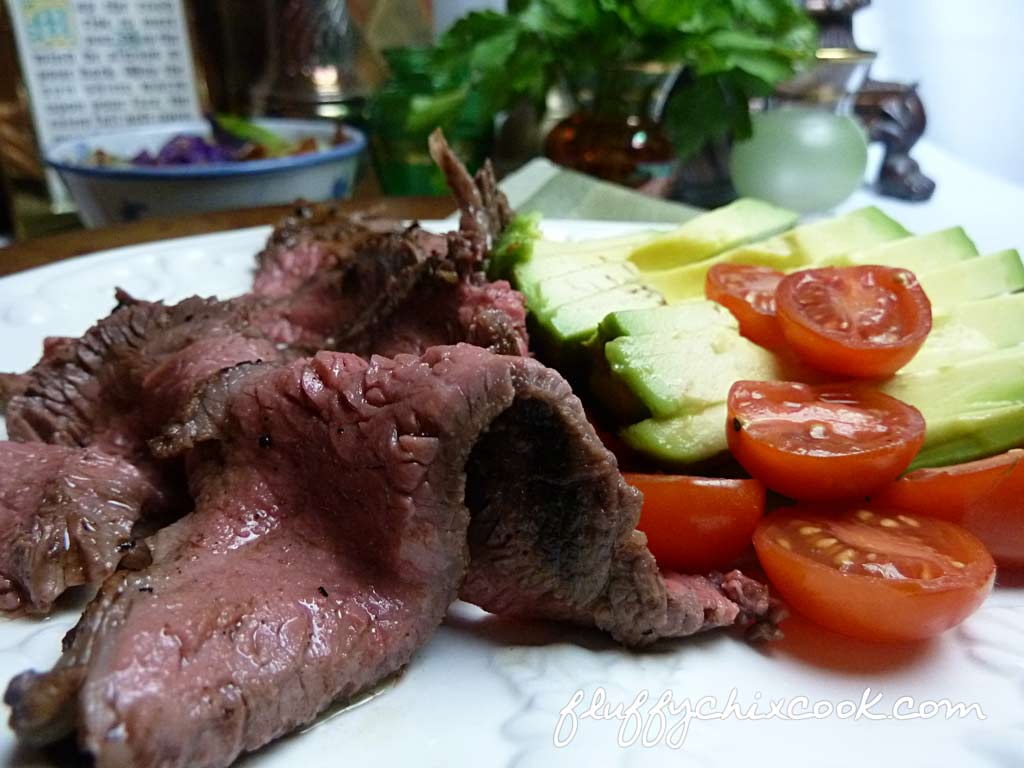 But could using fresh garlic and sprigs of fresh herbs, to season the pan and cooking oils, give the steak enough flavor for our jaded, dried-spice-palates? Could they season the meat enough without having a dried spice rub applied to the surface of the meat? Well Lawd-oh-mighty. You could have knocked the Fluffys over with a feather! Why? Well child, the flavor on this pan seared steak was fabulous and no grills need apply.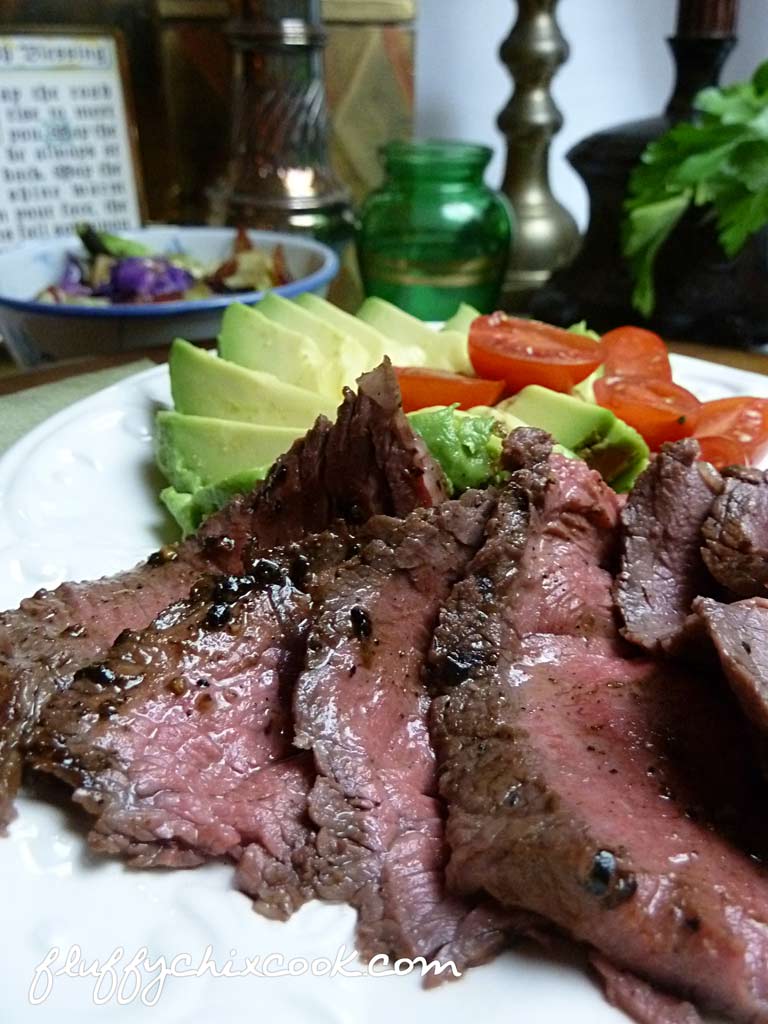 There was no need to worry about burning the spices or garlic on the surface of the meat. Because the garlic and sprigs of whole herbs (we used rosemary because the fresh thyme did not make it through the hard freeze at Christmas) applied to the pan fats, imparted their glorious flavor and bounty into the fats, which then basted the meat—adding flavor, delicate flavor to it. It also eliminated the possibility of burning the flavorants.
Pan searing steaks is a method anyone with a frying pan can successfully accomplish. And easy. Did we mention easy? Eight minutes start to finish, including the quick pan sauce. Low carb keto bliss. No need for a grill. No need to kvetz over broiling times or which rack to broil it on, just an easy six in a skillet on top of the burner, cranked to high. We will now be cooking steaks this way 50% of the time. The other 50% of the time will still be given to our grill, cuz we can.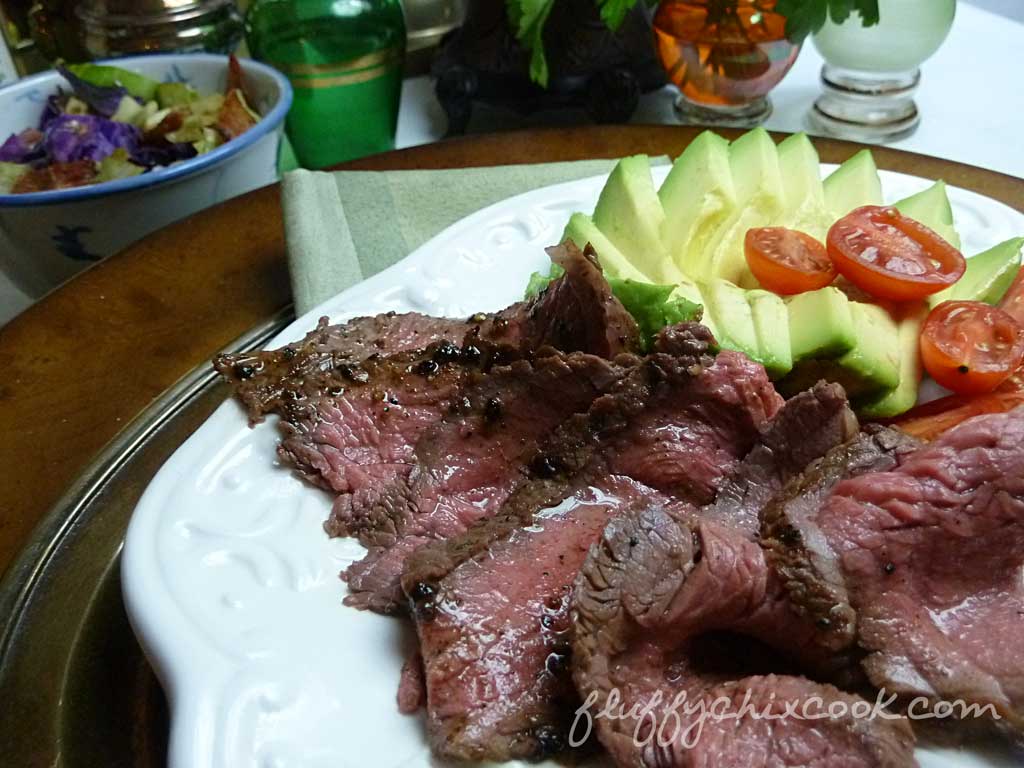 A Word About the Meat
Buy the best steak your pocketbook can afford. We'd stop here, but Denny would go cra cra. Ribeye, nay, prime grade ribeye, that prince of steaks "be" the Fluffy choice on any given Sunday. It's frequently on sale, and a pound of ribeye yields two generous portions plus enough leftovers for steak and eggs or egg breakfast tacos the next day. Yes, you heard me, steak-egg-cheese breakfast tacos are low carb keto when made with a
Psylli Wrap
.
You know your preferred cut; people often have a very strong connection with a particular cut: ribeye, Del Monico, chuck eye steak, Porterhouse, tenderloin, t-bone, flat iron, flank or skirt, sirloin, or strip. Any of these cuts work well with Gordon's steak technique, although a bone-in variety will likely require a brief finish in a 400° oven.
We happened to try a prime sirloin with Ramsay's method. They are presently on sale for $5.98/lb at the HEB. P-R-I-M-E, for $5.98/lb=BONANZA (better call Hos, now). Can you say, melt-in-your-mouth tender? Holy moly. Big, rich flavor, because let's face it–sirloin is packed with big flavor. It's just normally tough as boot leather unless prepared rare or blue (very raw rare with a cold center). But this prime sirloin was super well-marbled and so tender you could cut it with a fork. Pat LaFrieda of Pat LaFrieda Meats, purveyors of fine meats since 1922, and author of the best selling book, MEAT, would have wept tears of joy. Maybe depart from the usual family fave and try the next sale on anything prime. Let us know what you think…drop a comment to us, below.
You can use your grama's cast iron skillet or use our jazzy number, an enameled cast iron skillet. We actually prefer enameled cast iron because you don't have to worry about cooking acidic foods in them, and because we believe the enamel helps reduce the level of iron leaching into our food from the pan. Extra iron can present a problem, because iron continues to build up in peoples' blood (unless they donate blood or get wounded and bleed a lot). Too much iron causes a host of problems and increases the chances of heart attacks. We also love how enameled cast iron pans cook: consistent, no/few hot spots, holds heat better than ordinary pans, heavy, durable, and easy clean-up.
Le Creuset makes a line of enameled cast iron cookware that's considered the gold standard in enameled cookware. They are pricey. But they will last you the rest of your life and will still be kickin' it when your great grandchild is ready to get their low carb keto cook on, Swearsies. The Le Creuset pans even have a lifetime warranty against chipping.
If you can't afford Le Creuset skillet or Dutch oven, there are many knock-off cast iron enamel pans ranging from $20-$40. They chip a bit, but are still heavy duty hitters and will also last you a lifetime. They may not make it to your great gran'kids.
Gordon Ramsay's Steak and Fluffy Chix Pan Sauce – a low carb keto love child in the making
Such a brilliant and truly simple method of cooking steak; a basic technique every home cook should know how to utilize.
Ingredients
1 tablespoon bacon grease—or olive oil
1 pound steak, your favorite cut (we used prime sirloin this time)
2 cloves garlic, peeled and whacked with a knife to open the clove
1 sprig fresh rosemary
2 tablespoons unsalted Kerrygold butter
1/2 tablespoon Worcestershire Sauce
Instructions
Heat a cast iron skillet, or heavy skillet, over medium high heat for 3-5 minutes. We do this outside over direct heat, on the grill, to keep fumes down because the pan smokes.
Season steak on both sides with salt, freshly ground black pepper and drizzle with olive oil or melted bacon grease. Add steak to the hot pan. Use a pair of tongs to cook the edge first. Hold the steak up on edge, using the tongs, to brown the edge of the meat (about 1 minute). Then place steak flat side down into the pan.
Add the rosemary sprig and whole garlic cloves. Cook 1-2 minutes on the first side. Don't move the meat. Let it sear. Flip the steak at 1-2 minutes. Add butter to the pan and Worcestershire Sauce. Cook an additional 1-2 minutes depending on thickness of the steak and desired degree of doneness. The general rule of thumb is 6-7 minutes per inch yields a medium rare steak. Watch Gordon explain how to tell doneness by touch.
Transfer steak to a cutting board to rest for 5-10 minutes. Continue cooking the pan gravy for another couple of minutes until it thickens and turns semi-syrupy.
Cut steak at an angle, about 45° (termed "on the bias"), and cut across the grain. Pour sauce over steak and enjoy.
Notes
Normally we make steak a couple of ways, both feature highly seasoned meat: Dad's Great Steak and Jamie Oliver's Ginger and Rosemary Steak (recipe to come). It ALWAYS involves a blazing hot fire and a grill. We're Sweet Lady Propane people, because, come on, who doesn't love the convenience? But we saw this video of Gordon Ramsay cooking steak and we knew we had to try his method. Verdict? Delish. Super Simple. Gordon's method doesn't require a grill, although we still used ours to heat the cast iron skillet, in order to keep the fumes out of the house.
We differ in one area. We believe keeping the meat cold in the fridge until the last minute helps reduce bacterial growth and also allows more cooking leeway with fewer overcooked steaks. You can get color on the meat without overcooking the center, even on thin steaks. But you decide which method you prefer, Gordon (3 star Michelin Chef), or the Fluffys (simple Southern home cooks). hehe.
Serving Ideas Serve with your favorite veg and/or a salad. A nice dry cabernet sauvignon never goes astray.
Nutritional Information
Per 8 ounce (raw weight) = 1/2 steak: 693 Calories; 54g Fat (71.1% calories from fat); 47g Protein; 2g Carbohydrate; trace Dietary Fiber; 2g Effective Carbs
Per 51/3 ounce (raw weight) = 1/3 steak: 462 Calories; 36g Fat (71.1% calories from fat); 32g Protein; 1g Carbohydrate; trace Dietary Fiber; 1g Effective Carbs
Per 4 ounce (raw weight) = 1/4 steak: 347 Calories; 27g Fat (71.1% calories from fat); 24g Protein; 1g Carbohydrate; trace Dietary Fiber 1g Effective Carbs
Copyright © 2015 Fluffy Chix Cook. All rights reserved.
http://fluffychixcook.com/gordon-ramsays-steak-and-fluffy-chix-pan-sauce-a-low-carb-keto-love-child-in-the-making/
Copyright © 2016 Fluffy Chix Cook. All rights reserved.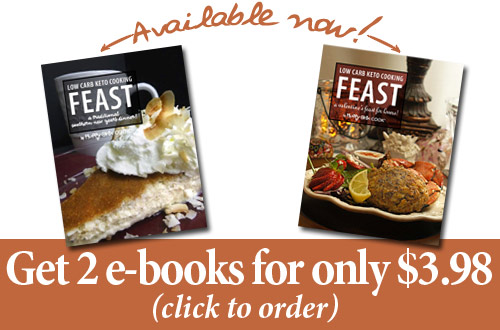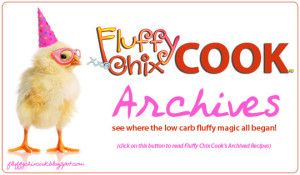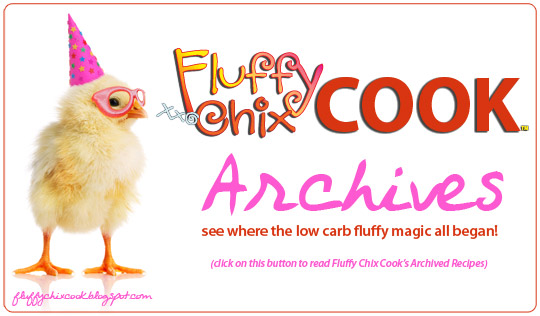 Copyright © 2010 Fluffy Chix Cook. All rights reserved.
We are not dieticians, nutritionists or medical professionals. The materials on this blog are for informational (and fun) purposes only. We do not fact check, nor do we worry about sources. Please do your own fact checking. We encourage you to look things up and check with your doctor or health care professional before acting on anything seen on Fluffy Chix Cook. xoxo