Green and White Lasagna – Low Carb Keto & Gluten Free
Low carb keto lasagna…isn't that an oxymoron? Not when Fluffy Chix Cook gets involved! If you're looking for  a big plate of Italian  comfort food, and want to be knee-deep in low carb keto lasagna, you've definitely come to the right place. All of the flavor, and none of the guilt!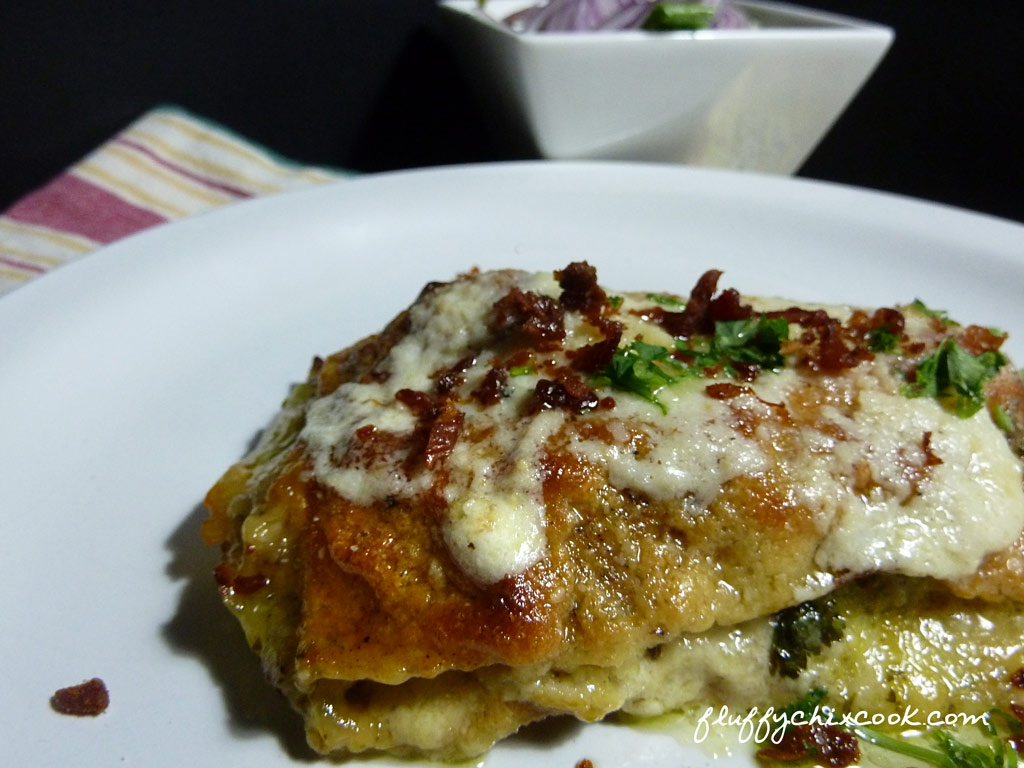 Sometimes we marvel and pinch ourselves—that we're truly living a low carb keto lifestyle, because it doesn't feel like it. Where's the abstemious, low carb diet? The deprivation? The angst and longing? Frankly, we live simply, and eat simply, about 90% of the time. But that 10% of our keto lifestyle is saved for treats and treasures such as Psylli Pumpkin Induction Pasta and lasagna. You heard me. I said lasagna and Induction in the same sentence. Are we nuts? Or just pulling your leg? Is it really possible to enjoy lasagna with noodles, in a low carb way of life (WOL)?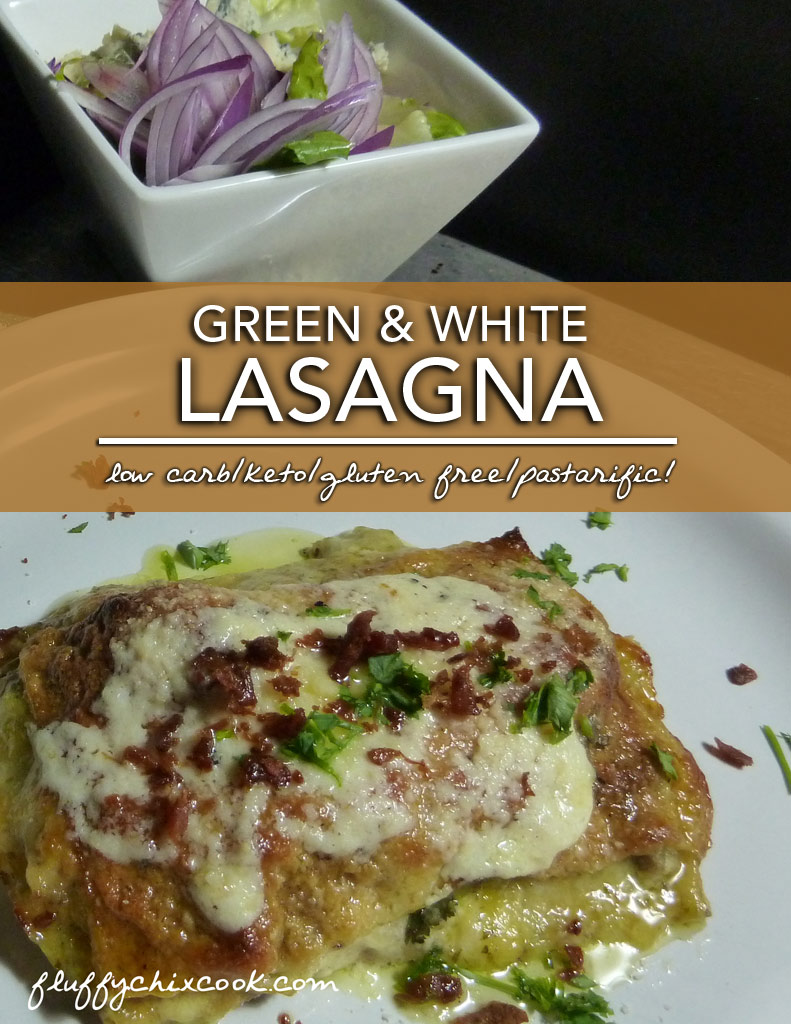 Yes. You can really enjoy pasta and lasagna in a low carb lifestyle. And we're not talking Dreamfield's either. This tastes very similar to homemade pasta. The Psylli Pumpkin Induction Pasta does have a slight  texture difference from real glutinous, high carbage pasta, but it is thoroughly enjoyable and eats just like real lasagna! We love using the chimichurri in place of pesto. Chimichurri Sauce has few carbs than pesto and doesn't taste overwhelmingly like cilantro. It's richly balanced! You wouldn't think it went with mushrooms, but it SOOOO does! The Alfredo Sauce helps bring everything together: the mushrooms, the chimichurri, the pumpkin (that doesn't taste at all pumpkin).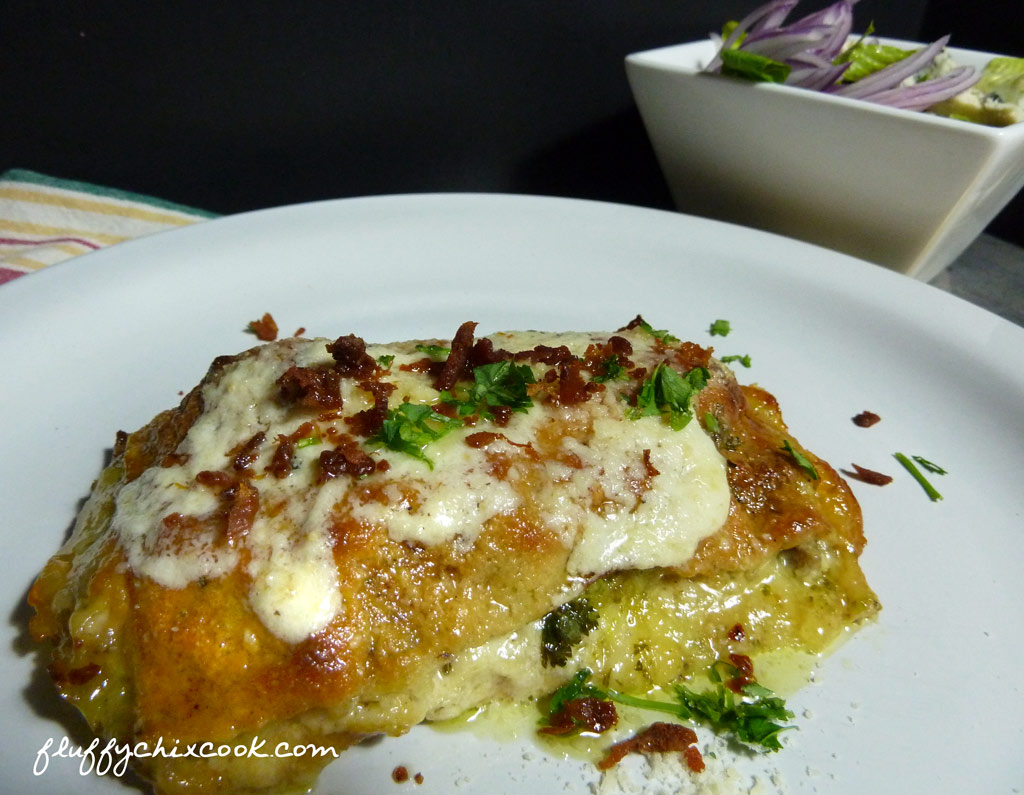 We chose to use the Egg Fast Alfredo, even though it is not an authentic Alfredo, because it's made in about 2 minutes and has fewer carbs than the true version with cream and butter. It also stands up to longer cooking times a little better, too. In fact it's the Chimichurri and Alfredo that gives the lasagna the name Green and White Lasagna!
Now, we know, it's not exactly low calorie and sometimes we do have to be mindful of calorie-dense food. But we are not foolin'; a half serving was plenty for this Fluffy! And, it's not like we eat it every day, either! (But you probably could!)
Hope you will try it and drop us a comment! What is your favorite lasagna variation?
Green and White Lasagna – Low Carb Keto & Gluten Free
Mushroom Chimichurri Lasagna is seriously elegant, hoity-toity hanky panky. The green and white sauces wardrobe seamlessly together. It reheats well, but shouldn't be frozen.
Ingredients
Instructions
Make a recipe of Psylli Pumpkin Lasagna, Chimichurri Sauce, and Alfredo Sauce per recipe instructions. Use 1 serving of the pumpkin lasagna noodles (1 whole lasagna noodle). Cut pasta into 2 shorter pieces of equal size.
Preheat oven to 350° and spray an individual casserole dish with olive oil cooking spray or brush with olive oil.
Sprinkle mushrooms with pinch of sea salt. sauté sliced mushrooms in a dry, nonstick pan. Cooking the mushrooms dry, actually pan roasts them and allows the moisture to quickly evaporate, while building caramelization.
Place a spoon of Alfredo in the bottom of the individual casserole and top with the 1st lasagna noodle. Top with Chimichurri Sauce or pesto. Add 1/2 of the mozzarella and 1/2 of the Parmesan cheese (reserve the rest for the last 10 minutes of cooking). Top with mushrooms. Drizzle on another spoon or 2 of Alfredo Sauce. Top with second layer of pasta. Put remaining Chimichurri on the pasta. Add mushrooms. Add remaining Alfredo. Cover with nonstick aluminum foil. Try not to leave a little space between the sauce and the foil. Bake in a preheated oven 350° oven for 20 minutes. At 20 minutes, remove the foil, and top with the remaining shredded mozzarella and parmesan. Return to oven and cook uncovered until cheese is melted, golden in spots, and hot in the center. Top with crispy bacon crumbles and optional pine nuts. (You can also add a little extra Parmesan, chopped Italian parsley and red pepper flakes, too!)
Notes
Warning! This low carb lasagna is so rich and delicious, you might find yourself only eating half of a serving! We tried to eat a whole portion and just couldn't do it. It's as tasty as it is pretty—and filling! Having the low carb keto Psylli Pumpkin Pasta and sauces prepared in advance are great time-saving tips! We plan on making Mushroom Chimichurri Lasagna whenever we've prepared chimichurri for steaks, chicken or seafood because, we know there will be leftovers and chimichurri is lower carb than pesto (and equally fabulous), and this lasagna tastes insanely delicious!
Serving Ideas Serve with a simple green side salad and House Vinaigrette.
Nutritional Information
Per ½ Serving 320 Calories; 28g Fat (76.8% calories from fat); 14g Protein; 5g Carbohydrate; 2g Dietary Fiber; 3g Effective Carbs
Per Serving 639 Calories; 55g Fat (76.8% calories from fat); 28g Protein; 10g Carbohydrate; 3g Dietary Fiber; 7g Effective Carbs
Copyright © 2014 Fluffy Chix Cook. All rights reserved.
http://fluffychixcook.com/green-and-white-lasagna-low-carb-keto-gluten-free/
Copyright © 2016 Fluffy Chix Cook. All rights reserved.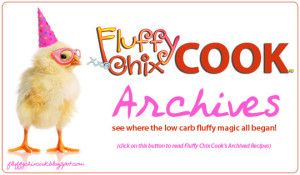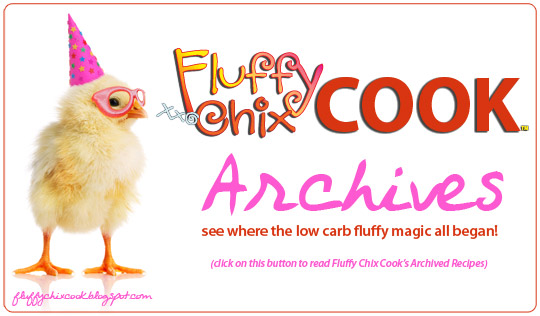 Copyright © 2014 Fluffy Chix Cook. All rights reserved.
We are not dieticians, nutritionists or medical professionals. The materials on this blog are for informational (and fun) purposes only. We do not fact check, nor do we worry about sources. Please do your own fact checking. We encourage you to look things up and check with your doctor or health care professional before acting on anything seen on Fluffy Chix Cook. xoxo