Grilled Bologna Steak with Low Carb Keto Texas BBQ Sauce (Fluffys' TNT Recipe)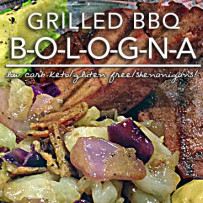 Do you love trying something different and enjoy expanding your low carb keto repertoire? Maybe you are looking for a recipe for delicious low carb grilled bologna, but don't know what kind to buy or how to make it? Well, stay tuned, because Fluffy Chix Cook teaches you a little Depression Era know-how and grills up a batch of bologna steaks and that's no bologney!
Our parents were children of the Depression Era. They faced utter poverty and desolation and like many, had to deal with fathers, brothers, sisters and even mothers, leaving the home to walk miles and miles, looking for work. They ate any and everything they could get their hands on as long as it was cheap and filling, especially if it could be used to "stretch" a meal to feed more mouths, well…they were famous for that kind of kitchen wizardry.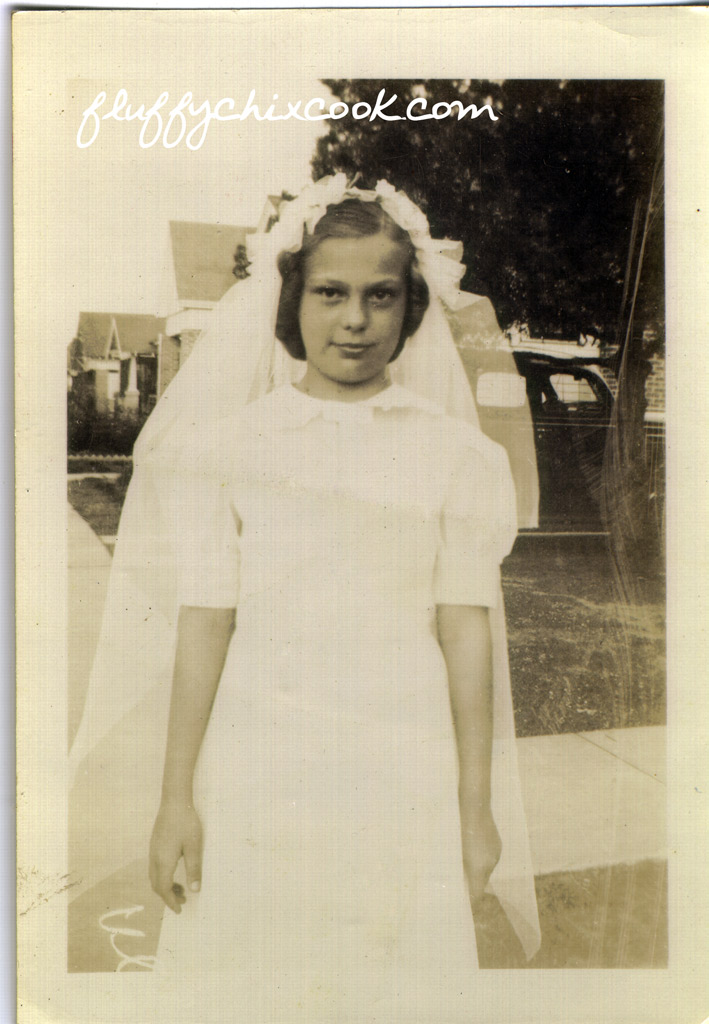 Thankfully our families survived and managed to thrive, even in tough times! I'm sure you all can relate to tough times and thriving in adversity, right? We're kind of experiencing a similar story now, aren't we? We have to use our heads to figure out ways to stretch the food budget. But Mom did survive and here she was on graduation day.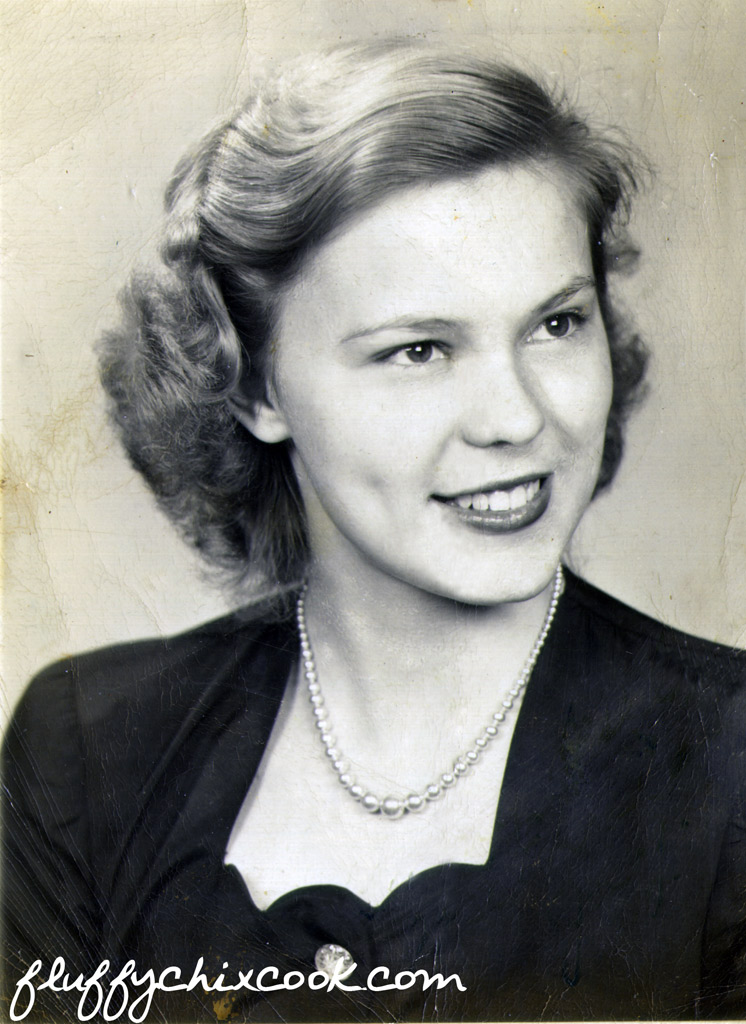 Mama told a story (she told so many, we numbered them) of being six years old. Her mama was "down again" with the distemper (ahem, it meant she was layin' on her "faintin' couch" deep in depression) and her dad had imbibed-away and gambled-away what tiny paycheck he brought home from working in the fields over at Standard Oil (again). And Mama walked to the market, alone, and had to beg the grocer to extend their credit just a little longer, so she could buy a bag of groceries to feed the family. I think her mama knew a thing or two about manipulation. Who could ever turn down a stick-thin, hungry little girl with big brown eyes, asking for food?
So it's no wonder that our rowdy and sizeable family benefitted from Mom's cunning and culinary wizardry. She taught us to embrace food-extending recipes (magic recipes) such as Mulligan Stew (coming soon), Creamed Eggs (coming soon), Tuna Casserole (then it was Creamed Tuna on Toast), Chicken a la King, and gave us our love of fried bologna, canned meats, and forced meat products (aka wursts, sausages, bolognas and pressed lunch meats such as olive loaf). And Dad gave us SOS and taught us everything we knew about exterior illumination and bbq pits and grills.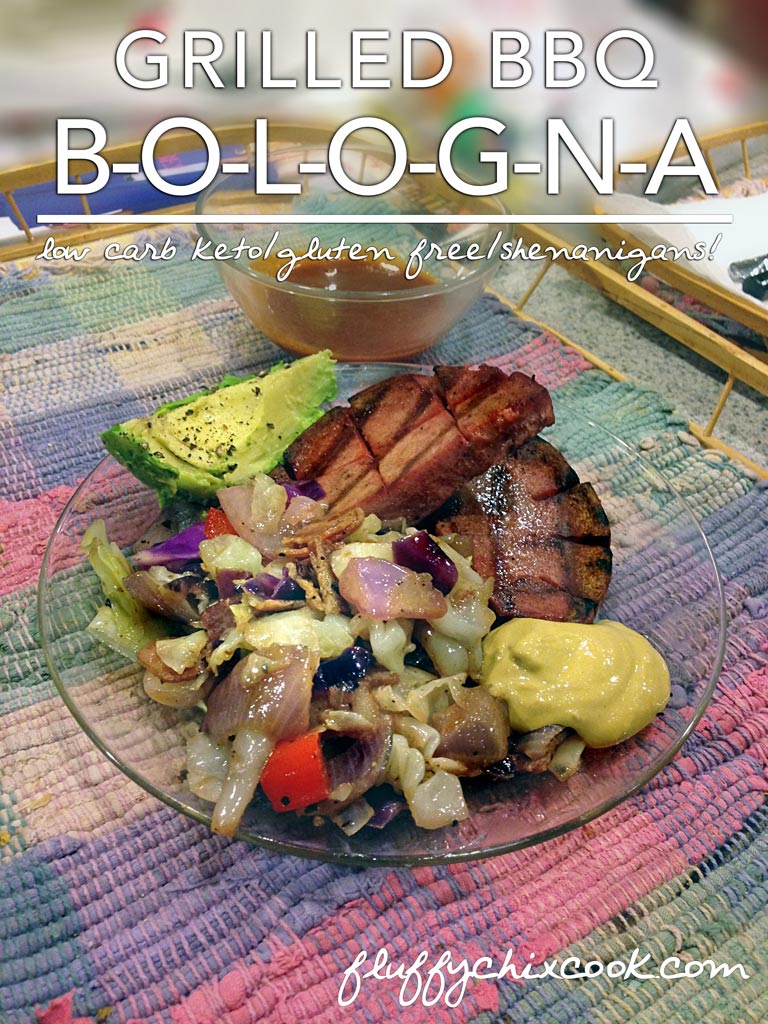 So really, this recipe should come as no surprise to you—that the Fluffys have a way with b-o-l-o-g-n-a. We are after all, products of our forefathers and mamas. We give you Grilled Bologna Steak seared into meaty goodness and topped with a swipe of Texas goodness. It's low carb keto friendly, tasty, something out of the ordinary…and just a little fun to throw into the menus now and then.
We would not call Grilled Bologna Steaks "economical food" any longer, because true old-world style low carb keto bologna, from forced meat masters doesn't come cheap! Of course, if you don't mind cereals, fillers, high fructose corn syrup and MSG and other things that go bump in the night, the tummy-filling $0.99/package bologna is still available. And it fills tummies in a pinch, just as it did during the Depression. So eat to your pocket book and your carb meter as usual.
Hope you will try this recipe. We'll be posting the Fluffys' recipe for Fried Cabbage with Bacon soon, we promise! We first heard about fried bologna with a "bologna dip" or sauce on Food Network' Triple D with Guy Fieri, and thought it had real possibilities. This is the Fluffys' stab at it. (To get the Fluffys TNT BBQ Sauce mentioned in the recipe, you will find it in the FEAST, January, 76-page e-book, available in the Newsstand for only $1.99.
February FEAST | a valentine's feast for lovers, is now available.
Coming Soon:
Baloney, Baloney, Salami! Fried Bologna and Eggs Like Mama Used to Make
For tasty side dishes and more fun foods, visit Fluffy Chix Cook's Recipe Index! For complete low carb keto meals and meal plans visit the Meal Plans section!
Grilled Bologna Steak with Low Carb Keto Texas BBQ Sauce (Fluffys' TNT Recipe)
Yes, we did go there. All beef bologna from Boar's Head is made from premium cuts of beef and seasonings, no beef lips ever! So why not try it grilled and slathered with Texas love?
Ingredients
Instructions
Combine low carb bbq sauce, Frank's, Dave's Pure Insanity and unsalted butter in a microwave safe bowl and nuke on high for 3 minutes. Stir every 45 seconds to keep it from bubbling over. Serve on the side or brush over bologna in the last 2 minutes of cooking.
Remove any plastic casing. Lay bologna flat on cutting board and make shallow cuts in a cross-hatch or a diamond pattern, about 1-inch apart. Make the cuts about 1/16-inch deep. Flip to the second and repeat.
Heat propane or gas grill on ignite for 5 minutes with the lid down. Grill bologna over direct heat on ignite, turning every 2 minutes. Each side gets cooked with alternating lid down at 1 minute intervals. If grill flares and gets too hot in one spot, you can move the bologna to an area that isn't flaring. Bologna is done when you have nice grill color on both sides and its hot in the middle (about 6-7 minutes).
Notes
OH hail. all you mighty forced meats! We salute you. So here's some more Depression Era food in a hat-nod to our mom. Bologna is German for tasty, tasty meat in a casing. Hehe, just kidding. What you do need to know is there is a WORLD of difference in bologna brands. Look for a brand made from all beef, without fillers or sugars. There are only a couple that meet that grade. We use Boar's Head Beef Bologna because it's readily available and promises that it is produced from premium cuts of beef with spices, and never any fillers or beef by-products; not that hearts, livers and tongues are bad for you! We just happen to draw the line and lips, snouts and well, we'll leave it there.
Enjoy true Southern ingenuity? And don't forget to kiss the pig! Write when ya get work!
Serving Ideas Serve with salad or fried cabbage with bacon and onions.
Nutritional Information
per steak with 3 tablespoons sauce: 548 Calories; 48g Fat (80.4% calories from fat); 22g Protein; 5g Carbohydrate; 1g Dietary Fiber; 4g Effective Carbs
Copyright © 2015 Fluffy Chix Cook. All rights reserved.
http://fluffychixcook.com/grilled-bologna-steak-with-low-carb-keto-texas-bbq-sauce-fluffys-tnt-recipe/
Copyright © 2016 Fluffy Chix Cook. All rights reserved.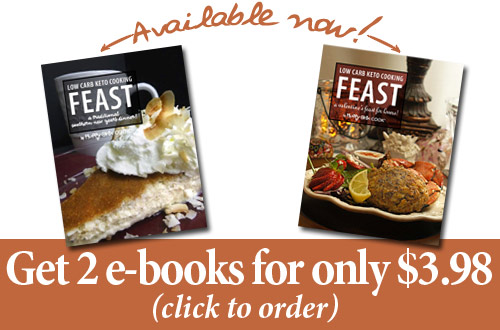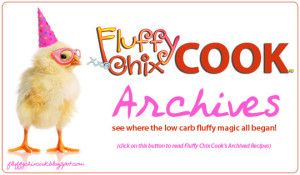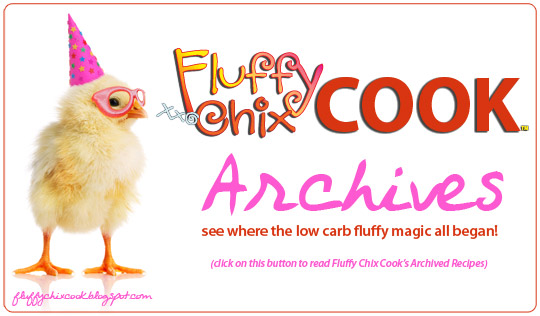 Copyright © 2014 Fluffy Chix Cook. All rights reserved.
We are not dieticians, nutritionists or medical professionals. The materials on this blog are for informational (and fun) purposes only. We do not fact check, nor do we worry about sources. Please do your own fact checking. We encourage you to look things up and check with your doctor or health care professional before acting on anything seen on Fluffy Chix Cook. xoxo