Grilled Pork Chops with Pico De Gallo – Dr. Westman's No Sugar No Starch Diet Week 2|Day 5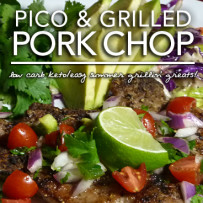 Fluffy Chix Cook prepares Day 12, or Week 2|Day 5 of Dr. Westman's and Duke Lifestyle Medicine Clinic's No Sugar No Starch Page 4 Meal Plan, featuring low carb favorites. We confess to a bias for over medium fried eggs and bacon. It's a ketogenic lifestylers best breakfast. Fill up with super creamy egg salad that carries just a tiny bit of heat and bonus…low carb keto crackers with which to eat them! Dinner is a hearty grilled pork chop with fresh Pico de Gallo, avocado and an easy coleslaw vinaigrette. There's even room for dessert, sugar free gelatin. Keto, gluten free, low carb comfort. It's is also VERY diabetic friendly. Who would be hungry on this meal plan? The full Page 4 friendly day rings in at 20g total, non-netted carbs.
Week 2 | Day 5 of Dr. Westman's No Sugar No Starch Diet begins today. Week 2 is going easy with little to no hunger. I was tooling along without incedent and for whatever reason yesterday, I was famished most of the day. So I ate! I ended up eating much more protein than the daily plan outlined. I was worried it would translate to being out of ketosis. But lo-and-behold, I woke this morning to a (-) 1/2 pound loss, making it a total of (-) 2 1/2 pounds for the 11 day period. Some of you may be gasping in appalled fascination. How can anyone bear to eat a diet plan and only lose 2 1/2 pounds, without losing their minds at the tedium and boredom??? OMG? Gah!
Well, some of you may just be tuning in, so for those who've followed since Week 1|Day 1, forgiveness for the repeat. But I'm extremely insulin resistant. I've eaten a mostly low carb diet for the past 14 years (with lapses for bad behavior, surgeries and surgery recoveries. I'd lost 96 pounds that way. In the last 3 years I've had 3 surgeries for breast cancer and am on some drugs for that cancer, whose side effects are weight gain. After every surgery I've gained about 20lbs and it's been very difficult to get them back off. My plastics guy does not want me to eat low carb after surgery due to tissue rejection, healing and infection. I don't agree with him, but I don't have the MD behind my name, and so I followed his lead. I certainly could not afford for donor tissue infection and rejection aka necrosis, to occur. Fast forward, I'm healed now and desperately trying to shed the last 47 pounds to get back to my former weight loss low. So far, it has been very SLOW going–even when I was practicing an IF (intermittent fasting with calorie restriction lifestyle) lifestyle. So I decided to try Dr. Westman's Page 4 diet. I was tired of IF. I wanted to EAT. And I wanted to eat high fat foods. I was tired of doing the low fat thing on fasting days (to keep cals super low).
It took a few months to screw up my courage to try Page 4. I've been averaging about 900-1000 calories per day across the week period. And I wasn't losing. It felt like magical thinking to believe I could simply lower my carbs (on average was eating 40-60g of whole carbs, netting down to 20-40g/day–so still very much low carb), up the hayull outta my fat consumption and eat an additional 600-800 calories per day, and lose. WTH? What the hayull (Texan for h-e-double-hockey-sticks)? How is this possible? But I took the leap of faith and began Page 4 in earnest 12 days ago. I was already in a light ketotic state, btw, so I have never expected to see the huge exodus of fluid that occurs when transitioning from a carb burning lifestyle to a fat burning lifestyle. Imagine my shock after Week 1 when I actually lost a pound. Not only did I not gain, eating 600-800 more calories per day of fat and protein. I lost. Holy smokes. And this week I've now lost an additional 1 1/2 pounds. Wow. Just wow. The skeptic in me has gotten a good spankin'!
So the thing to know when you're just starting to low carb or just beginning Dr. Westman's Page 4 diet, is in the early days, don't think too much. Stay full, my friends. Don't sweat the numbers. Just keep your eye on the prize and follow the rules and food lists available in the Page 4 publication on Amazon or in whatever plan you follow. Count those carbs! Dr. Westman's Page 4 publication is so cheap folks–only $5, and you easily read it in an hour or two. Get it straight from the horse's mouth. Don't use the bootleg copy floating around on the internet–there are several discrepancies. Any one of which "could" interfere with maximum success. But in the first 2 weeks, do not worry overly much about the macros, nor about being hungry. Simply eat to that hunger, count those carbs and lose. I've just "done it," you know, worked the plan. And I've experience great personal success to date. In the coming weeks, I will work on my mental and emotional relationship with food, listening further to my body and ONLY eating when hungry–eating only to the point of hunger satisfaction, not fullness or "stuffed." Ideally we want to re-develop and reconfirm the intuitive nature of hunger and our relationship with food.
(By the way, these meal plans I provide are the grand plans I make for myself each day. They represent the MAXIMUM amount of those combinations of food. They may not be 100% ideal for Page 4. I may fall a little shy of 2c leafy veg and 1c non-leafy veg a day. I may go over slightly on cream consumption one day, or eat too much cheese one day, whatever. I may take a liberty or two with a non-Page 4 ingredient such as whole psyllium husks in place of Metamucil, or use an tiny bit of an almost-zero-carb protein powder in the low carb Revolution-ary Rolls, in order to increase diet satisfaction and long-term sustainability–you may not want to do that. But these Page 4 Meal Plans can help inspire you to get the Page 4 food list on Amazon and look at the plan, then create a food roadmap that works for you in accordance with what Dr. Westman's instructions.) Happy Page 4-ing!
Find the list of Page 4 friendly foods in Dr. Westman's publication. Cheap at amazon.com, along with his instructions.
Join fellow Page 4 Groupies in the Facebook group dedicated to following Dr. Westman's Page 4 plan. Learn more about the lifestyle and how to accurately implement it into your life.
Here's the link to the group: https://www.facebook.com/groups/DukeLowCarbSupportGroup/
GOALS FOR WEEK 2:

Begin taking advantage of the satiety offered by a ketogenic diet
Eat only when hungry and only until hunger is assuaged. Do not eat until full.
Begin dialing back and finding my personal sweet spot.
Keep fats high.
2014 | WEEK 2 | DAY 5 | DR. WESTMAN'S NO SUGAR NO STARCH (PAGE 4) DIET MEAL PLAN | GRILLED PORK CHOP WITH PICO (20g WHOLE CARBS)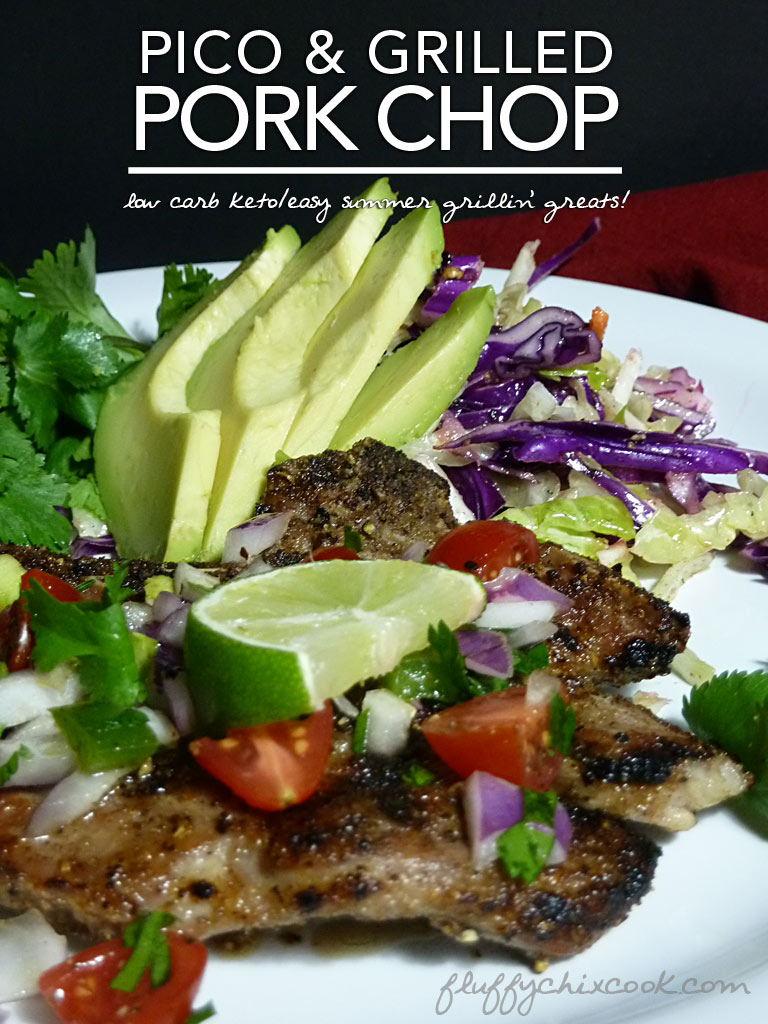 Breakfast
Coffee or Tea with Whipped Cream
Fried Eggs in Butter
Bacon
Lunch
Basic Egg Salad with Cheese Crackers
Romaine Lettuce with House Vinaigrette
Dinner
Grilled Pork Chop with Pico
Avocado
Coleslaw with House Vinaigrette
Dessert
Sugar Free Gelatin
Daily Totals: 1604 Calories; 140 Fat (78.5% calories from fat); 66g Protein; 20g Carbohydrate; 4g Dietary Fiber; 16g Effective Carbs
20 grams of whole non-netted carbohydrate for the day!

Breakfast:
coffee or tea and cream (103 Calories; 11g Fat (92.8% calories from fat); 1g Protein; 1g Carbohydrate; 0g Dietary Fiber; 1g Effective Carb)
1 serving Eggs in Butter (250 Calories; 21g Fat (78.1% calories from fat); 13g Protein; 1g Carbohydrate; 0g Dietary Fiber; 1g Effective Carbs)
3 slices bacon, crispy (109 Calories; 9g Fat (78.2% calories from fat); 6g Protein; trace g Carbohydrate; 0g Dietary Fiber; trace g Effective Carbs)
Lunch:
1 serving Basic Egg Salad with Cheese Crackers (437 Cals; 39g F (81.1% calories from fat); 19g Protein; 1g Carbohydrate; trace g Dietary Fiber; 1g Effective Carbs)
1 serving Romaine & House Vinaigrette (82 Cals; 7g F (77.3% calories from fat); 1g Protein; 4g Carbohydrate; 1g Dietary Fiber; 3g Effective Carbs)
Dinner:
1 serving Grilled Pork Chop with Pico (507 Cals; 42g F (74.1% calories from fat); 25g Protein; 8g Carbohydrate; 2g Dietary Fiber; 6g Effective Carbs)
1 serving Coleslaw Vinaigrette with Avocado & Cilantro (106 Cals; 10g F (79.7% calories from fat); 1g Protein; 5g Carbohydrate; 1g Dietary Fiber; 4g Effective Carbs)
Dessert:
1 serving sugar free gelatin (10 Calories; 0g Fat (0% calories from fat); 1g Protein; 0g Carbohydrate; 0g Dietary Fiber; 0g Effective Carbs)
By the way, pre-order your copy of KETO CLARITY, the new, definitive book, on the ins and outs of low carbohydrate ketogenic diets written by Jimmy Moore of Livin' La Vida Low Carb and Dr. Eric Westman, internist, ketogenic bariatric specialist at the Duke University Lifestyles Medicine Clinic–two of the most visible and vocal ambassadors to the value of the LCHF (low carb high fat) lifestyle. This book is sure to be a best seller. Make sure you get your copy reserved in advance!
For more recipes visit Fluffy Chix Cook Recipes or visit Fluffy Chix Cook's Recipe Archive!
You may notice a discrepancy when adding the total carbs shown by line-item. Do not be overly concerned. MasterCook 9 rounds numbers, so when the individual recipes are combined in a daily meal, the total is calculated to include decimals points. This may result in a +/- difference of 1-2 g of carbs. The Daily Total value is the more accurate figure. Thanks and sorry for any inconvenience!
Copyright © 2014 Fluffy Chix Cook. All rights reserved.
We are not dieticians, nutritionists or medical professionals. The materials on this blog are for informational (and fun) purposes only. We do not fact check, nor do we worry about sources. Please do your own fact checking. We encourage you to look things up and check with your doctor or health care professional before acting on anything seen on Fluffy Chix Cook. xoxo