I Ain't No Chicken Fajita Salad – Dr. Westman's No Sugar No Starch Diet Week 2|Day 3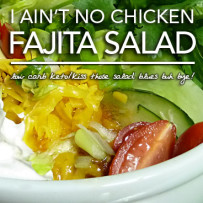 Fluffy Chix Cook prepares Day 10, or Week 2|Day 3 of Dr. Westman's and Duke Lifestyle Medicine Clinic's No Sugar No Starch Page 4 Meal Plan, featuring a low carb hearty breakfast Fluffy Chix like to call Green Eggs 'n Beef, a winning combination of fresh cilantro, jalapeno, Skillet Beef 2, cheddar and fluffy scrambled eggs with a salsa "hat". It's more Skillet Beef 2 (to the rescue), with Beefy Blue Cheese Boats for lunch. Another "big salad" for dinner in the form of a Chicken Fajita Salad, rounds out a perfect day. Folks the grilled chicken breast comes to you courtesy of freezer diving and Lucky Leftovers. Score! There's even room for dessert, sugar free gelatin and Whipped Cream. Keto, gluten free, low carb contentment, they like to call the full-belleh-campaign. It's is also VERY diabetic friendly. Who would be hungry on this meal plan? The full Page 4 friendly day rings in at 20g total, non-netted carbs.
Week 2 | Day 3 of Dr. Westman's No Sugar No Starch Diet begins today. Week 2 is going easy with little to no hunger. In fact today I'm especially lacking in hunger to the point that food does not "feel necessary," or desired. I won't force myself to eat and will see where the day leads. Dr. Westman discusses this in both the No Sugar No Starch Diet Video 101 and in the Page 4 book available from our trusted Amazon partner. So I won't eat from here on out unless I feel true physical hunger. (Sometimes true physical hunger can be difficult to distinguish between head hunger. My rule of thumb to help distinguish between the two is whether or not a hard boiled egg sounds appealing. If it does, I'm really hungry. If instead, I start salivating over nonsense, and eggs sound yucky, it's head hunger. Simple.)
To access the Westman materials, just click on the links above, or enter through the Fluffy Chix Cook Amazon Store. BTW, you can support of Fluffy Chix Cook's blogging efforts at no additional cost to you! All you have to do is conduct your normal Amazon shopping sprees by entering Amazon through our Fluffy Chix Cook Amazon Store entrance located at the top of the page (see the STORE tab?) and then shopping as you normally would-no purchase out of the Fluffy Chix Cook Amazon Store required. It's that easy! And we thank you in advance! Times are tough as you know and things are growing more and more expensive!
I deviated from yesterday's menu btw, and did not make our beloved Heater. I just wasn't in the mood and wanted something cool and almost effortless. It's times like these we really count on DS9 (Deep Space 9, the chest freezer) which holds a bounty of riches within its depths. Freezer diving revealed 7 ounces of perfectly grilled chicken breast, a perfect amount for 2 people (3 ounces for me and 4 ounces for Denny)-properly B/T (bagged n' tagged) from the last grill session of the chickular persuasion. So it just felt natural to enjoy a cold supper last night, and Chicken Fajita Salad sounded like just the low carb keto and diabetic friendly ticket; BBFTCB (big bang for the total carb buck)!
Oh, forgot to say, lunch was just a cup of bone broth with a bit of cabbage, mushroom and chicken. Simple and delish. Even though I have the day all planned, you'll notice I often deviate. Fluffy Chix Cook's Meal Plan are meant to function as a general guide for the day. They can be used as a "LITERAL" master eating plan for the day to provide no-brainer, low carb ketogenic meals. They can also be used as a "master plan" or even a Plan B. I know as long as I have a plan, I can't get through emergencies. But I also know, there is room for flexibility and deviation-which I often do because it makes the plan feel loose and free, rather than rigid and confining. When I deviate, I just make sure the food choices are less than or equal to the food I'm subbing out. Simple!
You may also be wondering why I'm using Whipped Cream in the coffee. It's because we use an ISI Whipper and its nearing its sell-by-date. We need to use it or lose it. The plus side is that 1 Tbsp of liquid cream provides 2 Tbsp of Whipped Cream, a volume bonanza almost like "making" extra "free" cream! Score! I love the idea of this, because I still feel like I'm using more cream, but am actually using 1/2 of my normal daily morning allotment which means I'm also saving a few bits of carb that can be put to better use during the day. I like to "chew" my carbs, rather than drink them! We find the ISI Whippers keep homemade, sugar free, whipped cream that stays fresh for 2-3 weeks. It's nice to enjoy the convenience of not having to whip cream every couple of days.
Might as well share this, although it's not set in stone. I'm unofficially down (-)1 pound today, making a (-)2 pound total since beginning 10 days ago. Yippee. But shhh, it's not official until Monday.
Find the list of Page 4 friendly foods in Dr. Westman's publication. Cheap at amazon.com, along with his instructions.
Join fellow Page 4 Groupies in the Facebook group dedicated to following Dr. Westman's Page 4 plan. Learn more about the lifestyle and how to accurately implement it into your life.
Here's the link to the group: https://www.facebook.com/groups/DukeLowCarbSupportGroup/
GOALS FOR WEEK 2:

Begin taking advantage of the satiety offered by a ketogenic diet
Eat only when hungry and only until hunger is assuaged. Do not eat until full.
Begin dialing back and finding my personal sweet spot.
Keep fats high.
2014 | WEEK 2 | DAY 3 | DR. WESTMAN'S NO SUGAR NO STARCH (PAGE 4) DIET MEAL PLAN | CHICKEN FAJITA SALAD (20g WHOLE CARBS)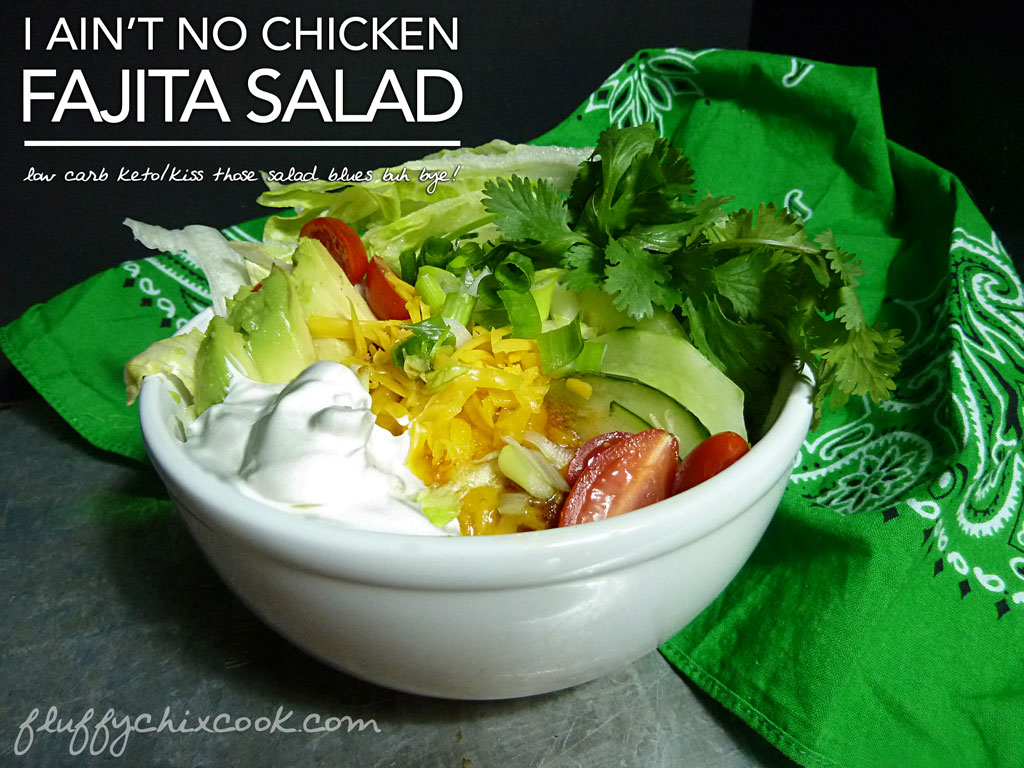 Breakfast
Coffee or Tea with Whipped Cream
Green Eggs 'n' Beef
Lunch
Beefy Blue Cheese Boats
Dinner
Chicken Fajita Salad
Dessert
Sugar Free Gelatin with Whipped Cream
Daily Totals: 1441 Calories; 119 Fat (74.7% calories from fat); 71g Protein; 20g Carbohydrate; 5g Dietary Fiber; 15g Effective Carbs
20 grams of whole non-netted carbohydrate for the day!

Breakfast:
coffee or tea and cream (103 Calories; 11g Fat (92.8% calories from fat); 1g Protein; 1g Carbohydrate; 0g Dietary Fiber; 1g Effective Carb)
Green Eggs 'n Beef (412 Calories; 34g Fat (75.4% calories from fat); 22g Protein; 3g Carbohydrate; trace g Dietary Fiber; 3g Effective Carbs)
Lunch:
Beefy Blue Cheese Boats (340 Cals; 28g F (72.9% calories from fat); 17g Protein; 6g Carbohydrate; 2g Dietary Fiber; 4g Effective Carbs)
Dinner:
Chicken Fajita Salad Bowl (577 Cals; 47g F (72.4% calories from fat); 30g Protein; 10g Carbohydrate; 3g Dietary Fiber; 7g Effective Carbs) (*Recipe To Come)
Dessert:
1 serving sugar free gelatin with Whipped Cream (61 Calories; 6g Fat (87.8% calories from fat); 1g Protein; trace Carbohydrate; 0g Dietary Fiber; trace g Effective Carbs)
By the way, pre-order your copy of KETO CLARITY, the new, definitive book, on the ins and outs of low carbohydrate ketogenic diets written by Jimmy Moore of Livin' La Vida Low Carb and Dr. Eric Westman, internist, ketogenic bariatric specialist at the Duke University Lifestyles Medicine Clinic–two of the most visible and vocal ambassadors to the value of the LCHF (low carb high fat) lifestyle. This book is sure to be a best seller. Make sure you get your copy reserved in advance!
For more recipes visit Fluffy Chix Cook Recipes or visit Fluffy Chix Cook's Recipe Archive!
You may notice a discrepancy when adding the total carbs shown by line-item. Do not be overly concerned. MasterCook 9 rounds numbers, so when the individual recipes are combined in a daily meal, the total is calculated to include decimals points. This may result in a +/- difference of 1-2 g of carbs. The Daily Total value is the more accurate figure. Thanks and sorry for any inconvenience!
Copyright © 2014 Fluffy Chix Cook. All rights reserved.
We are not dieticians, nutritionists or medical professionals. The materials on this blog are for informational (and fun) purposes only. We do not fact check, nor do we worry about sources. Please do your own fact checking. We encourage you to look things up and check with your doctor or health care professional before acting on anything seen on Fluffy Chix Cook. xoxo