Low Carb Authentic Texas Chili Red – Keto Dreams Come True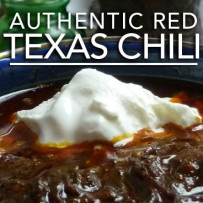 If you really want to make an authentic pot of Texas Chili, you'll have to ditch the hamburger and pick up a couple of hunks of meat. Join Fluffy Chix Cook and learn how to not only make the real deal Texas chili you dream about, but learn how to make authentic Texas chili healthy, low carb, and diabetic friendly. Psssst, the secret is breaking up with…guess you need to read more to find out.
Chili in Texas equates to pageantry. You can't have one without the other and call it true, bonafide, Texas Chili. Sorry. But 200 years of Chili Queens would come down on our behonkuses and "haint" us if we so much as tried. Please, make no mistake. You can't divorce the two. There is a rhythm and grace to making true Texas Chili. And grace simply does not exist in a 30 minute or less cooking window like the ones you find in some chili recipes. Grace, develops with time, with love, and with attention to detail. Chili is a long slow burn.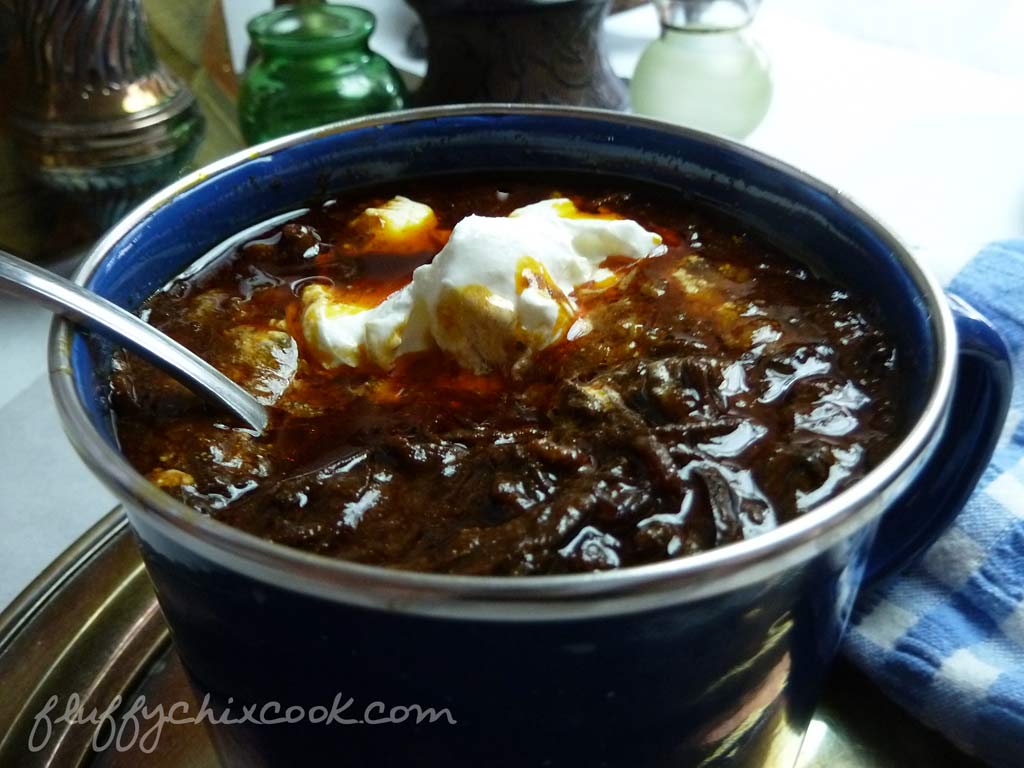 The secret to an authentic Texas Chili Red recipe is not getting in a hurry. You can't get in a rush. It gets done when it's done and not a second sooner. Timing depends entirely on the meat. Tougher animals will take longer to break down, no matter how small the meat gets cut. But we did take a short cut this time around. Instead of cubing and trimming the meat as Dad would, we cut the hunks into big quarters, browned it, then stuck it in to cook low and slow. After it was tender. We pulled the meat out, separated and discarded any stringy fat, shredded the meat and returned the buttery fat and meat shreds back into the chili. So simple, great texture, and a big time saver!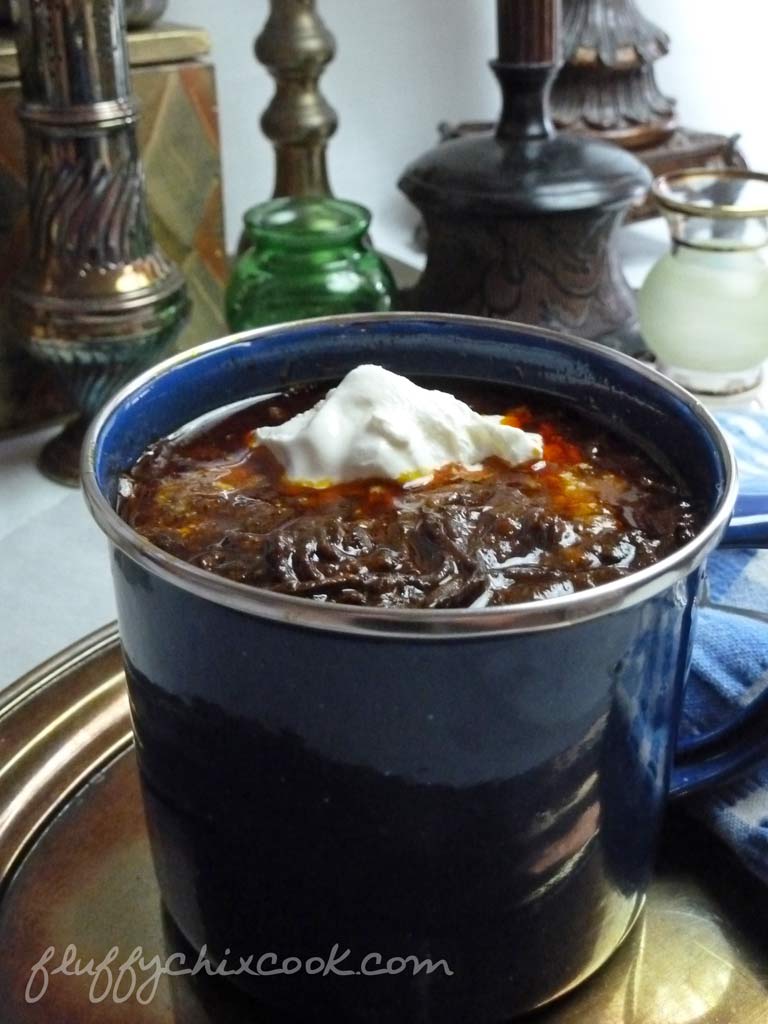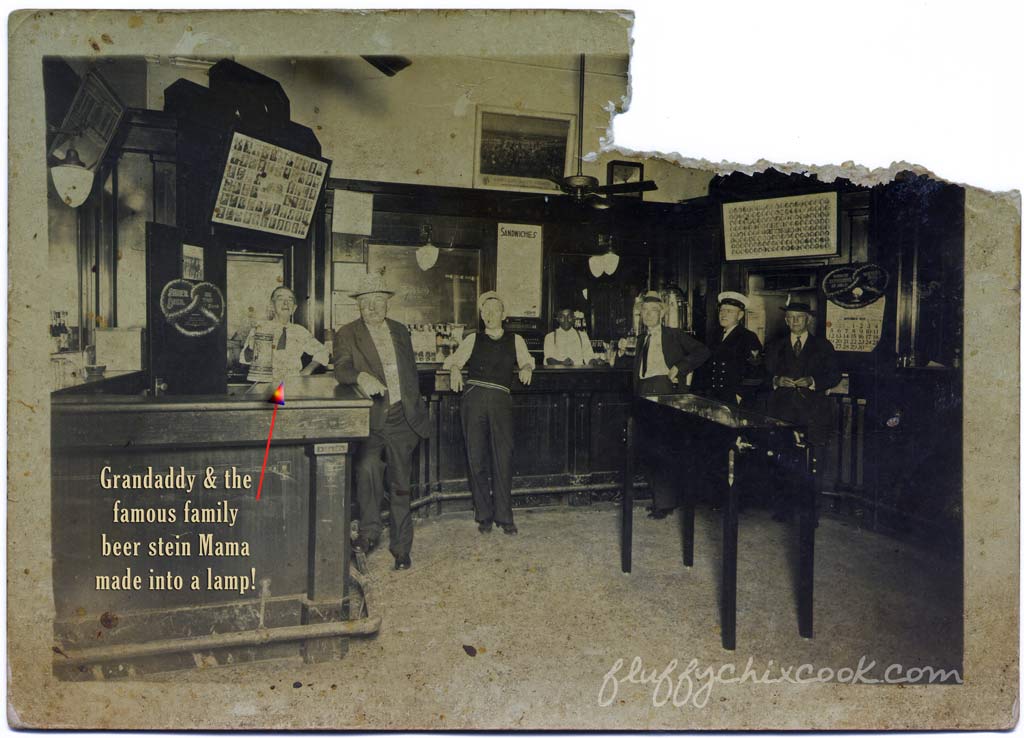 Our granddaddy (Dad's dad) had a saloon called the Interurban Buffet in downtown Houston. It sat across Texas Avenue from the old Rice Hotel and down the street from the original James Coney Island (JCI, a Houston hot dog stand/bastion famous for its chili and Coney Island dogs). Grandad's chili gave JCI a run for their money. From 1921-1941, when he died, Hughie Gibbs was known for pouring a cold beer, having a kind word, a generous heart, and for serving heaping plates of chili spaghetti (and making great book in the back of the saloon). Every politician, every police chief, every fire chief…knew Hughie Gibbs and visited frequently. For the book, the booze, but mostly for the chili.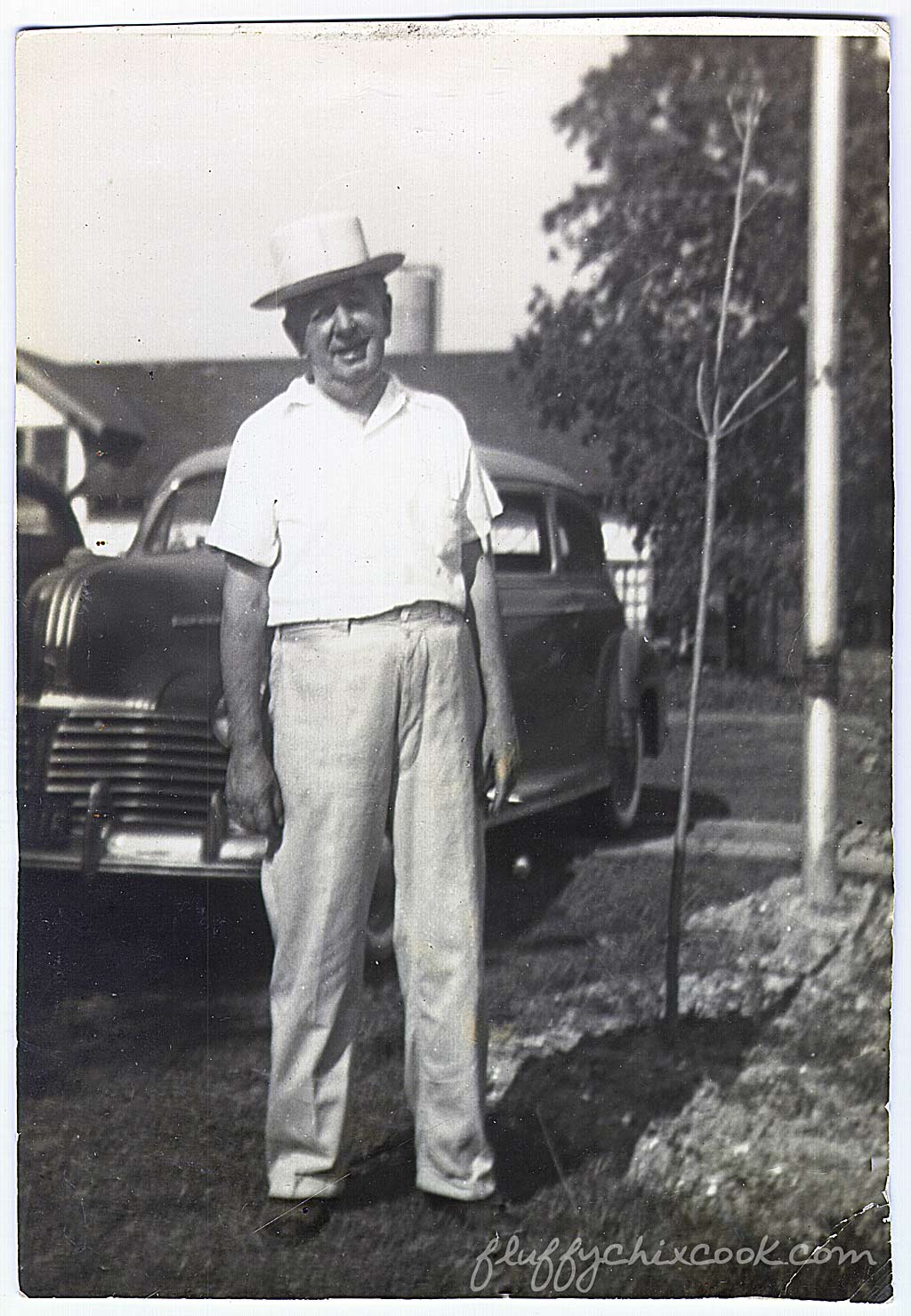 Grandad had two Mexican cooks who made his Houston-famous Texas chili and as a little boy, Dad would travel downtown by trolley car to eat lunch with his Dad. He adored the chili and the men who made it in Grandad's tiny one-butt-kitchen in the back of the saloon. We watched Dad work for years to recreate Grandad's chili. He was never satisfied. But along the way, he and Mom came upon a true, authentic version that called for cubes of chuck and pork, slowly simmered in a thick chile puree. And it was one of the happiest events to see how pleased he was with the results. It honestly was the best chili we ever put in our mouths, bar none.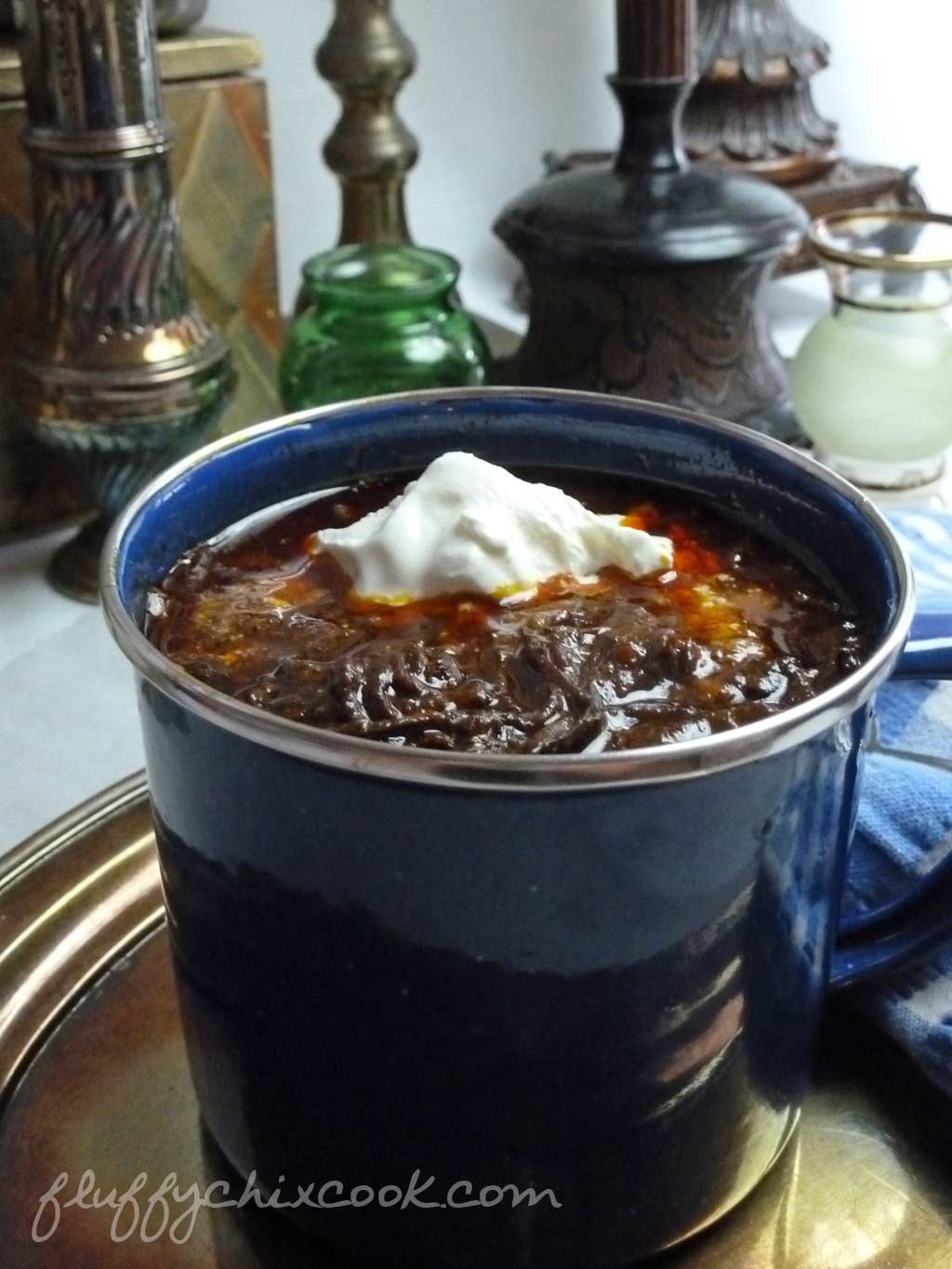 This recipe is certainly much more involved than browning some ground meat and onions in a pan, tumping in some spices and a can of tomato sauce, and simmering for 30 minutes. Not that those quick versions aren't yum, but they are not part of the chili pageantry. Like Texas barbecue, true Texas chili is made with secrets and time. Every chili cook has his or her own twist and secret family recipe. Mom and Dad's was authentic as the day is long using only meat, onion, reconstituted chiles and spices/herbs; not a tomato anywhere this side of the Brazos and never likely to be as long as I have breath in my body.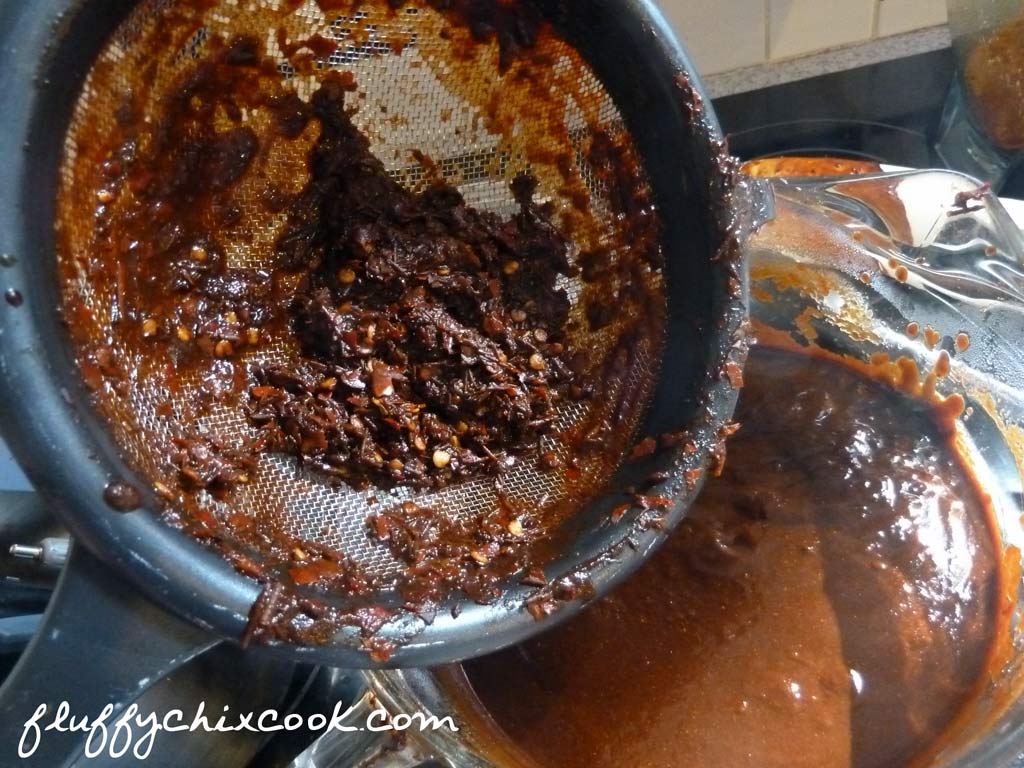 Reconstituting dried chiles is impossibly simple. You only need a medium pan, water, chiles, some garlic cloves, and a cheap wire mesh strainer (like the kind from the grocery). To our tastes, blending different types of chiles add to the flavor and complexity of chile puree. We like a 3:2:1 blend of anchos, guajillos, and pasilla chiles. They're readily available in any market in Houston, but if you have difficulty, order them from our affiliate links in the recipe (remember affiliate links help keep the Fluffy world cranking out new recipes for you). Using a scale really makes this a quick process, since sizes of chiles vary with the season and from year to year. Seed and remove the stems before weighing.
A Word About The Cumin & Coriander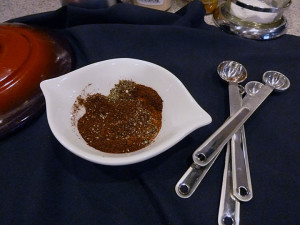 Using pre-ground spice is always a time saver and improves convenience. But if you want super bright flavor from your ground spices, then invest in a little more time for one more step. It is worth it. Toast cumin and coriander seeds in a dry pan until you smell their scent. Shake frequently to keep them from burning. Then grind them in a clean coffee grinder and use immediately in whatever dish you are cooking. Ground spices. 1 Teaspoon whole seeds make about 20% less, ground.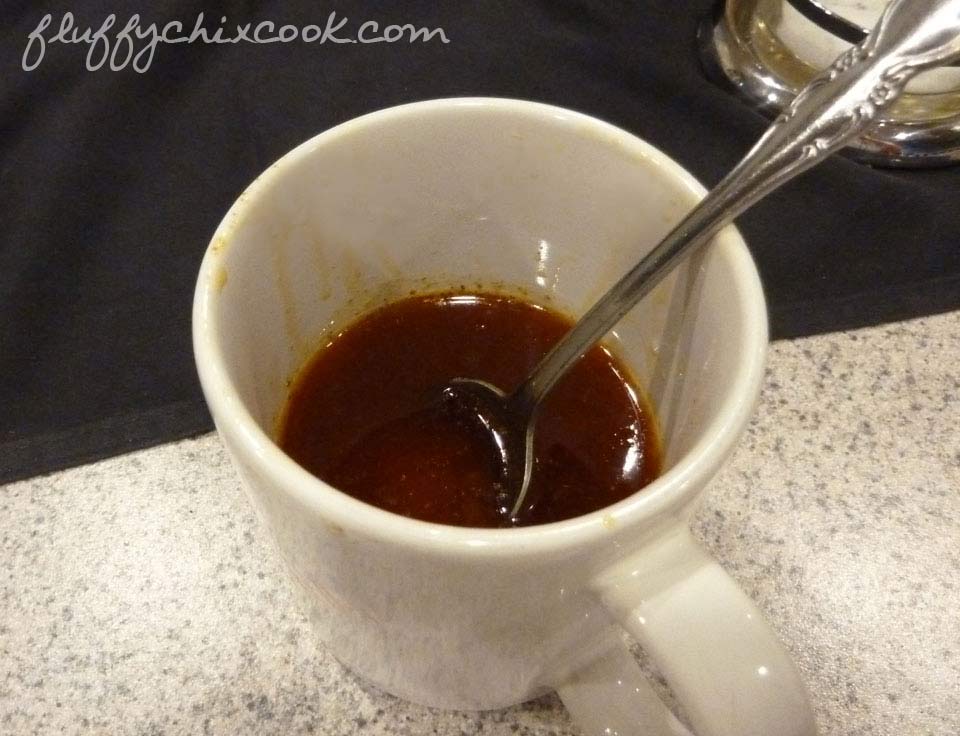 Oh and one last note, don't throw the fat away when you skim the chili. Save it and use it to sauté veggies. Makes AMAZING sautéed zucchini or cauliflower!!
If you don't have a fancy pants food scale like we do, go haunt the thrift stores. No need for digital. Just grab one of the eleventy billion $0.50 plastic scales at Goodwill. It will get the job done just fine. Vaya con Dios! (Oh and the secret to making low carb keto, authentic Texas Chili is as simple as breaking up with masa, or any flour that is used as a thickener. The chile puree is very low carb and is absolutely packed with nutrition per gram by weight!
Low Carb Authentic Texas Chili Red – Keto Dreams Come True
True Texas Chili made from the paste of re-hydrated dried chiles has a flavor all its own. Once eaten, it's hard to go back to the chili impersonators.
Ingredients
Chili

2 1/2 pounds chuck arm pot roast, quartered
2 1/2 pounds pork butt aka pork shoulder, quartered
1/2 tablespoon kosher salt
3 tablespoons bacon drippings
2 medium onions, chopped
Spices

4 teaspoons ground cumin
1 teaspoon ground coriander
1 teaspoon oregano leaves
1/2 teaspoon dried thyme
2 teaspoons black pepper
1/2 tablespoon kosher salt
1-2 teaspoons cayenne
1 teaspoon granulated garlic
8 cups water
Garnish Per Serving

1 tablespoon sour cream
2 tablespoons cheddar cheese, shredded
1 tablespoon onion, chopped
Instructions
Stem/seed the dried chile pods. Rinse chiles well to remove dirt. Place chiles and whole garlic cloves in medium sauce pan. Cover with water (about 8 cups). Simmer for 20 minutes or until tender. Place softened chiles in blender with peeled whole cloves of garlic and puree. Reserve chile water. Use some of the reserved chile water to thin chiles enough to blend into a chile paste. You may need to work in two batches.
Strain the chile garlic puree through a mesh strainer. Use the back of a spoon to rub and press the chile puree through the sieve. Scrape the bottom of the sieve to get the chile puree into the bowl. Once you have completely finished pushing it through the mesh strainer, the skins and any bitter seeds you missed in the initial prep will be inside the strainer and the chile puree will be in your bowl and ready for the pan!
Reserve the rest of the chile water. Use the remaining chile liquid as part of the liquid in the chili. Pour the chile water through the strainer to remove any stray seeds or skins and grit.
Season the meat kosher salt. In a heavy skillet, add bacon grease. Let it melt and get very hot. Brown meat in batches over medium high heat. We cook it in 3 batches. Some of the fat in the meat will render out helping to cook the successive batches. Remove browned meat to the slow cooker. Don't overcrowd the pan. You want the meat to brown, not boil in oil.
Pour off all but 1 tablespoon of fat from the skillet. Reserve and use it to cook with; it rocks. Add onions to the skillet and cook until translucent, browning around the edges. Add onions to the slow cooker. Add some of the chile water to deglaze the sauté pan. Scrape up all the browned bits stuck on the bottom of the pan. Add the deglazed liquid to the slow cooker.
Add chili paste to the meat and onions along with enough of the reserved chile water to cover the meat. Add half of the spice mixture. Cook on high for one hour then turn slow cooker to low and cook until meat is fall-apart-tender (about 6-8 hours). You can also cook Texas Chili in a Dutch oven. Bake covered in a 350° preheated oven, or cook it outside on a gas grill set on indirect heat. Cook 3-4 hours or more until meat is tender and chili gravy has thickened. You may have to add extra liquid to maintain good simmering where the meat stays covered (chile water or plain water).
One hour before the chili is done, add the last half of the spice mixture. Stir to combine and cook the last hour. Adding the spices in two batches adds a hit of flavor that deepens the complexity.
When meat is tender, remove and cool slightly. Separate and discard the stringy fat from the meat. Shred meat and the soft fat (soft fat will basically disappear into the chile, stringy fat will not and will add a yucky texture). Return meat and soft fat to the chile. Stir to combine.
If necessary (this step is optional), thicken chili with a low carb thickening agent of your choice. We don't find this step necessary. Dried reconstituted chiles have a lot of thickening power in their own right and we don't like to change the flavor or texture by adding a thickener. Let your conscience be your guide!
Notes
Mom and Dad used to render their own lard for this recipe using uncured, unsalted fat back. Dad would chop the pork fat very small and render the cubes by cooking the fat in the oven, very slowly for several hours. Then he would strain off the rendered lard and finely chop the pork cracklings. They used the rendered lard to brown the chili meat and to sauté the onions, then he added the pork cracklings back to the chili. It was so GOOD!
We're too lazy to render our own lard and generally cop out, using bacon grease to brown the meat and onions. We omit the cracklings entirely because they don't stay crispy in the chili and the texture of gooshy cracklins "isn't our thing;" The chili is still tasty, but not a dead ringer for Mom and Dad's True Texas Chili. Also, this isn't an "exact recipe" in that we don't tend to use measuring spoons for these types of one-pot-wonders. We pour spices into our palm, season, cook and taste. If it needs more of this or that, add it until the flavors balance, don't be a slave to the spoon! YOI (You Own It!) The measurements in the recipe will at least get you to the ballpark and started off on the right foot.
It's the best chili we've had since Mom and Dad have gone home, and no tomatoes in it at all! By the way, we have used part deer, elk, even ground turkey, to replace some or all of the beef - with excellent results. Try it and then drop a comment back here to let us know how it turned out! Don't forget to share this recipe with your friends!
Serving Ideas Serve with cheese and chopped onion and maybe a dollop of sour cream, along with a crisp green salad with avocado and red onions.
Nutritional Information Per Cup of Chili: 285 Calories; 15g Fat (46.4% calories from fat); 30g Protein; 8g Carbohydrate; 3g Dietary Fiber; 5g Effective Carbs
Per Serving of Garnish: 92 Calories; 8g Fat (75.0% calories from fat); 4g Protein; 2g Carbohydrate; trace Dietary Fiber; 2g Effective Carbs
Copyright © 2012 Fluffy Chix Cook. All rights reserved.
http://fluffychixcook.com/low-carb-authentic-texas-chili-red-keto-dreams-come-true/
Copyright © 2016 Fluffy Chix Cook. All rights reserved.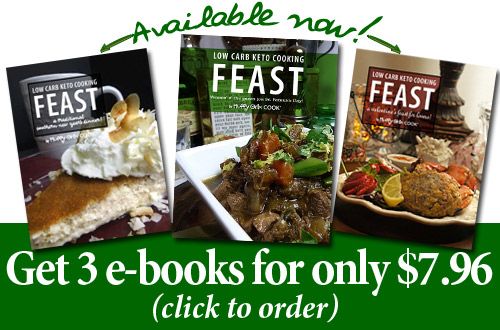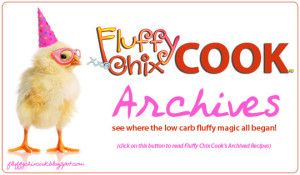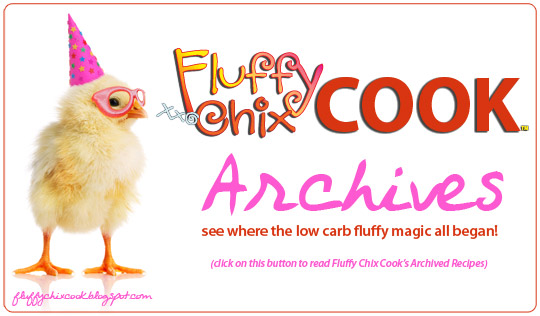 Copyright © 2014 Fluffy Chix Cook. All rights reserved.
We are not dieticians, nutritionists or medical professionals. The materials on this blog are for informational (and fun) purposes only. We do not fact check, nor do we worry about sources. Please do your own fact checking. We encourage you to look things up and check with your doctor or health care professional before acting on anything seen on Fluffy Chix Cook. xoxo