Low Carb Beef Zoodle Soup – 2 Ways | Asian and Italian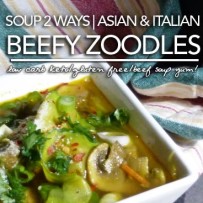 Do you love noodle soup but think it's off limits in your low carb lifestyle? Are you looking for a low carb noodle soup with slurpitude? Join Fluffy Chix Cook as they show you two quick and easy low carb keto beef zoodle soup recipes that will comfort and soothe as it makes your heart jump for joy!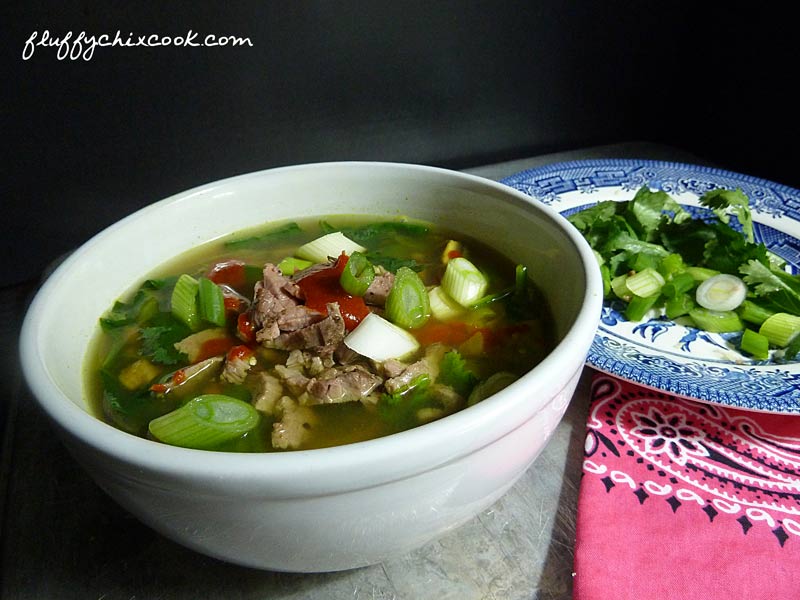 Spring has definitely sprung here in the South, but we know some of you had snow just this month. And the monsoons have been going strong here in Texas. Gadzoinks Batman! That's hardcore! So this quick low carb zoodle soup recipe is for you! (And for us, mostly for us…because we will eat soup 24/7/365 regardless of blistering triple digit temperatures here in Hell—er—we mean Houston.)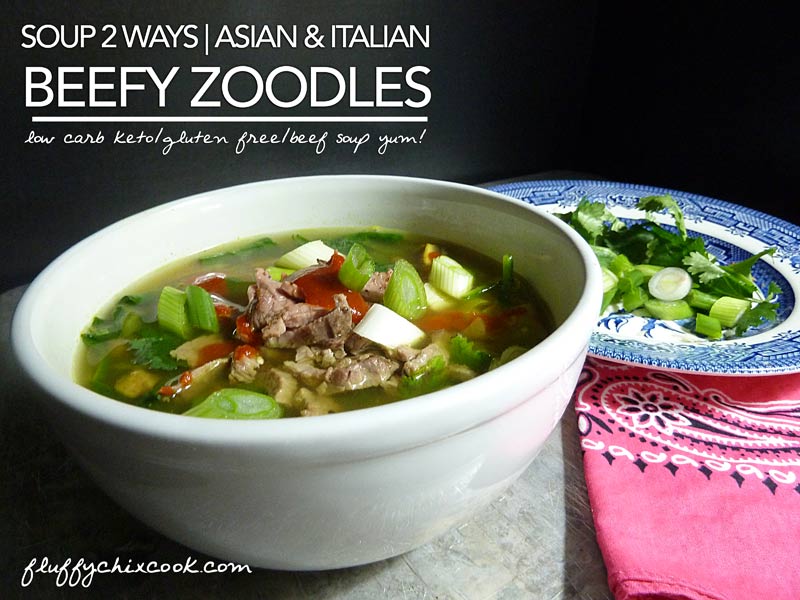 We decided to show you how to make a quick low carb beef "noodle," rather a zoodle soup 2 ways, with only minor tweaks. Soup to zoodles takes only 20 minutes and that includes passive simmering time. Of course, the fine print doesn't mention that the Fluffys' bone broth simmers in a crock post for 18-24 hours…it pays to read the fine print. But, if you are a two percenter (Aggie-speak for the less than motivated over-achiever), you can still cook along with us using broth from a box. No, the Low Carb Beef Zoodle Soup won't have all the vitamins, minerals, and healing gelatin in the broth, nor will it have the depth of flavor and unctuous mouth feel, but it will still taste better than 100% of the pre-made soups from a can.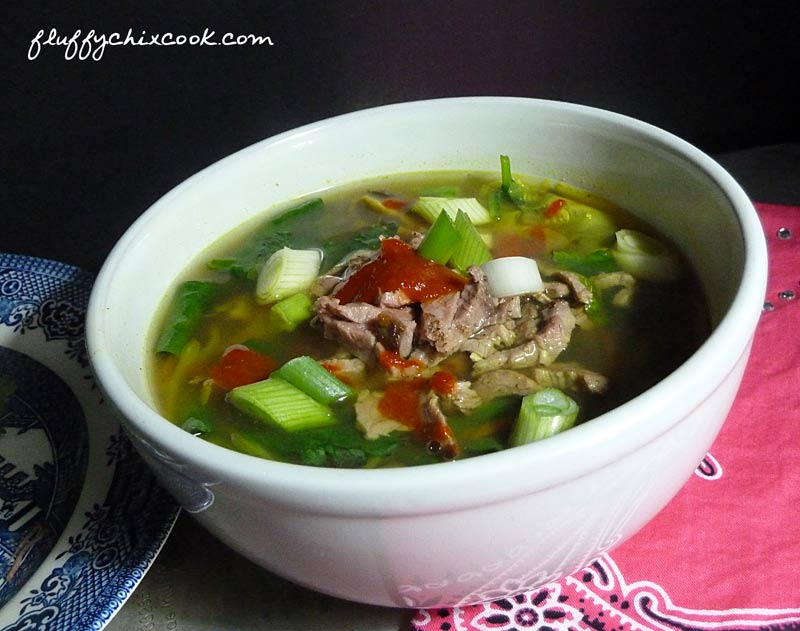 The magic of soup really begins and ends with the flavor in the broth. By simmering the broth ahead of time for only 10 minutes, you infuse the luscious complex notes into each variation—Asian and Italian. The more care that goes into creating the broth, the better the outcome, especially when making quick soups (i.e. soups taking less than 30 minutes to make start-to-finish).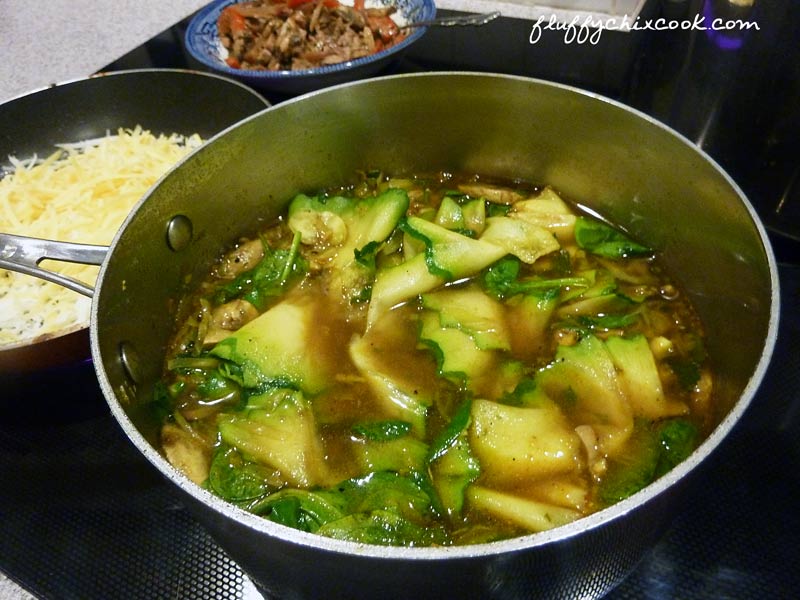 When making a quick soup, we choose our veggies wisely. By choosing veggies that don't need to be broken down to release flavor, we get away with a quick 3-4 minute simmer in a slowly simmering broth. The Fluffys want these veggies to retain body. We want a slight crunch—almost al dente (al dente = to the tooth, or a level of doneness where the item is just beginning to approach tenderness). And there are so many delicious low carb veggies that are perfect for this cooking technique; here are a few of our faves:
Cabbages (of all kinds)
Bok Choy | Pak Choy
Mushrooms (of all kinds)
Broccoli
Rapini or Rabe
Kohlrabi
Cauliflower
Fennel
Squashes (of all kinds)
Green Beans
Chinese Long Beans
Wax Beans
Sugar Snap Peas
Snow Pea Pods
Asparagus
Artichoke Hearts
Chiles
Daikon
Radishes (thinly sliced or shoestring)
Fresh Herbs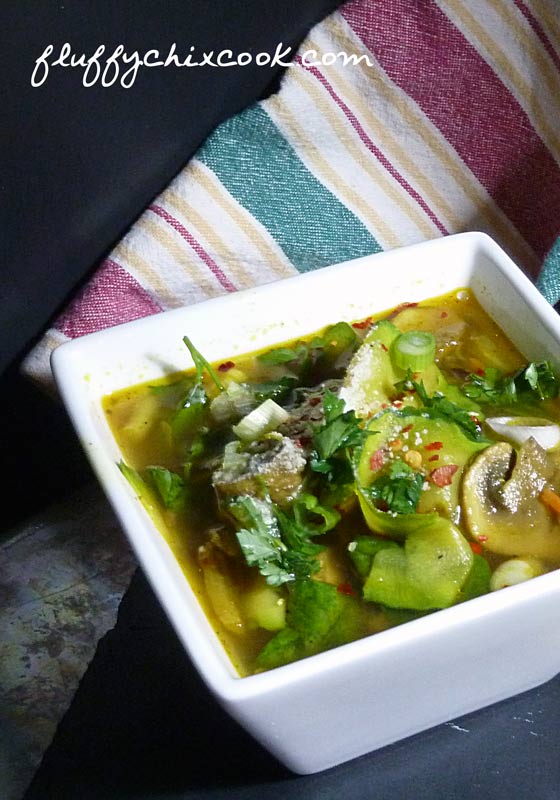 Control the carb count by controlling the amount of veggies you add to the soup, and by choosing the lowest carb combinations that will still play well together and stay low carb. We usually pick 2-3 types of veggies to give variety and texture to the bowl of steaming keto love.
When making zoodles for quick soup, we prefer using a wider cut, rather than the thin zoodles we normally serve under sauces as a pasta replacement. We go for either a tagliatelle or papardelle size noodle (1/2-1-inch wide) because the zoodles hold body better and don't turn into a mass of squashy mush at the bottom of the soup bowl. We love this swell ribbon slicer. Cheap on Amazon and absolutely fool proof! But you can also make ½-inch strips using nothing more than a sharp veggie peeler—about $4 bucks at the grocery store.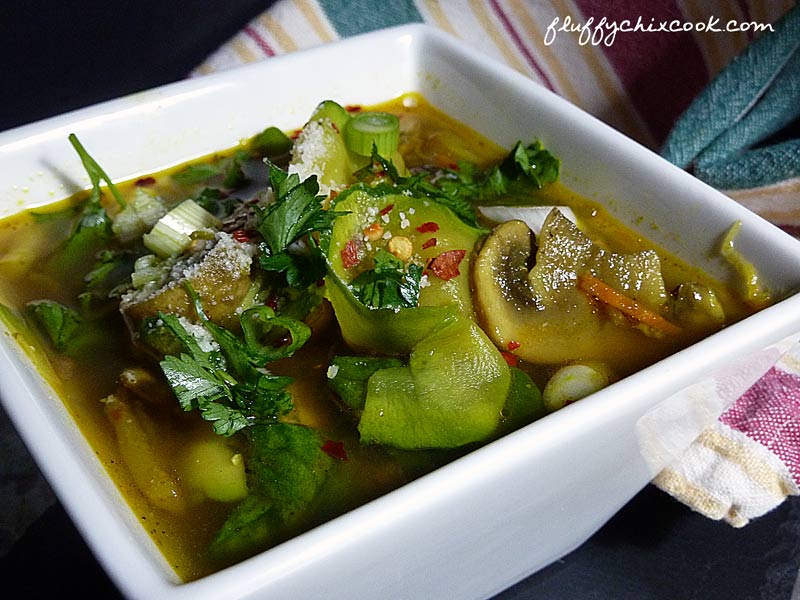 Try our Low Carb Beef Zoodle Soup in either variation: Asian or Italian, then rush back and tell us which version you made and how you like it, please? You know we are comment hoes and jones for your feedback!!! Smoochies!
Low Carb Beef Zoodle Soup – 2 Ways | Asian and Italian
Toasted sesame seed oil and rich beef broth gives this Asian inspired quick soup a hearty comfort food feeling. Or mix it up! Go Italian instead with only a few minor tweaks!
Ingredients
Italian Variation (Optional)

2 teaspoons Parmesan cheese
1/2 teaspoon Italian seasoning
1/4 cup low carb marinara sauce
Instructions
Gently simmer bone broth with spices and flavorings for 10 minutes in a medium sauce pan. Add mushrooms and cabbage and cook until "just" tender (about 5 minutes)
or al dente. Add zucchini zoodles, leftover rare steak or roast beef. Cook until just heated through.
Finish with sesame oil. Serve immediately.

Italian Variation

Omit the ginger, soy sauce, five spice powder, cinnamon and sesame oil. Add Italian seasoning and low carb marinara or pizza sauce. (The Fluffys also love adding
shredded fresh basil.) Cook as directed. Finish with grated Parmesan cheese. Serve immediately.
Notes
The Fluffys love soup, especially quick soups. We make huge slow cooker pots of soup at a whack, then package and freeze for those nights or lunches where
we want a super quick soup. No need to simmer soup for hours when you already have a rich and complex bone broth made and waiting in the wings. Now let's pretend
you don't have bone broth...you can still enjoy this quick soup using boxed broths (any flavor). You won't get the same rich deep flavor (but you can always add a
little bloomed gelatin to make it taste more rich), but you will still enjoy a soup better flavored and better for you than 100% of the soups on the market at the
grocery store! Don't fear the carbs in this soup. If you need it lower, just cut the amount of veggies you put in the pot!
Serving Ideas Serve with a melted mozzarella cheese toast or roll-up!
Nutritional Information per serving Asian (1/2 recipe) 441 Calories; 33g Fat (67.0% calories from fat); 28g Protein; 8g Carbohydrate; 2g Dietary Fiber; 6g Effective Carbs
per serving Italian (1/2 recipe) 463 Calories; 34g Fat (65.9% calories from fat); 29g Protein; 10g Carbohydrate; 3g Dietary Fiber; 7g Effective Carbs
Copyright © 2012 Fluffy Chix Cook. All rights reserved.
http://fluffychixcook.com/low-carb-beef-zoodle-soup-2-ways-asian-and-italian/
Copyright © 2016 Fluffy Chix Cook. All rights reserved.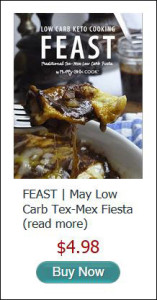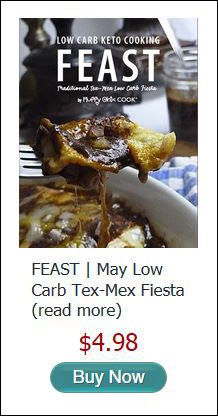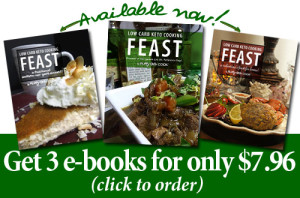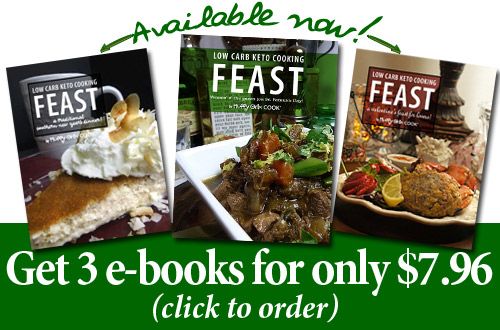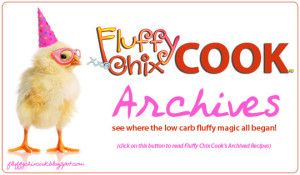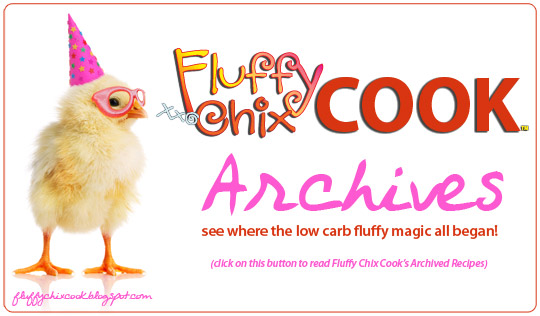 Copyright © 2014 Fast Days – Healing Days. All rights reserved.
We are not dieticians, nutritionists or medical professionals. The materials on this blog are for informational (and fun) purposes only. We do not fact check, nor do we worry about sources. Please do your own fact checking. We encourage you to look things up and check with your doctor or health care professional before acting on anything seen on Fluffy Chix Cook. xoxo