Low Carb Caesar Salad – TNT Fluffy Recipe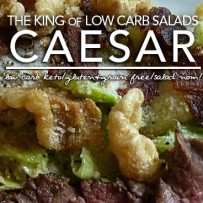 Authentic Caesar Salad is at your fingertips and bears no resemblance to the Caesar Salads from a bottle that you find on aisle 12 at the grocery store. A real deal Caesar salad takes only a few ingredients and five to ten minutes of your time. They are so simple and make such healthy and delicious low carb keto food. Join Fluffy Chix Cook for their TNT (tried and true) Caesar Salad Recipe to learn how to make your own quick and easy Caesar either prepared table side or quickly in a mini chopper!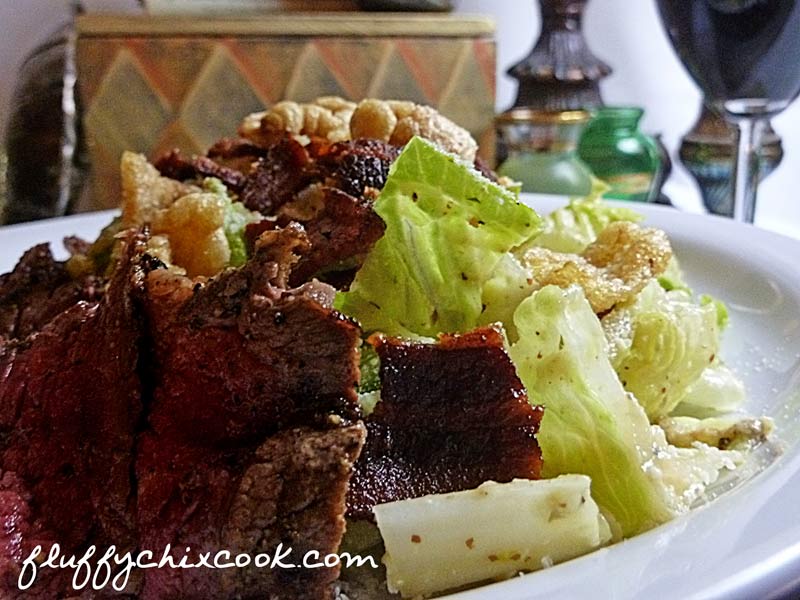 Did you know that Caesar Salad was not named after a Roman emperor and that it didn't even originate in Rome nor was it first made in Italy? Well, that last part probably isn't true—it probably WAS made in Italy by the Cardini boys' Italian mama eleventy billion years ago or at least in the early 1900s.
There are many tales involving the Cardinis: Caesar and Alex. All the stories revolve around a San Diego restaurant named Caesar's, Tijuana, a Saturday night, Prohibition, a packed restaurant, a bunch of jet jockeys, hangovers, and hungry people. It also involved a disputed name: Caesar's Salad or Aviator's Salad. It's an entertaining story and the Fluffys "buy" either version! We were shocked to learn that the original Caesar dressing had no anchovies and instead got its anchovy flavor from Worcestershire Sauce. That's plausible because Worcestershire is a fermented sauce that includes anchovies, which bring naturally formed glutamates and umami to the party. It also only infused the olive oil with garlic but had no solid cloves of garlic. Blasphemy!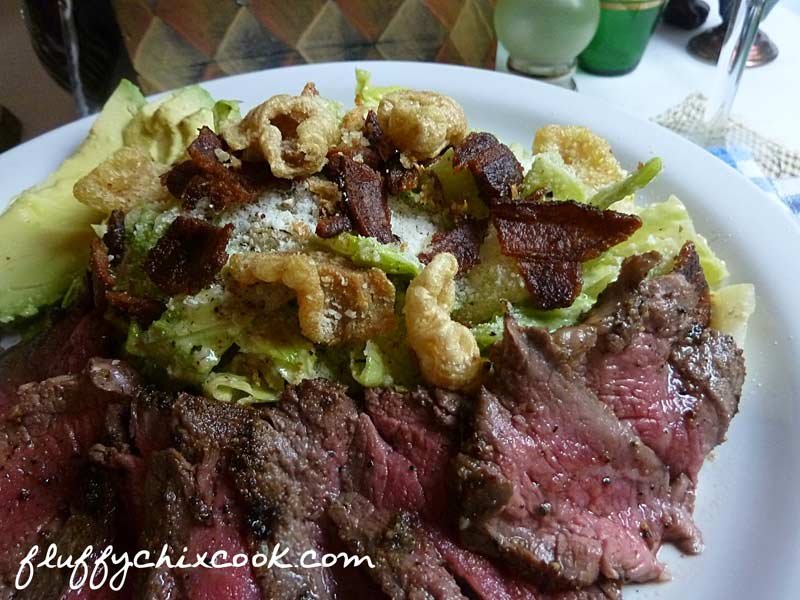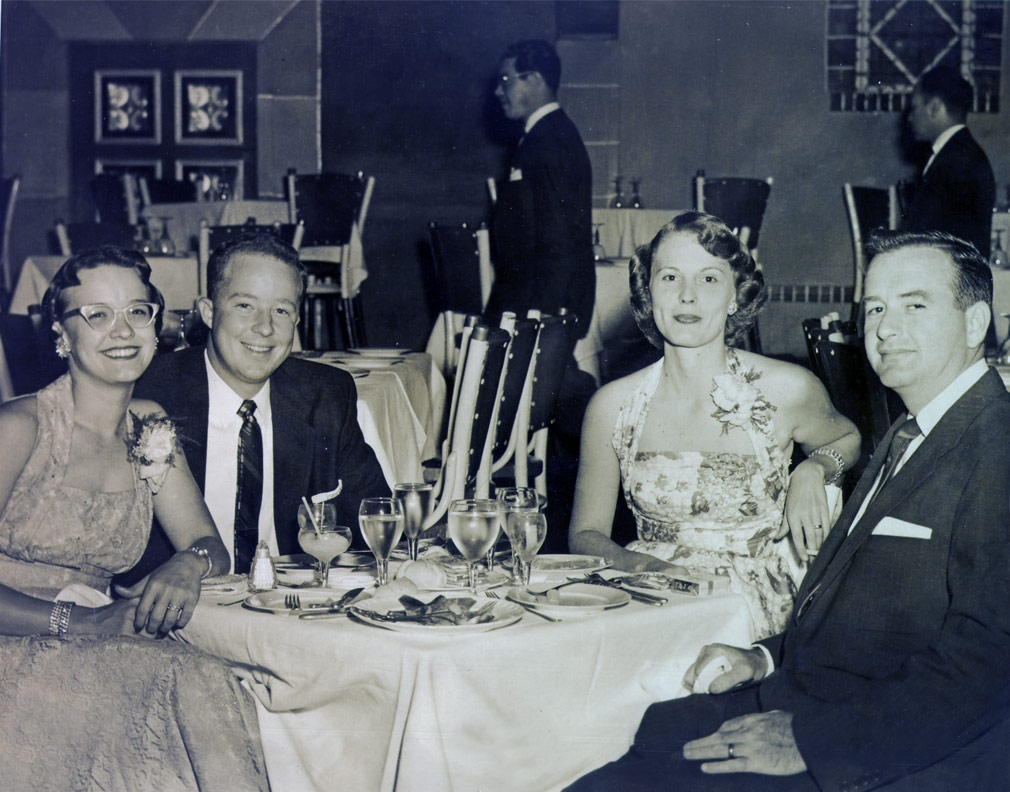 The original salad was eaten using your fingers. The leaves were rolled in the dressing ingredients to create the emulsion that lovingly coated each leaf. You reportedly rolled the leaves into a "cigar shape" and ate them as finger food. And we have experience with eating it this way! In the '50s Mama and Dad went to Mexico City and ate Caesar salad prepared in this manner, served to them by coated, gloved, and very proper, Mexican waiters.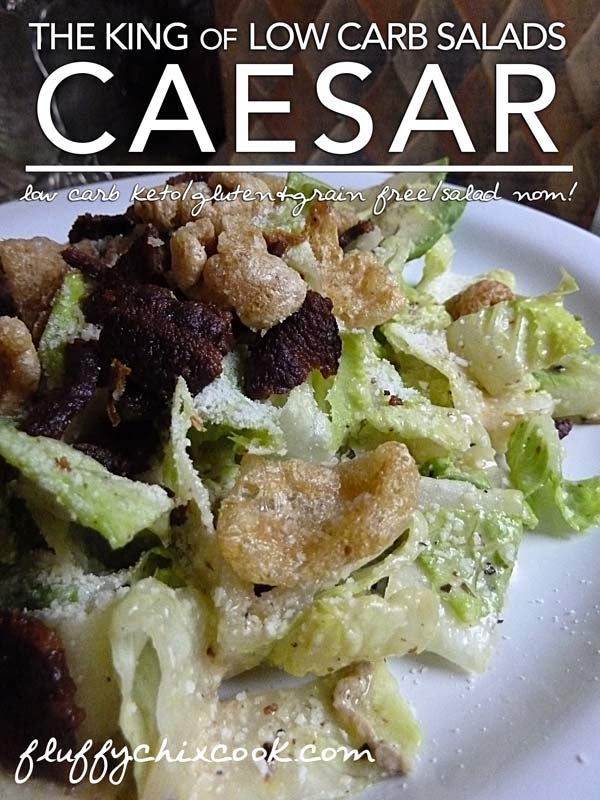 And in the 1960s and '70s…well. Hells. In the 1960s and 1970s we loved the hayull out of it right there in Bryan-College Station (BCS), Texas, at the Texan Restaurant on College Avenue. This restaurant was my very favorite of all time. (I was around 8 the first time we visited and I had "high standards.") The Texan served the most amazing French onion soup, Caesar salad prepared table side and eaten with your fingers, and steaks. Waiters also prepared cherries flambé (jubilee) table side. What adventure and the thing memories are made of for little girls! Wish I had pictures of the old Texan!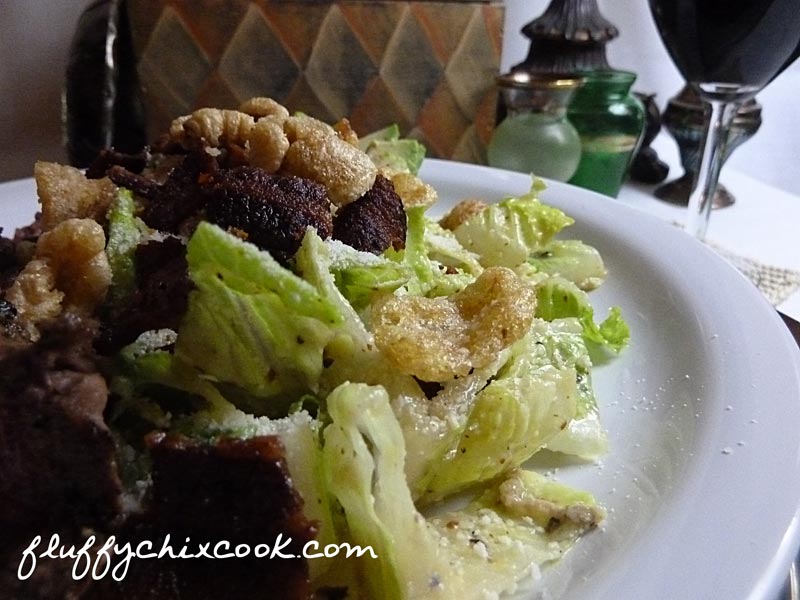 It was only natural to evolve into "owning" a TNT family Caesar recipe. Creds go to our BIL, Ford, for distilling the first versions of the family Caesar. His Caesar is still the finest and fairest in the land and he worked for years perfecting it. It's a work of art and we all request this salad preferentially over any other salad at family get togethers. We don't mind admitting, when we taste a superior recipe, we have no compunction about ripping it off and then monkeyin' around with it to make it our own. That's what we did with Ford's Caesar. Although ours can't compare, the Fluffys' Caesar does (marginally) give Ford's original a run for the money.
We have served this salad as full leaves meant to be rolled and eaten like cigars, but for convenience, we mostly cut the lettuce hearts into bite size pieces using a ceramic knife (so we don't bruise the lettuce). Retain the center rib of the romaine leaves because it provides lovely crunch and body. Go ahead and use anchovies as well as Worcestershire. (Please use the hearts of romaine and not the full heads? Figure about 2 people per heart for a main course or 3 people per heart for a side dish.)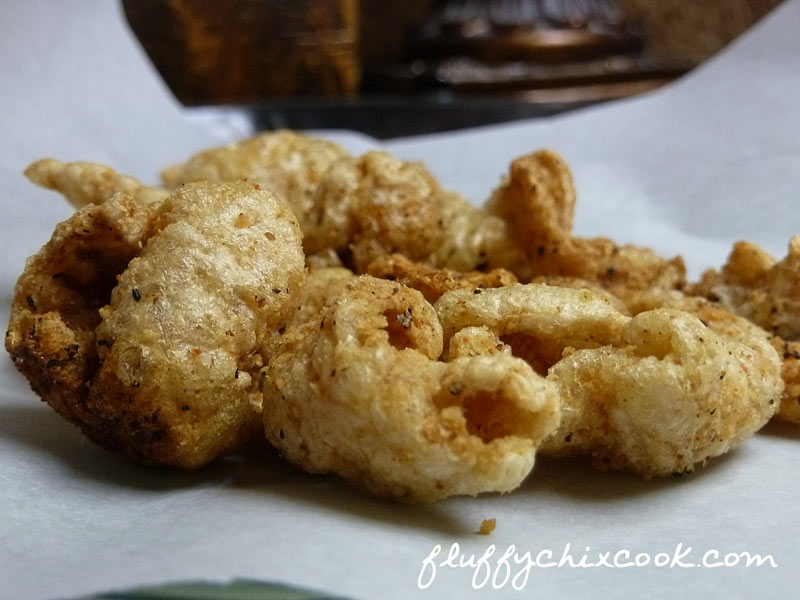 The Fluffys also re-introduced super crunch to the Caesar Salad. You see, the lettuce and dressing are inherently low carb, but the croutons will tear you out of ketosis every time. Every. Time. So we finally figured out a quick, simple and delicious crouton alternative! Enter Porktastic Croutons, filled with crunch and jaunty garlic attitude! Find out how to make them here! Ready in 10 minutes or less, that's instant, right?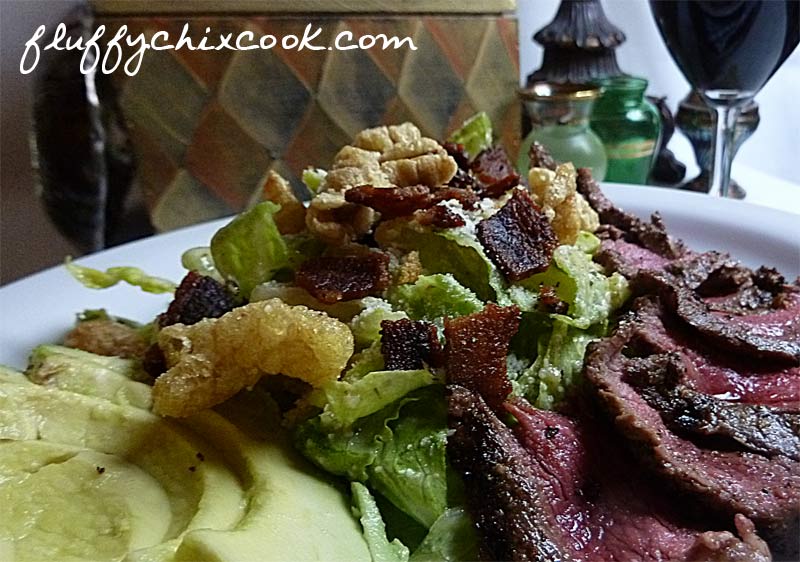 We think this is an amazing salad, great on its own or jazzed up any way you can think. The last one we made included bacon and avocado! (An outrageous and VERY inappropriate version, but whadareyagonnado?) So you see, there are endless possibilities with Caesar salad and its variations. Change the acid up, the lettuce, the croutons, and even add bacon and extra veggies or low glycemic index berries. Make it YOURS! Add your signature to it and have a blast! We have! (Of course, be prepared for Caesar salad purists to laugh at you with derision, point fingers, and talk behind your backs!)
We won't lie. If you have a wooden salad bowl, your Caesar will only get better and better over time as the wood is "seasoned" by the dressing ingredients. These are beautiful and affordable wooden bowls, but if you don't have one, don't pout. Use a stainless, glass, or ceramic bowl. Don't use plastic! We also use a wooden ladle (not the one pictured) that was handed down from our dad, to mix the dressing. The curvature of the wooden ladle makes mixing the dressing so easy because it smashes the garlic and anchovies up against the bowl surface, creating a more even emulsion. The wooden salad hands make tossing the salad a breeze. But you don't need any of these! Go low tech!
Please come back and tell us how you like this dressing and salad please? Por favor?
Low Carb Caesar Salad – TNT Fluffy Recipe
This is such a simple dressing that stores well for up to a week. Use as a marinade or as a salad dressing or dressing for quickly sautéed veggies. Recipe doubles easily. Makes a great salad especially prepared table side.
Ingredients
Instructions
Table Side Dressing Method

In large wooden or stainless salad bowl, press peeled garlic clove through a garlic press. Rub garlic around bowl using the back of a wooden spoon or curved spatula. Add anchovy fillets and smash with the tines of a fork to form a smooth paste. Add next 5 ingredients--stirring to form a paste. Slowly drizzle in olive oil, stirring quickly with a spoon or whisk to form emulsion. Season with salt and pepper.

Mini Food Processor Dressing Method

Combine first seven ingredients in mini food processor and blend to smooth paste. With processor running, slowly drizzle olive oil through the feed tube. Watch to make sure olive oil begins to incorporate and form an emulsion. Once emulsion forms, you can add the oil a bit quicker. Makes a thick and creamy dressing.
Dressing may be made 1-2 days in advance up to this point and stored in an air-tight container up to a week in the fridge. Dressing makes enough for 2 salads (2 servings each) or 1 salad (4 servings).
Tear ice cold, crispy romaine hearts and place in salad bowl (about 2 1/2 cups per person). Toss with dressing. Sprinkle with freshly grated Parmesan and fresh ground black pepper. Toss will to distribute. Portion salad onto serving plates and top with Porktacular Croutons—or your favorite low carb crouton. Serve immediately.
Notes
This is a super easy dressing/mayonnaise and the two methods deliver different textures. The mini processor method yields a smooth, cohesive emulsion or mayonnaise. The table side dressing method yields a smooth and creamy dressing, but it isn't entirely smooth like a mayonnaise. It has more texture. The length of time you blend it in the processor will determine, in part, how thick the dressing becomes. When you make it in a bowl, it doesn't really become super thick; it's more like an organic looking thicker dressing. It's pretty easy to make a slutty (from the anchovies) aioli from this to use as a veggie dip or as a spread on a sandwich by adding an extra yolk and extra olive oil, but the classic use of this dressing is Caesar Salad. And please?? Use THE best extra virgin olive oil you can find? We love using unfiltered olive oil.
This recipe is very forgiving and adaptable. If you like it milder, use only 4 anchovy fillets. Want it to be more garlicky? Add another clove of garlic. Want it sharper? Add more Dijon mustard. We like to use coarse grain mustard like country-style Dijon. If the dressing tastes too strong, add more EVOO. If it needs more tang, add more lemon. Eventually you will develop a personal best recipe that is repeatable time and again. It's like having your own Caesar number for your salad as you have a sleep number for your bed!
This recipe makes enough dressing to dress 2-3 romaine hearts which are the center, crispy inner 2/3 of a head of romaine. Most groceries carry these in a bag of 2-3 hearts per bag, which is plenty to serve 4-6 people as a side salad and 4 people as an entree serving.
If you are afraid of raw egg yolks, or are immune compromised, be sure to use pasteurized eggs available in the shell at most grocery stores.
Serving Ideas Serve as a side for your favorite protein. Grilled steak, shrimp, and chicken are terrific with it! Or use it as a main salad. Add avocado and bacon, and anything meat or seafood that appeals to you. Use the dressing as a dip for veggies or as a spread on low carb sandwiches.
Nutritional Information per tablespoon Caesar Dressing Only (10 tablespoons yield) 76 Calories; 8g Fat (92.4% calories from fat); 1g Protein; 0.5g Carbohydrate; trace Dietary Fiber; 0.5g Effective Carbs
per serving Caesar Salad with Croutons (1/4 recipe) 353 Calories; 31g Fat (80.2% calories from fat); 12g Protein; 5g Carbohydrate; 1g Dietary Fiber; 4g Effective Carbs
Copyright © 2011 Fluffy Chix Cook. All rights reserved.
http://fluffychixcook.com/low-carb-caesar-salad-tnt-fluffy-recipe/
Copyright © 2016 Fluffy Chix Cook. All rights reserved.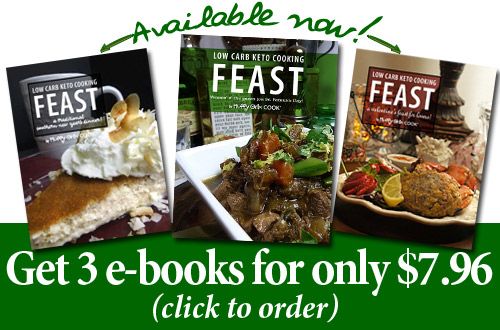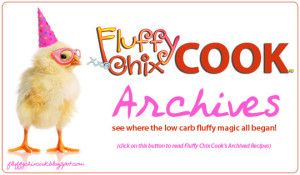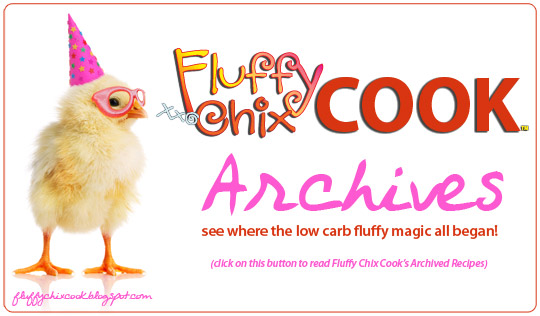 Copyright © 2014 Fluffy Chix Cook. All rights reserved.
We are not dieticians, nutritionists or medical professionals. The materials on this blog are for informational (and fun) purposes only. We do not fact check, nor do we worry about sources. Please do your own fact checking. We encourage you to look things up and check with your doctor or health care professional before acting on anything seen on Fluffy Chix Cook. xoxo