Low Carb Chile Puree – A Tex Mex Staple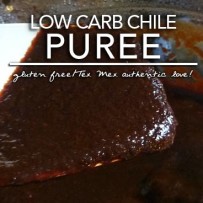 Do you want to know the difference between spelling chili with an "e" or an "i" and when to use them properly? How about this? Do you have a burning desire to learn how to make authentic low carb chile puree to use in low carb Tex Mex recipes? Follow Fluffy Chix Cook to find out how to make a healthy, vitamin packed low carb Chile Puree to use in many low carb Tex Mex recipes.
Growing up in Texas, Tex Mex foods were eaten at least once a week. Mama loved Tex Mex and Chinese and she ate them with focused zeal while pregnant with each of us. So is it any wonder that today we are all Tex Mex hounds? We got to splurge, and I still remember Mama raiding the penny jar to scrape up enough "cash" to take us to eat at Loma Linda's in Palm Center, or go pick up from Monterey House. Then later in Dallas, we were all over El Fenix's $3.99 Wednesday Cheese Enchilada night.
One of the keys to get "right" in making authentic low carb Tex Mex recipes is to find a really good chili powder that doesn't have a bunch of junk ingredients such as sugar, sand, and msg. That can be tough. And I don't know about you, but I don't really care for sand in my chili powder or spice blends. That's why we make our own.
The Fluffys order spices online and buy pure chiles (powdered) then blend our own chili powder. You can also buy the dried pods, toast them briefly in a very hot oven and grind your own chiles into a powder. We don't do that because we don't have a blender "man enough" for the job. So it's just easier for us to buy the pure chile powders from our trusted Amazon partners (affiliate links make the low carb blogging world go round and keeps the great low carb Fluffy recipes coming your way—so thanks in advance for your support at no extra cost to you). We'll give you the recipe for homemade chili powder later.
CHILI WITH AN I OR AN E
Notice the spelling. A pure chile pod or chile powder, such as ancho chile powder, or guajillo chile powder, is spelled with an "e" on the end. If you are talking about a blend of chiles and spices, or are talking about the true stewpy (soup+stew) delicious meat, onion, chile puree, and spices recipe the Fluffys are famous for in their Authentic Texas Chili Red, then it will be spelled chili, with an "i."
The other important takeaway is that making truly authentic Tex Mex takes time. It's a dance, a long slow Texas waltz of love and labor, not a fox trot. Flavors are compounded and layered in low carb Tex Mex cuisine and these flavors usually meld with low, slow, lonnnnnnnnggggg cooking times.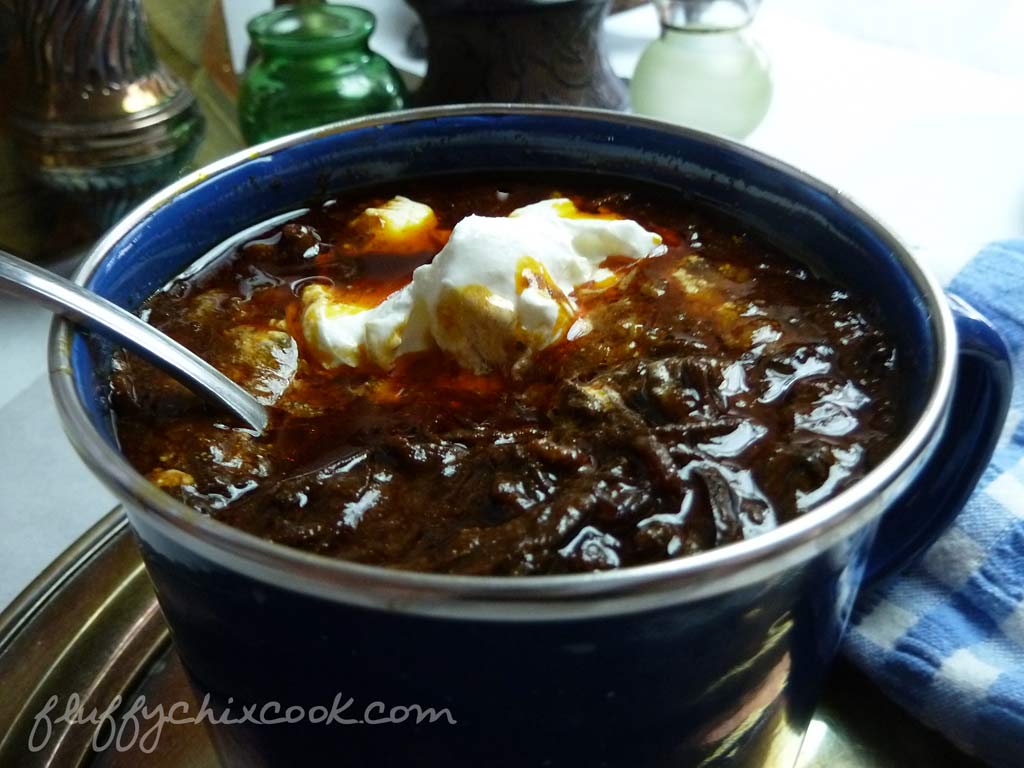 I don't know about you, but I don't have the energy that requires…or the time, especially on weekdays. So the Fluffys hack Tex Mex to make it easy. The Fluffys make "bases" that get portioned, labeled, and frozen. Then whenever we have the need for low carb Tex Mex feed, we pop a base or two out of Deep Space 9 (DS9=Fluffys' Chest Freezer) and go to town. Suddenly a dish that might take 2-3 hours if made from total scratch, start to finish, literally takes 5 minutes. We can make enchiladas for two in 5 minutes. Period the end. And I'm betting you have time for that, don't you? We do!
Chile Puree is another thing to get "right" in order to make authentic low carb Tex Mex recipes. It's perhaps THE most important base to have made and at the ready. It's not a sauce in and of itself; it's a flavor base that replaces chili powder, or sometimes reinforces chili powder. And you're probably asking, "Well hayull Fluffy! If I have a good chili powder on hand, then why do I need this cockamamie chile puree too? That's a LOT frickin' frackin' work!"
And we would calmly tell you, "Because sometimes you'll want to use chili powder and other times you need the body and fullness that comes from the chile puree."
You see, chile puree has a whole wad of complex flavor and serious thickening power, almost similar to a roux. It's the difference between tasting "shallow" or "clean" flavor, and deep layered flavor with body. It adds mystery to a Tex Mex or Mexican recipe.
(You might notice we spell Chile Puree with an "e." The jury appears to be out on this one. It's spelled both ways: "i" and "e." The Fluffys tend to go with the "most popular" crowd and even though it's a blend of different chiles plus garlic, we still spell it with an "e" to denote a puree of pure chiles. Meh, that's our story and we're stickin' to it.)
Please make this recipe then come back and tell us all about it. You will want to use it in the Authentic Texas Chili Red and also in the Chile Gravy and Carne Guisada (both coming soon)!
We used our Ninja to make the puree and it worked like a champ. We pulsed the rehydrated chiles on and off, then ran it continuously until the puree was very smooth.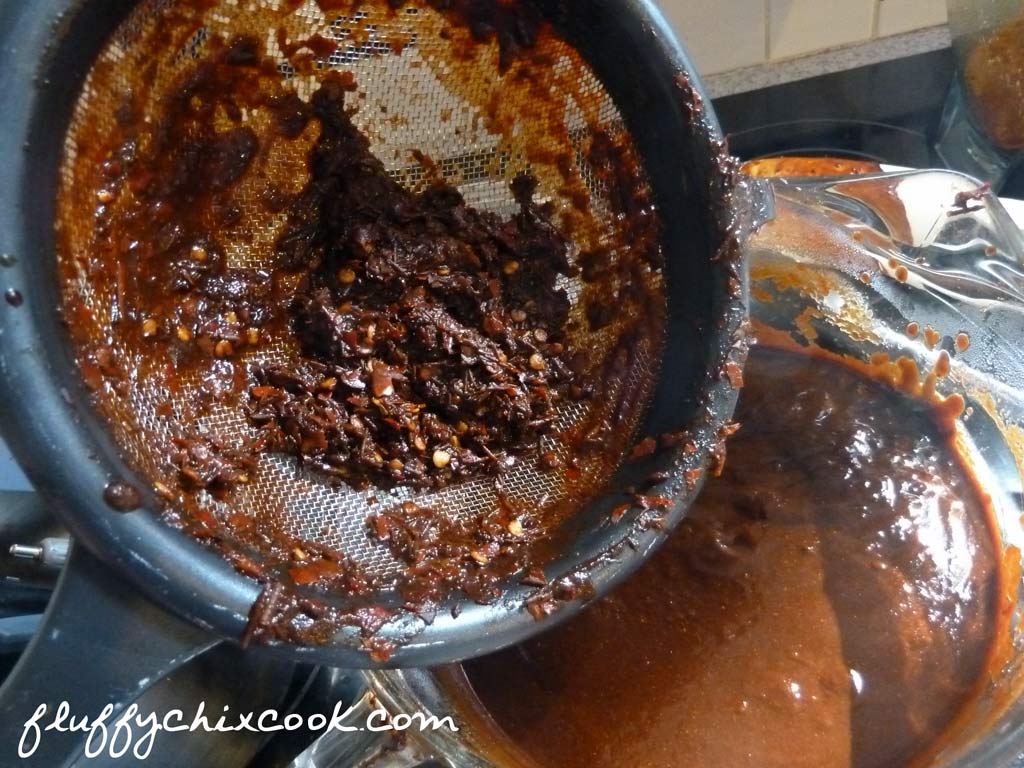 Then we strained it with this little $3 buck strainer with a larger open mesh. Don't try to push this stuff through your expensive fine mesh strainer or you will still be straining the chile puree until next Sunday.
Vaya con Dios!
Low Carb Chile Puree – A Tex Mex Staple
Use this low carb keto and vitamin filled Chili Puree to make so many Tex Mex basics! It's a replacement for chili powder, but it has more thickening power and flavor. It's not a sauce on its own; it's a flavor base for Mexican food and Tex Mex chili, carne guisada, and so many sauces such as chili gravy.
Ingredients
Instructions
Stem and seed the dried chile pods. Weigh them (sorry, weighing is the only true method to get a repeatable chili puree). Rinse chiles well to remove dirt. Place chiles and whole, peeled garlic cloves in medium sauce pan. Cover with water (about 8 cups). Put a lid on the pan and simmer for 20 minutes or until tender. Stir now and then to make sure the chiles are evenly rehydrated. Place softened chiles in blender with the cooked garlic and puree. Reserve chile water. Use some of the reserved chile water to thin chiles enough to blend into the chile puree. You may need to work in two batches.
Strain the chile garlic puree through a mesh strainer. Use the back of a spoon to rub and press the chile puree through the sieve. Scrape the bottom of the sieve to get the chile puree into the bowl. Once you have completely finished pushing it through the mesh strainer, the skins and any bitter seeds you missed in the initial prep will be inside the strainer and the chile puree will be in your bowl and ready for the pan! Strain the rest of the chili water back into the puree. Stir to combine. Cool completely, portion and freeze in 1 cup portions or use immediately to make many Tex-Mex dishes.
Notes
This stuff is so delish, we make a double batch while we are making it and freeze it in 1 cup portions for future use! Low carb chile puree is a staple in our house. We use it to make many Tex Mex recipes.
Serving Ideas Use to replace chili powder in any Tex Mex recipe; about 1/4-1/3 cup replaces 2 tablespoons of chili powder. Great in Authentic Texas Chili Red, Low Carb Tex Mex Chili Gravy carne guisada, low carb tamales, and carne adovado.
Nutritional Information
Per cup: 90 Calories; 2g Fat (20.4% calories from fat); 3g Protein; 17g Carbohydrate; 7g Dietary Fiber; 10g Effective Carbs
Per tablespoon: 6 Calories; trace Fat (20.4% calories from fat); trace Protein; 1.07g Carbohydrate; 0.45g Dietary Fiber; 0.62g Effective Carbs
Copyright © 2015 Fluffy Chix Cook. All rights reserved.
http://fluffychixcook.com/low-carb-chile-puree-a-tex-mex-staple/
Copyright © 2016 Fluffy Chix Cook. All rights reserved.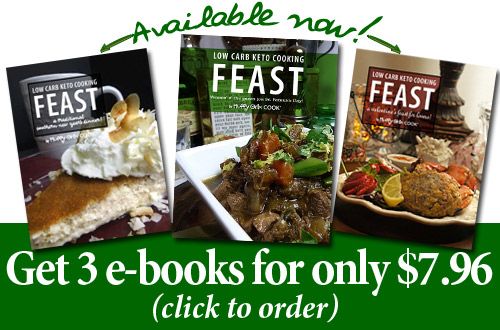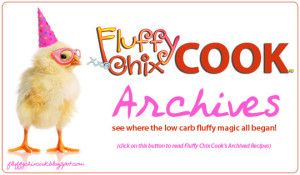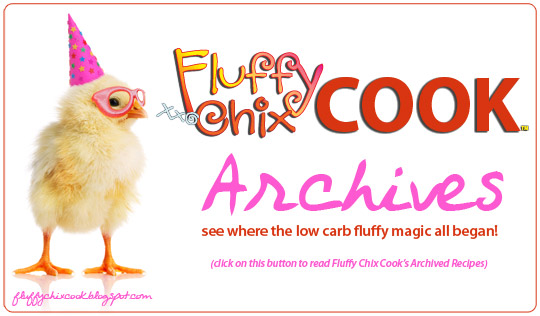 Copyright © 2014 Fluffy Chix Cook. All rights reserved.
We are not dieticians, nutritionists or medical professionals. The materials on this blog are for informational (and fun) purposes only. We do not fact check, nor do we worry about sources. Please do your own fact checking. We encourage you to look things up and check with your doctor or health care professional before acting on anything seen on Fluffy Chix Cook. xoxo