Low Carb Gluten Free Cinnamon Praline Muffins with Marshmallow Cream Filling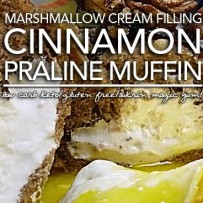 Have you craved a healthy version of low carb keto pralines, but doubted you'd ever find a crunchy praline that wasn't filled with maltitol? Join Fluffy Chix Cook as they share how Sukrin Gold and Sukrin Fiber Syrup Gold changes low carb baking as you know it and learn how to make delicious and filling Cinnamon Praline Muffins with Marshmallow Cream Filling. Perfect keto portion controlled OMMs (One Minute Muffins) can be yours in under 15 minutes.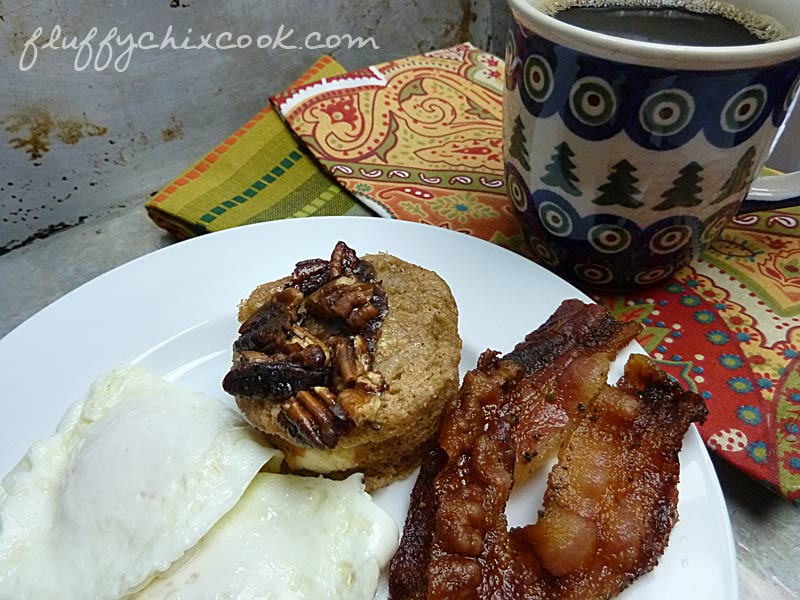 So I told you we took the weekend off from all scheduled events due to Mr. Fluffy being under the weather, right? Which meant: we were free to play with our new toys (ingredients) that arrived from our friends at Sukrin USA during July. We hadn't had time to experiment with them during the weeks since their arrival. And of course, we went for easy peasy, individual portions because come on…you have to take the effort to make a second batch if you feel like binging and who wants to do that when you're already full and satisfied from the first batch? We love building self-limiting portion control into Fluffy recipes! Score!
I can tell you that we've wanted to do pralines for some time. Mainly cuz my WaWa (Dad's mama who lived with us from the time before I was even a sparkle in Daddy's eye until I was seven), made the most heavenly pralines known to man. And in the South, that's a tall claim! WaWa used to make high carbage pralines for the family at Christmas and also gave them as gifts to her friends, and we looked forward to that time with great anticipation. She'd cook batches of pralines for hours and the entire house would be filled with the warm, comforting fragrance of golden butter, brown sugar, vanilla and sugar roasted pecans. Oh my! Great times! It makes me smile to think of that time, standing by her side, acting as her "assistant."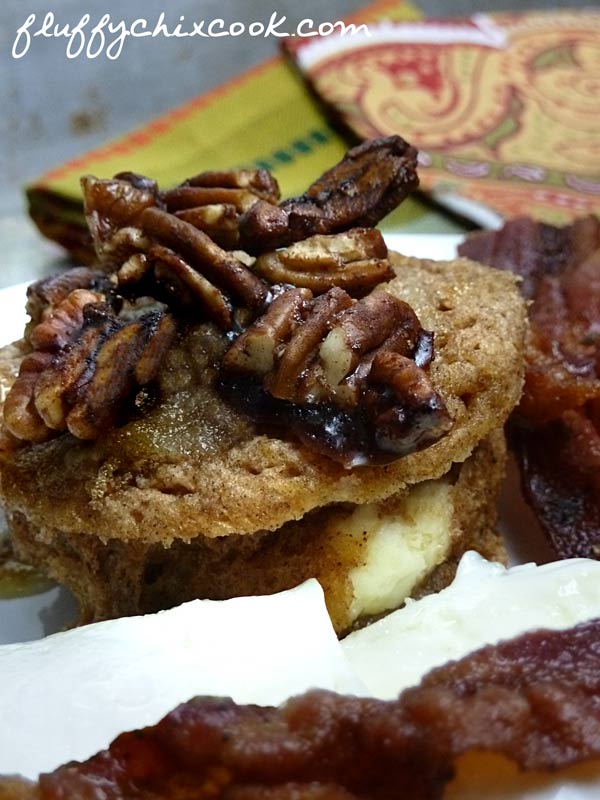 But you know, pralines (and every Southern mama has their secret recipe for them) are not easy to make. They are very labor intensive, require constant attention and stirring, and there is no freestyling. You MUST cook the mixture to temperature using a thermometer because that's the way high carbage candy cracks (get it hard or soft crack stage?)! And honestly, as much as we want low carb praline in our lives, meh—neither Mr. Fluffy nor I look forward to being tied to a spatula and a thermometer for hours. Good grief. Ain't nobody got time for those shenanigans!
On a whim for Sunday brunch I asked Mr. Fluffy if he'd like to tango in the kitchen and whip up a little Sunday fun in the form of one of our OMMs (one minute muffins) using our TNT (tried 'n' true) MHKBM (Mile High Keto Bake Mix). And he said, "Why soiy-tant-ly," because he watches WAYYYY too many 3 Stooges flicks. I saw our friend Allison's gorgeous low carb Cinnamon Walnut Bubble Bread Loaf in one of our low carb Facebook groups and had a hankering for somethin' cinnamon-y and sorta nutty.
And of course many of you know of our friend LeeAnn's amazing and ever-popular guest post over in the Fluffy Archives where she made Cinnamon Cream Cheese Squares (coffee cake by any other name). So we needed to see if we could work a little low carb OMM magic.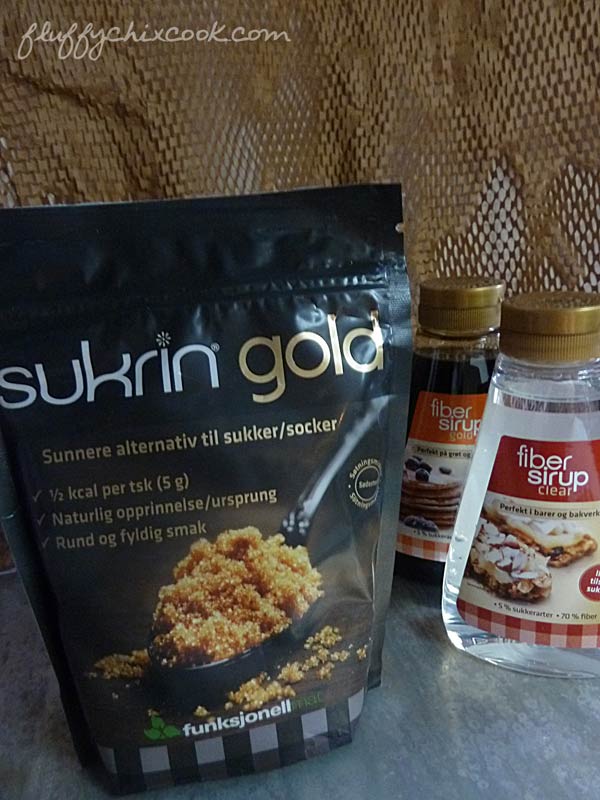 Enter our new playthings: Sukrin Gold and Sukrin Fiber Syrup Gold that we received and reviewed in the Fluffy Review Section. Yummy! Really yummy. Low carb brown sugar and low carb molasses magic—that's what they are! You can read more about each of them by clicking the links. (And before you ask…no, this is not a sponsored post and we don't get one red cent from this post for sending you to the Sukrin website—although, the Sukrin Gold link in the recipe is one of our Amazon affiliate links that cost you nothin' out of pocket, while helping to keep the oven lights burning brightly in the Fluffy kitchen. TIA.)
Who knew pralines could be so painless? In 1 minute and 15 seconds we had golden brown pecan, brown sugar, and butter shenanigans goin' down in the kitchen! Seriously. One praline big enough for two muffins. No thermometer. And 1 minute 15 seconds. Yeehaw. Slap your honey and call 'em Fanny! Cuz this stuff is da bomb, sistah! (And we probably even over-cooked it cuz the pecans got pretty dark on the bottom—that's why stirring the pecans a time or two during nuking helps to make sure they are the perfect color.)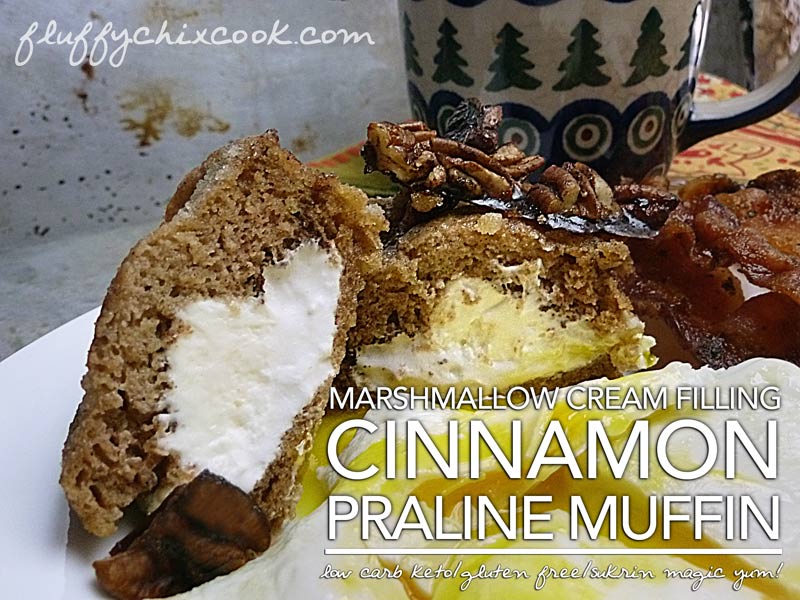 We loved the addition of the Sukrin Golden Fiber Syrup in the muffin batter. It added a moist, chewy texture entirely reminiscent of high carbage muffins. And added a very subtle molasses flavor that worked so well with the cinnamon. It really felt like the high carb coffee cake Mama used to make—moist and dreamy.
A Word About Walden Farms Marshmallow Dip
Now, many of you are gonna whine about the "fake" chemical sh*tstorm represented by Walden Farms Marshmallow Dip. And we will be the first to caution, "FOR GOD's SAKE! Don't eat that stuff by itself! ICK! Cuz you know, it tastes like a mouth full of un-forgiveness. But, and it's a HUGE but, and a big leap of faith—trust us. When you mix the WF Marshmallow Cream with other ingredients, magic happens. It adds to volume and adds sweet marshmallow flavor and lovely texture without making an ugly taste. It tastes lovely in fact! Mix it with peanut butter for a very low carb Fluffynutter that rocks the casbah (recipe coming to the blog soon)! Mix it with cream cheese for an ample filling or spread that has practically zero carbs. It's magic as an ingredient! And it adds convenience while keeping noxious chemicals to a minimum. In fact, the first ingredient in WF MC is purified water. How dangerous is that? Right? It makes us laugh. Our tombstone will never read, "Killed by Walden Farms Products."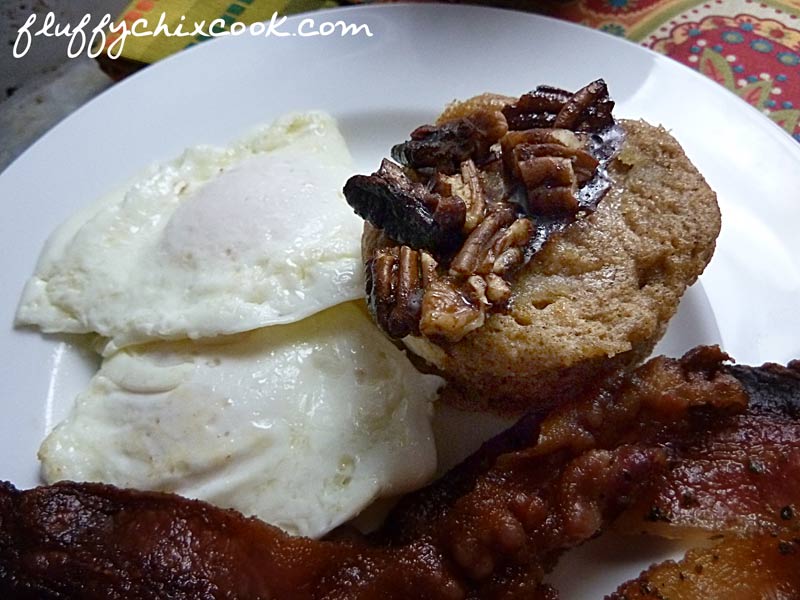 So give these low carb Cinnamon Praline Muffins with Marshmallow Cream Filling a try. DEFINITELY get the Sukrin Gold (low carb brown sugar sub) and the Sukrin Golden Fiber Syrup (low carb dark Karo)—and while you're ordering, you may as well go for the trifecta and get the Sukrin Fiber Syrup Clear, because we will be making recipes using these items—like the Low Carb Peaches and Cream Turnovers and Danish we also made this weekend. The Fluffys highly endorse Sukrin's products. They represent a new generation of low carb sweeteners that are LCHF baking game-changers, plus they're just good people and you should do business with them. And there will be new recipes on the horizon that use them—from us and other food bloggers.
Then come back and let us know how they turned out. Leave us a love note in the comments! We think you'll go nuts over the keto muffins and the praline topping!
Low Carb Cinnamon Praline Muffins with Marshmallow Cream Filling
Low carb keto Cinnamon Praline Marshmallow Cream Muffins from give a whole new meaning to OMMs (one minute muffins). Who knew praline could be so easy, and individually portioned muffins so convenient?
Ingredients
Instructions
Cut a small square of parchment paper big enough to mold over a small 3-4oz ramekin. Mold it to form a cup or depression that will cook the praline. The sides should be about 1/2-inch tall. Place chopped pecans into well created with the parchment. Dot with butter. Sprinkle Sukrin Gold over the nuts. Place parchment-well on microwave turntable. Nuke on high for 15 seconds. Open and check to see if butter and Sukrin Gold are melting. Nuke another 15 seconds. Check again. If they aren't melting, nuke for 20 seconds. Stir and flip nuts. The Sukrin Gold and butter should be melty and very hot and nuts should be golden. If they bottom of the nuts are not golden, nuke another 10 seconds. Use a spatula to pick up the molten praline. Set it on the stovetop to cool. Do NOT touch this. You will burn yourself—and a molten sugar burn is very painful. As the praline cools, it will solidify. Once solid, break praline into pieces or chop coarsely. Divide the praline between the 2 cooked muffins.
Mix dry ingredients. Stir to combine. Mix wet ingredients in a separate bowl stirring to mix evenly. Add dry ingredients to wet and stir with a spoon or spatula until lump free.
Spray 2 ramekins—the same size used to create the parchment mold with olive oil or coconut oil cooking spray. Fill 1 soup spoon (from the flatware drawer) with batter and plonk into ramekin. Shake to cover bottom of ramekin with batter. Nuke both ramekins at the same time for 12-15 seconds. Don't overcook. You just want these slightly set.
Place 1/2 ounce of Neufchatel cheese onto bottom dough rounds in each ramekin. Top each with a spoon of Walden Farms Marshmallow Cream. Sprinkle fillings with a little ground cinnamon. Top each ramekin with 2 more spoons of batter to cover the filling. There should be about 6-7 tablespoons of batter made by the recipe.
Nuke each filled ramekin separately. Microwave times vary. The Fluffys microwave takes 40 seconds to puff and set the low carb keto Cinnamon Praline Muffins with Marshmallow Cream Filling. If the muffin puffs and resides, it may need another 10 seconds. Sprinkle hot muffin with half the praline mixture and cool completely. Repeat microwaving procedure with the second muffin ramekin.
Remove muffins from ramekins and top with an optional pat of butter. Enjoy.
Notes
Wow who knew praline is so easy and simple to make in a microwave? Who knew there was such a thing as great tasting low carb brown sugar? We certainly didn't—until we met Sukrin Gold. Sukrin Gold is a zero calorie, zero net carb, non-GMO, naturally-sourced erythritol-based brown-sugar-replacement that feels just like brown sugar, smells just like brown sugar, and acts just like brown sugar—raw and in recipes. Sukrin Gold does have just a tiny bit of cooling, but nothing aggravating enough to cause us to subtract pleasure points. (Mr. Fluffy gives these 9.5 out of 10 stars. And remember he has only given a 10 one time—on Christmas, with prime rib. It was part of his Christmas pressie to me.)
The Sukrin Fiber Syrup Gold gave these muffins a lovely spice muffin color—not as deep as gingerbread, but just warm and fall-ish. We highly recommend adding both of these specialty items to your arsenal along with the Sukrin Clear Syrup. It will expand your horizons. The texture of the muffin was so much improved and you know we already adore our MHKBM (Mile High Keto Bake Mix). But the addition of the syrup really assists the texture and gives it a high-carb-like chew.
If you worry about gakking over Walden Farms Marshmallow Cream, just know that when you use it in conjunction with other ingredients it becomes a lovely flavored filler and extender of volume. It has very innocuous ingredients and doesn't contribute calories or carbs. So it's a magic ingredient that doesn't make our blood sugar run up. And it adds lovely convenience so that we do not have to make marshmallow cream from scratch (although we will be doing a marshmallow/meringue recipe soon using the Sukrin Clear Fiber Syrup)!
(*A Note about IMOs (Isomalt Oligosaccharides)* IMOs are isomalt oligosaccharides, a natural pre-biotic fiber, mostly non-digestible, fermentation of isomalt. We count the fiber and resistant oligosaccharides towards the fiber total and subtract it from the total carbohydrates in Fluffy recipes because lab testing confirms that it does not adversely affect people's blood sugar numbers or cause intestinal distress.)
Serving Ideas Make it part of a complete breakfast with bacon and eggs, or enjoy as a stand-alone brekky with a cup of hot coffee or tea. These don't make you crave and kept us full for hours!
Nutritional Information per muffin 212 Calories; 15g Fat (58.9% calories from fat); 10g Protein;14g Carbohydrate; 10.5g Dietary Fiber; 3.5g Effective Carbs
Copyright © 2015 Fluffy Chix Cook. All rights reserved.
http://fluffychixcook.com/low-carb-cinnamon-praline-muffins-with-marshmallow-cream-filling/
Copyright © 2016 Fluffy Chix Cook. All rights reserved.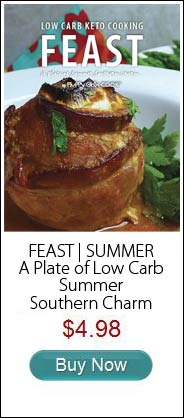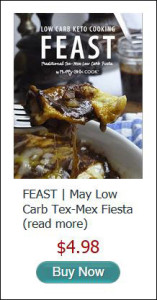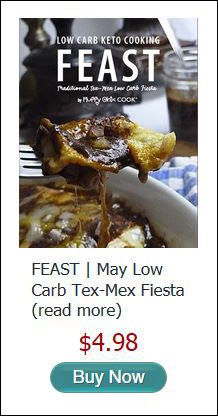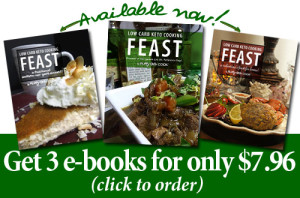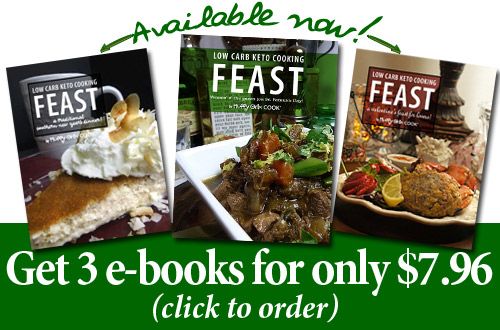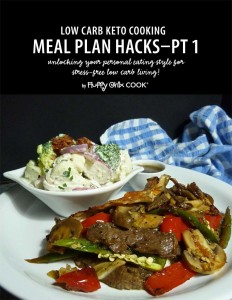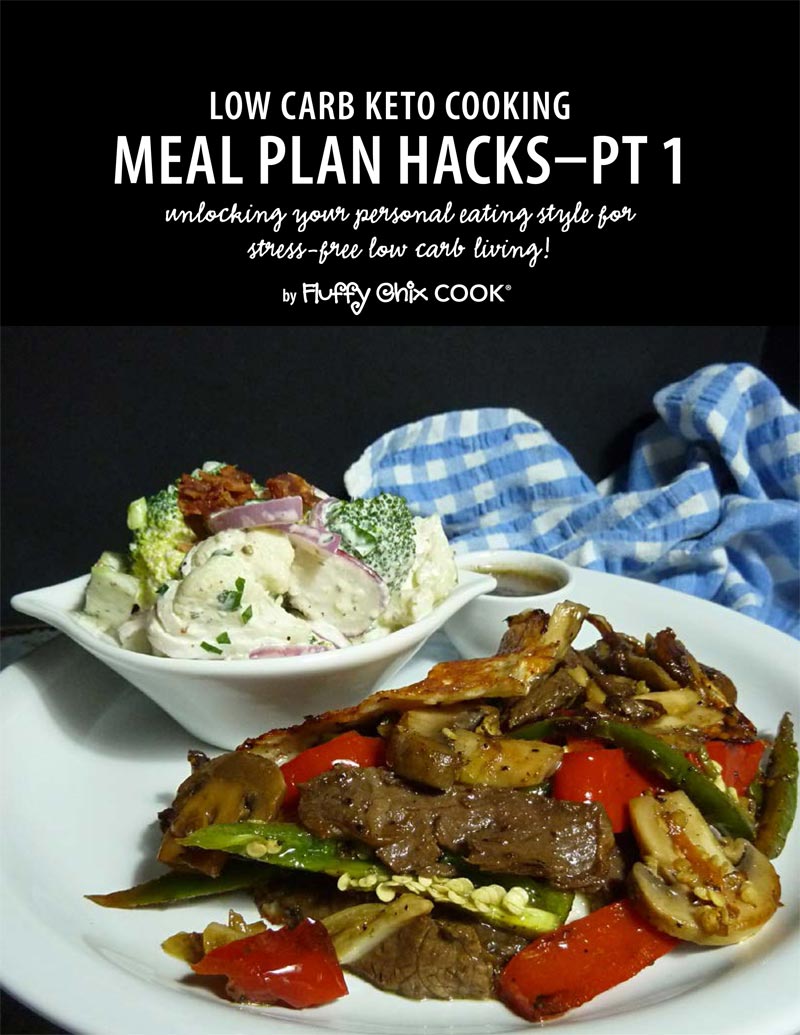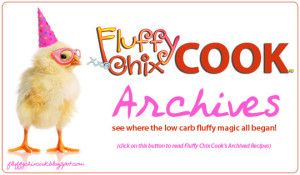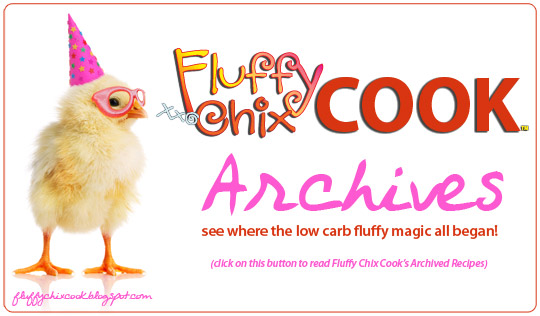 Copyright © 2015 Fluffy Chix Cook. All rights reserved.
We are not dieticians, nutritionists or medical professionals. The materials on this blog are for informational (and fun) purposes only. We do not fact check, nor do we worry about sources. Please do your own fact checking. We encourage you to look things up and check with your doctor or health care professional before acting on anything seen on Fluffy Chix Cook. xoxo