Low Carb Fried Zucchini – Fries and Chips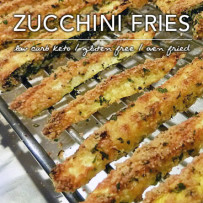 Do you crave low carb French fry substitutes on your low carb or keto diet? Are you diabetic and think you either have to live a non-compliant diabetic life or suffer deprivation? What if we told you that Fluffy Chix Cook and Susie T. Gibbs came up with a low carb zucchini fry recipe sure to please? Now you can comply with your dietary restrictions, reduce blood sugar and insulin spikes; or make better lifestyle choices, without misery or temptation. Deprivation is entirely optional when you have Fluffy Chix Cook recipes at your fingertips.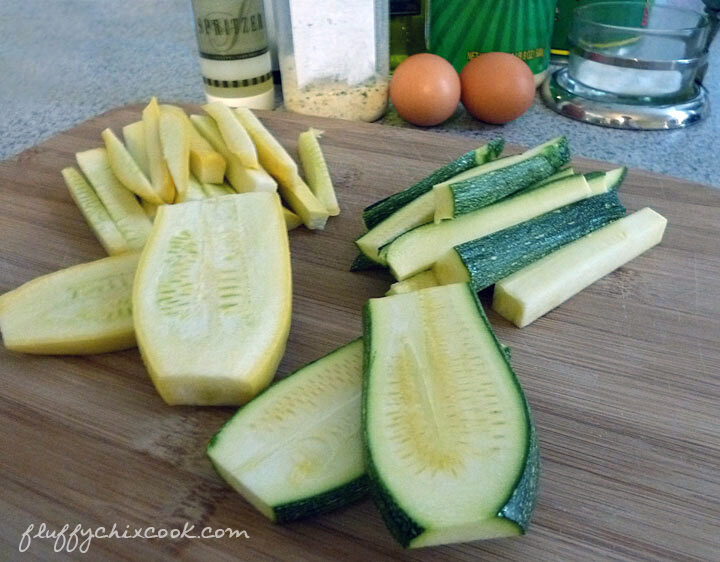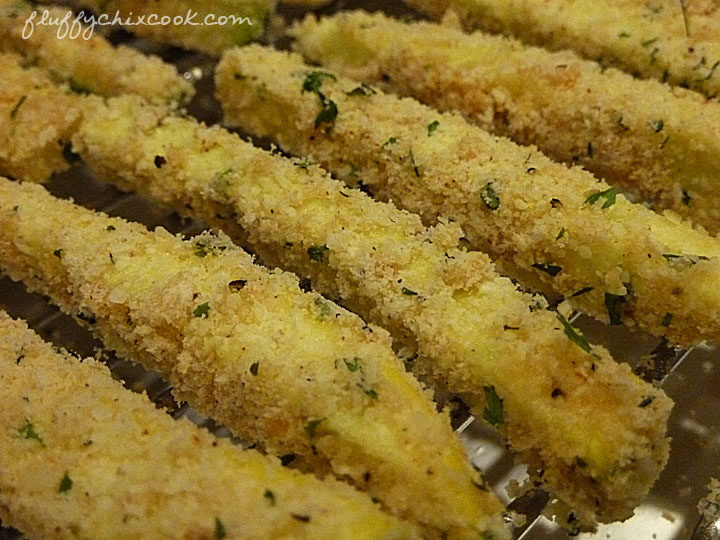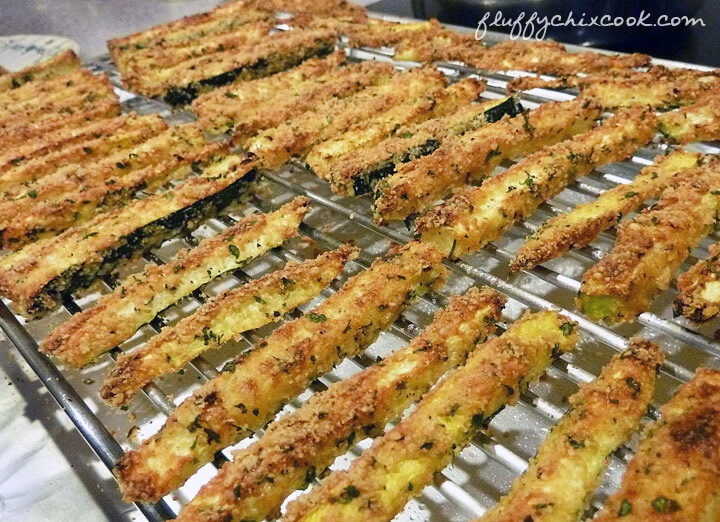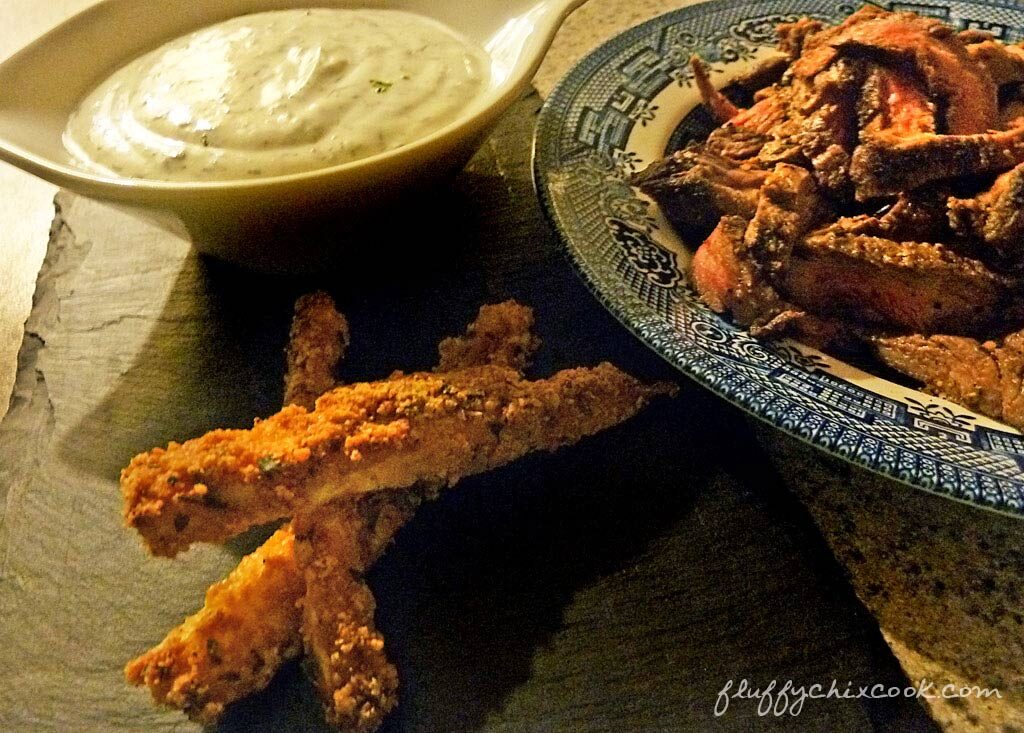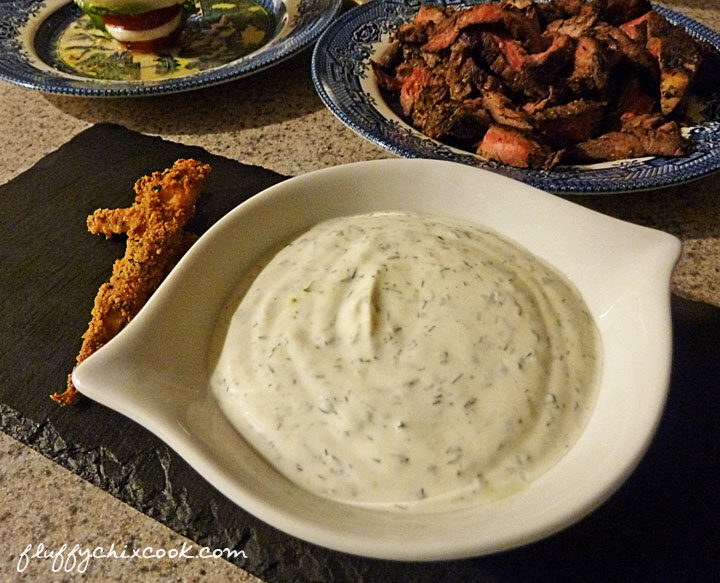 You may have read the original version of the first summer I lived in Denver, Colorado. In case you haven't read it, be sure to read the original post here at the Fluffy Chix Cook Recipe Archives. Anyway, I planted a small garden in the corner of the back yard. In that garden, I planted one zucchini plant. And that zucchini plant became so prolific, it fed half the neighborhood for an entire season, courtesy of the "zucchini bunny." Each morning, in the quiet light of dawn, I stealthily delivered zucchini offerings to the front doormats of my neighbors—just to keep up with the zucchini production
That single zucchini plant also fed our freezer with grated zucchini, sliced zucchini, zucchini lasagna, ratatouille, zucchini bread and so many famously delicious zucchini recipes. I couldn't possibly list them all. But fried zucchini chips or French fried zucchini strips were one of the favorite methods to utilize the graces of that power-producer. (Of course, in those days, I was ignorant. Flour, gluten, and deep fat fryers filled with vegetable oil were involved. Can you say inflammatory sh*t storm? Course you can.)
More About PUFA
Vegetable oil, sometimes referred to as
PUFAs
are necessary for life, but most of us eat a dangerous balance of PUFAs relative to other fatty acids such as monunsaturated fatty acids (like olive oil), or fish oil (omega 3 fatty acids).
PUFA or polyunsaturated fatty acid
is a term used to loosely define a group of oils made from polyunsaturated fatty acids that get
partially hydrogenated
in order to protect the oils from going rancid as quickly. Partial hydrogenation is a highly processed, man-made method of producing liquid oils through the use of chemicals, catalysts of heat and pressure, resulting in the formation of oils rich in trans fats. Remember, everyone in the universe, now accepts that
trans fats
are partially responsible for clogged arteries. You can read a little more about trans fats on Fluffy Chix Cook's
Basic Mayonnaise post
.)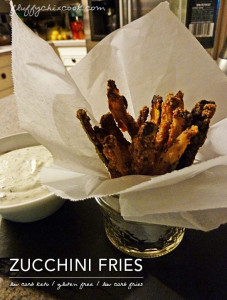 Once we saw the low carb keto light way back in 2000, we morphed the fried zucchini recipe to include Keto Crumbs—a delicious blend of pork rinds and grated Parmesan cheese with spices. We also ditched the deep fat frying for an oven fried version, because oven frying saves a lot of time and messy cleanup. Oven frying yields crispy zucchini fries that melt in your mouth and offer great crunch, while being convenient and easy on the cook. They make a super DDS (dip delivery system), too. Check out Fluffy Chix Cook's Creamy Ranch. You can find more low carb dressings and dips by Fluffy Chix here.
What is your favorite way to cook zucchini?
Low Carb Fried Zucchini – Fries and Chips
Go ahead, breakup with those carby French fries, partially responsible for keeping you chained to that extra 20 pounds on your hips. Low Carb Zucchini Fries are 100% satisfying and guilt-free, taste amazing, and won't be responsible for the next 20.
Ingredients
7 ounces zucchini (about 1 medium)
2 tablespoons egg whites—or carton egg whites (All Whites)
1/3 cup Keto Crumbs
Instructions
Preheat oven to 450°. Line a baking sheet with parchment paper. Place a wire rack on parchment. Set aside until ready to bake.
Trim zucchini and cut it crosswise into 2 equal lengths. Cut each half into fries or 1/8-inch thick chips, sliced slightly on the diagonal. For fries, cut each half into equal wedges, lengthwise, to make long fingers. You can also slice each half into 4 planks. Slice each plank into 1/2-in fries or strips. Each zucchini should yield about 16 fries.
Beat egg whites until foamy, about 30 seconds. Shake about 1/3 of the Keto Crumbs into the bottom of a pie plate. Spread them around a bit. Dredge zucchini strips in egg whites. Do them all at once, tossing the zuccs to make certain each strip is completely covered in egg white. Tap off excess egg whites. Place into pie pan on top of crumbs. Shake Keto Crumbs over zucchini strips. Press the crumbs into the zucchini with the palm of your hand. Press them on! Wiggle them around until the crumbs in the bottom of the pan adhere and the strips are completely coated.
Notes
These are one of Fluffy Chix Cook's favorite solutions to cravings for French fries. Perfectly low carb, these oven fried zucchini strips satisfy the need to pick a fry up with your fingers and dip it in creamy sauce. This method works for almost any firm veggie and frees you from the high carb French fry cravings. Of course, we don't have to tell you Low Carb Zucchini Fries do not taste like French fried potatoes. They taste like zucchini, of course! But they are lip smacking good and as Daddy used to say, "They taste good enough to eat!" At 4g Effective Carbs, they're a bargain and a low carber's longtime friend.
Serving Idea: Serve with low carb keto Creamy Ranch or Blooming Onion Sauce
Nutritional Information Per Serving: 134 Calories; 6g Fat (39.7% calories from fat); 13g Protein; 7g Carbohydrate; 3g Dietary Fiber; 19mg Cholesterol; 4g Effective Carbs
Copyright © 2013 Fluffy Chix Cook. All rights reserved.
http://fluffychixcook.com/low-carb-fried-zucchini-fries-and-chips/
Copyright © 2016 Fluffy Chix Cook. All rights reserved.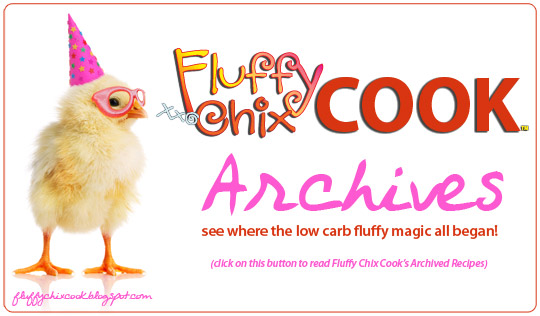 Copyright © 2013 Fluffy Chix Cook. All rights reserved.
We are not dieticians, nutritionists or medical professionals. The materials on this blog are for informational (and fun) purposes only. We do not fact check, nor do we worry about sources. Please do your own fact checking. We encourage you to look things up and check with your doctor or health care professional before acting on anything seen on Fluffy Chix Cook. xoxo