Low Carb Fries – Deep Fried Artichoke Hearts Asparagus and Olives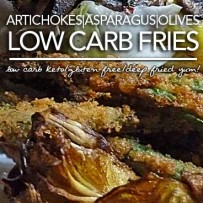 Do you crave French fries and fried onion rings? Do you miss picking up a crunchy deep fried delicious something to eat with your burger and wish for a low carb French fry substitute? So did we! Until we found Fluffy Chix Cook and their Low Carb Fries. Instant healthy low carb French fry satisfaction. The crops were saved with this handy low carb keto recipe.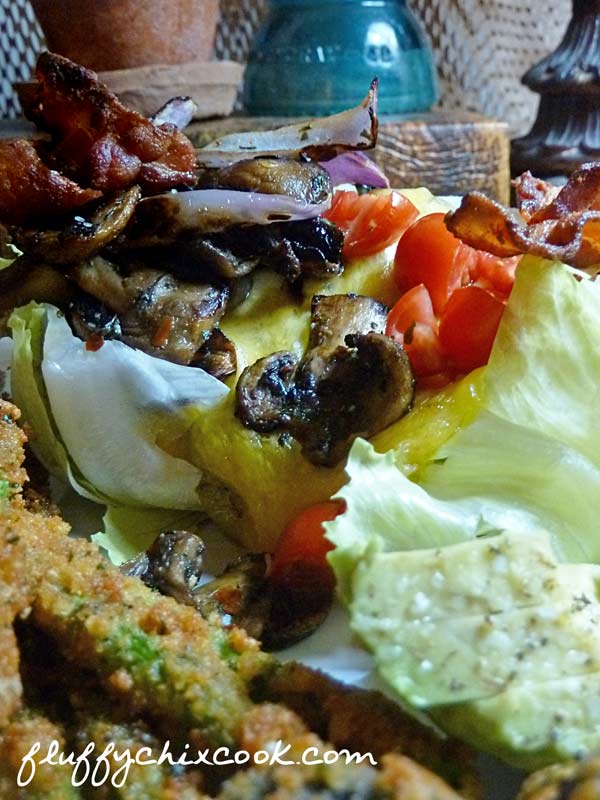 We tried to mend our carnivorous traits (er—habits) but Jimmy Buffet taught us that Cheeseburgers do belong in Paradise—especially when it's a low carb keto paradiso! So we gave up and gave in. Last night we made a gorgeous meal of grilled bacon, mushroom, and sautéed onion cheeseburgers served on a bed of crispy, madly crunchy, iceberg lettuce and dusted the stack with a few pieces of diced grape tomatoes. Whoooo doggy! Who needs a bun with that heavenly combination?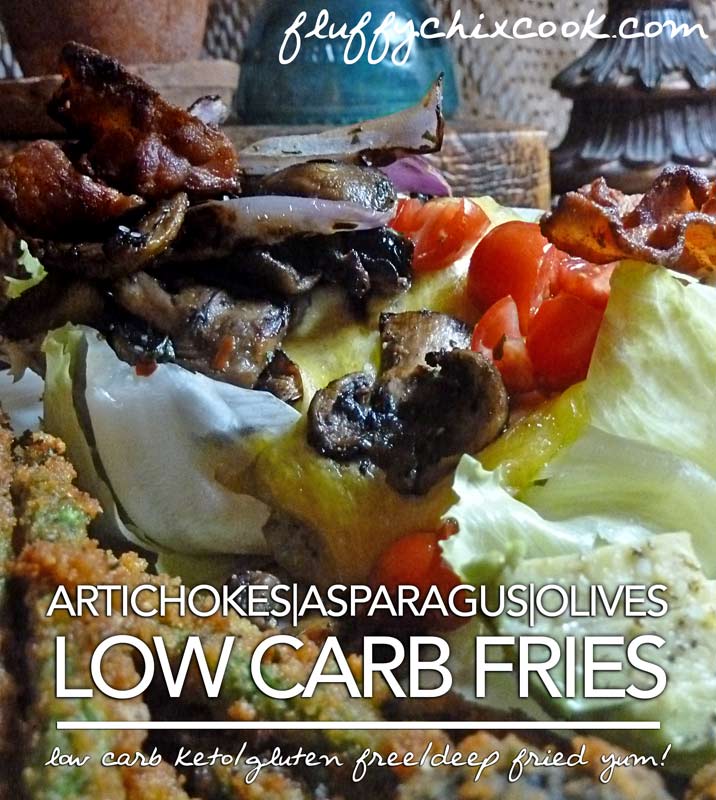 We never miss bread or buns in our low carb lifestyle. The crunch from the lettuce and unctuous flavor from sautéed veggies is more than enough to compliment a perfectly low carb grilled burger. And in the event we want to pick it up with our hands instead of eating it with a fork and knife, we have many bun/biscuit/bread recipes from which to choose. We visit the Recipe Index and scroll down to Breads. Our current faves are the Revolutionary Roll (tweaked from Dr. Atkins original recipe in the '72 book), and the Keto Bun recipe which tastes quite like a low carb Schlotsky's bun.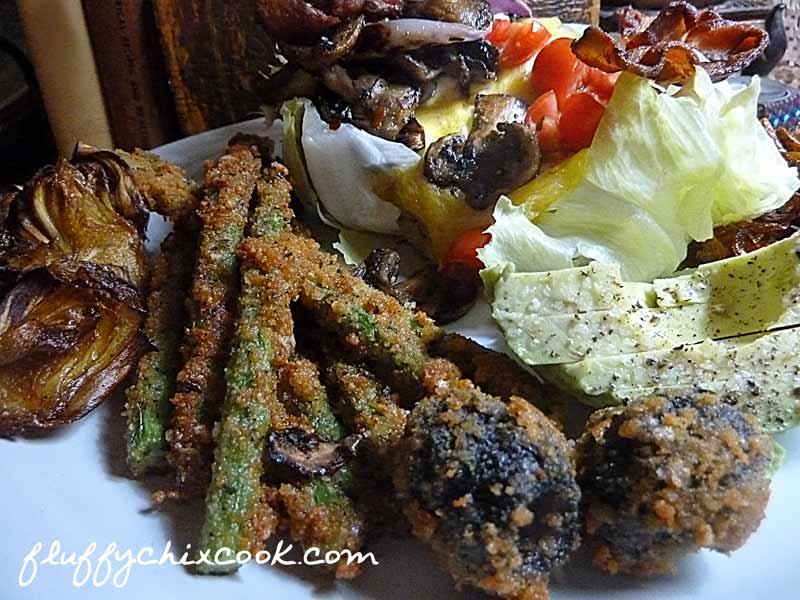 But the thing we still crave, 15 years later, is good old fashioned American French fries. LOL. But you and I both know potatoes are verboten (forbidden) in a low carb diet. We've tried to fry every veggie known to man and feel perennially disappointed due to the wimpy crunchitude in the results. I hate limp deep fried anything. And it's not even as if we deep fry very often, because we prefer oven frying for its simplicity and easy clean up. But dangit! Sometimes you just WANT deep fried French Fries! What's a low carb ketoneer to do?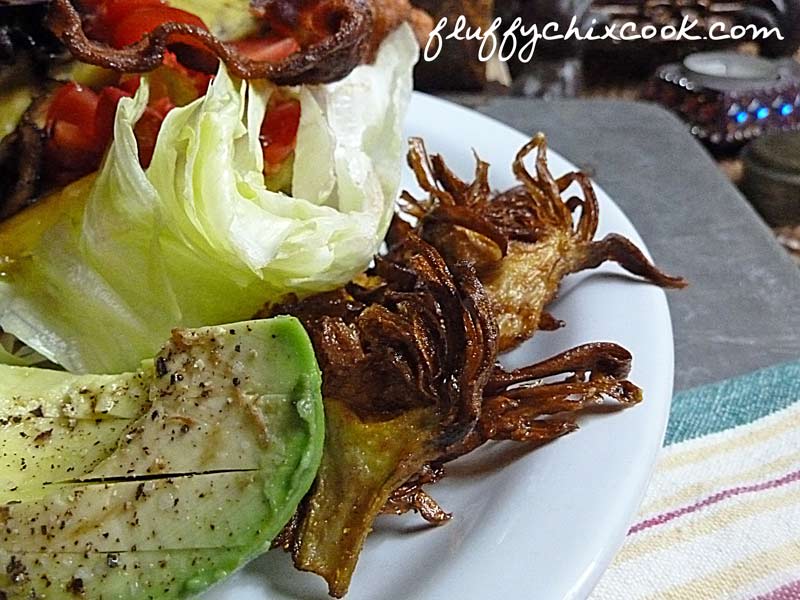 Simple! Thanks to our pal Judy Barnes Baker, author of Nourished, a veritable low carb bible with a wealth of low carb keto information, we're set for life on the French fry front. Judy demonstrated in her incredible Deep Fried Artichoke Heart recipe, that artichoke hearts make perfectly crunchy, gorgeously crispy, fried food that can be picked up with your fingers and delivered to your pie hole with ease! Holy crap they're fantastic! Mr. Fluffy declared that it's the ONLY way that artichokes are permissible and should ever be eaten. (Um, clearly, Mr. Fluffy does not share my love of the gorgeous thistle flower.) But I'm not joking. Fried artichoke slices are so close to low carb perfection you will eat them every week.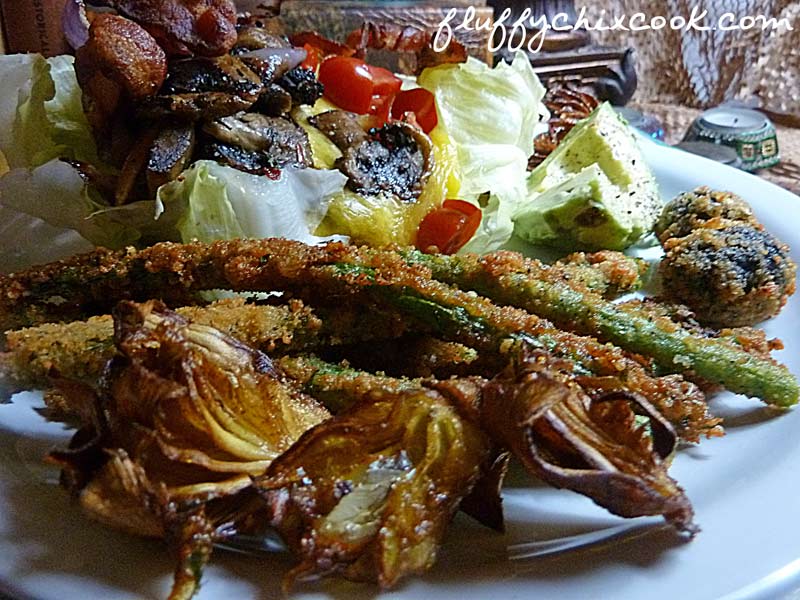 We were also surprised by the Low Carb Fried Asparagus Spears. We've been rolling asparagus in egg white and Parmesan for years then oven frying or pan frying. You get a lovely, delicate shell, but not full frontal crunch. You get that big, bold, beautiful crunch when you coat these bad boys in egg whites and Keto Crumbs and deep fry the crap outta them. Seriously. Crunch!!! Am I yelling? Totally satisfies the FF need for feed. (Oh and hey, this works great on frozen green beans too!)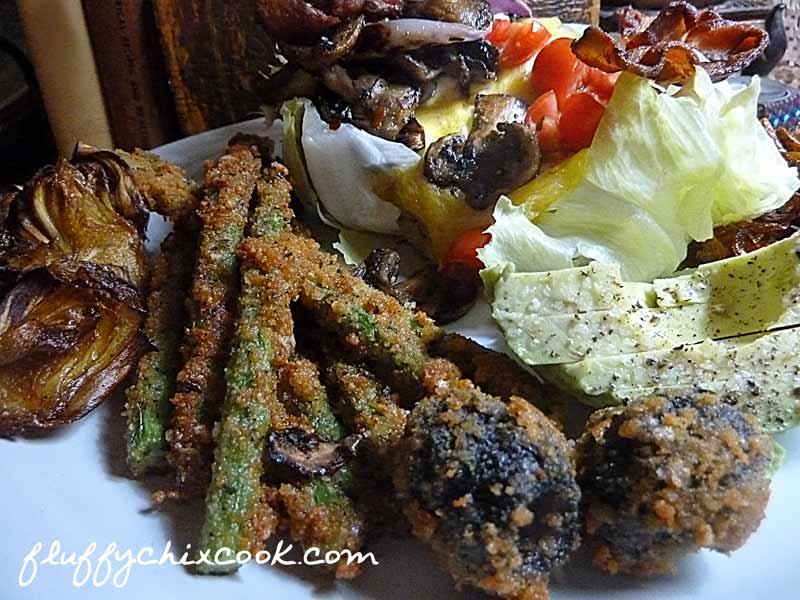 The last little gem under discussion is fried Black Olives. Yes, yes. We know. We've roasted them in every combination, with every derivation and loved them for years. We've even been known to slap them into the grill pan and grill them with veggies. Big wow! So yum! But dredging in egg whites and coating with Keto Crumbs, then deep frying until GBD—well it's just something you must try. The only regret we have is that we did not stuff them with blue cheese and freeze them prior to frying to keep the blue cheese from melting before the olive is fully fried. We just had no patience to do it.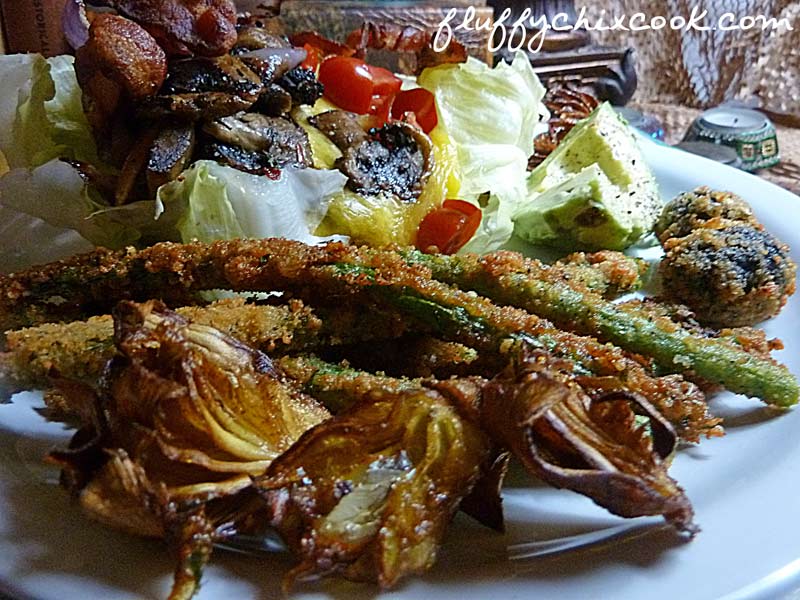 Mr. Fluffy and I gave this meal a big 9.5 on a scale of 1-10 (10 being the highest). Mr. Fluffy never gives 10s, believing that perfection can never be obtained…well, there was that one time in banned camp. hehehe.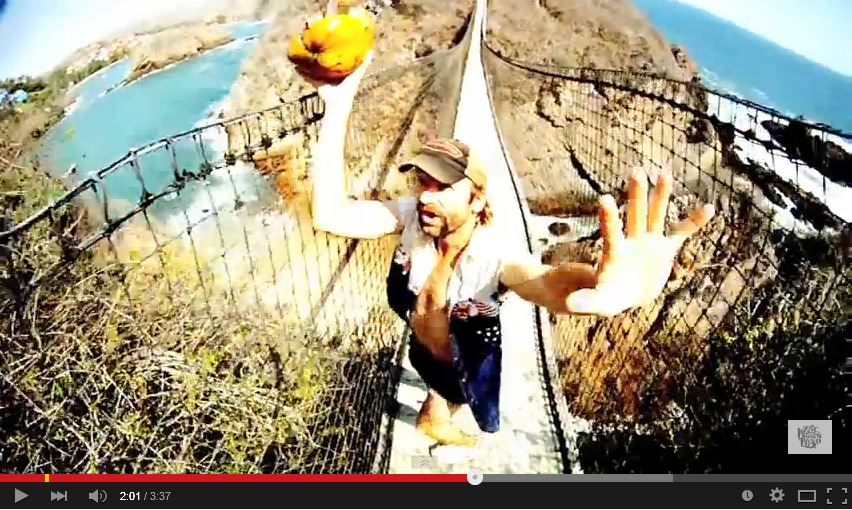 And here's a little tune to make you happy while you crunch and munch! Cuz don't we all deserve a little Havana day dreamin, and fun in the sun?
We hope you will go try this meal and especially the Low Carb Fries, the stumble back here with stunned disbelief and pop a comment below! We are comment freaks and promise to reply personally! Seriously guys, these deep fried veggies are game changers; as big a game changer as the Psylli Pasta, Induction Cornbread, and MHKBM (Mile High Keto Biscuit Mix.)
Low Carb Fries – Deep Fried Artichoke Hearts Asparagus and Olives
Ok, so maybe they aren't French fries, but they are crunchy, delicious, satisfying and won't spend a lifetime on your hips or in your arteries!
Ingredients
Instructions
Drain whole artichokes on paper towels, open end down, for 2 hours. Slice into 4 equal size slices lengthwise so that each slice contains part of the stem end. Sprinkle hearts with granulated garlic and cayenne. Reserve for frying.
Drain black olives, open end down, for 2 hours. While olives drain, wash and trim 2-3 inches off the stalk end of the asparagus. Drain with olives.
Combine Keto Crumb breading mixture in a pie plate and stir to evenly mix.
Pour egg whites into a pie pan. If using fresh whites from a shell, lightly beat with a fork to loosen them a little.
Dip asparagus and olives in egg whites. Shake crumbs over asparagus and olives. Try to coat all sides! You can also roll them in the crumbs a few pieces at a time. Let crumbs and veggies hang out and mingle on the plate for 30 minutes. It helps set the coating to keep it from flying off while frying.
Heat 3 inches of oil in a deep, heavy sauce pan, or fryer. Heat oil to 375°. Fry artichoke slices first. They will take the longest. Fry until brown. Flip frequently but try not to break up the slices. Remove and drain on a wire rack. Fry in 2 batches.
Fry asparagus and olives together in 2-3 batches until golden on all sides (about 2 minutes). Remove and drain on wire rack. Do not salt!
Cool oil completely, strain, and refrigerate in a glass container until the next use.
Notes
If you're cravin' like a raven, wanting French fries or fried onion rings from your previous high carbage days, then these veggies are your ticket to low carb nirvana. They are THAT good. Judy Barns Baker turned me on to fried artichoke hearts on her Carb Wars Blog. They are simply phenomenal and you get 8 pieces (2 whole hearts) for only 2g net effective carbs. How's that for low carb? The asparagus rocks. We've been coating them in egg whites and Parm and baking as well as pan frying for many years. They're a perennial fave at parties, but deep frying in the Keto Crum Mix rocks our world and totally satisfies FF cravings. You'd never think, Oh today I will deep fry black olives. But heck fire! Our only regret is that we had not stuffed them with blue cheese prior to the bath of hot oil. So good.
Figuring the fat content is tricky. How much was really used? Well we're gonna go with Crisco's estimate, It all came back except for 2 tablespoons. Which is probably generous.
Serving Ideas Serve with your favorite proteins. Great with grilled bunless burgers!
Nutritional Information per serving before frying 155 Calories; 7g Fat (38.6% calories from fat); 16g Protein; 8g Carbohydrate; 3g Dietary Fiber; 5g Effective Carbs
per serving with extra frying fats included 275 Calories; 20g Fat (65.4% calories from fat); 16g Protein; 8g Carbohydrate; 3g Dietary Fiber; 5g Effective Carbs
Copyright © 2014 Fluffy Chix Cook. All rights reserved.
http://fluffychixcook.com/low-carb-fries-deep-fried-artichoke-hearts-asparagus-and-olives/
Copyright © 2016 Fluffy Chix Cook. All rights reserved.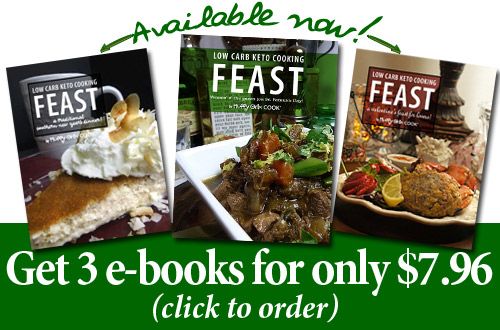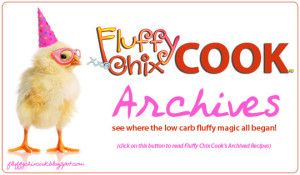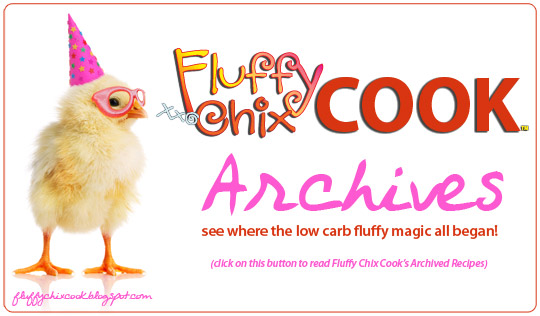 Copyright © 2014 Fluffy Chix Cook. All rights reserved.
We are not dieticians, nutritionists or medical professionals. The materials on this blog are for informational (and fun) purposes only. We do not fact check, nor do we worry about sources. Please do your own fact checking. We encourage you to look things up and check with your doctor or health care professional before acting on anything seen on Fluffy Chix Cook. xoxo