Low Carb Guinness Chocolate Sauce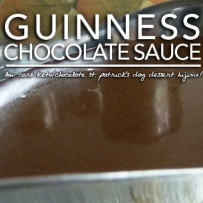 By the Do you love chocolate sauce but think you can't eat it in a low carb lifestyle? What if we told you Fluffy Chix Cook has a low carb chocolate sauce with a rich, deep, dark chocolate flavor, fortified by Guinness, and coffee. This healthy low carb chocolate sauce has only 1g of effective carbs, are you excited yet? Slather Low Carb Guinness Chocolate Sauce over low carb ice cream, and desserts.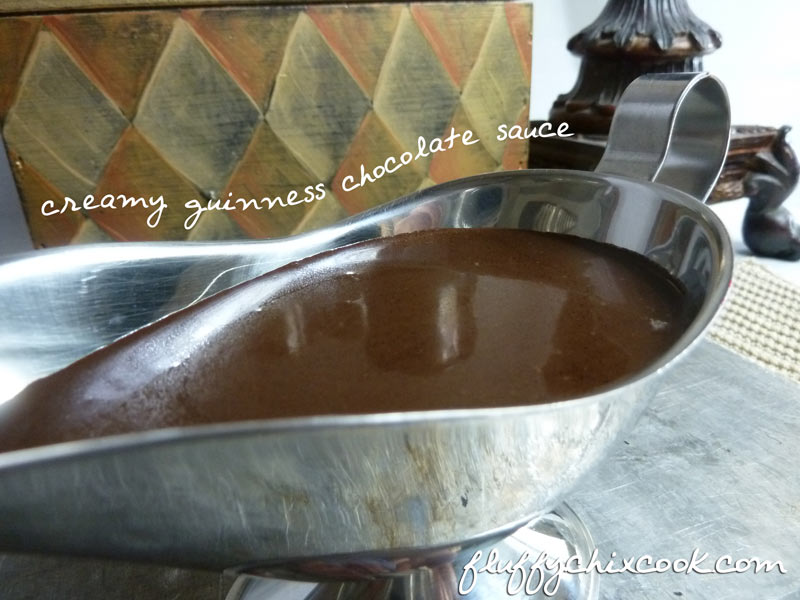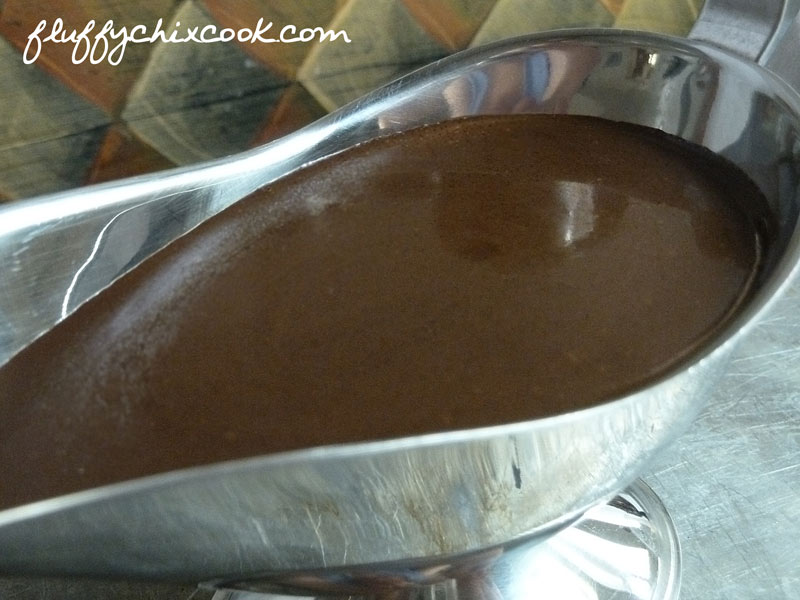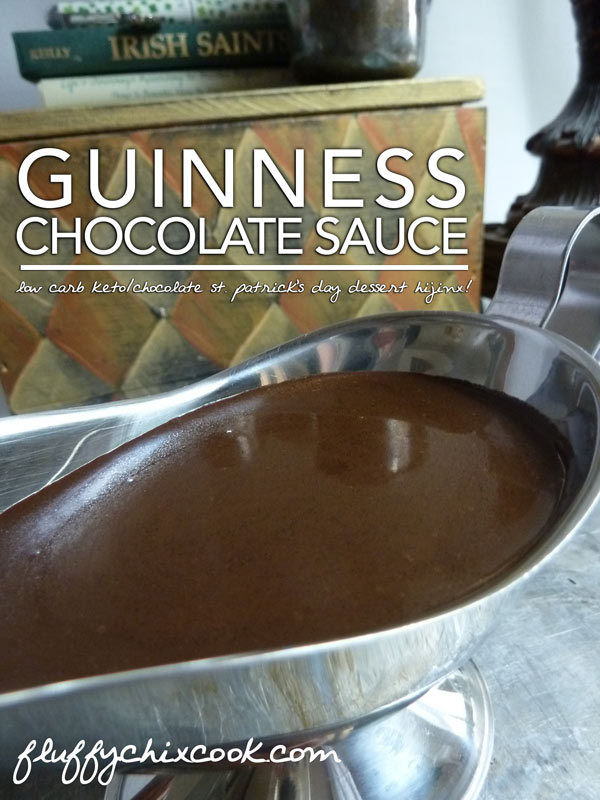 If you're looking for a rich chocolate sauce that kicks booty on everything from ice cream to cake and beyond, try the low carb keto Guinness Chocolate Syrup. It's the absolute bomb on Low Carb Irish Cream Ice Cream! For only 1g Effective Carb per tablespoon you can enjoy a low carb chocolate sauce that satisfies your chocolate cravings. And it rewarms like a champ! Plus the added bonus is that high cacao chocolate is packed with big nutrition: magnesium, potassium, iron, and other trace minerals, and has powerful disease fighting polyphenols, resveratrol (a potent anti-inflammatory), and has many health benefits.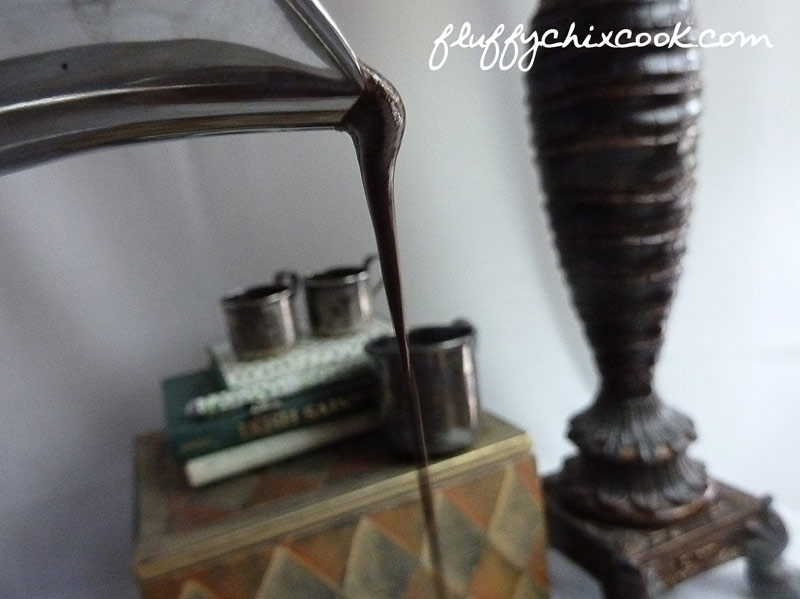 By the way, it's important to know that Guinness Stout is made from grain and contains gluten. So if you want to avoid gluten, simply sub it for more brewed coffee and reduce it as you would the Guinness-coffee mixture.
Low Carb Guinness Chocolate Sauce
Rich and delicious chocolate sauce perfect for St. Patrick's Day or any day of the year!
Ingredients
Instructions
In a small sauce pan reduce Guinness Stout and black coffee to half the volume (about 3 fluid ounces). Remove from heat and stir in cocoa powder. Stir with a small spatula until smooth. Add sweeteners.
While stout and coffee reduce, Combine chocolate and coconut oil in a microwave proof bowl. Nuke on high in 15 second bursts. Stir after each interval. Remove when chocolate is about 80% melted. Stir until chocolate melts completely. Slowly stir stout mixture into melted chocolate. Stir until smooth.
Do not panic if sauce starts to separate. Immediately begin adding cold water by the tablespoon full. Stir after every addition. It may take as much as 2-4 tablespoons to bring the sauce into a smooth creamy sauce. Serve 1-2 tablespoons over low carb ice cream or low carb Keto Chocolate Cake.
To rewarm place serving in a microwave bowl and nuke for 5 seconds each time, stirring between nukes.
Notes
This is a rich and hearty chocolate sauce. The Guinness and coffee really intensifies the chocolate experience. Don't be afraid of the sauce separating. That can happen when working with high cacao concentration chocolate. If you see it happening—it starts to look grainy or thickens suddenly—immediately jump on the ice water solution described in the recipe. Add it a spoon at a time and slow stir. We can honestly say with patience and guts, we've never lost a chocolate sauce!
Serving Ideas Serve over low carb ice cream or your favorite low carb mug cake such as the Fluffys Keto Chocolate Cake.
Nutritional Information per tablespoon 55 Calories; 6g Fat (77.6% calories from fat); 1g Protein; 2g Carbohydrate; 1g Dietary Fiber; 1g Effective Carbs
Copyright © 2015 Fluffy Chix Cook. All rights reserved.
http://fluffychixcook.com/low-carb-guinness-chocolate-sauce/
Copyright © 2016 Fluffy Chix Cook. All rights reserved.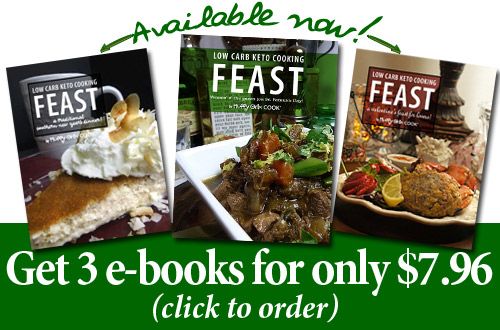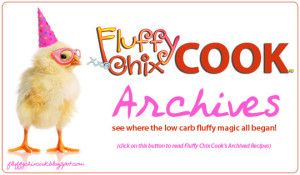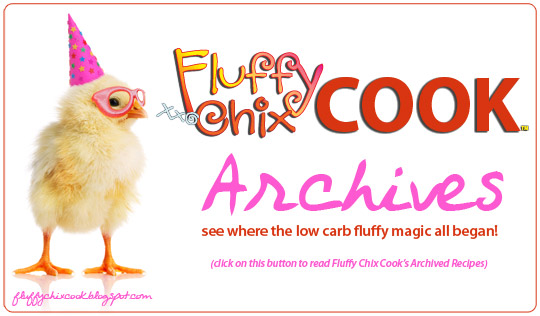 Copyright © 2014 Fluffy Chix Cook. All rights reserved.
We are not dieticians, nutritionists or medical professionals. The materials on this blog are for informational (and fun) purposes only. We do not fact check, nor do we worry about sources. Please do your own fact checking. We encourage you to look things up and check with your doctor or health care professional before acting on anything seen on Fluffy Chix Cook. xoxo