Low Carb Keto Italian Sausage Soup – Guest Post from Soren Schreiber Katz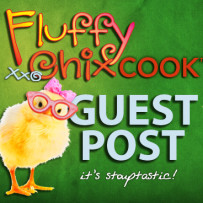 Soren Schreiber-Katz, food blogger and recipe developer at the Just Fork It Blog, talks low carb keto "stoup" with Fluffy Chix Cook. "Stoup," which translates to "soup so thick and chunky it should be called a stew," is hearty and satisfying. It's filling and provides comfort and warmth, perfect for cold winter months. The best part about this nourishing low carb keto stoup? It's made from ingredients most of us have on hand, or can procure without a lot of hassle!

The Fluffys could eat low carb ketolicious soup, stew, or stoup every day of the week, especially during all 2 weeks of winter. Hehe, we're on the Texas Gulf Coast, and it's hotter than hades for about 50 weeks out of the year. So for those 2 weeks of bitter cold (ahem, 30 degree Fahrenheit weather), we hunker down and endure…in our shorts, and Cousin Eddy fold-up cap, and our boots. Let me just say, fires are involved. And blanklies. And when these cold days hit, we're prepared with thick, hunger-buster soups like this little Italian number from Soren. It tastes so much like Italian Wedding Soup, without the hassle of rolling meatballs.
We love that it's so low carb and is made from ingredients most of us have hanging out in DS9 (Deep Space 9 = Fluffys' Chest Freezer). We always keep "saursages" and bulk breakfast sausage in the freezer "pantry," because you never know when we're going to bust out a recipe like Soren's low carb keto Italian Sausage Soup. Enjoy, or maybe we should say, "Mangia!" Bueno notte (Good Night). Turn out the lights. The End.
Soren Schreiber-Katz and I have known each other for many years, from our days in LCF (a low carb support board), Help & Recipe Discussion room. She would come in with these recipes that were just jaw-droppers. I mean, really—jaw-droppers! If you haven't seen her mini Pecan Pie recipe, then hustle over to the Fluffy Chix Cook Recipe Archives and read about them. They are truly divine and are a DFSW (delicate flower of Southern womanhood) staple. Every Southern Belle, low carb or not, needs a pecan tassie recipe and now we can have them sugar free. Score!
(Oh but wait, there's more! Sure you can make Soren's low carb Italian Sausage Soup in the slow cooker, or in a stainless steel Dutch oven. No problem. But we seriously adore our enameled cast iron Dutch Ovens for slow cooking soups, stews, and stoups! They are heavy, for certain, but they control heat and resist scorching. They go from stove top to oven like a champ, so you can brown your ingredients, then add the liquid, cover and cook in an oven or on top of the stove. We love Le Creuset or Lodge, but there are cheaper knock-offs out there that work equally well. The knock-offs tend to chip a little, exposing the cast iron and creating a bit of rust, but in general, if you hand wash them and take proper care, they will outlast your lifetime and maybe even several generations. Our two favorite sizes are the medium 5 ½ Quart size (Le Creuset). Lodge's medium is a 6 Quart size, and the larger Le Creuset Dutch oven 7 ½ Quart, great for big volume recipes.
Low Carb Keto Italian Sausage Soup – Guest Post from Soren Schreiber Katz
This isn't my original recipe—this comes from a recipe someone posted on a low carb support board ( lowcarber.org). It was printed in a low carb cookbook: The Low-Carb Gourmet by Karen Barnaby. I loooove this book. I do have some tweaks (of course) so here you go! ~ Soren
Ingredients
1lb mild or hot Italian sausage, casings removed
6 slices bacon—or 1 cup leftover pork roast or ribs, chopped
1/2c chopped onion
2 garlic cloves, peeled and minced—or pressed
4c of beef bone broth—or organic chicken broth or beef broth
10-oz package organic frozen chopped spinach, no need to thaw
1c heavy whipping cream
Garnish (Optional)

1 tablespoon Parmesan cheese, grated—per serving
Instructions
Cut up the bacon and take the sausage out of the casings, and brown until no longer pink. Add the chopped onion and garlic, and cook until translucent and onions are softened, about 5 min.
Add the stock, a little at first and scrape up all the brown bits--that's GREAT FLAVOR and you can't leave it stuck to the pot, then add the remaining stock.
Then add the spinach and let that melt into the soup.
Stir now and then, for about 15 minutes (or longer if you forget about it).
Add the cream and heat through, but don't boil. Now's a good time to package up for freezing.
Notes
you can use all 1 kind of sausage, of course :), or you can mix it half mild and half hot. My current pot of soup (see pics) has some leftover pork ribs instead of bacon. And of course, use beef, chicken or veggie stock, whatever you have on hand. Also-- I usually double or triple the recipe-- it freezes REALLY well. Even with the cream in it already, it's fine.
Serving Ideas Serve with a small salad or a low carb roll.
Nutritional Information
Per Serving (1/6th recipe without variations or garnish): 559 Calories; 47g Fat; 25.9g Protein; 6.4g Carbs; 1.5g Fiber; 4.9g Effective Carbs
Copyright © 2015 Soren Schreiber-Katz. All rights reserved.
http://fluffychixcook.com/low-carb-keto-italian-sausage-soup-guest-post-from-soren-schreiber-katz/
Copyright © 2016 Fluffy Chix Cook. All rights reserved.
Subscribe to the Fluffy Chix Cook Inner Circle for cool low carb keto stuff like the Best of Fluffy Chix 2014 (coming out tomorrow to Inner Circle Members) and the January edition of FEAST by Fluffy Chix Cook, a 73 page e-book filled with many Induction and Page 4 friendly recipes perfect all year long!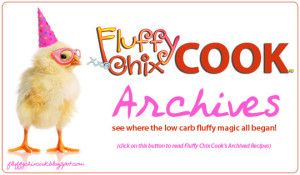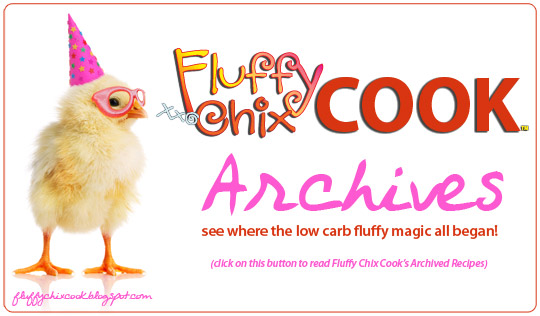 Copyright © 2014 Fluffy Chix Cook. All rights reserved.
We are not dieticians, nutritionists or medical professionals. The materials on this blog are for informational (and fun) purposes only. We do not fact check, nor do we worry about sources. Please do your own fact checking. We encourage you to look things up and check with your doctor or health care professional before acting on anything seen on Fluffy Chix Cook. xoxo