Low Carb Queso Blanco – A White Cheese Dip That Makes Your Taste Buds Sing!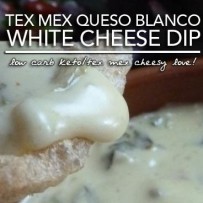 If you long for low carb American cheese recipes and are looking for an awesome queso, then you've found Fluffy Chix Cook and are in the right place. This Low Carb Queso Blanco is a healthy alternative to the high carb counterpart and gives Tex Mex a good name. Who needs high carb flour in their cheese dip? We don't!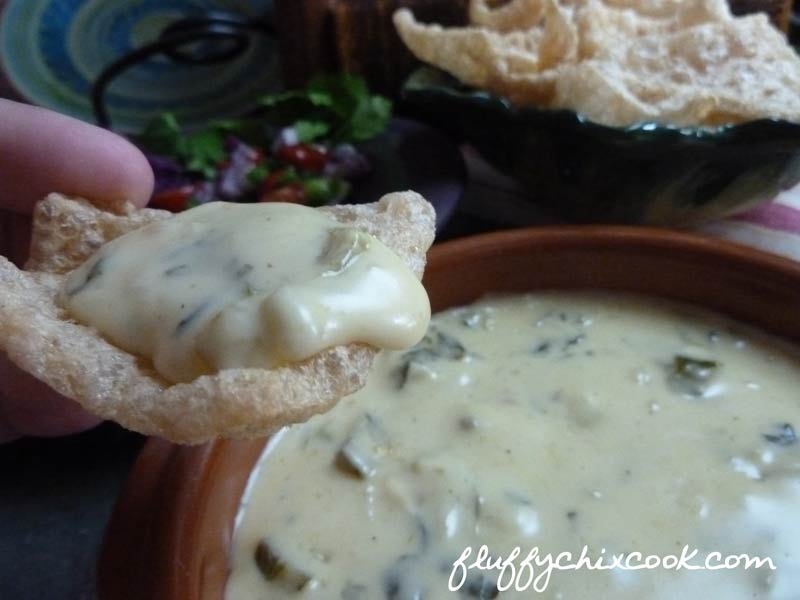 We wanted to shout out, at the top of our lungs, to the entire planet Earth (the center of the universe), about our proud Southern love for American cheese and Velveeta! We'll be doing a series over the coming weeks featuring the best-of-the-best of our TNT Fluffy little family American and Velveeta cheese recipes! Most of the recipes will use American cheese, because Velveeta changed their formulation through the years and now has 4 grams of carbs per serving. Outraged! You can use American cheese and Velveeta interchangeably in any of the Fluffy recipes.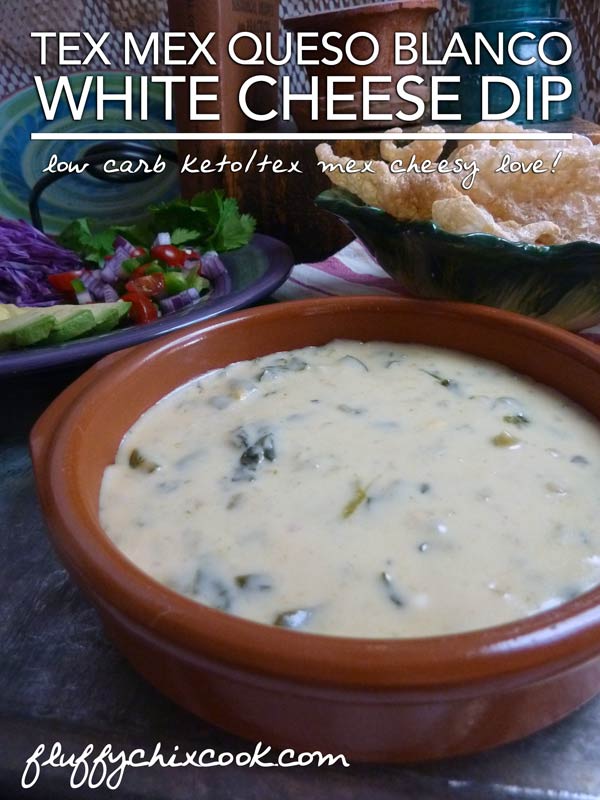 This Queso Blanco appears in our low carb keto Tex-Mex FEAST e-book and is a hit at every party. Some nights we add a little guacamole on the side and declare it "dinner." It's THAT good!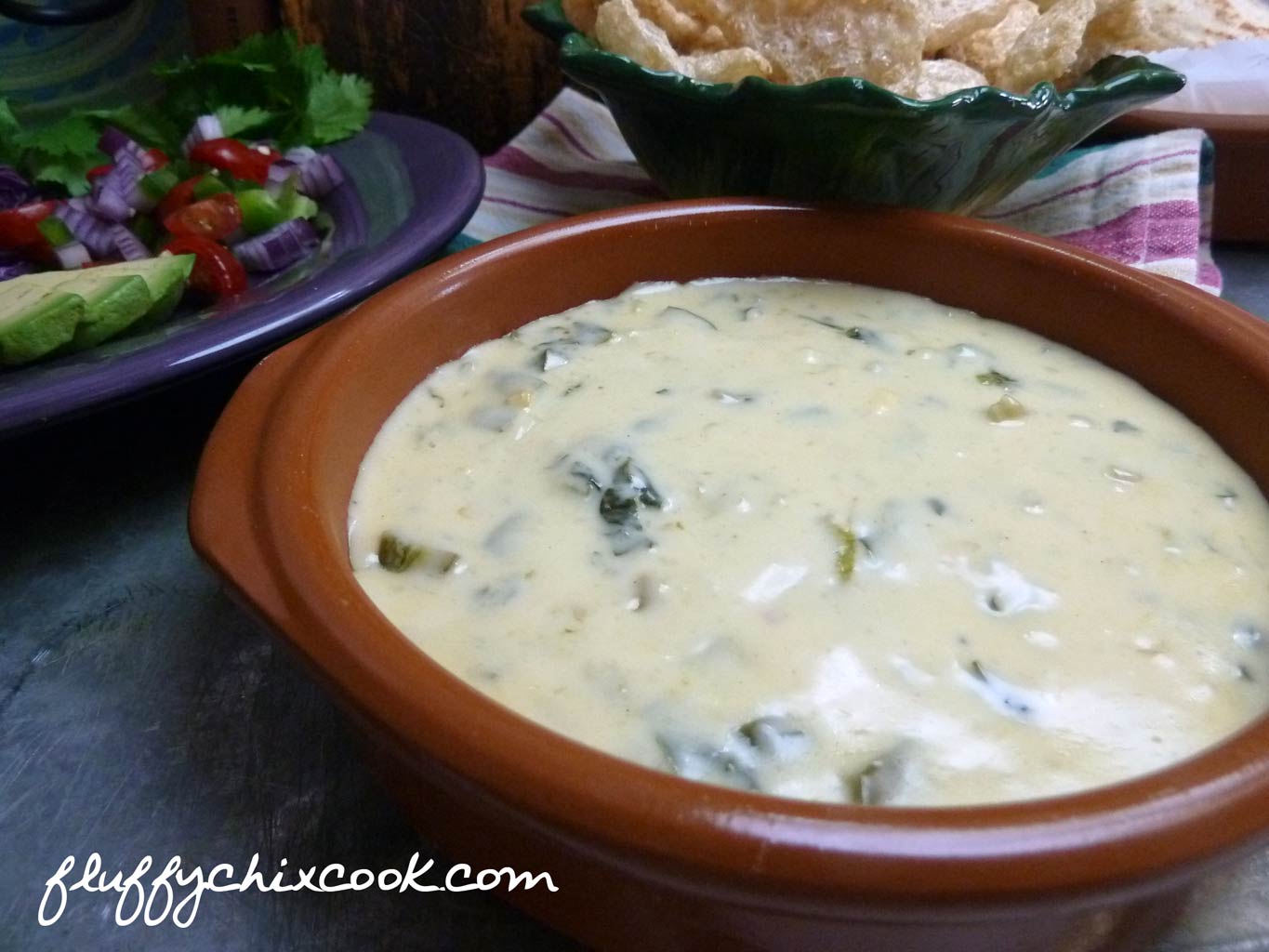 We first enjoyed this white cheese dip in a restaurant in Santa Fe, New Mexico, called La Tertulia, which was located in an old convent. Sadly, we think the restaurant no longer exists, but gosh it was a game-changing experience. That first trip, we discovered our beloved queso blanco and also fell in deep love with carne adovado…coming soon to a blog near you! 😉 (Hehehe! Look for it here, soon!)
We later met this creamy, melted bowl of cheese heaven in Austin, at El Arroyo Restaurant on West 5th, where it's still served today. It was a staple in our diet for years and we couldn't get enough. Then we went low carb and frankly just forgot about it. Blah! Funny huh? But it works so well in our low carb lifestyle with only slight modifications to eliminate the white roux base (béchamel)!
This killer low carb cheese sauce is also a fantastic topping for seafood or chicken enchiladas! That recipe will also be coming soon! Or as a sauce for grilled chicken, shrimp, or pork. Use it as a soup base to make incredibly hardy cold-weather soups! It's versatile, reheats like a champ, and freezes great; what's not to love? Hope you will try low carb Queso Blanco, and then run back here while carrying scissors to proclaim your love of American cheese and Velveeta!
If you want more fantastic low carb keto Tex Mex TNT Fluffy recipes, please go check out our e-book on the subject. You can buy it on the Fluffy Newsstand and it has over 30 amazing and authentic Tex Mex recipes, history, stories and so much more!
Also, go check out Maria's recipe for low carb Velveeta!!! We are trying it soon!!
Low Carb Queso Blanco – A White Cheese Dip That Makes Your Taste Buds Sing!
This tasty white queso is more Southwestern and elegant than the down and dirty Tex Mex garden variety queso found in Texas. You typically find this melted chile cheese dip in more Northern and Western locales such as New Mexico and California. However, both melted cheese dips (Tex Mex Chile con Queso and Queso Blanco) appear to originate from the same Mexican state, Chihuahua.
Ingredients
Veggies

2 tablespoons unsalted butter
1/4 cup onion, diced fine
1/8 cup fresh cilantro leaves, chopped (optional)
1 clove garlic, peeled and chopped or pressed
1 whole poblano chile, roasted, peeled, seeded, and diced
1 large can (4 ounce) green chiles, chopped
2 pickled jalapeno peppers, chopped with seeds
1/4 teaspoon ground cumin
2 tablespoons pickled jalapeno juice
1 cup organic baby spinach, coarsely chopped
Queso Blanco Base

1 pound white American cheese—or Velveeta, cubed
1/4 pound Asadero cheese—or Oaxacan cheese, mozzarella cheese (or more American cheese or plain Monterey jack cheese), shredded
1/4 pound pepper jack cheese, shredded
1/2 cup heavy cream
1/2 cup water
Instructions
Roast poblano over a hot fire until outer skin is black and charred. Transfer to a bowl to cool. Place a plate over the bowl to steam the chile. When cool enough to work with, scrape off the charred skin to reveal the tender green flesh underneath. Seed and chop poblano.
In a nonstick skillet over medium heat, sweat onion, cilantro, and sliced garlic in butter until translucent and tender (about 8-10 minutes). Add diced roasted poblano, green chiles, jalapeno, spices and pickled jalapeno juice. Sweating means to sauté without browning in order to cook until tender. Stir occasionally to keep veggies from browning. If they are cooking too fast, reduce heat to medium low or low. You want them wilted but not colored.
While veggies slowly cook, heat water and cream in a medium sauce pan. Bring to the slow boil over medium high heat. Reduce heat to medium. Add white American cheese cubes and let them begin melting. When American cheese is fully melted, slowly begin adding shredded cheese. Sprinkle Asadero or mozzarella cheese into the melted cheese base. Stir until fully melted. Add the pepper jack cheese in the same manner. Add it slowly to prevent the cheese from clumping into a giant ball. Stir in vegetable mixture until well combined. Add chopped baby spinach. Stir until wilted.
Transfer queso to a crock pot set to warm, or to a pre-warmed bowl. Serve hot and melted.
Notes
Queso Blanco should not be confused with the cheese of the same name. Fluffy Chix Queso Blanco is just a name used to describe the white Mexican chile con queso or cheese dip we love to serve for a change of pace from the standard Tex-Mex Chili con Queso (with the yellow cheese, Rotel tomatoes, and sometimes—Taco Meat). Both dishes are original to the Chihuahuan region of Mexico.
Asadero Cheese or Chihuahuan Cheese (stringy, white, melting cheese comparable to mozzarella or Monterey jack cheese) traditionally gets used to make true Mexican Chili Con Queso dip. But Americans have bastardized this to use cheeses such as American, Muenster, Monterey jack, and even horror of horrors, Velveeta! In Chihuahuan history, there was a substantial Mennonite settlement. They brought with them their knowledge of cheese making, and this spawned the development of cheese and dairy based chile sauces such as Queso Blanco and Chile con Queso in Mexican cooking.
Although, the true Chihuahuan version probably looks a whole lot more like Queso Fundido aka Queso Flameado (Mexican cheese fondue), than the Tex-Mex, or Southwestern style chile cheese dip we all know as Chile con Queso, this rich Queso Blanco tastes amazing and becomes addictive. Confusing, right? But no worries, we'll share recipes for each to help you sort out the textures and nature of each dish.
The Fluffys Americanize this Queso Blanco to make the recipe more universal, with easy-to-find ingredients. Not everyone has access to Asadero, Chihuahuan, or Oaxacan cheeses. Using the white American cheese is a true bastardization, but helps keep the sauce from breaking. Because we won't be adding a béchamel (water, flour, and milk mother sauce) to the recipe, which stabilizes a sauce, we add homogenized white American cheese as a sauce emulsifier.
Serving Ideas Serve with pork rinds or vegetable dippers such as red bell pepper wedges, jicama and celery. Queso Blanco also makes an awesome sauce for enchiladas, grilled veggies, and grilled meats. It also can be used as an element in soups to make quick chicken poblano soup.
Nutritional Information per 1/4 cup 204 Calories; 17g Fat (75.5% calories from fat); 11g Protein; 1.94g Carbohydrate; 0.38g Dietary Fiber; 1.56g Effective Carbs
per 1/3 cup 272 Calories; 23g Fat (75.5% calories from fat); 14g Protein; 2.58g Carbohydrate; 0.5g Dietary Fiber; 2.08g Effective Carbs
per 1/2 cup 408 Calories; 35g Fat (75.5% calories from fat); 21g Protein; 3.88g Carbohydrate; 0.75g Dietary Fiber; 3.13g Effective Carbs
Copyright © 2015 Fluffy Chix Cook. All rights reserved.
http://fluffychixcook.com/low-carb-queso-blanco-a-white-cheese-dip-that-makes-your-taste-buds-sing/
Copyright © 2016 Fluffy Chix Cook. All rights reserved.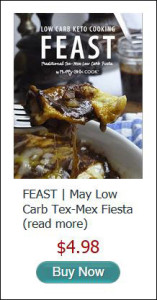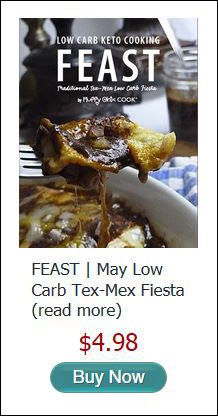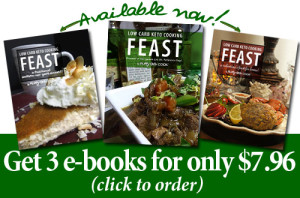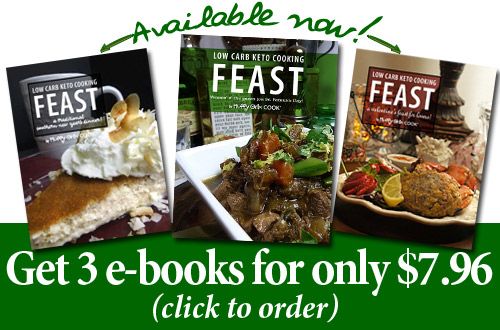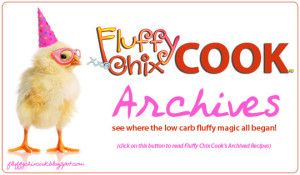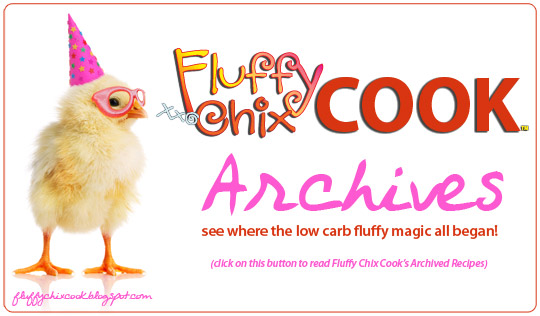 Copyright © 2015 Fluffy Chix Cook. All rights reserved.
We are not dieticians, nutritionists or medical professionals. The materials on this blog are for informational (and fun) purposes only. We do not fact check, nor do we worry about sources. Please do your own fact checking. We encourage you to look things up and check with your doctor or health care professional before acting on anything seen on Fluffy Chix Cook. xoxo