Low Carb Reuben Salad – A Salute to the Old Alfred's Deli in Houston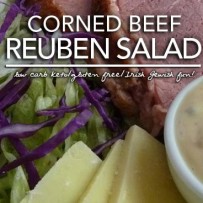 Using up leftover corned beef from St. Patrick's Day has never been an issue for Fluffy Chix Cook. Their problem is ending up with enough leftover corned beef to make all the TNT family favorites vamped into healthy low carb leftover corned beef recipes. A simple use for low carb corned beef leftovers, and a Fluffy fave, always goes to the Reuben Salad in honor of Mr. Alfred from Alfred's Deli. Find out how Alfred's Deli influenced little Susie to become the Fluffy cook she is today and get the recipe for a fantastic low carb Reuben Salad that will totally kill your salad boredom.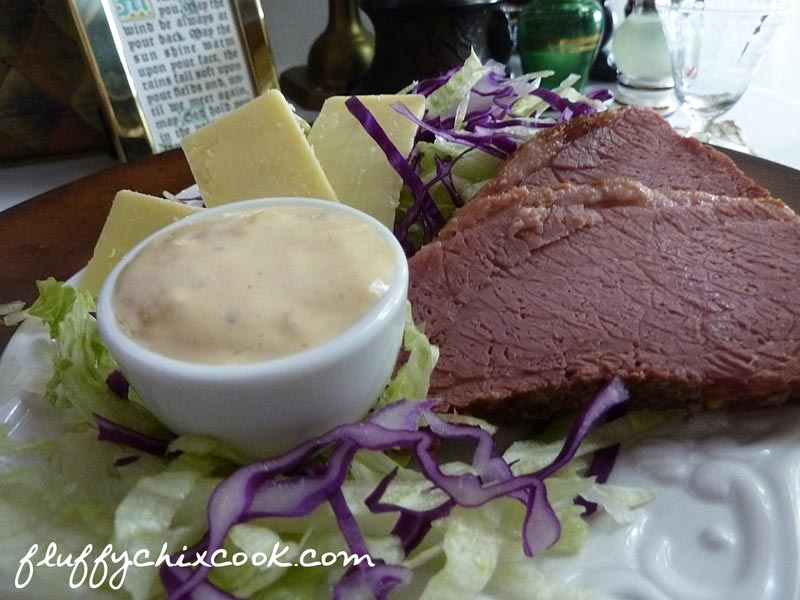 We had a little Jewish deli over by my aunt's house, growing up—Alfred's Deli on Rice Blvd. The owner, Alfred Kahn, was a German immigrant who escaped Nazi Germany and fought in the Pacific during World War II. He came home to Houston after the war and opened a Jewish deli around Rice University. They had the best corned beef and pastrami sandwiches, and had THE best Reuben's on the face of the planet. (A Reuben sandwich is a "toasted cheese" sandwich with corned beef, Swiss cheese, sauerkraut, yellow mustard, and Russian Dressing, which is similar to Thousand Island. It's melted like a patty melt and it's mouth watering. Here's a low carb Reuben we made some years back.)
Alfred's was the place to go for incredible homemade chicken soups (aka Jewish penicillin): chicken noodle, matzo ball, kreplach. We would split a sandwich and a cup of soup for an unbelievably cheap price. The chicken noodle soup was the bomb! The broth was beautifully clear, but intensely rich and you could see the lovely melted layer of chicken fat on top. Matzo balls and kreplach are traditional Jewish dumplings. Matzo balls are made from matzo meal, schmaltz (chicken fat skimmed from the top of chicken soup), egg and water. Kreplach are rolled dough stuffed with some kind of filling. Alfred's stuffed their kreplach with a chicken liver center and Mama adored them! They would float these fluffy pillows of love in the rich homemade chicken broth and I swear you could taste the love that went into every bowl.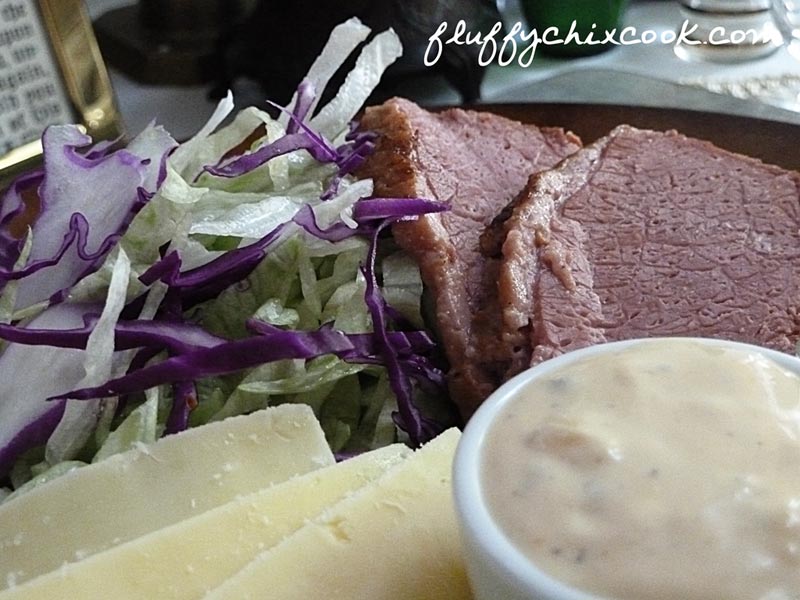 They baked their own breads and desserts. I've personally witnessed grown men weep tears of joy over Alfred's Jewish rye and mile high New York cheesecake. These were serious eats made by a family of talented chefs and restaurateurs who had intimate knowledge of real life Jewish delis in New York and Chicago. To this day I cannot repeat the tender juiciness or delectable flavor of Mr. Alfred's corned beef. It was piled so high; we'd eat half of a half sandwich and bring the rest home for another sandwich the next day. I'm certain Alfred's spawned my fixation with charcuterie, cured, and forced meats.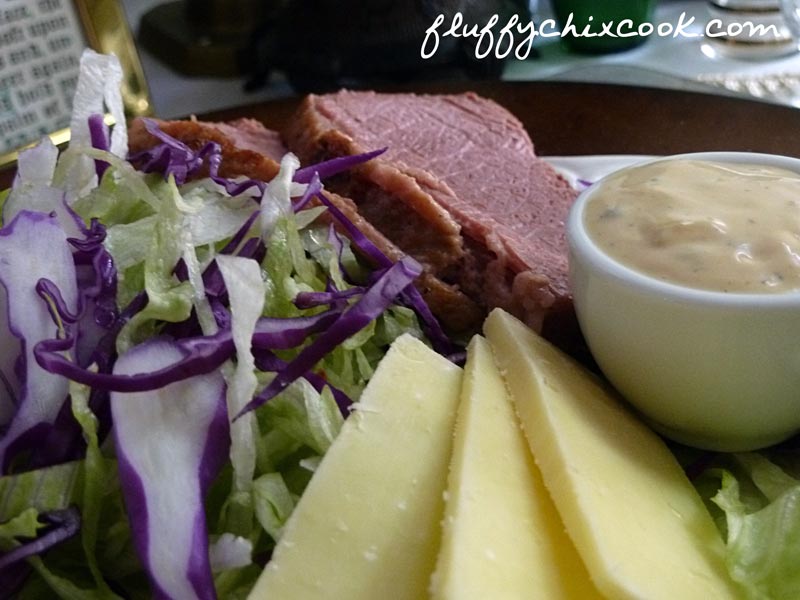 During the 60s and 70s Alfred's ruled Houston's deli scene and Houstonian's flocked to them, rich, poor, bigwig, and smallwig alike. Chances are you'd see at least a couple of people you knew. And they also sold epicurean delights and imported chocolates from Belgium and Switzerland. It was a trip just to go in and browse up and down the aisles. I think I first ran into an escargot on one of Alfred's grocery shelves!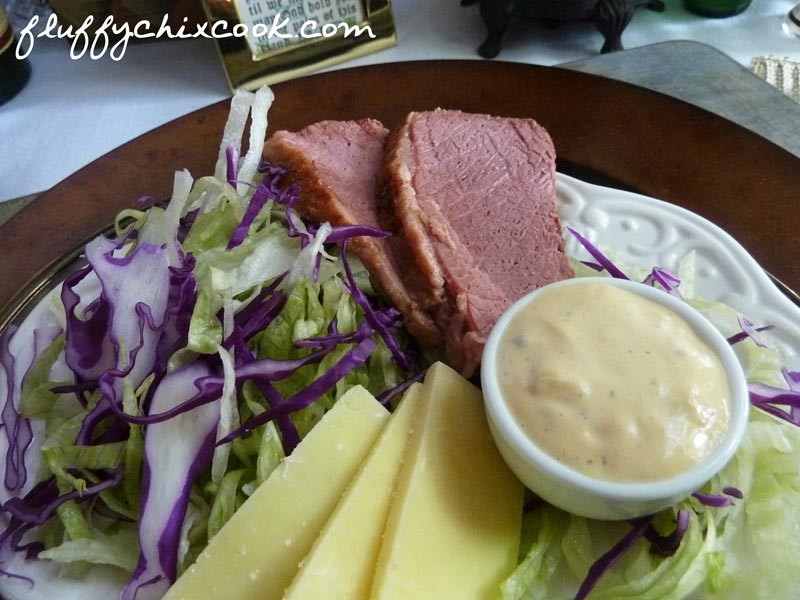 When Alfred's closed its doors, Houston lost a Texas star on its hall of restaurant fame. And sadly, Kahn's Deli, owned by one of Alfred's sons, just never could compete. It's fallen on hard times and reviews are terrible (1 and 2 stars). We ate at Kahn's once, about ten years ago, but were just completely underwhelmed. Even Mama, a staunch Alfred's devotee could not understand how Kahn's could fall so short of the mark after all the experience he had growing  up in his dad's business. And there wasn't a drop of soup in sight! *sob*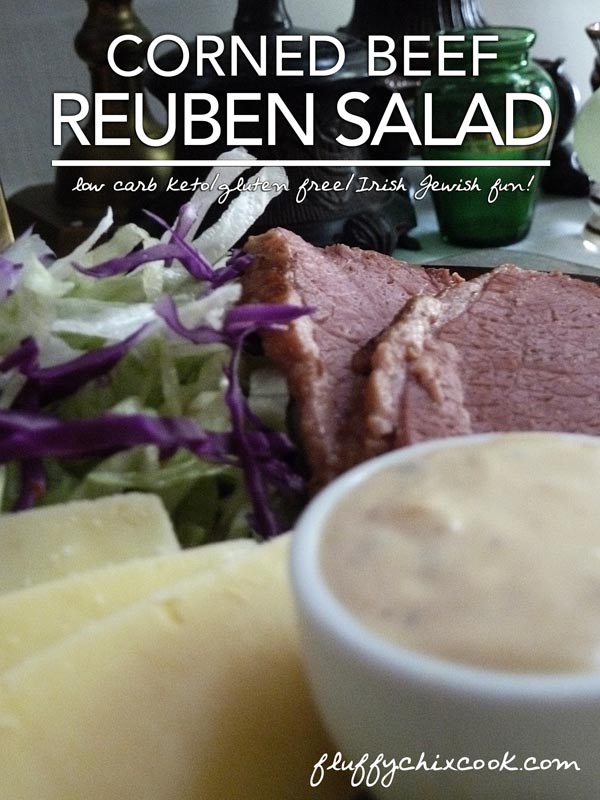 It's with memories of better times that the Fluffys developed the Low Carb Reuben Salad recipe in honor of Mr. Alfred and great childhood memories. No, the Reuben Salad is not Alfred's, but the Best Corned Beef and Russian Dressing are delicious and the twist of using fresh, crispy red cabbage and romaine hearts makes it feel light and fresh; two words you almost never associate with a Reuben anything! You'll find the recipes for both the corned beef and the dressing in the March FEAST e-book, available in the Fluffy Newsstand for less than you'd pay for a Reuben Sandwich or even a cup of coffee. You'll find 20 more low carb Irish authentic comfort food recipes that can be morphed and fused into any cuisine—even German Jewish Deli style cuisine! Mazel tov!
Low Carb Reuben Salad – A Salute to the Old Alfred's Deli in Houston
A classic Reuben turned on its ear to become low carb keto perfection. Crisp greens combine with creamy Russian Dressing, toasted caraway and tender Corned Beef.
Ingredients
1 1/2 cups romaine hearts, slivered
1/2 cup red cabbage, slivered
1 pinch caraway seeds, toasted (optional)
2 ounces cheddar cheese
2 ounces Best Corned Beef
2 tablespoons Russian Dressing
Instructions
Mix lettuce, cabbage, and caraway seeds together and pile onto a plate. Assemble Dubliner Cheese slices and leftover Best Corned Beef. Add a side of Russian Dressing and serve to cries of joy.
Toast caraway seeds in a small dry skillet over medium high heat until you smell them begin to emit their oil. Shake pan and watch it constantly to keep them from burning. Remove from heat. Cool.
Notes
Good Lord, we almost feel guilty making a recipe for this simple composed salad. We subbed out the sauerkraut you normally find on a Reuben for fresh slivered red cabbage. Mixing in a few toasted caraway seeds makes you forget the Jewish rye bread completely! Find both recipes for Russian Dressing and Best Corned Beef in the March FEAST e-book from --or use your favorite corned beef and Russian dressing. Be wary of prepared Russian or Thousand Island dressings because they are frequently loaded with sugar!
Serving Ideas Serve with a slice of ice box dill such as Bubbie's or Claussen.
Nutritional Information Per Serving 563 Calories; 47g Fat (75.3% calories from fat); 27g Protein; 7g Carbohydrate; 2g Dietary Fiber; 5g Effective Carbs
Copyright © 2012 Fluffy Chix Cook. All rights reserved.
http://fluffychixcook.com/low-carb-reuben-salad-a-salute-to-the-old-alfreds-deli-in-houston/
Copyright © 2016 Fluffy Chix Cook. All rights reserved.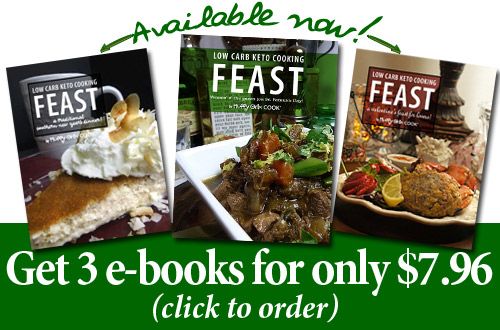 Copyright © 2014 Fluffy Chix Cook. All rights reserved.
We are not dieticians, nutritionists or medical professionals. The materials on this blog are for informational (and fun) purposes only. We do not fact check, nor do we worry about sources. Please do your own fact checking. We encourage you to look things up and check with your doctor or health care professional before acting on anything seen on Fluffy Chix Cook. xoxo