Low Carb, So Simple: Easy Everyday Recipes – Book Review | Fluffy Chix Cook Awards: Wings UP!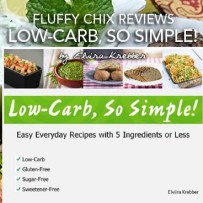 Join Fluffy Chix Cook as they review a great low carb ketogenic cookbook, Low Carb, So Simple: Easy Everyday Recipes With 5 Ingredients or Less by Elviira Krebber. The 97 page low carb cookbook is filled with practical, deliciously simple, and healthy recipes made from natural and organic ingredients. Elviira's recipes (83 recipes in the book) are all gluten free, grain free, sugar and sweetener free, and are made up only 5 ingredients or less, excluding salt and water. Her recipes are brilliantly crafted to maximize flavor and ease of use.

Meet Elviira Krebber, create genius behind the blog Low-Carb, So Simple, a blog dedicated to living a pure and healthy low carb ketogenic lifestyle filled with great food, simply prepared.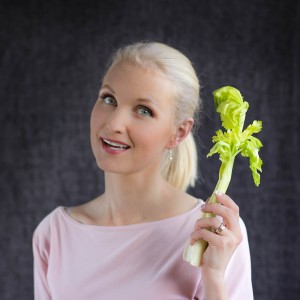 Elviira is a music scientist and linguist by training, but has the passion and soul of an artist. Science and art combined, give you a blog that is filled with exactness and dazzling creativity at the same time which equals great experiences and entertainment.
Elviira, like many of us, came to low carb ketogenic living as part of a quest for a better life and healthier body, mind, and soul. She suffered a debilitating gut problem that was not being helped by mainstream medicine and was severely malnourished. Through careful elimination of the most obvious suspects: grains, gluten, and sugars she was able to begin the healing process. After many years of further adaptation, refinement, and honing, Elviira created her perfect individualized low carb keto plan that nourished, and helped her build lean muscle. She was even able to conceive, and she and her husband are raising a very healthy ketogenic son in Finland, their native country! Yay, Elviira and Mr. Elviira!
So let's get down to brass tacks and talk books. We were totally thrilled by the opportunity to receive a free review copy of Elviira's new book, Low Carb, So Simple: Easy Everyday Recipes With 5 Ingredients or Less. It's an e-pub in pdf format which in our opinion is the low carb BOMB! Why? Well, because pdfs are portable, they can be stored and read by any device. They're relatively low tech or rather, "easy stress-free tech," for us low tech low carbers, are usually less expensive than the print version, and they are "instantly" delivered after payment confirmation. So pdf books make for convenient, affordable, living records of information and entertainment. Score!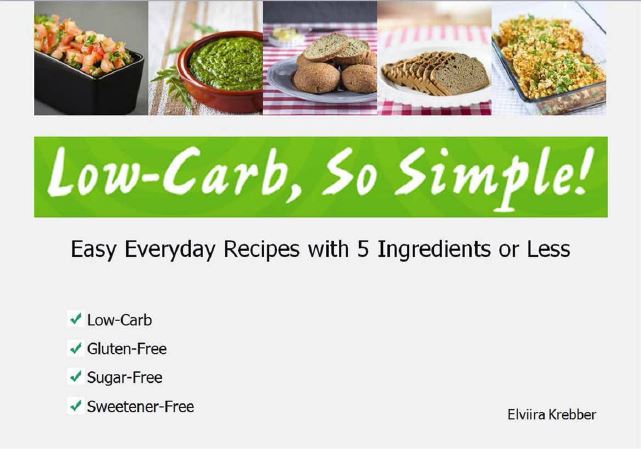 Elviira's low carb cookbook is well laid out in a user-friendly format and it's easy to see that it's well-organized (of course, she's part scientist, right?). It's exactly what low carb ketoneers need for day-in and day-out cooking. 83 recipes (some collected from her blog, but mostly new) of delicious food, simply prepared, simply shine in this e-book-and that's the most difficult type of recipe to create, because it demands high attention to natural ingredients and balanced flavors while using a distinctly small flavor palette. But, don't think that translates into small flavor or boring recipes. She includes gorgeous recipes from appetizers, through breads, soups, salads, seafood, meats, poultry, veggie sides, to desserts-and all having 5 ingredients or less! The genius of this book is that Elviira's managed to squeeze big, bold flavor into recipes using 5 ingredients or less! Most of us can handle recipes like that for everyday cooking! Are we right? You know we are!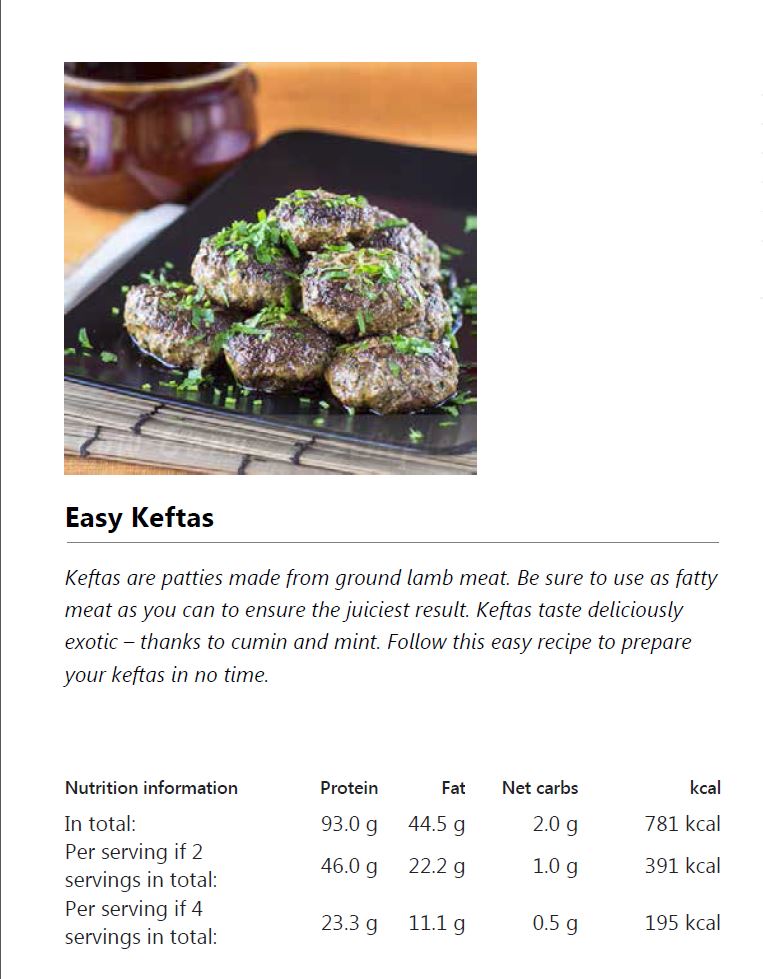 We were thrilled to make a recipe from the book and actually turned it into a gorgeous Mediterranean feast! Being lamb hoes, we chose Easy Keftas from page 80. We wanted to see "JUST" how easy they were to make and whether we would be able to handle a recipe that didn't use garlic in some way, shape, or form. (Ahem, you know us hayseed hick Southerners and Texans…we NEED our granulated or smashed garlic in everything!) It's unusual for us to make a recipe as written, because we are inescapable tweakers and give every recipe our own spin. But, we actually tied our fluffy wings behind our backs and took one for the team, making Easy Keftas precisely as written!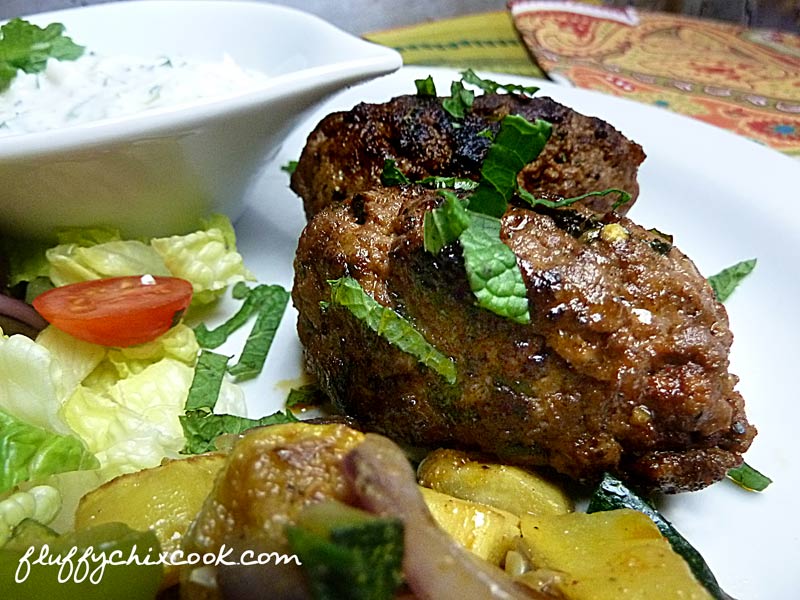 Holy smokes boys and girls! Elviira's perfectly low carb and simple, 5 ingredient Easy Keftas tasted divine and authentically Middle Eastern. The fresh mint and smoky cumin and paprika combined to form a perfect bite elevating the flavor of the ground organic lamb-no garlic required. They were fall-apart tender, juicy and moist, and created such a lovely pan sauce made from the lamb drippings so lovingly flavored from Middle Eastern spice.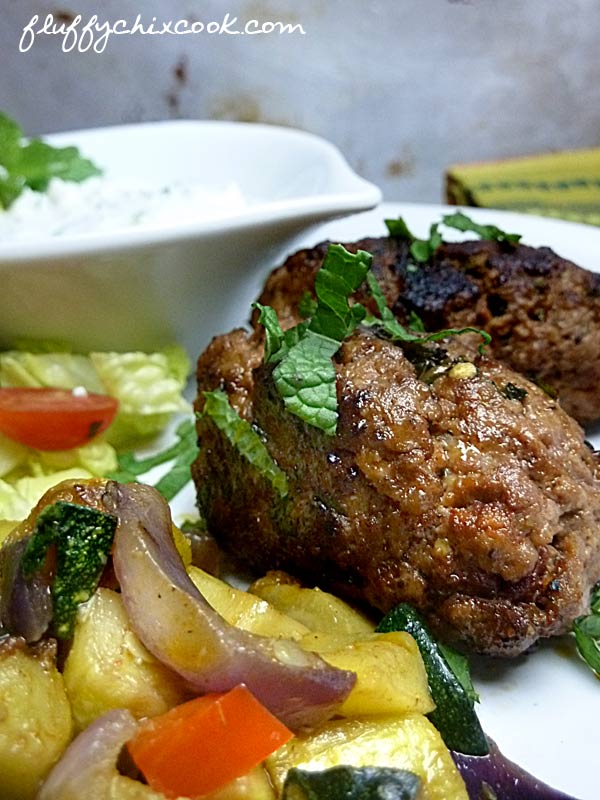 We finished our plates of Easy Keftas which we paired with the Fluffys' Tzatziki (cucumber yogurt sauce), Cumin Scented Fried Squash, and simple Greek Salad with House Vinaigrette and looked at each other. The only word from our mouths was, "More." High praise! Any time we finish a meal, are nutritiously filled, and look back to say, "Hey, we want a second helping or we want this dish again," translates to mean that we give it a solid 10 wings up (equivalent to a 5 star rating).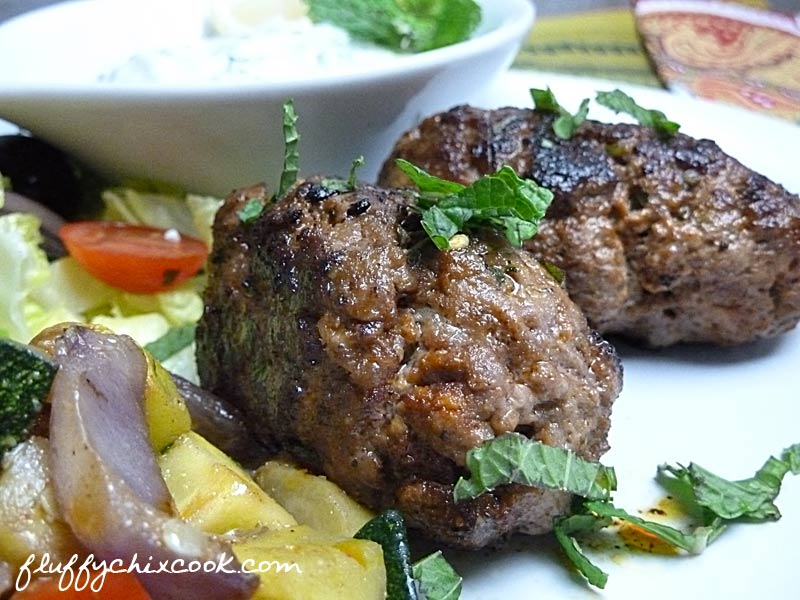 And btw, we were full, so didn't go back for seconds. It's not often we have the opportunity to make dishes 2 times in a row because our recipe development and blogging schedules often leave us on a never ending treadmill to drive new material production. But, that's exactly what we did! We made Easy Keftas two days in a row, back-to-back, because they were so dang good and quickly prepared.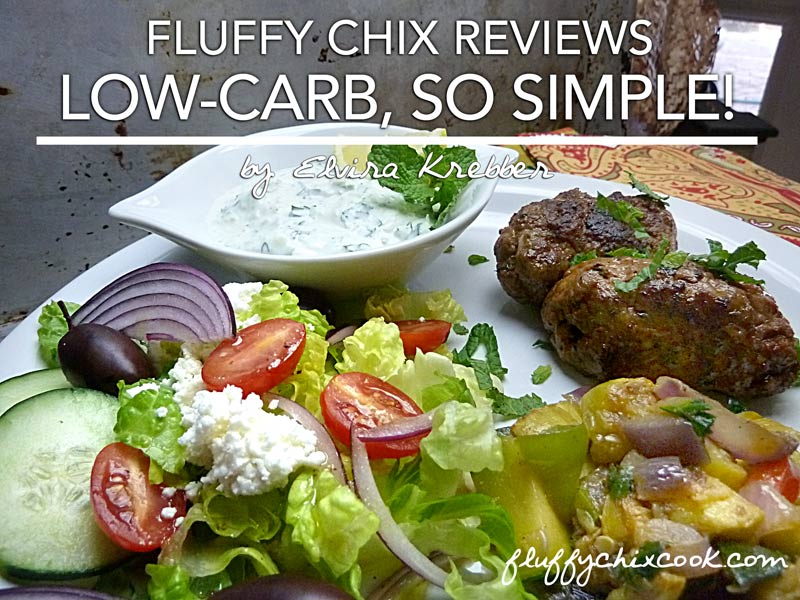 Fluffy Chix Cook cheerfully give Elviira Krebber's, Low Carb, So Simple: Easy Everyday Recipes With 5 Ingredients or Less, 5 enthusiastic stars and wholly recommend that you purchase it as quickly as possible. It's a steal at such a low price and is available in pdf format from our trusted Amazon Partners. Please visit Low Carb, So Simple online to see Elviira's other 5 ingredient or less, recipe creations. She takes such gorgeous photos to illustrate the beautifully simple recipes and even has a convenient low carb pantry reference and cooking videos! Your body and mind will thank you! Then, run back here and leave a love note extolling Elviira's genius and telling us how much you adore the recipes in the book!
(Disclaimer | The Fluffys received this free cookbook for review. No cash changed wings. Our thoughts are our own and are not influenced by the freebie. We'd tell ya if this stunk up the place. But it doesn't! It's swell and we highly approve it!)
We are not dieticians, nutritionists or medical professionals. The materials on this blog are for informational (and fun) purposes only. We do not fact check, nor do we worry about sources. Please do your own fact checking. We encourage you to look things up and check with your doctor or health care professional before acting on anything seen on Fluffy Chix Cook. xoxo