Low Carb Tex Mex Chili Gravy – El Fenix Chili Gravy Copycat Recipe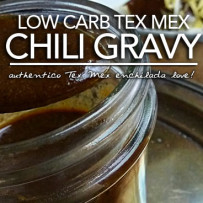 Fluffy Chix Cook translates Robb Walsh's high carb chili gravy into a dreamy low carb version that tastes incredibly close to El Fenix's famous chili gravy. Texans rejoice, low carb keto does not mean you must live without your beloved Tex Mex chili gravy any longer.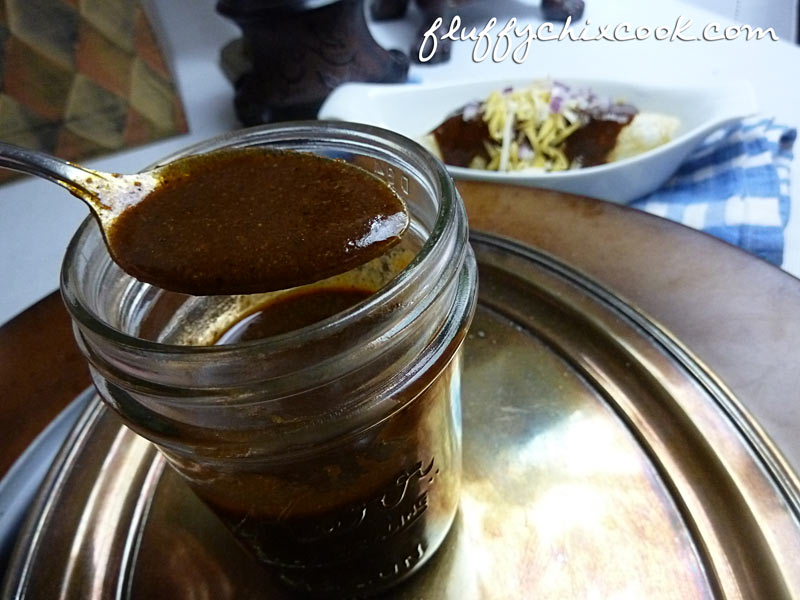 Low Carb Chili Gravy—El Fenix Copycat Recipe is homage to the luscious chili gravy that tops El Fenix's famous cheese enchiladas and tamales. And boy is this low carb version very close to the authentic high carb original, and muy delicioso.
A Dallas landmark since 1913, El Fenix has been a Tex Mex Mecca for all Dallasites—rich and poor, when they are in need of a Tex Mex fix. They are known for cheese enchiladas and tamales and the chili gravy sauce those cloaks them in loving richness. People have been known to have El Fenix's cheese enchiladas with chili gravy flown to them out of state. It's just "that good." But the bad news is, it's also just "that bad if you're a low carb ketoneer." The sauce is too high carb to fit within our diet, no matter how tasty and filled with love. Texas Chili Gravy is different than enchilada sauce. It's "brown" tasting, deeper flavored than red enchilada sauce. Don't get me wrong, the Fluffys' Quick Red Enchilada Sauce and the Beef Enchiladas with Red Sauce are amazing!!! But they aren't the enchiladas of our youth. The enchiladas of our youth were topped with a "gravy" tasting sauce. Oh, they had plenty of chili flavor, but they also tasted like your mama stood at the stove stirring a roux. They had a distinctly gravy overtone of "brown."
We grew up eating the peculiarly unique Tex Mex chili gravy on top of cheese enchiladas and tamales. As kids in Houston, we got our Tex Mex on at Loma Linda Mexican Restaurant and Monterey House. We loved them and thought they were the quintessential source of chili gravy. But we were wrong, there was yet another stellar master of the chili gravy persuasion, because the piping hot, molten lava chili gravy at El Fenix makes them pale in comparison. (Just an aside: we recently found out our beloved Loma Linda, home of the puffy taco and puffy chile con queso made by making tortillas from fresh masa, then deep frying in burning hot lard, is still in business. They moved from Palm Center and are now located on Telephone Road around Wayside Drive! Score!)
When I went in search of chili gravy recipes I didn't have to look far. Robb Walsh, bestselling author and respected connoisseur of Tex Mex cuisine has a chili gravy people swear tastes very close to El Fenix's chili gravy. But dang, it is high carb and just doesn't work at all! So we set our caps at making this Tex Mex nectar of the gods low carb. We were determined to have our cheese enchiladas in chile gravy and eat them too!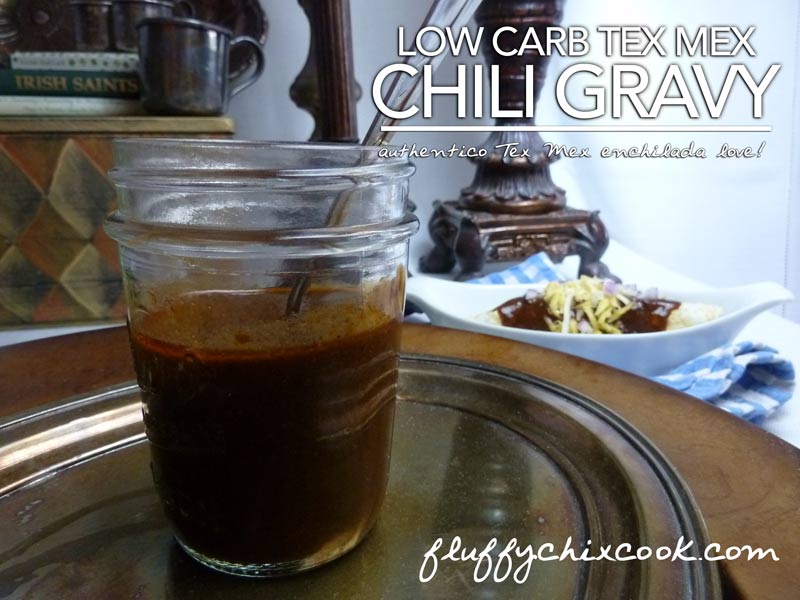 The key to low carbing the chili gravy is replacing high carb flour with low carb fibers that brown and caramelize just like high carb wheat based flour. Coconut flour and oat fiber (oat fiber is pure fiber, super low carb and lower carb than oat bran or oat flour—but it isn't certified gluten free; although, it doesn't cause me to walk like a 90 year old either). It works great in the roux made of oil, coconut flour, and oat fiber, even though it won't thicken like real flour (which is why you still need a low carb thickener).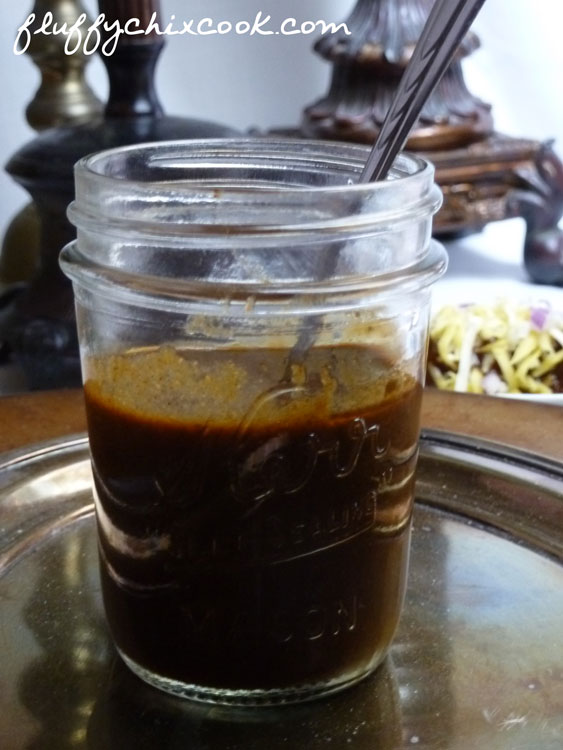 We also chose to use some of the chile puree we made for the Authentic Low Carb Texas Chili Red. We always make enough for several types of dishes. Bingo—pure delicious, deep flavor! In our opinion, the chile puree gives the chili gravy a much more authentic flavor. The chili gravy is VERY low carb. You won't believe you're eating low carb enchilada sauce. Thanks Robb Walsh for the inspiration and thank you El Fenix for all the fond memories of our youth.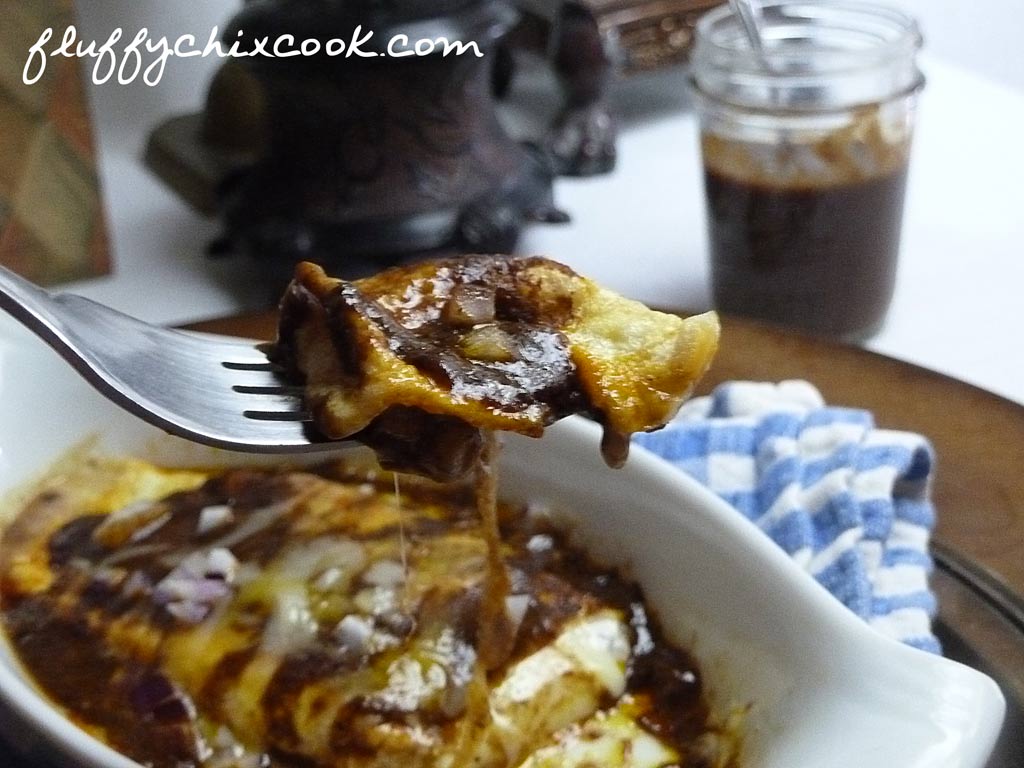 Next up, we'll bring you the Low Carb Cheese Enchilada with Chili Gravy recipe.
Low Carb Tex Mex Chili Gravy – El Fenix Chili Gravy Copycat Recipe
Delicious low carb keto Chili Gravy. So rich, thick and authentic, you will adore it!!!
Ingredients
Instructions
In a heavy, medium skillet, make a roux with oil and flour. Cook over medium heat to desired level of brown, between 3-5 minutes. We shoot for the color of brown sugar or pecan color. Stir constantly to keep it from burning. If you burn the roux, throw it out and start over. There is no recovery from it. While we make the roux, we continually lift the pan off the fire to cool slightly; and then set it back onto the fire. It helps control the heat and reduces the chance of scorching the roux.
Add next 6 ingredients through chili puree or powder and cook an additional minute or 2 while stirring constantly. The chili puree cooks off a little and gets very thick. Whisk in broth and stir until thickened and smooth. Reduce heat to low and simmer 30 minutes. If sauce thickens too much, add a little bit of broth (but it won't). Thicken with xanthan or your favorite low carb thickener. The sauce should not be "runny."
Notes
This recipe is based on a Robb Walsh's (Tex Mex food writer and bestselling author) chili gravy recipe. It is a copycat recipe for El Fenix Mexican Restaurant, a bastion of Tex-Mex cuisine and Dallas landmark. We grew up eating totally Tex-Mex cheese enchiladas (filled with American cheese), smothered in this rich brown sauce! What? I told you it was a total bastardization of authentic Mexican enchiladas! It's Tex Mex baby!!! 😉 This chili gravy works great on so many things from chicken and fish to enchiladas and rellenos! You may be tempted to make it with the chili powder, but try it with the chile puree…makes ALL the difference
Serving Ideas Serve over cheese or beef enchiladas or low carb tamales!
Nutritional Information
Per tablespoon: 22 Calories; 2g Fat (74.9% calories from fat); trace Protein; 1.21g Carbohydrate; 0.75g Dietary Fiber; 0.46g Effective Carbs
Copyright © 2012 Fluffy Chix Cook. All rights reserved.
http://fluffychixcook.com/low-carb-tex-mex-chili-gravy-el-fenix-chili-gravy-copycat-recipe/
Copyright © 2016 Fluffy Chix Cook. All rights reserved.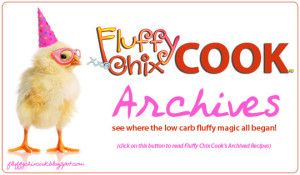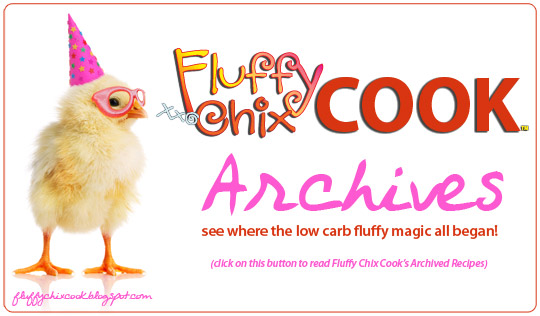 Copyright © 2014 Fluffy Chix Cook. All rights reserved.
We are not dieticians, nutritionists or medical professionals. The materials on this blog are for informational (and fun) purposes only. We do not fact check, nor do we worry about sources. Please do your own fact checking. We encourage you to look things up and check with your doctor or health care professional before acting on anything seen on Fluffy Chix Cook. xoxo