Low Carb Turkey and Roast Beef Chef Salad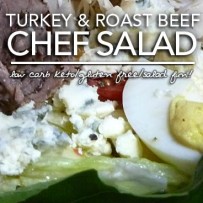 Do you suffer from salad fatigue and crave the big bold flavor of new and exciting salads with crisp lettuce, creamy cheese, and tasty meat toppings? Do you want low carb keto salad options that leave you feeling satisfied? Well Fluffy Chix Cook has the low carb cure for the salad blues. Try their Turkey and Roast Beef Chef Salad topped with tangy bleu cheese and wave buh bye to boredom!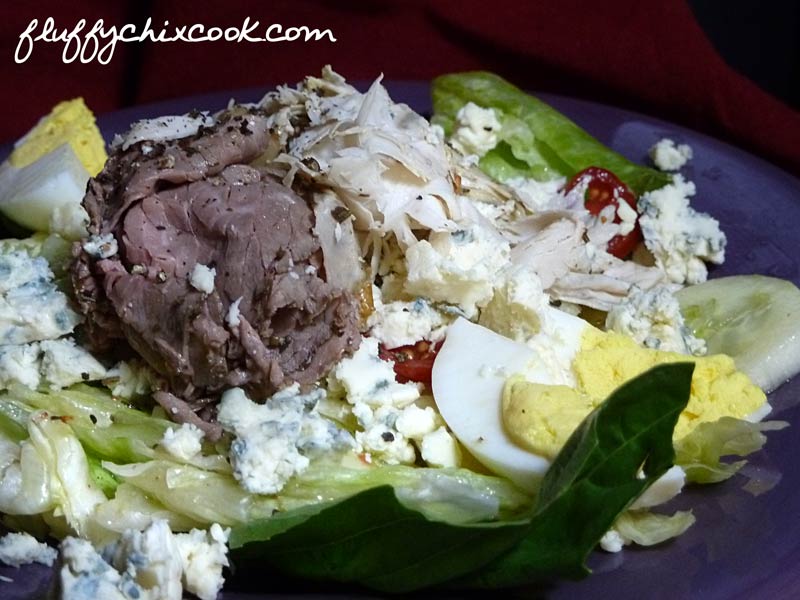 Let's face it, although we have billions of low carb food choices and don't have to subsist on measly little dry and tasteless salads, salads still offer deep nutrition and convenience. Salads make for a quick low carb meal that's almost brainless, with very little effort required. You take a bag of pre-washed lettuce, tump some lunch meat and cheese on top and slather it in store bought salad dressing. Who needs a recipe for that "delectable" taste treat. Am I right?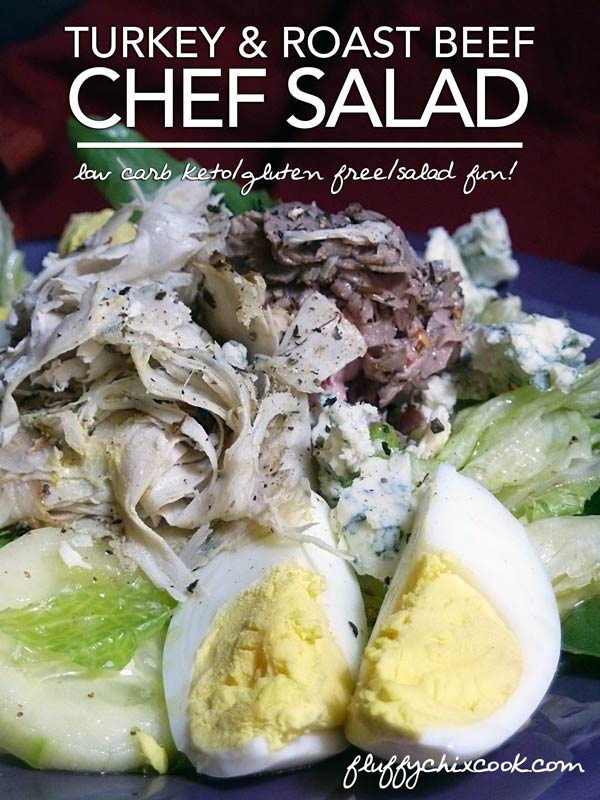 But pardon me, there are only so many of "those" types of salads a girl can handle before salad fatigue settles in on the home front and rebellion comes to call. And I won't even begin to discuss the questionable ingredients in that store bought bottle of dressing (ingredients that go "bump" in the night, like trans fats/partially hydrogenated oils).

Why not take a little bit of extra time and build a dressing from scratch? The Fluffys' staple House Vinaigrette can be flavored and easily morphed. Simply by changing out the acid, and adding herbs and spices, or a dollop of sour cream or Greek yogurt, or maybe a few cheese crumbles, you shape-shift the dressing into a new and exciting taste treat. And it takes what? Three minutes? Five max?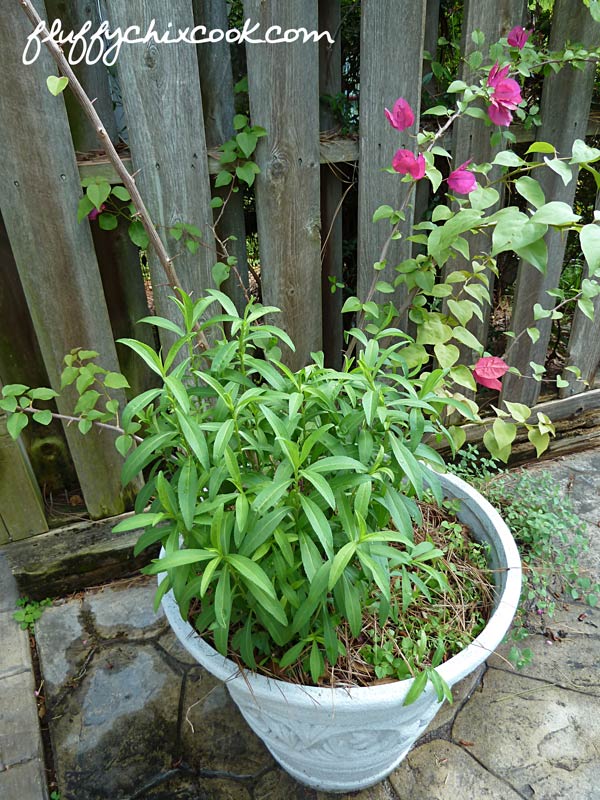 Another way to end salad fatigue and wake up or brighten the bowl is by mixing salad greens. Don't just use one kind of lettuce. Blend lettuces! Add arugula, baby spinach, butter lettuce. Add freshly grown herbs! Tarragon and basil are salad champions, as are flat leaf Italian parsley and cilantro. Thai basil and mint are killer for Asian salads!! For the cost of a pot, a little dirt, and two bucks, you can have a pot of herbs that gives and gives all summer and fall long. And fresh herbs are easy to grow!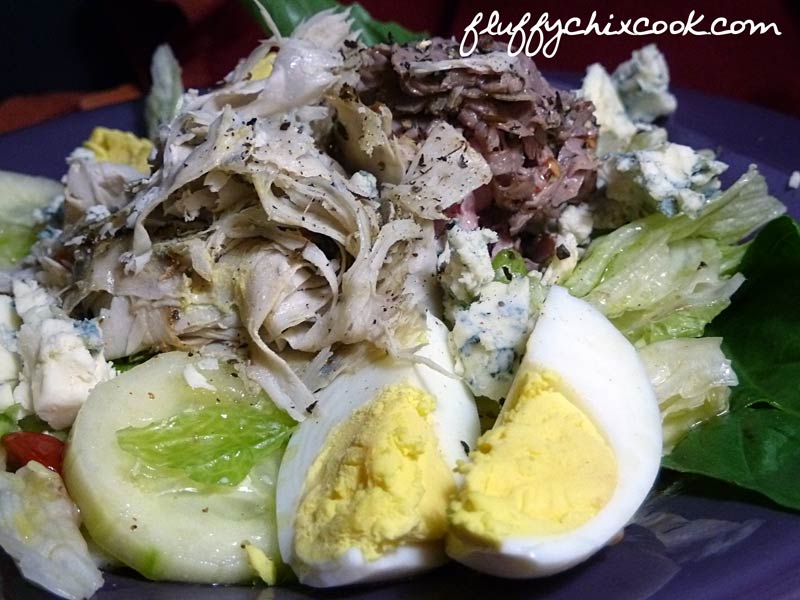 The Turkey Roast Beef Chef Salad is semi-homemade. We bought the turkey and roast beef. Our grocery makes freshly cooked hunks of roast beef and turkey breasts. Both are cooked in herb de Provence with a rosemary kick. Both are fantastic and neither has MSG or other preservatives! Score! So we frequently use these as go-to lunch meats to make weekday lunches easy, brainless, and Fast with a capital F. Even though they are slightly more per pound than other lunch meats, a chef salad like this one still costs less than a car ride through the local drive-thru! And it's much healthier for you too…oh you know I'm right!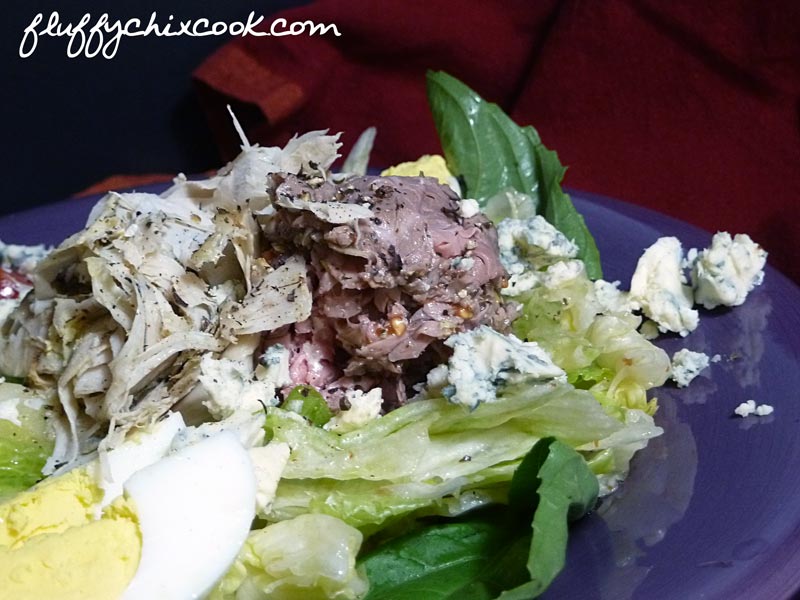 Hope you'll give this salad and the Fluffys' House Vinaigrette a test drive then rush back here and give us a full report. We think you will be hooked on the dressing and will permanently break up with your bottled dressing which isn't doing anything for your health or your meal satisfaction!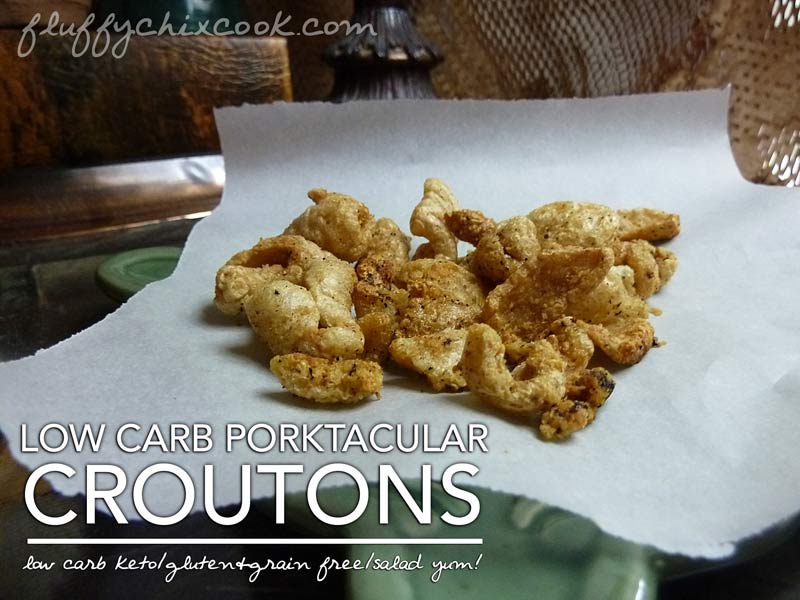 (Oh! And lest we forget! If you want to bring back the uber crunchtasticness of croutons, try the Fluffys' Portacular Garlic Croutons! We're not exaggerating when we tell you that Jesus wept shortly after eating these tasty bits of crunch on his Turkey and Roast Beef Chef Salad!)
Now, if vinaigrette just isn't you scene, we understand. Not everyone loves lots of garlic and tart acidity! We've still got a few tricks up our low carb salad sleeves! Try the Fluffys's Ranch or Blue Cheese Dressings. You will become instantly converted to the dark side! Just visit the Recipe Index and scroll down to Condiments. Choose from our many low carb dressings!
We also believe you eat with your eyes first. So over the years, we've come to collect beautiful and efficient serving pieces. These salad hands made of pure acacia wood are beautiful, fun and practical; making tossing salad a breeze. No bruised lettuce for us!
The Fluffys love serving salad in this big acacia wood salad bowl. Every salad helps "season" the wood for complex and gorgeous flavors you won't get from bowls made out of stainless or glass.
(Remember, affiliate links help keep the oven lights burning brightly at Fluffy Chix as we crank out awesome recipes for you. And it's no extra cost to you! So, TIA!!! MUAH!)
Low Carb Turkey and Roast Beef Chef Salad
Say goodbye to salad fatigue with this tasty plate of low carb salad fun. Semi-homemade never tasted this crisp and fresh. The tang of blue cheese against the garlicky dressing and crisp greens wakes up your mouth.
Ingredients
1 ounce turkey breast, oven roasted, Boar's Head, low sodium, shaved
1 ounce roast beef, lunch meat, Boar's Head, shaved
1 large egg, hard boiled, peeled and quartered
1 ounce blue cheese, crumbled
2 cups romaine hearts
1/4 cup baby spinach, Taylor Organic, Sam's brand
3 fresh basil leaf, torn
2 cucumber slices, peeled and sliced
2 grape tomatoes, quartered
3 tablespoons House Vinaigrette Salad Dressing
kosher salt
fresh ground pepper
Instructions
Toss ingredients with dressing. Season to taste with kosher salt and fresh ground pepper. Enjoy!
Notes
We love salads, but let's face it. Sometimes we just get bored with them! This heaping plate of Turkey and Roast Beef Chef Salad extinguishes salad boredom. By switching up the vinegars (tarragon or champagne vinegar works beautifully with this salad combination), or adding fresh herbs (grown in pots on the patio), we can change each salad according to our whim and fancy! And we can do it on the cheap since growing fresh herbs means flavor for pennies!
Serving Ideas Serve with a big glass of iced tea or sparkling water.
Nutritional Information per big salad 423 Calories; 32g Fat (67.3% calories from fat); 27g Protein; 7g Carbohydrate; 2g Dietary Fiber; 5g Effective Carbs
Copyright © 2015 Fluffy Chix Cook. All rights reserved.
http://fluffychixcook.com/low-carb-turkey-and-roast-beef-chef-salad/
Copyright © 2016 Fluffy Chix Cook. All rights reserved.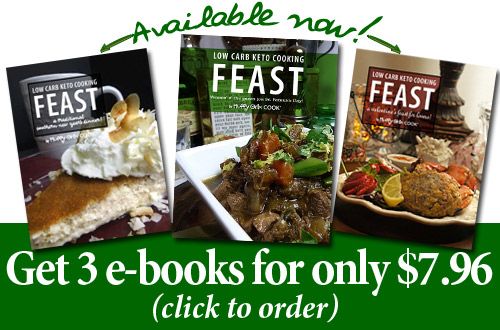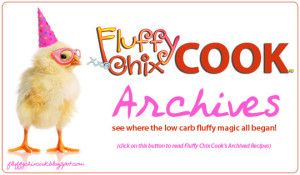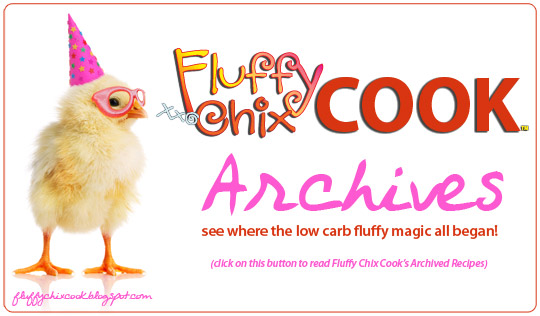 We are not dieticians, nutritionists or medical professionals. The materials on this blog are for informational (and fun) purposes only. We do not fact check, nor do we worry about sources. Please do your own fact checking. We encourage you to look things up and check with your doctor or health care professional before acting on anything seen on Fluffy Chix Cook. xoxo