Mile High Silver Dollar Pancakes – Low Carb | Gluten Free Options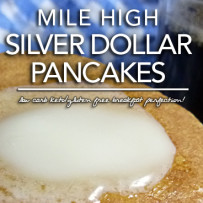 Mile High Silver Dollar Pancakes can be part of a healthy low carb ketogenic lifestyle. Join Fluffy Chix Cook and put an end to food deprivation with these tasty, low carb legal and diabetic friendly pancakes. Learn why the foods of our childhood help determine eating behavior as adults. Understand how making small changes with low carb food substitutions help create a sustainable low carb keto lifestyle.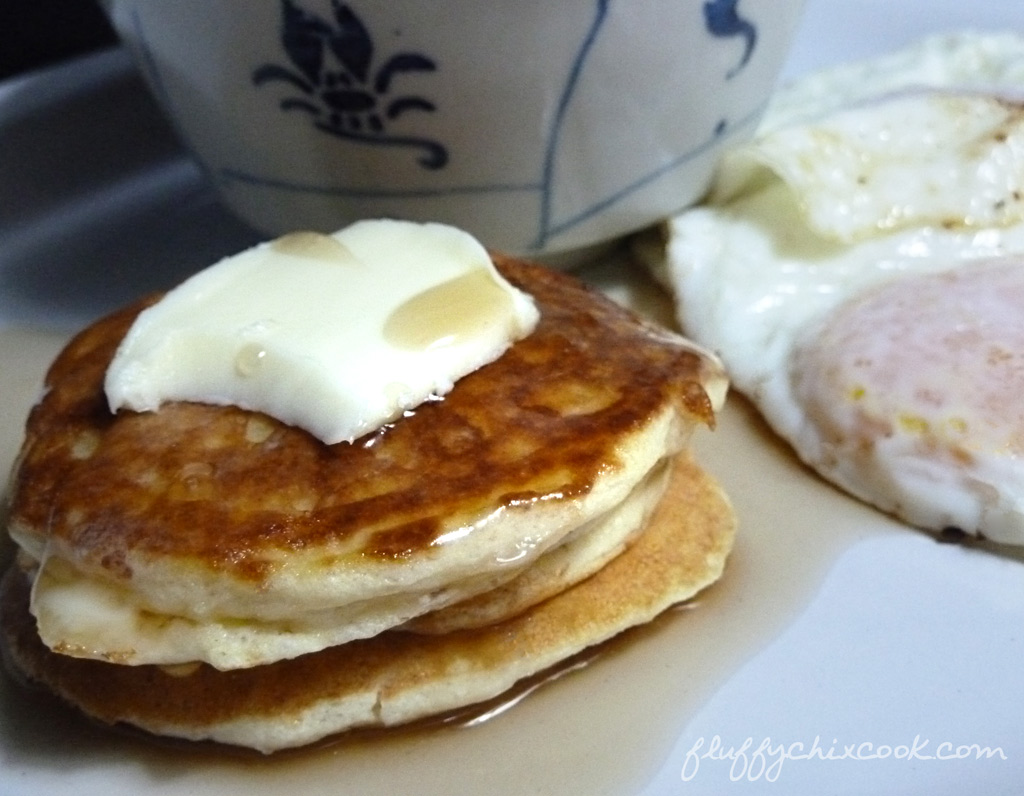 Let's talk about addiction and deprivation. Truth? People WANT the foods they grew up with and ate repetitively for years. Foods of our youth or our personal "ancestral foods" satisfy beyond pure nutrition. Ancestral foods also satisfy us emotionally, spiritually and habitually. Every day, neurobiologists learn more and more about the intricate connection with the foods we eat and ate as children or during our lives.
These foods linked to childhood or adult experiences cause neurochemical reactions in our bodies and stimulate dopamine and serotonin receptors (the pleasure chemicals similar to opium). They stimulate the hippocampus (memory centers and pleasure centers). They offer us calming, chill-factor familiarity—a drug fix. And in times of stress or times of happiness we often turn to these ancestral foods. And it certainly isn't coincidence that many of these ancestral foods are carbalicious, often high fat and high sugar.
So do you really think, 95% or more of the people in the world can just cut off the "unhealthy" portions of their ancestral foods for life? Do you honestly think just "anyone" can cold turkey their endorphins (feel good hormones)in addition to their hunger hormones, and simply "eat healthy," when their perception of healthy is living a puritanical abstemious low carb lifestyle—never eating a low carb treat, staying at induction level food choices? And never cheat once? I'm sorry, but few have that kind of willpower and I would think their power goes beyond ordinary. Think—people with serious control issues.
And the ones that aren't control-freaks, frankly do not disclose what they do behind closed doors. I'm tellin' ya, they're bold-faced liars if they don't admit cheating with the foods of their past, or with low carb treats containing less-than-savory-ingredients. Swearsies. So be encouraged. You are not a freak. There is more to living a healthy low carb lifestyle than being an upright, will-power laden, human being. Each time you try, and fall, or stumble, know there is more at work than simply avoiding high carb foods. My opinion only, but having difficulties cutting entire ancestral food groups out of your life is not unusual and more, it isn't even practical in a sustainable long-term parameter. So don't cut them out, re-invent them as satisfying low carb treats to be enjoyed now and then.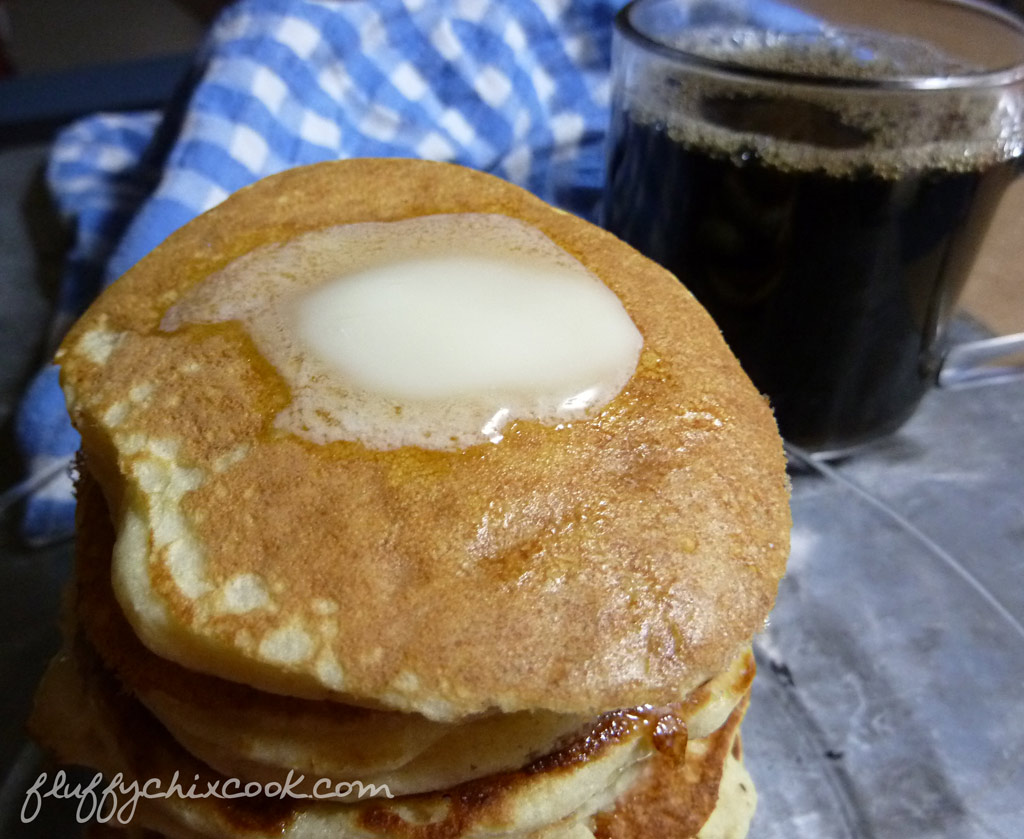 The simple act of being told we're no longer allowed to eat "x" or "y" turns the "craving buttons" to the on-positions. We obsess and want the things we can't have. We crave. We resist. It's a constant source of friction and tension for many. Sure, you can get over sugar cravings…unfed-they dim with time, same thing with carb cravings. But I don't believe we ever get past the severance from ancestral food patterns.
So the reason I bring you recipes like Mile High Biscuit Mix, Mile High Bisuits, or Mile High Silver Dollar Pancakes? It's because we have these connections to foods of our families—and Fluffy Chix Cook wants to bring you low carb keto counterparts that allow you to interact with your ancestral foods in similar fashion. No deprivation. No severing ties. No angst or anxiety or stress about cravings! By doing this, we just might be successful in tricking our brain chemistry that we're not trying to kill ourselves through starvation.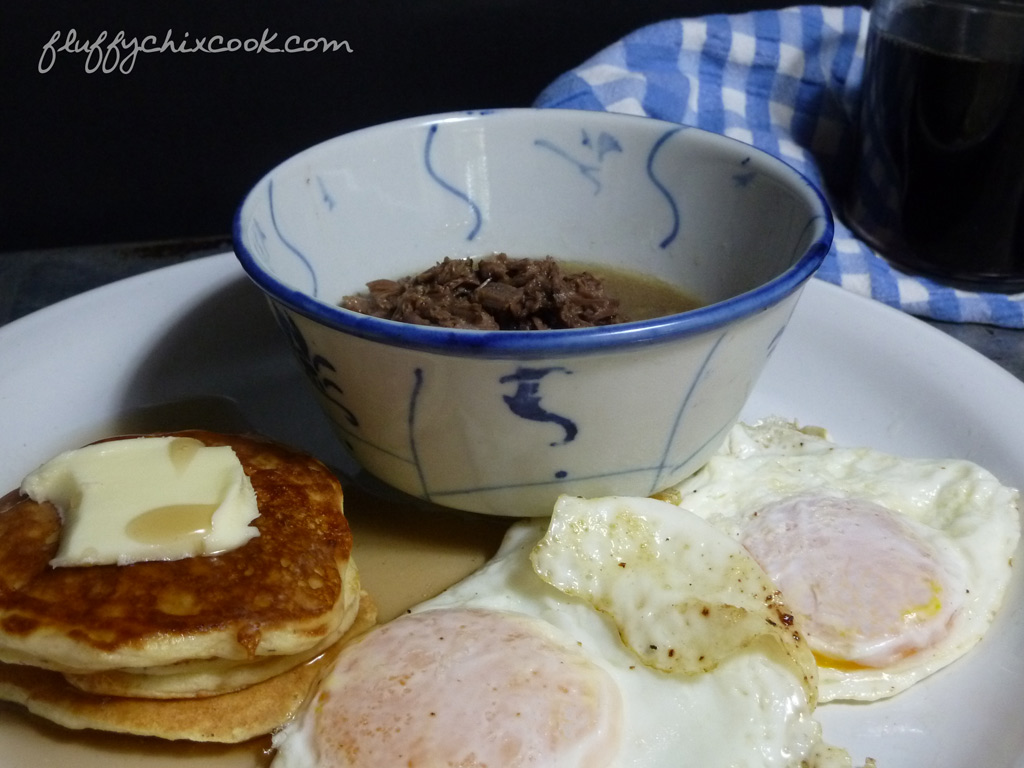 The Mile High Silver Dollar pancakes are so satisfying, you no longer have to pine or crave Mom's silver dollar pancakes, which by the way, are not actually the size of a silver dollar. The term, Silver Dollar, is used to highlight that these are not the big-as-your-head-style-Texas-pancakes. They're petite pancakes; between 2-3 inches. It's a term used frequently to describe smaller pancakes, at least we use it in Texas. Do you call small pancakes "silver dollar size" where you come from? So, if you're hungry for the family flapjacks, don't white knuckle willpower it, just take 10 minutes and get thee to the kitchen. Assuage your desire…low carb legally.
The funny thing about knowing you can have something ANYTIME you want? Well, we often forget we want it. I keep the Mile High Biscuit Mix and Keto Chocolate Cake Mix on the counter in a Mason jar. I don't eat them every day. I don't even eat them every week…but I could. I just don't have the urge. But the cool thing is that I know if I do feel like eating them, I can enjoy a normal-size serving and be done with it and won't have blown all of my hard work in ketosis.
Ok, end of lecture. Try the Mile High Silver Dollar Pancakes. They're better when made small in silver dollar size. If you get them too big, they're hard to cleanly flip. They taste amazing and if you want an extra treat, you should hop over to my friend LeeAnn's blog Cut the Wheat, Ditch the Sugar for her amazing homemade low carb, sugar free maple syrup. Look how thick and rich it is and it tastes phenomenal!
(Oh and one last point? People tend to look critically upon these food ties and try to deny them. Many declare the expression of these relationships as aberrant behavior. But these "drives" are part of the biochemical factors that contributed to the success of our species. There's a REASON why our bodies secrete pleasure chemicals at the thought of food, or memories of food. If we eat, we get nutrients. We protect against famine. We ensure reproduction and survival of the fittest. We don't secrete these neurochemical feel-good drugs because we're willful, weak, slovenly, fatas*es who lack control. It's hard wired into our DNA. OK. Now that's REALLY the end!)
For more Easy Button Keto Recipes simply click on the link!
Mile High Silver Dollar Pancakes – Low Carb | Gluten Free Options
Lght and fluffy pancakes ARE possible on a low carb diet. Enjoy your pancakes and eat them too, since they're less than 2g of whole carbs per cake!
Ingredients
Wet Ingredients

2 tablespoons heavy cream
1/4 cup water
1 large egg
1/4 cup egg whites—or 1 large egg + 1 egg white (substitute equals 5 Tbsps but that's ok)
Instructions
Mix dry ingredients in a bowl. Mix wet ingredients in a separate bowl. Add wet ingredients into dry and stir with a spatula until fluffy and well-combined. The batter will be thick.
Heat a nonstick skillet over medium to medium high heat. Spray with olive oil cooking spray. Drop by rounded spoon onto the hot skillet (or griddle). Cook until golden on the first side. You won't see the typical bubbles or holes ion the top as they cook. Takes about 1 minute in a hot pan. Carefully flip cakes to the second side. Cook an additional 30-45 seconds or until done throughout. Don't squish them down or press with a spatula!
Remove from hot pan and immediately butter cakes. Top with your favorite pancake topping. Enjoy!
Notes
True confessions. Silver Dollar size is not the literal size of these pancakes. It's just a term to describe, "Hey buddy! These will not be behemoth pancakes." In Texas, Silver Dollar Pancakes means you should get ready to eat petite 2-3-inch diameter pancakes. But believe me, 3 of these babies is a good serving, because they are so filling.
These pancakes are crazy delicious and so low-low (that's what they should be named...low-low-cakes) everything, it's hard to believe they can be real! Using 's Mile High Biscuit Mix, these low carb dream babies whip up in about a minute. Enjoy them with lots of butter and your favorite syrup, or use them to make a griddler breakfast sandwich with pork sausage, eggs, and cheese! YUM. Denny gave these a 9 out 10 (1-10 scale and he gives no 10s).
Serving Ideas Serve with butter and sugar free syrup or as the base for a breakfast sandwich!
Nutritional Information
Per Mile High Silver Dollar Pancake: 26 Calories; 2g Fat (55.9% calories from fat); 2g Protein; 1.42g Carbohydrate; 0.75g Dietary Fiber; 22mg Cholesterol; 0.67g Effective Carbs
Per 3 Mile High Silver Dollar Pancake: 79 Calories; 5g Fat (55.9% calories from fat); 5g Protein; 4.26g Carbohydrate; 2.25g Dietary Fiber; 66mg Cholesterol; 2g Effective Carbs
Copyright © 2014 Fluffy Chix Cook. All rights reserved.
http://fluffychixcook.com/mile-high-silver-dollar-pancakes-low-carb-gluten-free-options/
Copyright © 2016 Fluffy Chix Cook. All rights reserved.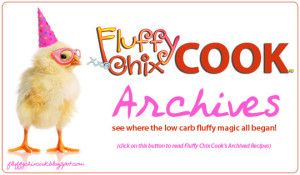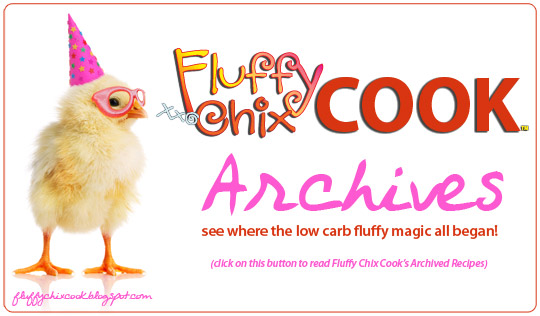 Copyright © 2014 Fluffy Chix Cook. All rights reserved.
We are not dieticians, nutritionists or medical professionals. The materials on this blog are for informational (and fun) purposes only. We do not fact check, nor do we worry about sources. Please do your own fact checking. We encourage you to look things up and check with your doctor or health care professional before acting on anything seen on Fluffy Chix Cook. xoxo