Mind Blowing Bleu Cheese Bacon Juicy Lucy with Onion Strings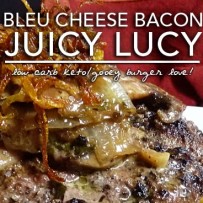 Are you looking for something different to jazz up your burger habit? Are you tired of the old standby: meat and cheese? If you want a delicious low carb keto taste treat, then travel with Fluffy Chix Cook and learn why nothing goes better together than good burger, great bacon, and hearty cheese that melts like a dream. And finally, answer that burning question, "Can you zoodle an onion?"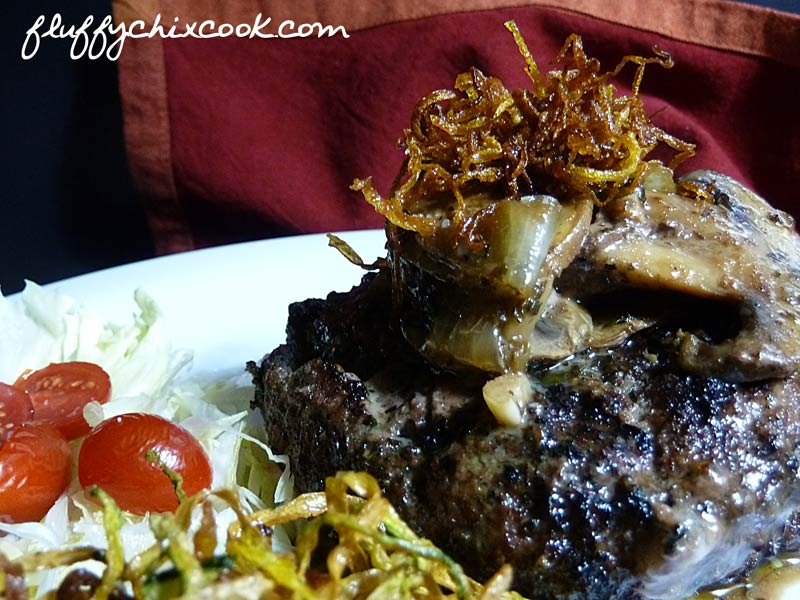 We've been on a mission to master the perfect, naturally low carb keto Juicy Lucy since the very first time we laid eyes on one. Guy Fieri of Triple D (Diners Drive-ins and Dives)—a food series that airs on Food.TV, hosts the show which salutes the Mom & Pop food & adult beverage establishments in our home towns across the great Americas. Love it, or hate it, the show features some rippin' food concepts and half the time makes us want to tear our shirts off and roller skate nekkid through the crosswalks! (Thanks Jimmy Buffet for that fantastic imagery.) Juicy Lucys contain that power to make you go nuts—to transform you into a fruitcake.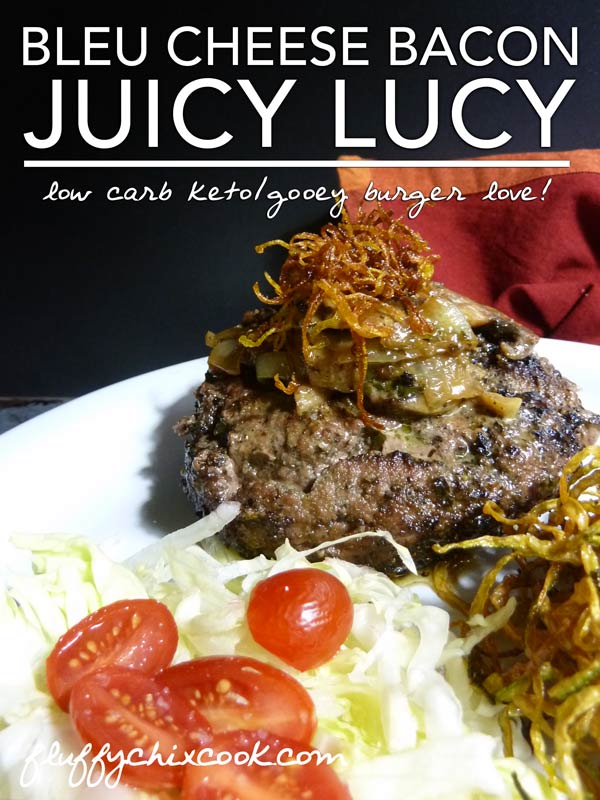 We've tried just about every combination of Juicy Lucy you can set you mind upon—some with better success than others. For instance, I'm a HOUND for the basic American cheese JL. But, Mr. Fluffy can't stand 'em—give him his beloved cheddar. Swiss JLs are spectacular, as are smoked Gouda. It's hard to go wrong with the goat cheese Juicy Lucy. And brie cheese? Forgeddaboudit! Amazing! And through all our testing, we maintain, the best Juicy Lucy is the one you have on your plate at the moment!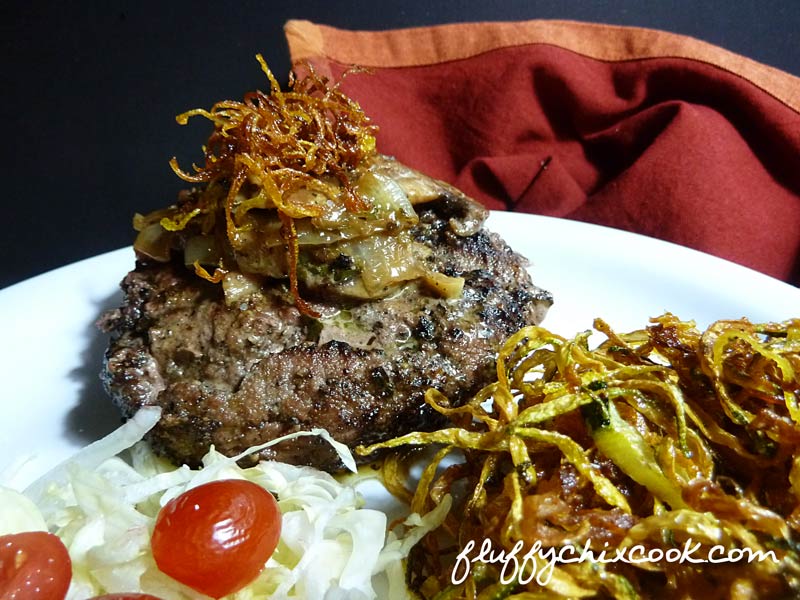 So we decided one night that we hankered for a big JL and happened to have the blue standing by JIC (just in case). We had some bacon and onions—a pre-req in our house. It's almost like bacon, burger meat and onions got together one day and entered into a sacred pre-nuptial triumvirate completely indivisible by human form or figure. Bacon, onion, and burger meat exceed the affinity and bond existing between peanut butter and jelly. They could be the next trinity…but I don't want to flirt with sacrilege. I will assure you however, that wherever these three appear in a single recipe, religious experiences could quite possibly be involved. And one might see angels.
But back to our low carb keto, mighty Juicy Lucy story. We had the spiralizer on the counter, just sitting there all innocent. We'd decided it was the night to venture into the land of zucchini straws and we'd cranked that bad boy up to make a few plates of zucchini noodles. And that's when Mr. F's lightbulb lit up the night sky. That boy just ain't right, sometimes.
He said casually, "I wonder what if…What if we zoodled an onion? Will an onion zoodle?"
To which I replied, with equal sanguine, "Wouldn't that be oodles?" Trying not to give my excitement away, because really, what IF we could zoodle an onion into thin little ribbons and deep fry the crap outta them? What IF…my Great Aunt Fanny! (Or Kenya's Great Aunt Fanny…) We were doin' this thing—I calmly thought to myself!
So we "did this thang." The results? A burger to get married about. Something to shout from the rooftops about. (Yes, I am ending sentences in prepositions!) Something to make you crazy and cause you to go buy life insurance, cuz your life is now complete, and you can die happy. It was THAT good. I kid you not. We cain't MAKE these things up. True story.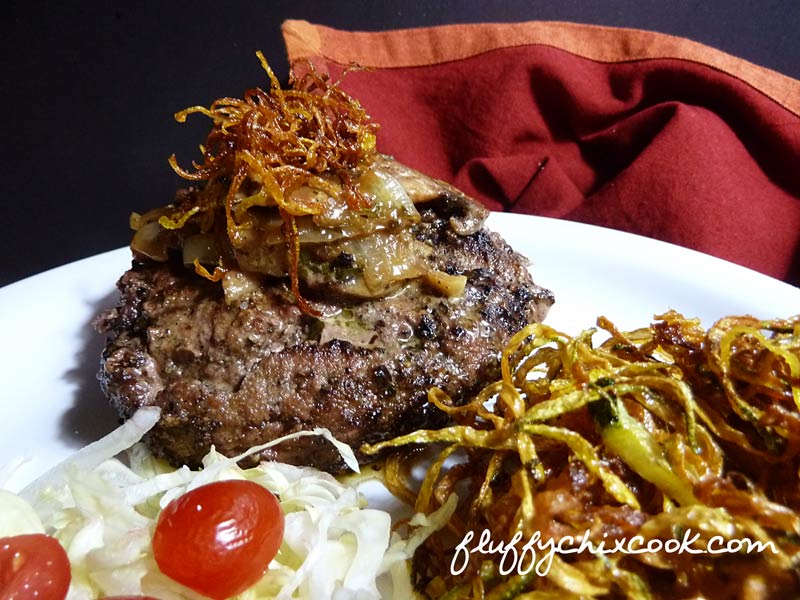 We did two kinds of onions, cuz come on. If one type is good, won't two push it OTT (over the top)??? Sautéed onion forms a silky base, while onions strings leave you with a crispy crunch. We did the bacon…oh king of cured meats. And we did a gigantor blue JL that formed a foundation firm enough upon which to build a church. The Church of the Blue Cheese Bacon Juicy Lucy with Onion Strings…cuz we topped that mighty Mohican with a crown of deep fried, perfectly golden and crispy onion strings (from zoodles, er—we mean oodles). The crahps wah sayuved that day my friends.
Here's what you need to zoodle. Our two favorite machines and yes, why yes, we DO have both of them, plus two hand-held methods of creating pasta strings from veggies. We love both equally. The Benreiner Cook Helper (the green one), is more compact and has super easy cleanup for quick jobs. The Paderno World Cuisine Spiral Slicer powers through mounds of veggies without missing a beat!
Hope you will rush out and make these gorgeous Blue Cheese Bacon Juicy Lucys with Crispy Onion Strings this week and that you will rush back here and leave a love note declaring your passion for Juicy Lucys and for the combination of burger, bacon, and onion! Oh my! And should you want to take a twirl with a Brie, Onion, and Bacon Burger take a look at this post we dedicated to Carolyn Ketchum and her famous burger of the same flavor profile!
Mind Blowing Bleu Cheese Bacon Juicy Lucy with Onion Strings
Hearty Bleu Cheese Burgers fill your tummy while filling your mind with imagination. Oh the things you can do with onion strings and a mound of beef!
Ingredients
Onion Strings

1/2 onion, spiral sliced with the thinnest blade
peanut oil– or your favorite high temp oil
Instructions
Crumble meat into a large mixing bowl. Add the next 6 ingredients through freshly ground black pepper. Mix together using the tines of a fork until evenly mixed. Divide meat into 8 balls. Refrigerate for 1 hour or up to 8 hours.
Shape balls into patties. Divide blue cheese into 4 portions. Place a portion on top of each of 4 of the patties. Use the remaining 4 patties to top the cheese with a second patty. Seal the edges tightly to prevent the cheese from leaking out. You just created a bleu cheese Juicy Lucy.
While burger balls are hanging out in the fridge, cook the bacon on the griddle until crispy. Remove and drain on paper towels. Add chopped onions and sauté in bacon grease to your preferred level of doneness. Sprinkle onions with kosher salt and black pepper. Transfer to a plate until time to serve.
Heat oil in a small sauce pan over medium high heat. Heat oil to 375°. Drop spiralized onions into the hot grease. We fry these in 3 batches. When golden and crisp, remove with a slotted spoon and drain on a wire rack or on paper towels.
Cook on a cast iron griddle or on the grill, 5 minutes per side. Turn as necessary to keep heat evenly distributed so that they burgers do not burn. If using a griddle,
Assemble burgers: meat on the bottom; top with a slice of bacon that you've cut into 2 pieces; add sautéed onion; finish with onion strings. Enjoy!
Notes
Molten hot packages of meaty bleu cheese love! You may never make another burger again! This burger provides an explosion of flavor from the cheesy yummy melted center to the crisp topping of spiralized onion strings. Who knew you could zoodle an onion? We used the smallest blade to make the onion strings very fine. But play with it and see which blade you prefer? And yes, it is important to use 2 different onion preparations because they bring different flavors and textures to the party.
Serving Ideas Serve with the usual condiments: mayo & mustard, but please! No ketchup on this one!
Nutritional Information per burger with the works 679 Calories; 56g Fat (74.9% calories from fat); 38g Protein; 4g Carbohydrate; 1g Dietary Fiber; 3g Effective Carbs
Copyright © 2015 Fluffy Chix Cook. All rights reserved.
http://fluffychixcook.com/mind-blowing-bleu-cheese-bacon-juicy-lucy-with-onion-strings/
Copyright © 2016 Fluffy Chix Cook. All rights reserved.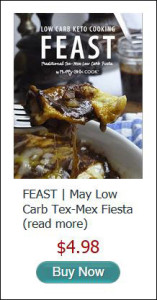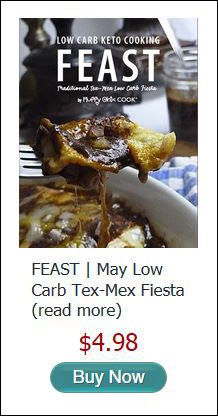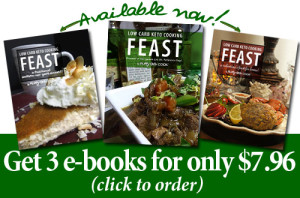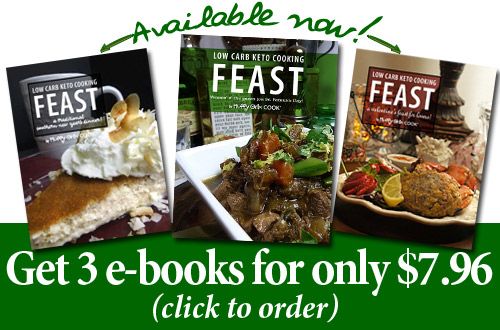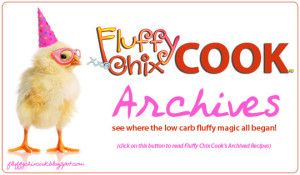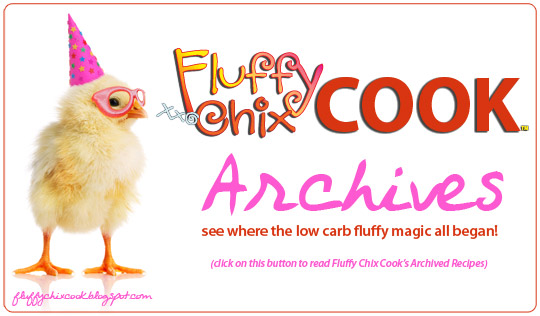 Copyright © 2015 Fluffy Chix Cook. All rights reserved.
We are not dieticians, nutritionists or medical professionals. The materials on this blog are for informational (and fun) purposes only. We do not fact check, nor do we worry about sources. Please do your own fact checking. We encourage you to look things up and check with your doctor or health care professional before acting on anything seen on Fluffy Chix Cook. xoxo