Mustard Glazed Pork Chops with Pan Gravy – Keto and Low Carb Bliss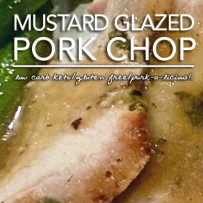 Are you looking for easy and economical low carb keto meat recipes? Mustard Pork Chops with Pan Gravy fit both criteria and save the keto day! Pork is very economical at the moment and you can make this low carb entrée in under 20 minutes start-to-finish, with no skill or experience required! Our favorite type of weeknight meal. Fluffy Chix Cook teaches you two important and basic cooking techniques that will make your low carb keto lifestyle much easier and tastier: pan roasting and making pan gravy.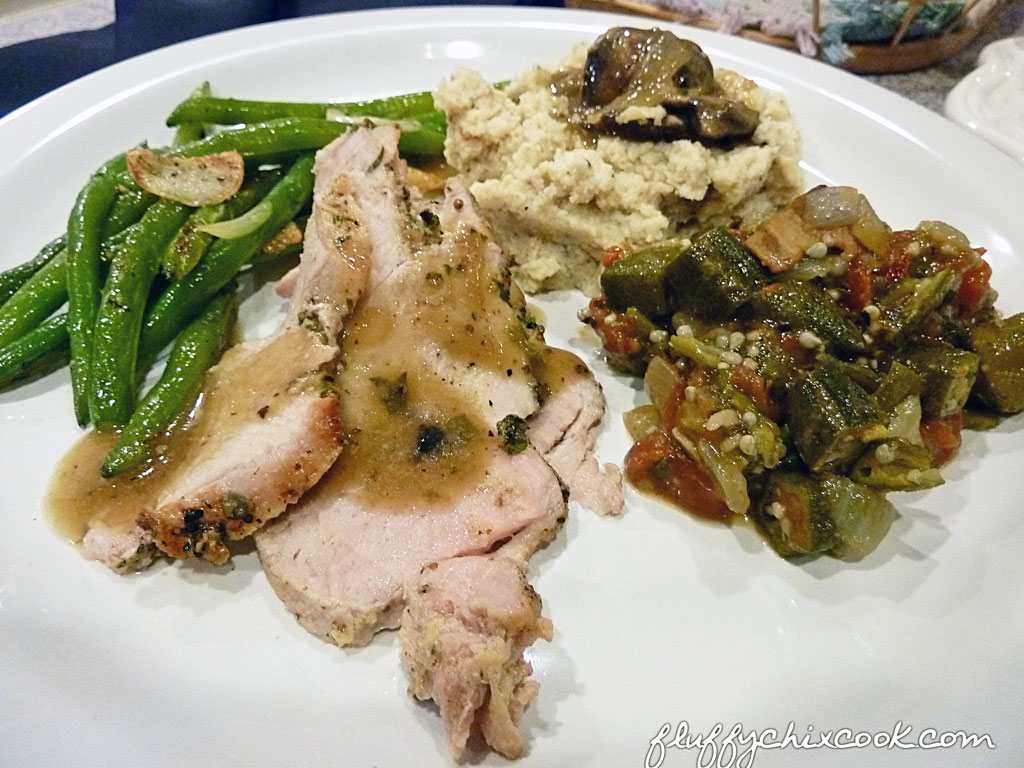 Weeknight meals of necessity must be fast and easy—almost no-brainer meals. I bet you feel the same way? Maybe you're cooking for one and don't want to make a lot of fuss? Or maybe you're cooking for a family of four? Mustard Pork Chops easily scale to serve as many as necessary. Fluffy Chix Cook also has many Easy Button Recipes to use as side dishes or to offer alternate low carb keto main dish choices.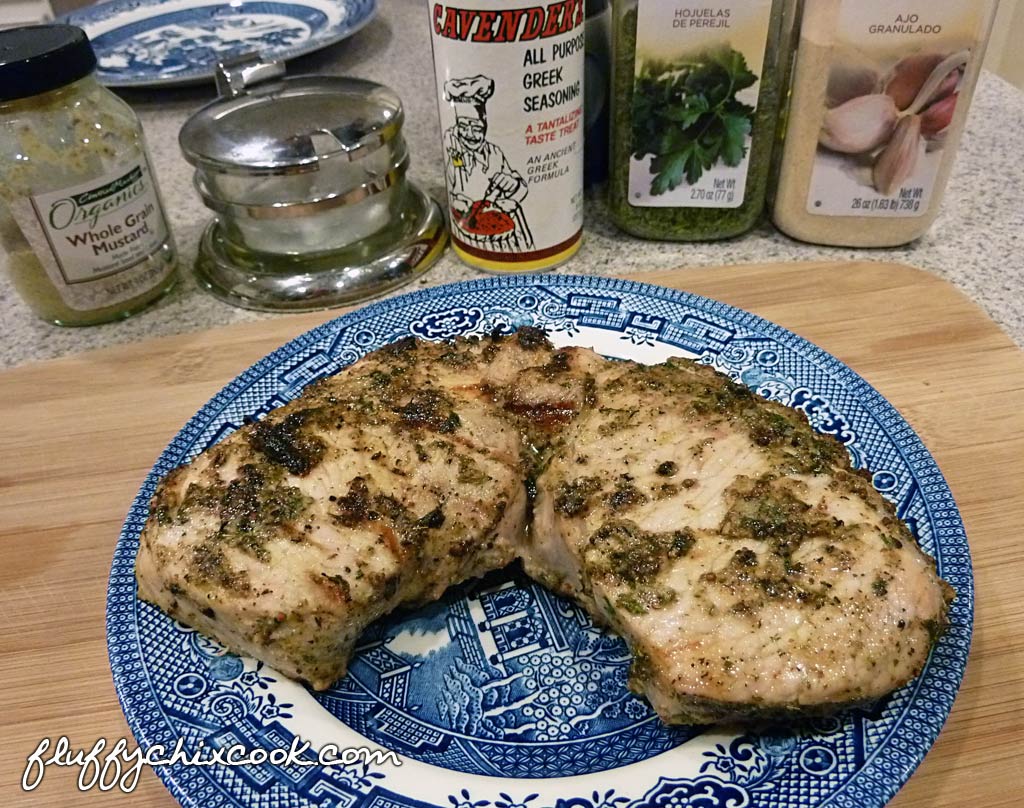 Pan searing is a basic cooking technique. My mama taught me how easy it is to use this method. It's based on high heat, a heavy pan, a little fat, and well-seasoned meat (and lots of ventilation). There are two steps. The first step features quickly searing the meat on both sides and giving it color, which adds HUGE flavor for little effort or time-investment. The second step uses "steaming" to finish the cooking process, once you establish color on the outer layers of the meat. Simple, right?
Two meats practically scream, "Hey! Pick me! Pick me! I'm made for pan searing!" Welcome chicken and pork!
They are both white meats, and fairly lean (especially if using boneless chicken breasts or pork loin chops),
and both are often accused of being dry. That's not the meats' fault. That's an operator error.
If you cook a lean meat on high until it's done in the middle, oh my. Horrors. Tragedy. Wailing and gnashing of teeth. You'll get what you deserve: grey, mealy, powdery or chalky textured, tasteless meat that will grow in your mouth as you chew and threaten to choke you on its journey to the end of the earth. But, if you quickly sear and brown it on hot heat, then turn the heat down to a moderate level and let it steam-roast until done to your preference, you've coaxed the meat to retain its moisture. You get golden, delicious outside, moist and perfectly done interior.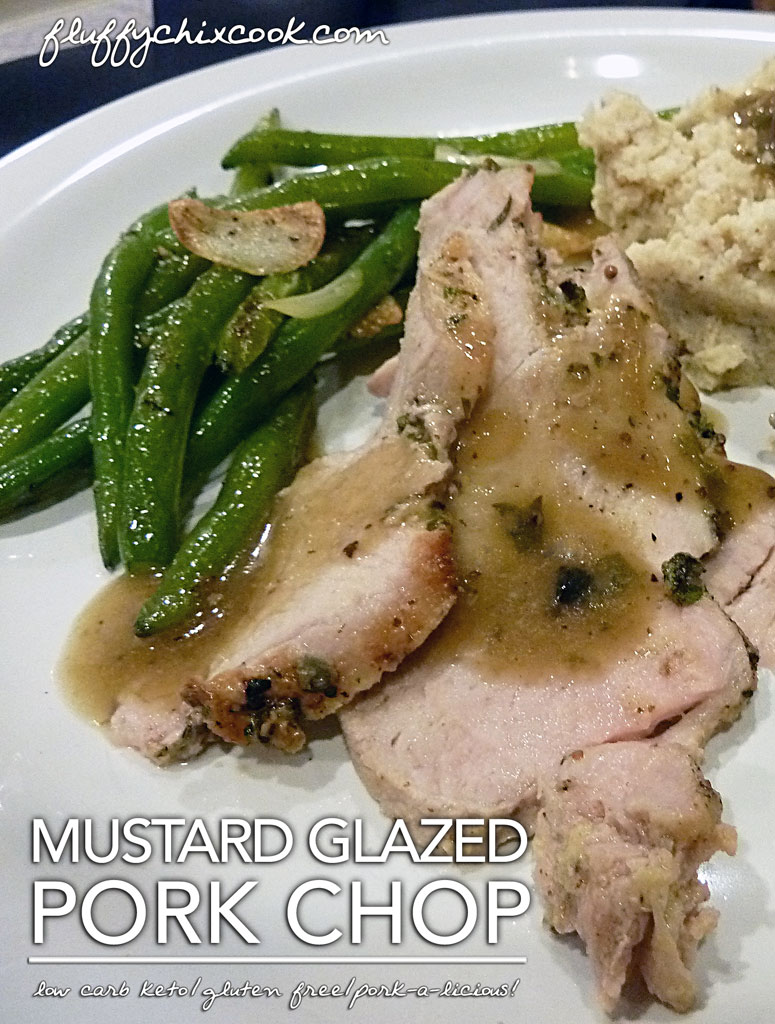 The up side to pan roasting is that it's a quick process and very healthy, too—often 5-10 minutes, total. And making pan gravy is a natural progression and a snap. While the meat rests and chillaxes, you make pan gravy by adding liquid to the hot pan. Scraping the browned bits in the bottom of the pan adds extra flavor. Use whatever liquid you have: water, broth, dry wine or extra dry vermouth, or even dry sherry or spirits—such flavor! Season it a bit and adjust for salt and pepper. Let is bubble until it thickens and reduces by at least ½ or more—then poof. Turn off the heat, add a tablespoon or two of butter (depending on the number of servings) and shake the pan until the butter incorporates into the sauce. You're done! You have a silky, pan gravy that is thick and glorious addition to the meat. Tune into PBS and get Sauce Savvy with Julia. I'm not kidding you, mastering this simple cooking technique will make you look like a cooking idol!
Mustard Glazed Pork Chops with Pan Gravy – Keto and Low Carb Bliss
This basic technique for quick cooking meat then making pan gravy is a life-saving staple for us. Start to finish you can be done in around 15 minutes. Big pay-off: low carb, high taste, full belleh!
Ingredients
Instructions
Smear pork with Country Dijon. Season with granulated garlic, kosher salt and black pepper. Heat heavy skillet (cast iron works great) over medium high heat. Add olive oil and ½ tablespoon unsalted butter. Let butter melt and get bubbly. Add pork chops. Cook 3 minutes per side, turning once. Reduce heat to medium, cover and cook 3 minutes with the lid in place. Remove pork chops to a plate. Let them rest for 3-5 minutes while making a quick sauce.
Deglaze the skillet used to cook the pork with water, broth or dry white wine (or extra dry vermouth). Scrape pan with a spatula to loosen the browned bits that give it so much flavor. Let liquid bubble and reduce until it reaches a syrup consistency (about 3 minutes). Turn off heat, add 1 tablespoon of butter and shake pan until all the butter is evenly absorbed and mixed into the sauce. Sauce will be creamy and thicker. Taste and adjust seasoning. Pour over chops and enjoy.
Notes
Learning how to make a quick pan gravy turns a boring, ho-hum meal into a lip-smacking delicacy. The browned bits that adhere to the bottom of the pan add a caramelized richness. By adding liquid to the piping hot pan, the liquid lifts the stuck-on bits and cleans the bottom of the pan, while making the resulting gravy taste awesome. Use simple water, or boost the flavor by using chicken or bone broth, or even a couple tablespoons of dry white wine or extra dry vermouth). Letting the sauce reduce to a syrup really concentrates the flavors. Adding the butter at the end ensures a creamy, thick sauce that sticks to the meat and forms a silky gravy. You can season with your favorite fresh herbs and spices or go au natural! Your choice.
Serving Ideas Serve with your favorite veggie and/or salad.
Nutritional Information
Per 1 Pork Chop with 1/2 Pan Gravy: 348 Calories; 27g Fat (70.6% calories from fat); 24g Protein; 2g Carbohydrate; 0.5g Dietary Fiber; 97mg Cholesterol; 1.5g Effective Carbs
Per 2 Pork Chops with Pan Gravy: 696 Calories; 54g Fat (70.6% calories from fat); 47g Protein; 3g Carbohydrate; 1g Dietary Fiber; 194mg Cholesterol; 2g Effective Carbs
Copyright © 2012 Fluffy Chix Cook. All rights reserved.
http://fluffychixcook.com/mustard-glazed-pork-chops-with-pan-gravy-keto-and-low-carb-bliss/
Copyright © 2016 Fluffy Chix Cook. All rights reserved.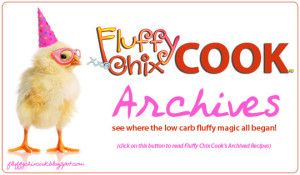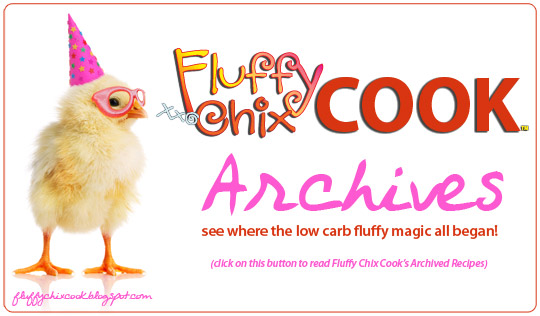 Copyright © 2012 Fluffy Chix Cook. All rights reserved.
We are not dieticians, nutritionists or medical professionals. The materials on this blog are for informational (and fun) purposes only. We do not fact check, nor do we worry about sources. Please do your own fact checking. We encourage you to look things up and check with your doctor or health care professional before acting on anything seen on Fluffy Chix Cook. xoxo