Page 4 Wraps – Low Carb Keto Tortillas (Induction Friendly|Gluten & Grain Free)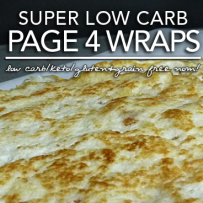 Low carb keto Page 4 Wraps are gluten and grain free, diabetic friendly and perfect for either your Page 4 meal plan or Atkins Induction. These super low carb keto wraps or tortillas from Fluffy Chix Cook allow you to interact with your food as you have in the past, while filling your tummies with healthy and nutritious low carb tortilla(s) alternatives–no extra tricky ingredients necessary!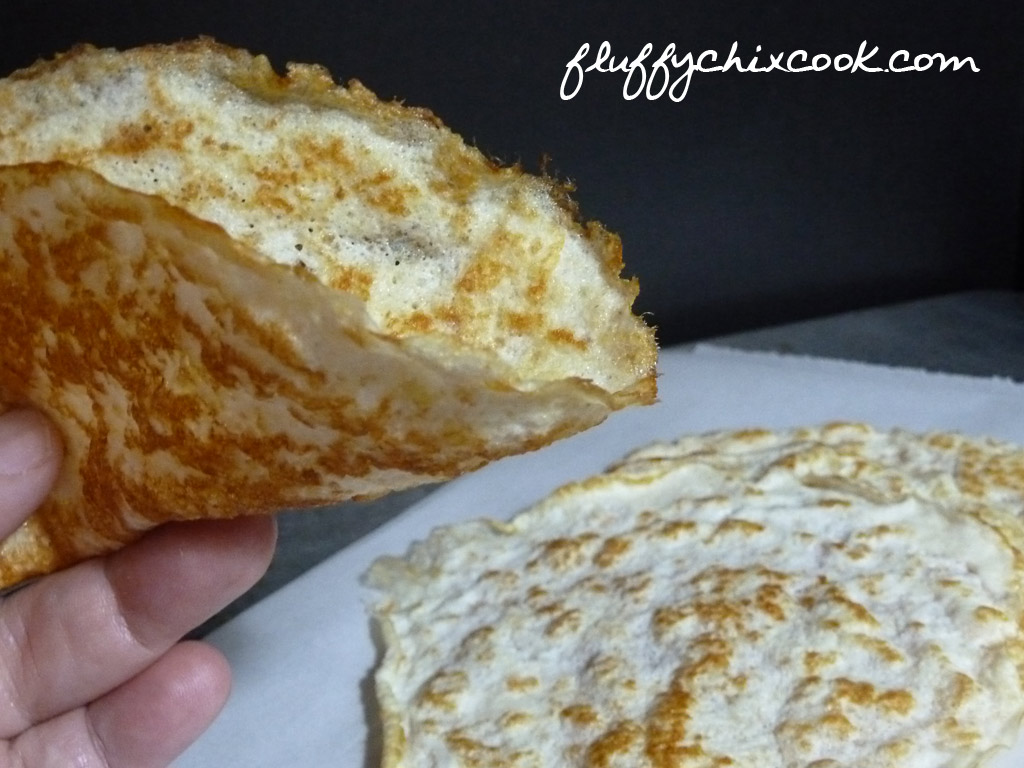 I'm not gonna lie to you…sometimes the Fluffys get "above their raisin'" and lose sight of grounding principles. In this case, I'm talking about our way of life—Page 4 compliant low carb keto living. We start to feel cocky, like we know it all, like we have no need to measure, like we can blow off and not count that extra couple of ounces of protein, or that extra cup of veggies and before we know it…we become EXCELLENT MAINTAINERS. Cuz, let me just say, you can MAINTAIN the hayull (Texan for h-e-double hockey sticks) out of ANY low carb plan you choose. But. (And it's a big BUT.) To lose, many of us have to carefully observe our carb limits. And count.
Adhere to them (the rules).
Count to 20 or less (total carbs), often times not even needing to take off our shoes to get out of the first ten digits.
And only use those foods on Page 4. If it isn't on Page 4. Don't eat it. You need to watch Dr. Westman's 38 minutes video introduction to the Page 4 Diet. Dr Eric Westman, MD, MHS, is a board certified internal medicine physician and ketogenic bariatric medicine specialist. He founded and heads Duke Lifestyle Medicine Clinic at the Duke University College of Medicine, and has helped thousands succeed in regaining health while losing weight and ditching obesity.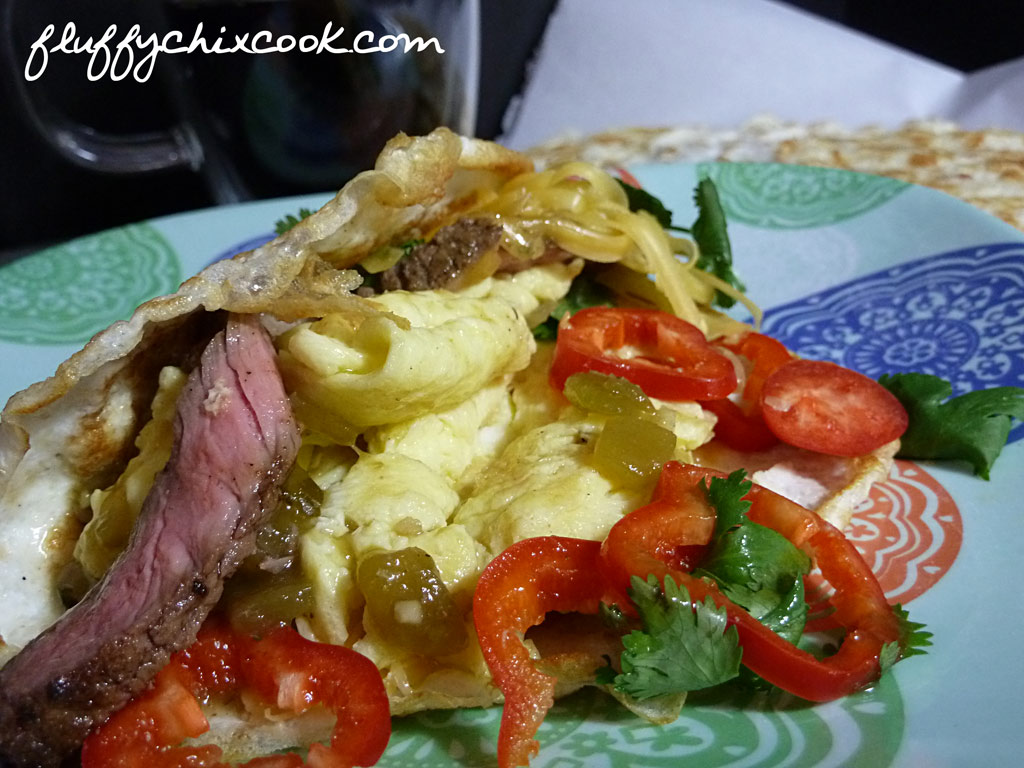 So look, the Fluffys are just doing a tune-up to ditch the carb creep and lax habits. We're already in ketosis. We've been in ketosis…we're just talking about going back to the book. Living by the good book. That's what the next couple of weeks will look like…going back to Page 4 foods and rules. And ditching the carb creep, the sloppy habits, the little glass of wine or the cocktail on weekends. The next two weeks are about getting' honest and gettin' clean. It's about reconnecting with our biggest loser mode and deferring our biggest maintainer mode. (And honestly, there is no what's next…the reconnection will last longer than 2 weeks, since this is a lifestyle—a marathon—and not a sprint. But, for the next 2 weeks we will commit to posting Page 4 menus on a daily basis. Oy! That's a lot of work (the posting, not the eating).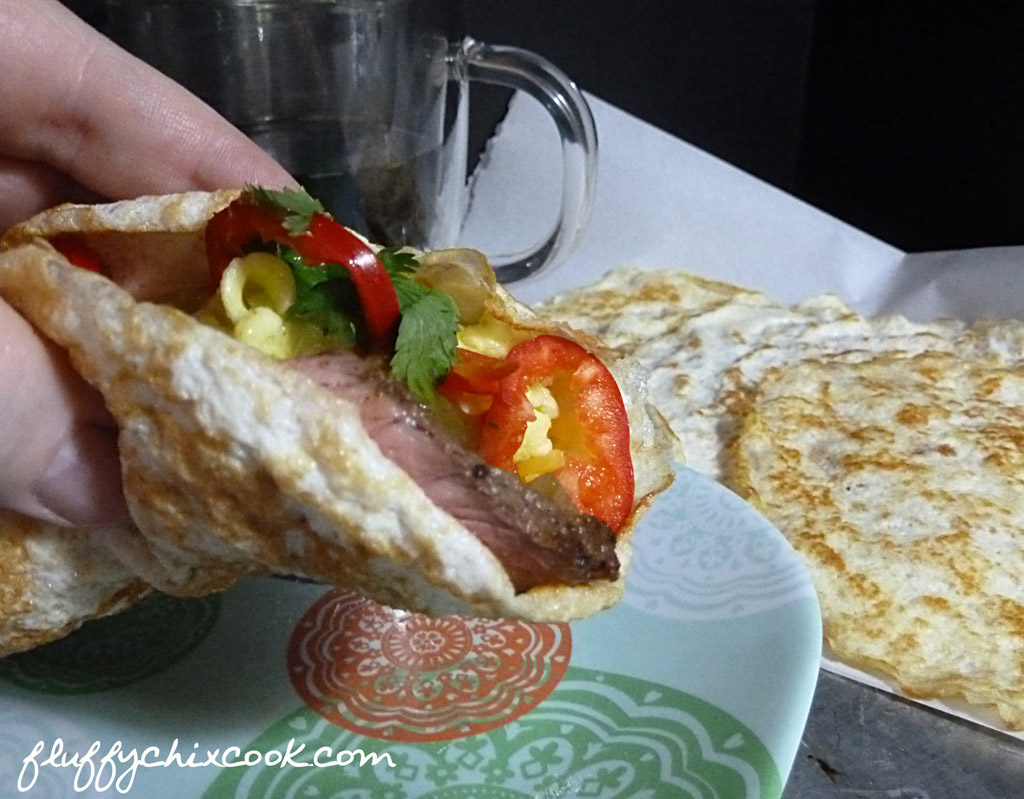 And that's why, and how, the Page 4 Wrap was born! You see, Denny can follow Westman's Page 4 like a champ. I can follow Page 4 like a champ, too. But dangit, I am not one of those peeps that even WANT to break up with food rituals. He can do it with the blink of an eye. I wanna spank him for having it "easy." I LIKE picking up a soft taco. I WANT to cut through an enchilada. I NEED to break off a piece of crispy chip and have a bit of salsa, if my big bad carb lovin' self feels like it. I MUST have my breakfast tacos! And thanks to the Page 4 Wrap, I don't have to experience my Tex Mex with a knife and a fork. I can still eat with my hands—animal-style. Hallelujah! Tha crahps ah sayuveeeeddddddd! (DFSW-speak for "the crops are saved" and "all is right with life.)
Now, to execute this recipe without frustration and without going mutant on us, you MUST have a nonstick frying pan. Here's our current main squeeze. We heart these skillets like nobody's beeswax. We already love enameled cast iron pans because they conduct heat so evenly and cook all sorts of things much better than regular, flimsy pans. But these are nonstick! And PFOA free! Score!
If you want to see Dr. Westman's Page 4 Friendly Meals, check out Fluffy Chix Page 4 Meal Plan Area! We're adding to our meal plans all the time!! You can also access them through the RECIPE INDEX.
Page 4 Wraps – Low Carb Keto Tortillas (Induction Friendly|Gluten & Grain Free)
These low carb keto wraps are Dr. Westman Page 4 friendly tortillas or wraps. Use them for any meal, as a soft taco, sandwich wrap, in enchiladas...use your imagination!!
Ingredients
Instructions
Stir everything together until the lumps are gone and you get a VERY THIN, spreadable batter. Let batter sit while the nonstick omelet-size pan heats up.
When pan is hot (medium high heat), add a tiny bit of olive oil and use a silicone pastry brush to coat nonstick pan. Measure out 2 1/2-3 tablespoons of batter into a cup. Tump batter into the center of the hot pan and swirl until evenly coated. Cook wrap until the edges curl. Gently release wrap from pan and flip. Cook until the wrap dries out and doesn't feel like an egg white any longer. Flip often. It will have golden spots on it. Cook and flip. Cook and flip. Cool on a paper towel. Repeat process until batter is used up. If batter is too thick, use egg whites to thin it. Do not use water.
Crispy Variation

Nuke cooked wrap on a paper towel for 30 seconds. Flip and cook another 30 seconds. Flip and cook 15 seconds. Flip and cook 10 seconds. Keep flipping and cooking until wrap gets crispy. Break into small pieces and use as chips.
Notes
The reason the Fluffys use egg whites is to make these wraps less eggy and to make the batter super pourable. You don't get super pourable batter by using egg whites from the shell or by use whole egg. Depend on your fillings to make these keto or LCHF. The End.
Serving Ideas Serve with your favorite fillings.
Nutritional Information
Per Tortilla 44 Calories; 2g Fat (48.6% calories from fat); 5g Protein; 0.29g Carbohydrate; trace Dietary Fiber; 0.29g Effective Carbs
Copyright © 2012 Fluffy Chix Cook. All rights reserved.
http://fluffychixcook.com/page-4-wraps-low-carb-keto-tortillas-induction-friendlygluten-grain-free/
Copyright © 2016 Fluffy Chix Cook. All rights reserved.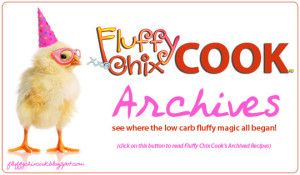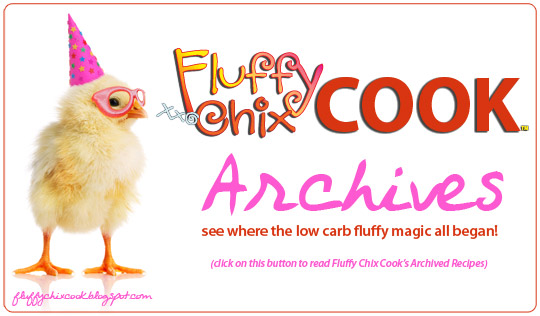 Copyright © 2010 Fluffy Chix Cook. All rights reserved.
We are not dieticians, nutritionists or medical professionals. The materials on this blog are for informational (and fun) purposes only. We do not fact check, nor do we worry about sources. Please do your own fact checking. We encourage you to look things up and check with your doctor or health care professional before acting on anything seen on Fluffy Chix Cook. xoxo