Pan Roasted Brussels Sprouts with Garlic Chips – Induction & Page 4 Friendly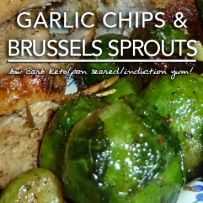 Give the oven a break this Thanksgiving with a healthy and flavorful side dish, quickly prepared and packed with goodness. Pan Roasted Brussels Sprouts with Garlic Chips from Fluffy Chix Cook just might make you wonder what else you've been missing in culinary delights. Perfectly low carb keto, this Page 4 friendly veggie side will make you forget all about the green bean casserole in favor of a quick 10 minute preparation. Side dishes never had it so good!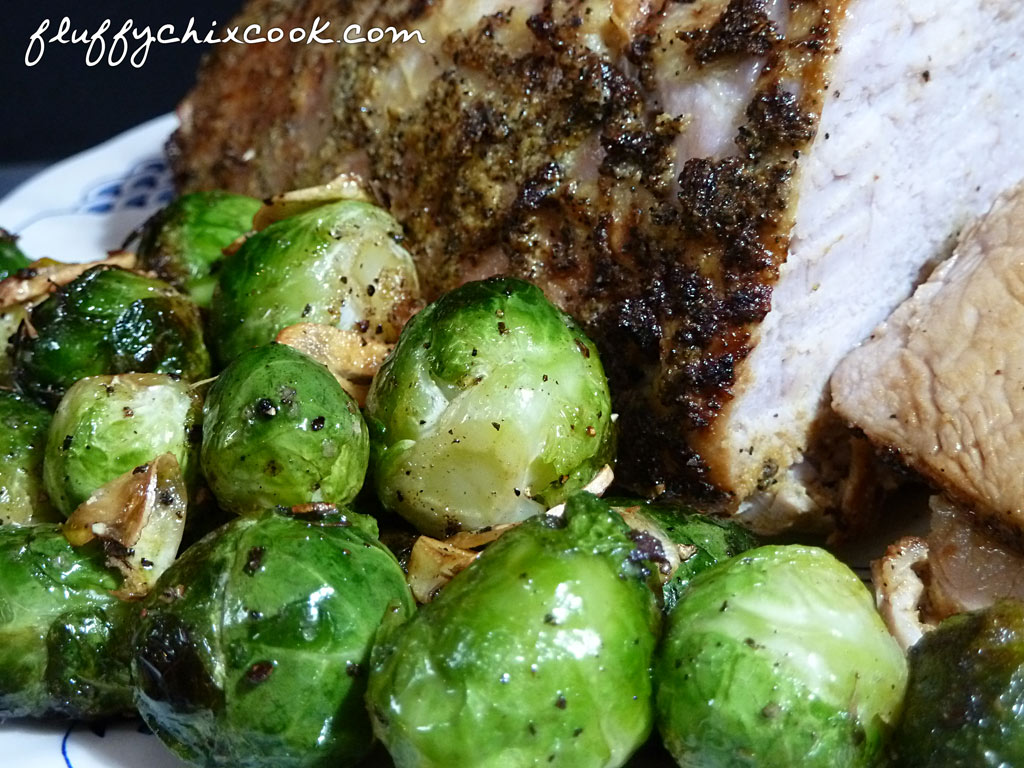 Greetings to you, our brothas and sistahs in Ketonia. Thanksgiving is upon us and today we bring you tidings of great joy, of the green persuasion. Yes, we've been to Brussels and bear sprouts—just in time for Thanksgiving, too!
We hear you now, "But Fluffy, we're having dressing and mashed potatoes and green bean casserole. We don't need no stankin' Brussels sprouts–they're too green!"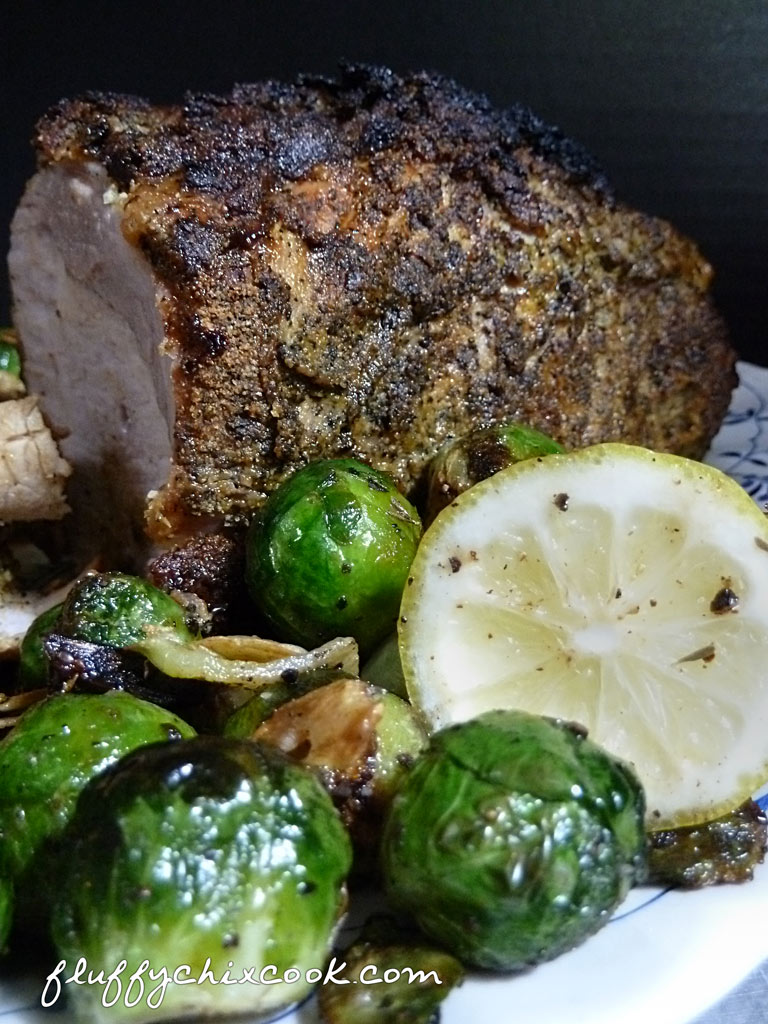 But you would be wrong. 'Cuz in all the melee and frantic activity that is the 30 minute meal of Thanksgiving, this side dish couldn't be easier, or more delicious, despite it's green-ness. So why not tank the high carbage nonsense side dishes in favor of a 6 minute fix? Ok, ok, a 10 minute fix (including prep)…kick the green bean casserole to the curb and make Pan Roasted Brussels Sprouts with Crispy Garlic Chips (there's bacon involved…in some form)!
The Fluffys weren't "born" Brussels sprouts fans. Our people were not sprouts people. Growing up in Texas in the 60s, we had cabbage in plentitude, and it was cheap and fed a ton of folks for about a nickel, but tiny Brussels sprouts were an unknown foreign entity. About the only fresh veggies we had were Iceberg lettuce, tomatoes, onions, cabbage, and greens (and the occasional yellow squash during the summer). It wasn't until our teens we even knew sprouts existed and the only thing we heard about them (from our sprouts-hatin-mamas) was that they were a tool of torture unfit for human consumption…even when smothered with cheese sauce.
Imagine our surprise as adults, when we were blessed to try them and wha*, what? We didn't die after eating them! We didn't gag as they slid down our pie holes. These little baby cabbage heads were delicious—and cute! They weren't Satan's spawn at all! In fact, they bore no resemblance to dirty diapers. Our mamas fibbed about that, too! Then why did they withhold them from us all those years?
It turns out our mamas weren't fibbers. Brussels sprouts are high in sulforaphanes—cancer-fighting compounds that contain a sulfur component, and can carry a strong malodorous scent if that sulfur goes airborne. If Brussels sprouts are overcooked (which happened often in the South during the 30's and 40's when our mamas were just little sprouts themselves), these compounds become airborne and the result is, let's just say, horrifyingly odorific and reminiscent of a small child's nappy. But have no fear! As long as you don't over-cook these babies, and treat them with respect, you will not be visited by maleficent odors.
One way to ensure proper cooking time is to quickly sauté or pan roast Brussels sprouts. We talked about the technique of pan roasting in the Barramundi recipe and it's one of the Fluffys go-to tools for quick, easy, side dishes. In the case of sprouts or other sturdy veggies, pre-cooking is appropriate. Pre or par-cooking (blanching, steaming, or nuking) allows dense, coarse veggies to cook slightly (al dente) in the center before burning on the outside. Use the microwave, blanch or steam them, your choice. About 2-3 minutes in any method will get you to the hot pan of sizzling bacon drippings with just the correct amount of internal doneness. Cook them quickly, on super high heat, with healthy fats (butter, bacon grease, olive oil) and a good measure of tasty garlic, salt and "peppah," and the result is close to spiritual epiphany.  Enjoy the rewards of that magical Maillard effect!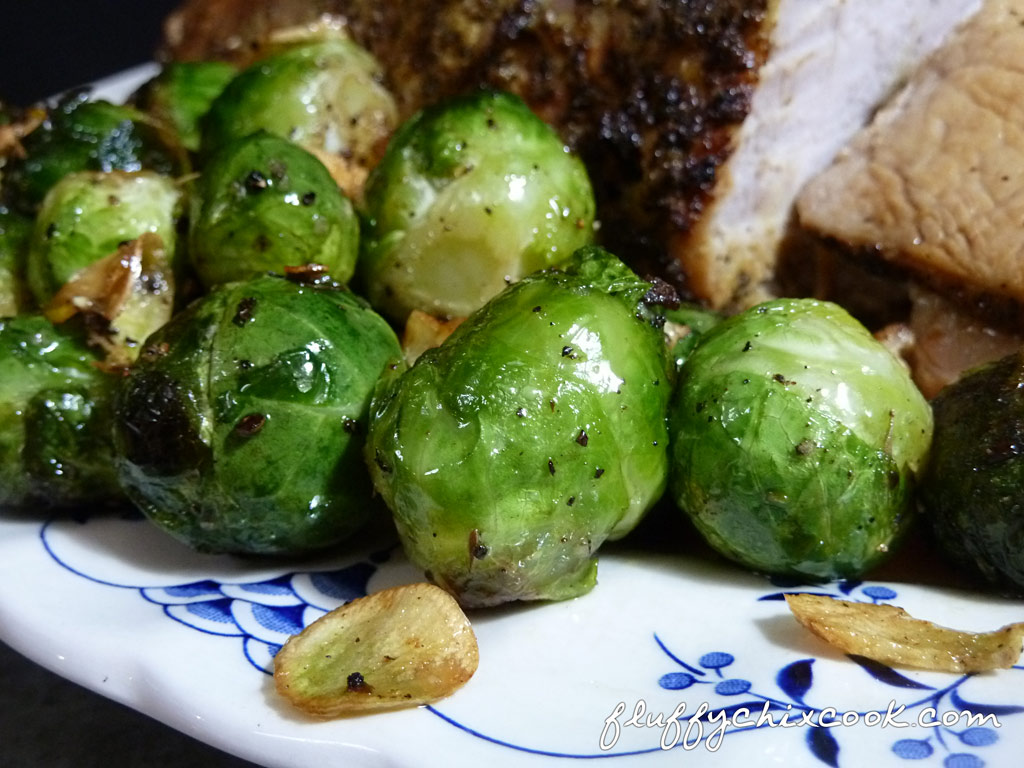 You'll thank us for bringing you this recipe, because you can apply pan searing to almost any veggie from leafy greens such as Swiss chard, kale, young collards, mustard, turnip greens and spinach, to bok choy and beyond! We can't think of one single veggie, pan searing doesn't enhance! And when you add bacon drippings and garlic into the mix, can lovin' them be wrong? So this Thanksgiving (and any day of the week), give the oven a break and go to town with a quick pan sear. Your heart and body just might thank you tomorrow!
For more quick Thanksgiving or any-day-sides visit the Fluffy's Garlic Green Beans and Garlic Spinach recipes. Look forward to Pan Seared Broccoli coming soon! (Are you noticing a garlic trend here? Garlic is another heavy nutritional powerhouse!)
Be sure to try Pan Seared Brussels Sprouts and for goodness sake, don't forget the crispy garlic chips and the tiny hit of lemon! Lordamercy! Then scoot back here and drop us a love note. We'd love to hear from you.
Pan Roasted Brussels Sprouts with Garlic Chips – Induction & Page 4 Friendly
You only think you hate Brussels Sprouts. This quick side dish comes together in 6 minutes tops, and works with everything from the family bird at Thanksgiving, to pork roast and even seafood!
Ingredients
12 ounces Brussels sprouts
2 tablespoons bacon drippings
2 cloves garlic, peeled and thinly sliced
1 pinch dried thyme—or 1/4 teaspoon fresh thyme leaves
1 teaspoon lemon zest
1/2 lemon wedge
kosher salt
freshly ground black pepper
Instructions
Trim browned ends off Brussels sprouts and remove blemished leaves. Place sprouts in a single layer on a microwave plate or pie plate. Cover with moistened food safe paper towels. Nuke on high 2 1/2 to 3 minutes.
In nonstick skillet over medium high heat, melt bacon drippings (aka bacon fat or liquid gold) and thinly sliced garlic. Cook 1 minute or until garlic just begins to change color. Remove garlic chips and add Brussels sprouts to garlic flavored drippings. Crank the heat to high and sauté 2 minutes or until sprouts are browned in places. Season with kosher or sea salt and freshly ground black pepper. Add lemon zest and squirt about 10 drops (a half of a wedge) of lemon juice over sprouts. Top with garlic chips. Serve immediately to rave reviews from the fam.
Notes
Pan roasted almost any veggie with garlic and healthy fat is a hit...even certified veggie haters! This is a basic technique that works with many types of veggies from nutrient packed leafy greens to sprouts, asparagus, broccoli, green beans and cauliflower. Gosh we could Bubba Gump the hayull (Texan for h-e-double-hockey-sticks) out of this technique. If a veggie is tough like Brussels sprouts or broccoli, you can nuke (microwave) it for 2-3 minutes or alternately, steam them for 2-4 minutes depending on density. Then a quick toss in hot, flavored oil is all that is needed to execute the lovin'! Mission accomplished. You look like a 4-star chef and the side dish is done in under 6 minutes!
Brussels Sprouts are a carbier vegetable selection so if you need to, enjoy it as more of a "condiment" than a side. Make a big leafy green salad with lots of House Vinaigrette and serve a small 1/4cup serving of Pan Roasted Brussels and enjoy the flavor while feeling satisfied by all the healthy fats and leafy greens that give great chew-factor.
Serving Ideas Serve with your favorite protein from meat, seafood to eggs or cheese!
Nutritional Information
Per (1/4 cup, cooked) Serving: 66 Calories; 5g Fat (57.9% calories from fat); 2g Protein; 5g Carbohydrate; 2g Dietary Fiber; 3g Effective Carbs
Per (1/2 cup, cooked) Serving: 99 Calories; 7g Fat (57.9% calories from fat); 3g Protein; 8g Carbohydrate; 3g Dietary Fiber; 5g Effective Carbs
Copyright © 2012 Fluffy Chix Cook. All rights reserved.
http://fluffychixcook.com/pan-roasted-brussels-sprouts-with-garlic-chips-induction-page-4-friendly/
Copyright © 2016 Fluffy Chix Cook. All rights reserved.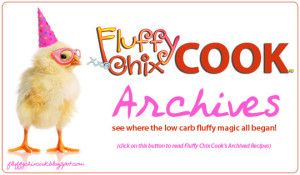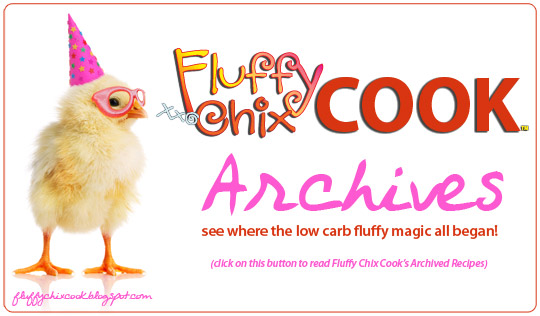 Copyright © 2010 Fluffy Chix Cook. All rights reserved.
We are not dieticians, nutritionists or medical professionals. The materials on this blog are for informational (and fun) purposes only. We do not fact check, nor do we worry about sources. Please do your own fact checking. We encourage you to look things up and check with your doctor or health care professional before acting on anything seen on Fluffy Chix Cook. xoxo