Pan Seared Chicken with Parsley and Thyme | Keto Allergy KISS Day 2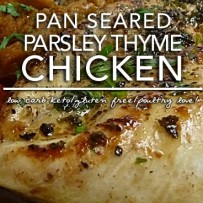 Pan Seared Chicken with Parsley and Thyme makes a super quick KISS Keto Meal whether or not you follow an Induction level food plan or if you're following a low carb keto allergy rotation/elimination style of diet. Check in with Fluffy Chix Cook and the Fluffys to see how Mr. Fluffy is progressing and learn a little more about how to rotate food families to help identify food sensitivities.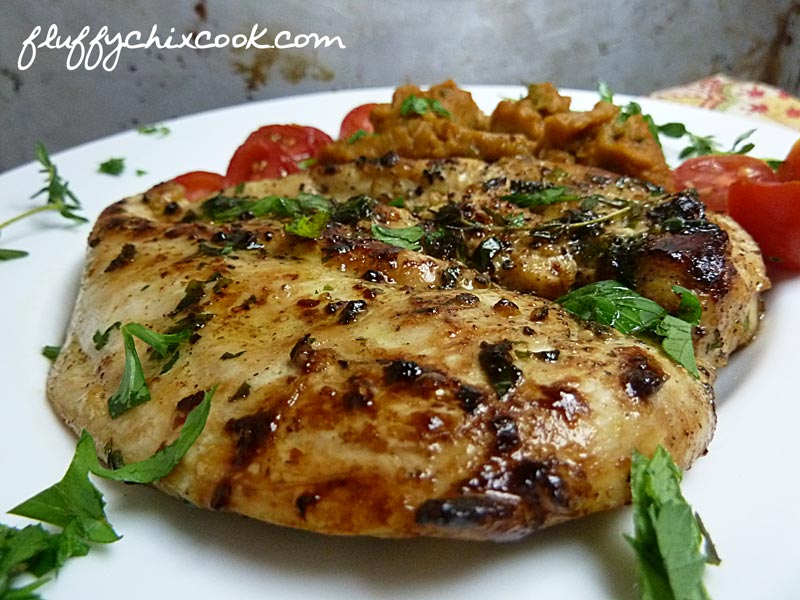 DAY 2 Chicken/Eggs and Melon/Gourd Day! Now doesn't THAT sound exciting? Haha, squint, and try to image REAL hard and you might be able to come up with, "Exciting!" But seriously…we've figured out how to crack the code on QUICK, EASY, and DELICIOUS—even with chicken, pick all 3!
The secret to quick, easy, and delicious (and SUPER low carb) meals is honest to God, pan searing. We've discussed it before. It's a basic cooking skill. And if you haven't acquainted yourself with a sizzling hot pan, cold fat, and meat ready to go, you should check out this steak post that discusses it. Or you can read about it in our pork chop post.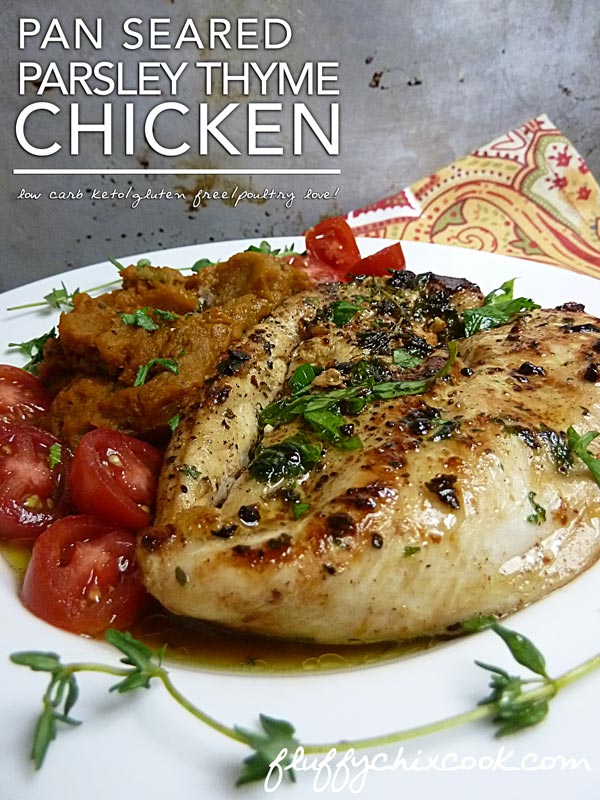 Most days, that's how we cook. We pan sear a protein, throw it together with a veg and maybe a salad and get down, get down! It takes maybe 15-20 minutes of time investment, and the reward is Jumpin' Jack Flash delicious food in less time than it takes your two-timing pizza delivery guy to make it to your door with a limp pizza made with fake cheese.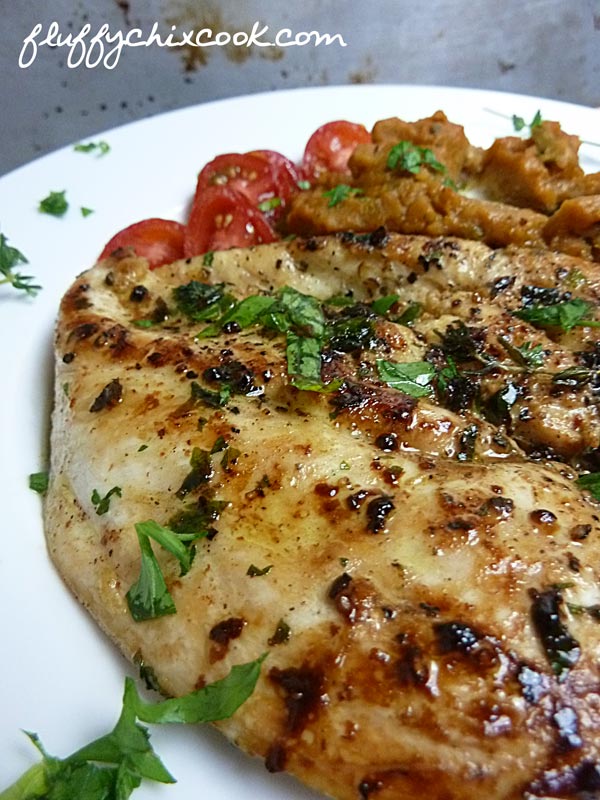 But pan searing is such an important cooking technique, we can't help but repeat it. And since we're doing Mr. Fluffy's Keto Allergy Elimination/Rotation Diet, we will use this technique often because we will be using fresh herbs, and fresh herbs ADORE this manner of cooking. The most important part of the equation is to have a seriously hot pan. Use whichever pan you have, but pan searing honestly works best with a heavy skillet made from either cast iron, enameled cast iron, stainless, or even anodized aluminum (gasp). When the oil/fat is hot enough, the trick is to listen for a sizzle as you begin to place the meat into the pan. No sizzle, no joy. Abort the mission and wait for the pan to heat longer.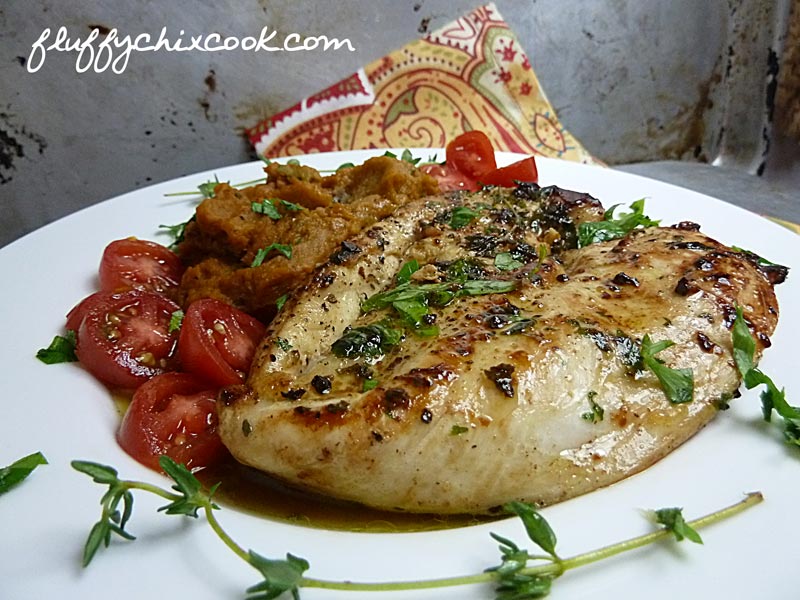 Once the pan is fully at optimal temperature, place the meat in the pan and don't touch it again until it's time to flip it to the second side. Ideally, flip only once. The meat will cook quickly, anywhere from 1-3 minutes per side depending on thickness and BTU output of your stove. From start to finish we have perfectly pan seared chicken in 4-5 minutes when the butterflied sides are 1/4-inch or less. The tasty beauty develops through the caramelization process (called the Maillard Reaction) and from the quick pan sauce made after cooking.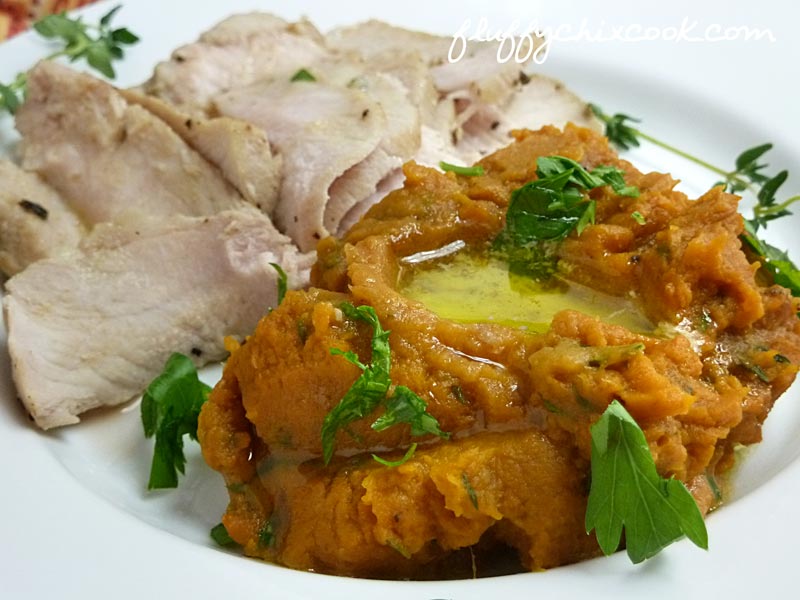 We made Pumpkin in Browned Butter aka Refried Pumpkin (the Melon/Gourd portion of tonight's allergy soirée) and you can read the recipe here and drool over it. This stuff is the low carb bomb with either chicken or pork (which means it will also rock with turkey) and yet, it was born out of creativity and necessity! I didn't have time to hit the grocery, we had canned pumpkin in the pantry, thus satisfying the Melon/Gourd Family portion of the food equation for Day 2…and boom, bayyyybeee!! Mr. Fluffy has a side dish for his chickie boobs tonight—and the crahps ah sayuved!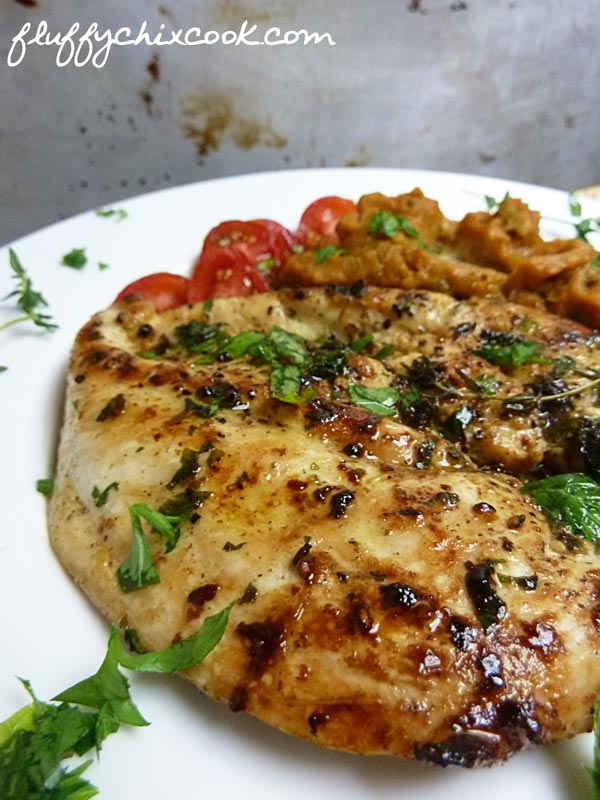 Good news! He made it through a day of eating yesterday without a lip/tongue reaction this morning, although his ginormous hives are still happening!
DAY 2 – MR. FLUFFY'S LOW CARB KETO ALLERGY MENU
B–Water
L–Egg & Pumpkin Wraps
3 large eggs
2 tablespoons olive oil
sea salt
freshly ground black pepper
2 pieces Pumpkin Egg Wraps – Allergy Friendly
D–1 1/2 servings Keto Pan Seared Chicken with Parsley and Thyme – KISS Allergy Rotation
1 serving Pumpkin in Browned Butter (aka Refried Pumpkin)
Daily Totals: Daily Totals 1411 Calories; 116g Fat (74.1% calories from fat); 77g Protein; 14g Carbohydrate; 7g Dietary Fiber; 7g Net Carbs
DAY 2 FOOD FAMILIES (for those of you who want/need to geek out)
Bovid (KG Butter)
Pheasant/Fowl (Eggs & Chicken)
Melon/Gourd (Pumpkin)
Parsley/Carrot (Italian Parsley)
Free sea salt, black pepper, Mint Family fresh herbs (fresh thyme leaves), olive oil, butter (All the Things!)
If you really want to Geek Out! Here's the Chart of ALL the foods we could choose from for DAY 2 foods. Not too shabby, right?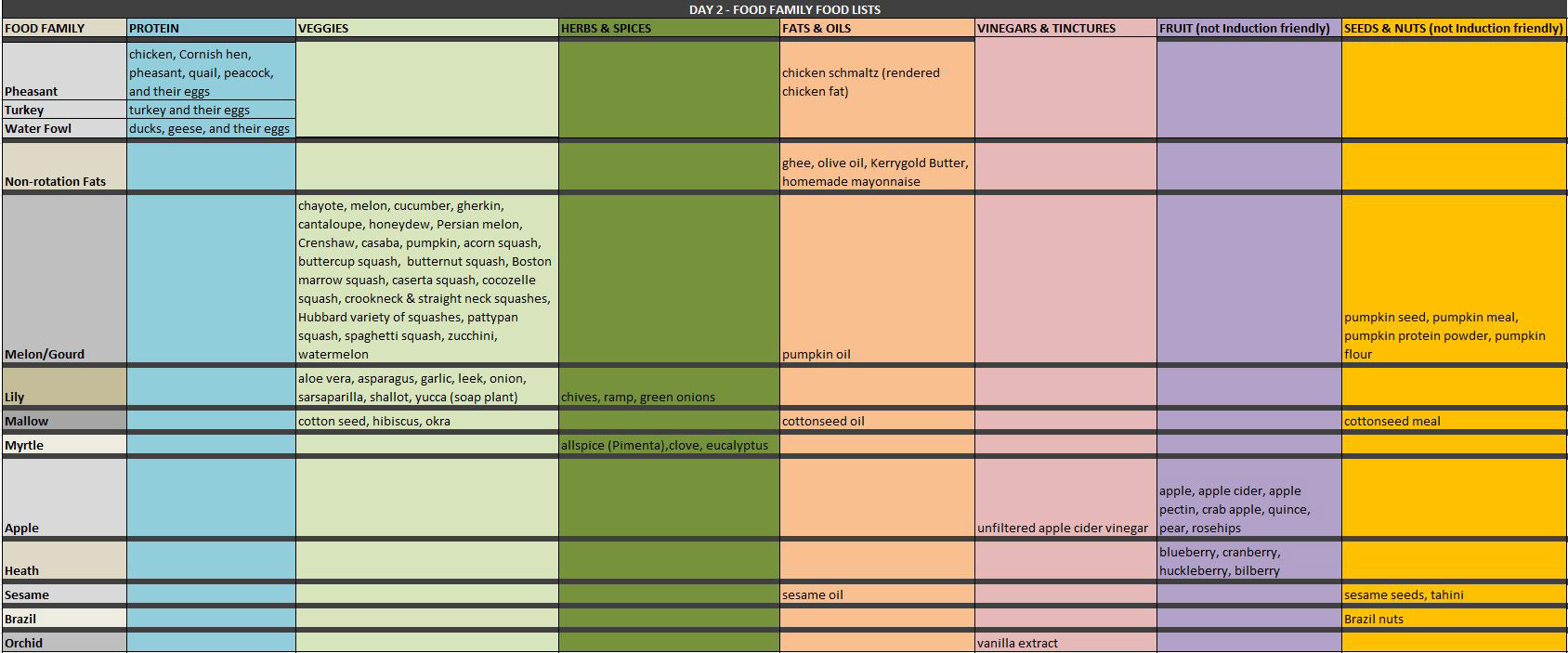 (Click to enlarge image.) Visit this pdf to see the full Food Family Allergy Rotation List and book by Lisa Lunde.
Pan Seared Chicken with Parsley and Thyme | Keto Allergy KISS Day 2
Simple and lovely, Keto Pan Seared Chicken with Parsley and Thyme is far from boring and perfect for an allergy rotation diet as well as Induction friendly.
Ingredients
6 ounces boneless skinless chicken breast, butterflied—or boneless thighs
2 tablespoons Italian parsley, chopped, divided
2 tablespoons butter, divided
1 tablespoon unfiltered extra virgin olive oil
4 sprigs fresh thyme
1/4 teaspoon unfiltered apple cider vinegar
2 tablespoons water
Instructions
If desired, rinse and butterfly chicken breast. Season with 1 tablespoon chopped Italian parsley, sea salt and freshly ground black pepper. (Omit black pepper if it gives you an issue.)
Heat heavy skillet with 1 tablespoon butter, olive oil, and fresh thyme sprigs over medium high heat. When butter melts and the fats start to shimmer in the pan, add chicken butterflied breast meat—cut side down. Chicken should sizzle loudly when you place it into the pan! Cook 1-3 minutes until golden. Flip breast and cook another 1-3 minutes. (Our butterflied chicken cooks in about 4-5 minutes.) Remove when breast is golden on both sides and juices run clear when chicken is pierced. (Note: the Fluffys like to baste the chicken as it's cooking by scooping up hot butter and olive oil and ladling the hot fat over the top of the breast.)
Transfer breast to a plate. Add vinegar and hot water to the hot pan and scrape the bottom of the pan with a spatula to free any of the GBD (golden brown delicious) flavor bits that might be stuck. This is called deglazing. Pan should be almost clean on the bottom! Continue to cook over medium high heat and when liquid is almost evaporated, add the remaining tablespoon of butter and remove pan from heat. Shake pan until butter melts and incorporates into the pan sauce.
Pour sauce over chicken and top with remaining chopped Italian parsley. Serve piping hot to rave reviews!
Notes
You do not have to be a restaurant chef to cook like one and KISS Induction meals (as well as allergy elimination/rotation meals) do not ever have to be boring! This entire dish can be made in 8 minutes flat! We happen to like chicken breasts and can make them keto-friendly through the addition of cooking fat and the pan sauce.
(Tip: To butterfly chicken breasts, check out this YouTube video on butterflying chicken breasts. It literally takes about 30 seconds or less to butterfly the chicken. The advantage to butterflying is that the breast cooks more evenly and very quickly--about 4-5 minutes when cooked on medium high heat.)
Serving Ideas Serve with your favorite Veggie Family side dish. We love refried pumpkin puree!
Nutritional Information
per 6 ounce breast (about 4 1/2 ounces cooked) 508 Calories; 40g Fat (72.1% calories from fat); 34g Protein; 1g Carbohydrate; 1g Dietary Fiber; 0g Effective Carbs
Copyright © 2015 Fluffy Chix Cook. All rights reserved.
http://fluffychixcook.com/pan-seared-chicken-with-parsley-and-thyme-keto-allergy-kiss-day-2/
Copyright © 2016 Fluffy Chix Cook. All rights reserved.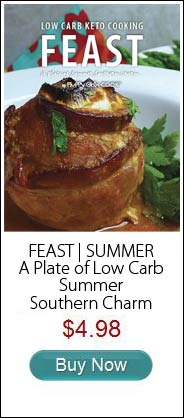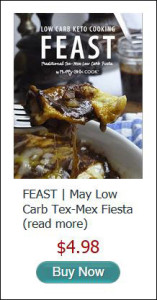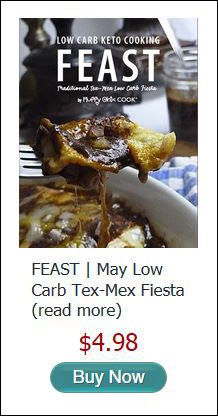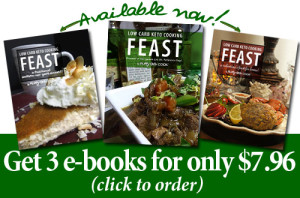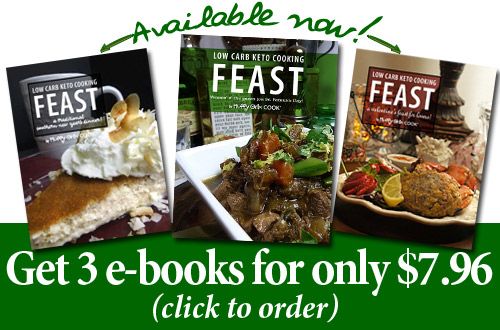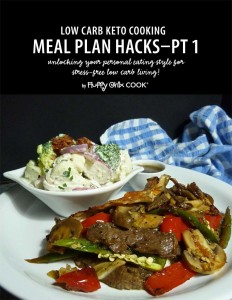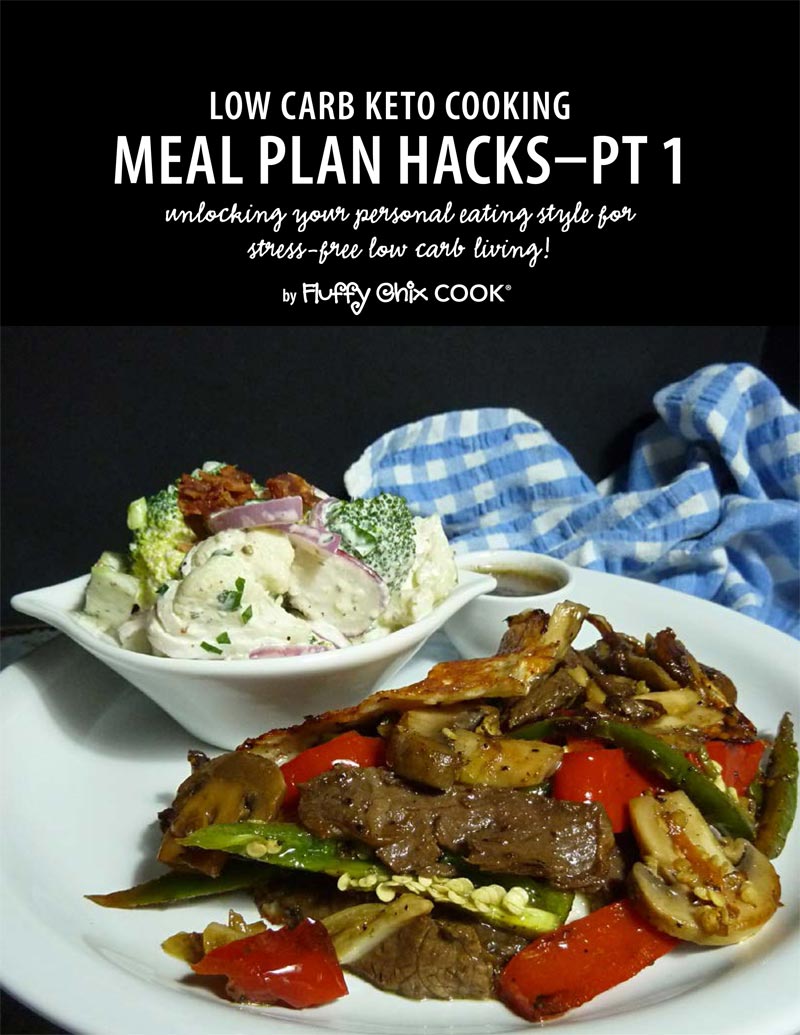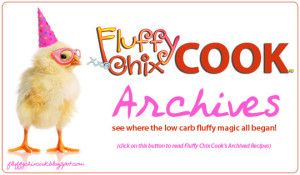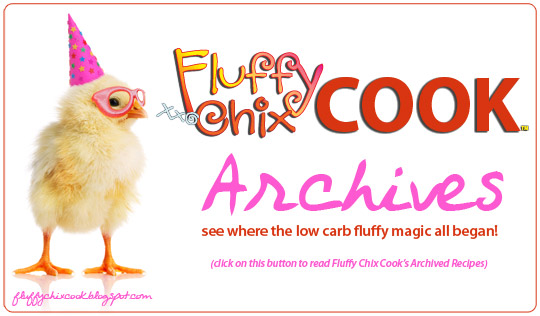 Copyright © 2015 Fluffy Chix Cook. All rights reserved.
We are not dieticians, nutritionists or medical professionals. The materials on this blog are for informational (and fun) purposes only. We do not fact check, nor do we worry about sources. Please do your own fact checking. We encourage you to look things up and check with your doctor or health care professional before acting on anything seen on Fluffy Chix Cook. xoxo