Pan Seared Sugar Free Teriyaki Cod Loins – Dr. Westman's No Sugar No Starch Page 4 Meal Plan Week 3 | Day 2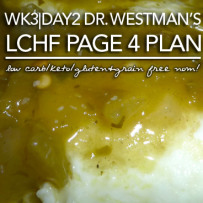 Fluffy Chix Cook serves a Dr. Westman's and Duke Lifestyle Medicine Clinic's No Sugar No Starch Page 4 Meal Plan featuring a quick and easy fried egg breakfast with Hatch green chile salsa. Quick Egg Drop Soup with Mushrooms is filling and fast. And let's have sugar free Pan Seared Teriyaki Cod loins with Garlic Broccoli and Green Beans for dinner, as part of your healthy low carb lifestyle? Sounds like a lot of work, but each of these meals are on the table in less than 15 minutes per meal.
Week 3 | Day 2 of Dr. Westman's Page 4 No Sugar No Starch Diet begins today. Each week, we make a low carb keto Page 4 Meal Plan focused around common ingredients and Lucky Leftovers. That helps keep food costs lower and virtually eliminates food waste. Every smidge gets eaten or frozen for another day. This week things are a little special. We're going back to the book and back to basics. If it "ain't" on Page 4, don't eat it!
The Fluffys are already in ketosis and have the lack of hunger advantage that naturally helps us keep quantities in check. We only eat when hungry. So although we have a "master plan" or food plan for the day, it's subject to change without notice as prescribed by our appetite. The other thing that helps with food portions and eating only to the point that hunger abates (not to the point of being stuffed), is to serve yourself smaller portions. This is very important because, if you're a member of the Clean Plate Club, as we are, it's easy to overeat without realizing.
For instance, yesterday was a super low hunger day and I didn't even eat 1000 calories (not intentionally). But I woke up a little peckish this morning and could easily have eaten 4-5 eggs at breakfast (oh true story)! But, I also know that I am satisfied after eating only two to three. If I have two or three on my plate…they will all be eaten…just as if I had 5 on my plate. So I simply use a smaller plate, make 3 eggs and eat slowly, savoring each drippy yolk filled, salsa laden bite. I make a deal with my bad self. If I'm still hungry 20-30 minutes after eating, I can go back and make a second batch of eggs.
Denny wanted breakfast tacos again this morning so out came the Westman Wraps and he had a repeat of yesterday's breakfast x2 (cuz I make him 2 breakfast tacos).
Find the list of Page 4 friendly foods in Dr. Westman's publication. Cheap at amazon.com, along with his instructions.
Join fellow Page 4 Groupies in the Facebook group dedicated to following Dr. Westman's Page 4 plan. Learn more about the lifestyle and how to accurately implement it into your life.
Here's the link to the group: https://www.facebook.com/groups/DukeLowCarbSupportGroup/
My Goals For The Week:

1. Keep weekday meal prep to a minimum.

[Try to prep ahead (which I already missed cuz I didn't cook on Sunday like I should). Will try to get a couple of hours in the kitchen today to bust a move with make-ahead recipes.]

2. Keep recipes super simple and 1-2 servings only.

3. Eat ONLY until hunger is satisfied and NOT until full! (Use a small plate and serve yourself half of your normal serving size.)

(Even though the portion I computed and allowed myself is reasonable, I will try to follow my hunger and quit eating at the first sign of being full! If I'm not hungry, I will not eat and will skip the meal. The menu below represents the maximum of what would be consumed today.)
2014 | WEEK 3 | DAY 2 | DR. WESTMAN'S NO SUGAR NO STARCH (PAGE 4) DIET MEAL PLAN | TERIYAKI COD NIGHT (14g TOTAL CARBS)
Breakfast
Coffee or Tea (save the cream for dessert)
Fried Eggs with Hatch Green Chile Salsa
Lunch
Egg Drop Soup with Mushrooms
Dinner
Pan Seared Teriyaki Cod Loins
Broccoli and Green Beans with Garlic
Side Salad with Asian Vinaigrette
Dessert
Sugar Free Gelatin with Whipped Cream
Daily Totals:  978 Calories; 68g Fat (64.2% calories from fat); 72g Protein; 14g Carbohydrate; 5g Dietary Fiber; 9g Effective Carbs
20 grams or less of total non-netted carbohydrate for the day!

Breakfast:
coffee or tea and cream (o anything-saving the cream for dessert tonight)
2 cups decaff coffee, black, unsweetened
Fried Eggs with Salsa (286 Calories; 21g Fat (69.7% calories from fat); 19g Protein; 2g Carbohydrate; trace g Dietary Fiber; 2g Effective Carbs)
3 large eggs, fried over medium
1/2 Tbsp bacon grease
2 Tbsp Hatch Green Chile Salsa
Lunch:
Egg Drop Soup (251 Calories; 18g Fat (64.3% calories from fat); 18g Protein; 4g Carbohydrate; 1g Dietary Fiber; 3g Effective Carbs)
1 1/2 cups bone broth
1/2 tablespoon butter
1/2 cup mushroom, sliced
1 cup organic baby spinach
1 pinch five-spice powder
1 pinch granulated garlic
1 pinch ground ginger
1 dash tamari soy sauce, or coconut aminos
1/4 teaspoon sesame oil
2 large eggs, beaten
Dinner:
Pan Seared Teriyaki Cod Loins with Stir Fried Veggies (379 Calories; 23g Fat (56.8% calories from fat); 33g Protein; 7g Carbohydrate; 3g Dietary Fiber; 4g Effective Carbs)
6 ounces cod, Pacific, raw, custom
2 tablespoons Sugar Free Teriyaki
1 tablespoon olive oil
1/2 tablespoon butter
1/2 cup broccoli crowns
1/3 cup green beans, frozen
1/2 cup baby spinach, Taylor Organic, Sam's brand
1/2 teaspoon sesame oil
Dessert:
1 serving sugar free gelatin with Whipped Cream  (61 Calories; 6g Fat (87.8% calories from fat); 1g Protein; trace Carbohydrate; 0g Dietary Fiber; trace g Effective Carbs)
½ cup sugar free gelatin
2 Tbsp Whipped Cream (measure portion after whipping)
***FLUFFY'S NOTES: In the Fluffy house, eating simply never equates to boring. A simple sauce, a few spices thrown together, a pat of butter or splash of unfiltered extra virgin olive oil takes a plain-Jane protein or veg and elevates it to exciting. Even our breakfast and lunch gets a huge hit of flavor from low carb, Page 4 friendly condiments. Bold flavor doesn't require a lot of extra time in the kitchen. I mean, come on! How long does it take to pop on a tablespoon or two of low carb salsa? How long does it take to cook pre-made bone broth with a couple of beaten eggs, a few veg and spice? (Oh the answer to that is about 10 minutes, tops.)
We didn't intentionally set out to put you under 1000 calories for the day. It just happens that fish and eggs as protein sources are really huge nutritional bargains because they are nutrient dense while being low in calorie per gram of protein. We are on the lower end of the fat spectrum today, as well. Again, not intentionally. We simply used as much fat as we needed to make the food taste good and to satiate us at meals. It's perfectly natural and good to have fluctuations in daily calories, fat and carbs as long as you stay within the Page 4 framework. If you feel the need, add an extra tablespoon of whipped cream to your sugar free gelatin! You have a little wiggle room!
So don't let boring in your LCHF front door. It breeds discontent. Be bold. Be fast. Be flavorful!
For more recipes visit Fluffy Chix Cook Recipes or visit Fluffy Chix Cook's Recipe Archive! Be sure to visit the Page 4 Meal Plans and the RECIPE INDEX!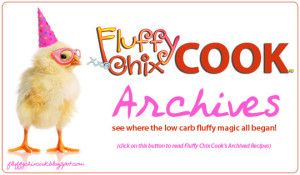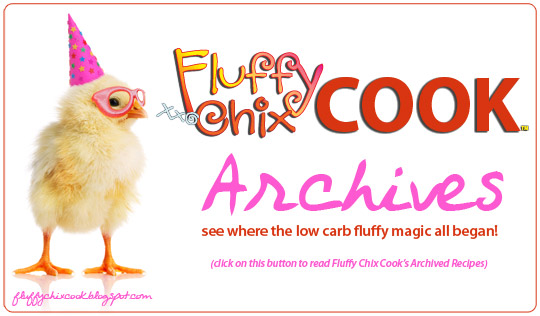 You may notice a discrepancy when adding the total carbs shown by line-item. Do not be overly concerned. MasterCook 9 rounds numbers, so when the individual recipes are combined in a daily meal, the total is calculated to include decimals points. This may result in a +/- difference of 1-2 g of carbs. The Daily Total value is the more accurate figure. Thanks and sorry for any inconvenience!
Copyright © 2014 Fluffy Chix Cook. All rights reserved.
We are not dieticians, nutritionists or medical professionals. The materials on this blog are for informational (and fun) purposes only. We do not fact check, nor do we worry about sources. Please do your own fact checking. We encourage you to look things up and check with your doctor or health care professional before acting on anything seen on Fluffy Chix Cook. xoxo