Psylli Pumpkin Pasta – Low Carb Keto Lasagna Noodles with 'Tude (Attitude)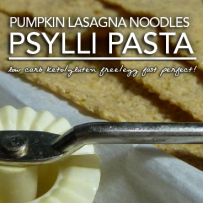 Low carb keto never means having to break-up with your beloved pasta! Do you crave low carb lasagna, but don't know where to turn? How about low carb keto, Psylli Pumpkin Lasagna Noodles from Fluffy Chix Cook? Psylli Pumpkin Lasagna Pasta is perfect for fall and pumpkin time. Use them for lasagna or cut them into your favorite noodle shapes.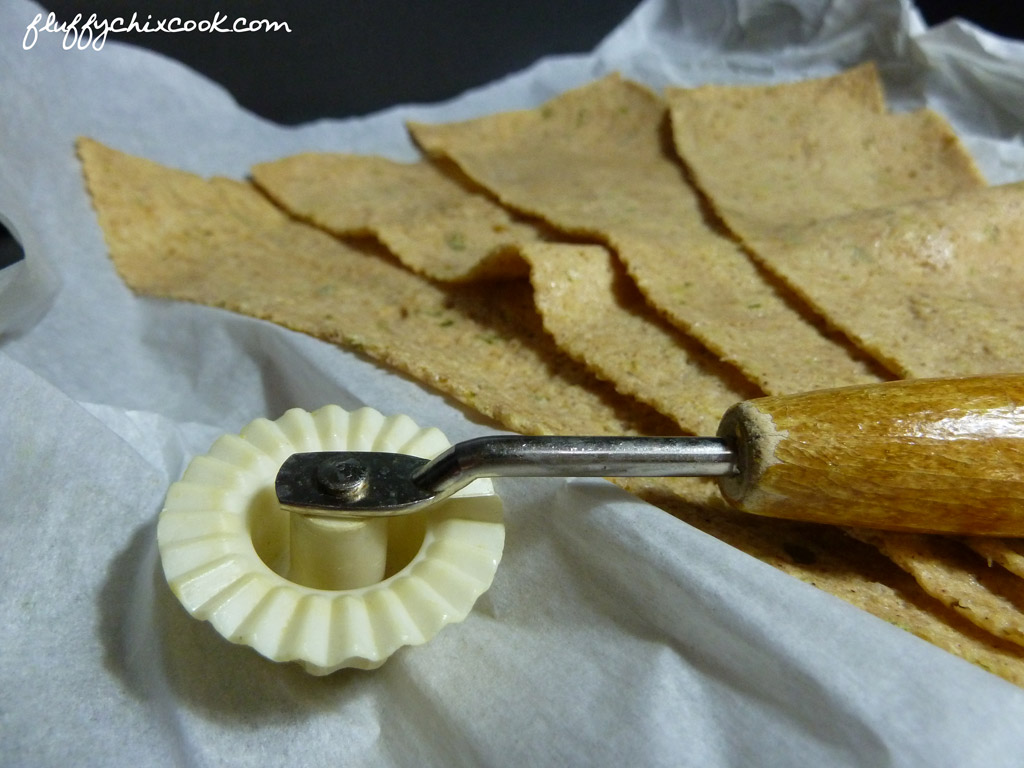 We are lasagna freaks in the Fluffy Chix House! And sure, typical meat sauce, mushrooms, layers of cheese and noodles, what's not to love, right? But sometimes we crave exotic or extra special recipes and feel like playing around with ingredients.
I saw this picture in Cooking Light Magazine of an amazing looking pesto and Alfredo lasagna. Of course it was gorgeous. And of course it had about eleventy billion carbs. Girlllll!!!!! That just isn't in our fluffy future these days (nor the last 14 years of fluffy history, either). But dangit! Whaddawedoooo?? We want; we want! We need, we need!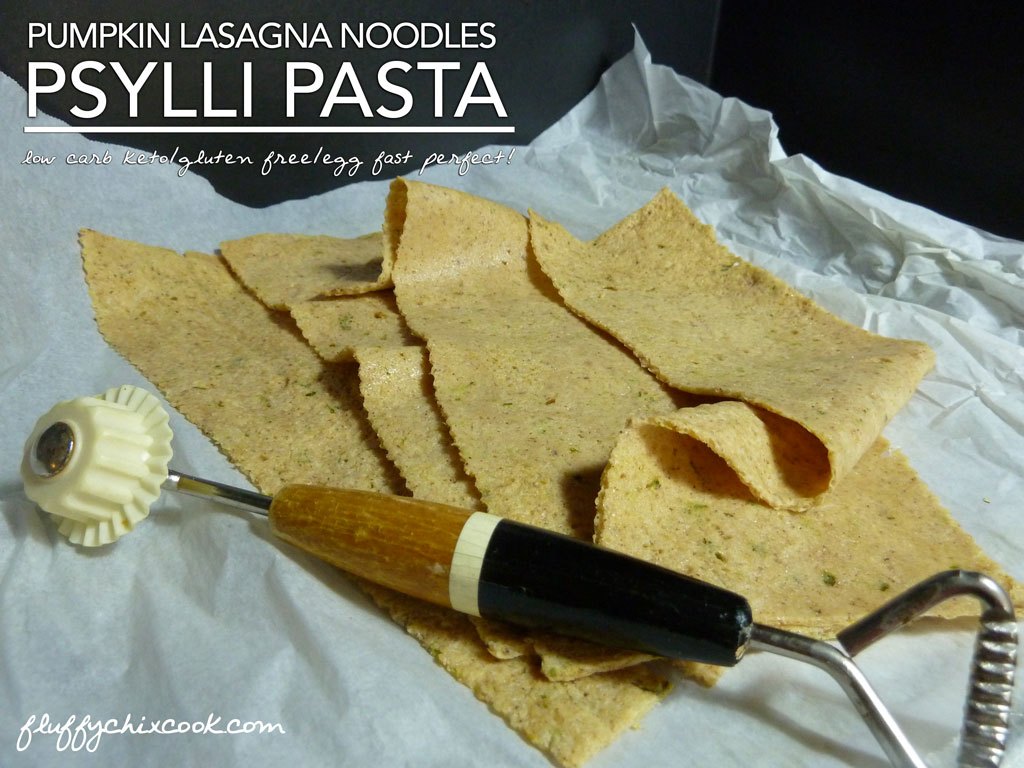 So about that time, I heard of people having success with Psylli pasta made with cream cheese. If you haven't read about the Psylli Induction Pasta we published last week, please zoom on over and read. I included the links to two recipes that influenced this recipe. But I thought, Jasus, Mary and Joseph, that's a LOT of psyllium. Look out pipes, here it comes! And began working on a low carb keto noodle/pasta alternative. Then spring came, and thoughts of pasta and pumpkin went out the window. But now that fall is rolling in and pumpkin season unfolds, it's time to bring out the big guns! It's time…wait for it…for Psylli Pumpkin Alfredo & Pesto Lasagna! I am NOT lyin'!
Although the texture of the low carb pumpkin noodles isn't exactly perfect, they worked for us. There may be a little tweak in its future. I'm experimenting right now with adding a bit of glucomannan powder and will let you know how it turns out! Maybe, we'll have another post? Can't ever have enough low carb pasta posts, right?  Or at least, that's my story…
I began kicking around ideas for low carb keto noodle versions:

pumpkin and nutmeg in a white sauce with pesto (seriously fantastic)
spinach and garlic with lots of butter and parm (wicked awesome—thanks to my Boston boys for the "wicked")
roasted garlic (simple chopped tomatoes sautéed in butter and basil with parm, hold me)
roasted cauliflower and cumin (served in a bold chili sauce with spicy sausage, peppers & onions)
I could go on and on forever! But you first need to get all the basic Psylli Pasta recipes. Here's the next one for your collection—Psylli Pumpkin Pasta – Low Carb Keto Lasagna Noodles with 'Tude (Attitude).
Hope you love them and write a comment below telling me how they worked for you and your family! Just because we're low carb keto and diabetic kick-your-booty-friendly, doesn't mean we can't enjoy our pasta! Oh and don't let me forget to share my love of pasta cutters! A pizza cutter works too, in a pinch, but I love this Norpro Pasta and Lasagna Wheel! Makes cutting the cooked noodles so easy and give a pretty frilly edge to them too!
Psylli Pumpkin Pasta – Low Carb Keto Lasagna Noodles with 'Tude (Attitude)
Terrific gluten free, low carb keto alternative to high carb pasta. Makes sturdy lasagna noodles for your favorite family lasagna.
Ingredients
Wet Ingredients

2 tablespoons canned pumpkin
1/2-3/4 cup egg whites—or carton egg whites
Instructions
Combine dry ingredients in a bowl. Stir to mix well. Add wet ingredients to dry and stir with a spatula until evenly mixed.
Line baking sheet with nonstick aluminum foil. Spread dough out along center of pan, lengthwise. Cover with a sheet of plastic wrap.
Use your hands to gently and evenly spread dough out to about 1/16-1/8-inch thickness rectangle. Dough should be even and almost cover the entire bottom of the pan.
Bake in a preheated 325° oven for 10-12 minutes until set and done throughout. Remove pan from oven and cool noodles on the pan. Cut into equal lasagna size lengths, or your preferred shape of noodle.
Cool completely. It won't hurt to air dry them for an hour. Store in airtight container in the fridge up to 5 days or in the freezer for a month. We recommend storing between sheets of parchment paper or plastic wrap.
Notes
Do these have the exact texture of pasta noodles? No, sadly they do not. But, do they taste delicious and do they make a perfect noodle-like layer to separate your lasagna layers? Absolutely! 100%! They're so easy to make and taste lovely with either red or white lasagna or green (pesto), for that matter.
Serving Ideas Use these noodles in your favorite Italian recipes or make lasagna rolls!
Nutritional Information
Per 2 Servings: 73 Calories; 1g Fat (7.5% calories from fat); 10g Protein; 6g Carbohydrate; 3g Dietary Fiber; 3g Effective Carbs
Per 3 Servings: 49 Calories; trace Fat (7.5% calories from fat); 7g Protein; 4g Carbohydrate; 2g Dietary Fiber; 2g Effective Carbs
Copyright © 2012 Fluffy Chix Cook. All rights reserved.
http://fluffychixcook.com/psylli-pumpkin-pasta-low-carb-keto-lasagna-noodles-with-tude-attitude/
Copyright © 2016 Fluffy Chix Cook. All rights reserved.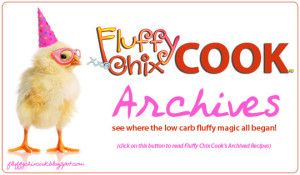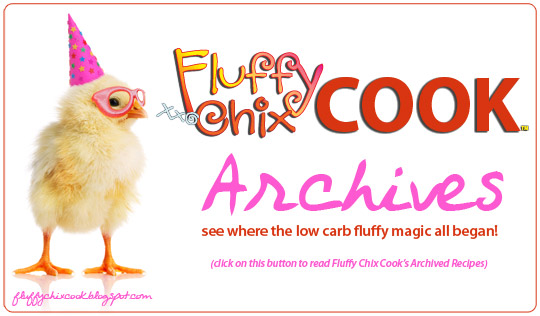 Copyright © 2012 Fluffy Chix Cook. All rights reserved.
We are not dieticians, nutritionists or medical professionals. The materials on this blog are for informational (and fun) purposes only. We do not fact check, nor do we worry about sources. Please do your own fact checking. We encourage you to look things up and check with your doctor or health care professional before acting on anything seen on Fluffy Chix Cook. xoxo