Psylli Pumpkin Spice Pancakes – Low Carb Induction Inspired | Gluten Free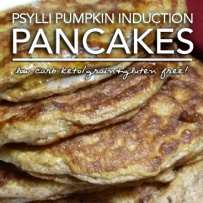 Join Fluffy Chix Cook and invite fall and pumpkin season into your life. Pumpkins are a great way to keep low carb keto baked goods moist and yes, they're Induction Friendly, too. Enjoy these hearty pancakes any meal of the day and marvel how they taste like the real deal! You may start questioning if this is really low carb, but they are…true blue low carb high fat delicious!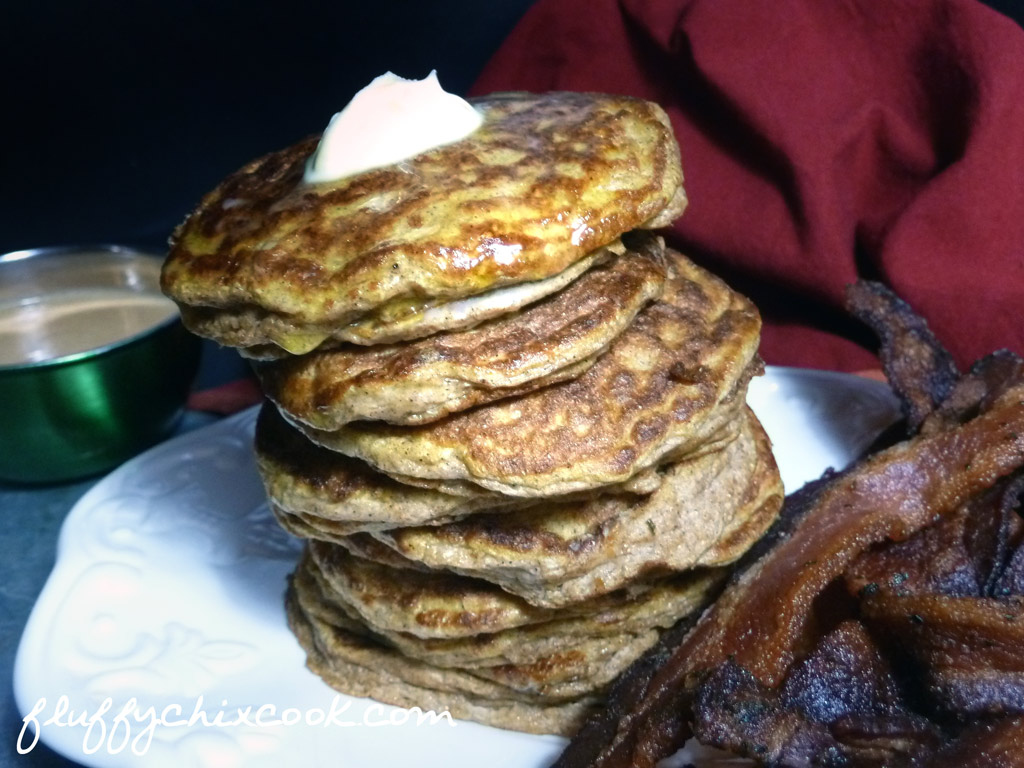 This Psylli Pumpkin Spice Pancake recipe came from my experiments with making Psylli Induction Pancakes that were not only low carb and gluten free, but totally and completely Induction Friendly. I just haven't had time to post them yet! But I promise to get to it soon. The addition of canned pumpkin, and induction friendly core veggie, adds body, flavor, nice nutrition and soluble fiber.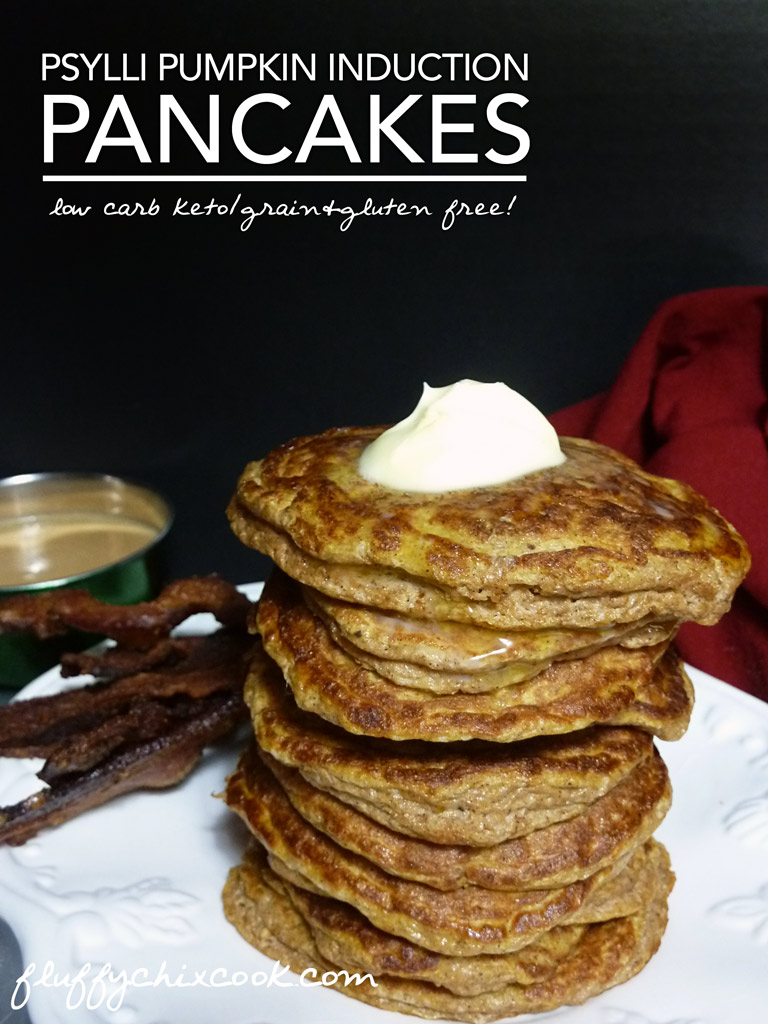 These keto spice pancakes taste so wonderful, just a hint of sweet, and a nice layering of pumpkin flavor-flave! Hollah! You know my low carb keto Mile High Silver Dollar Pancakes and the texture of those are really awesome, but they also have some coconut flour and oat fiber and I wanted to see if we could build textures with only pork rinds, protein powder and psyllium. I hope you will love these and leave love letters to me in the comments! A fluffy chix gets lonely over here with just us chickens!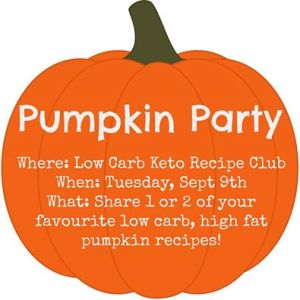 So come join the lchf Pumpkin Party, tomorrow (Tuesday September 9) from 7am-9pm EST, over at our group Low Carb Keto Recipe Club, hosted by Carolyn Ketchum of All Day I Dream About Food. The board will be open for posting and you will get to share your favorite low carb high fat pumpkin recipes with the world! I can smell pumpkins cooking around the world, as we speak!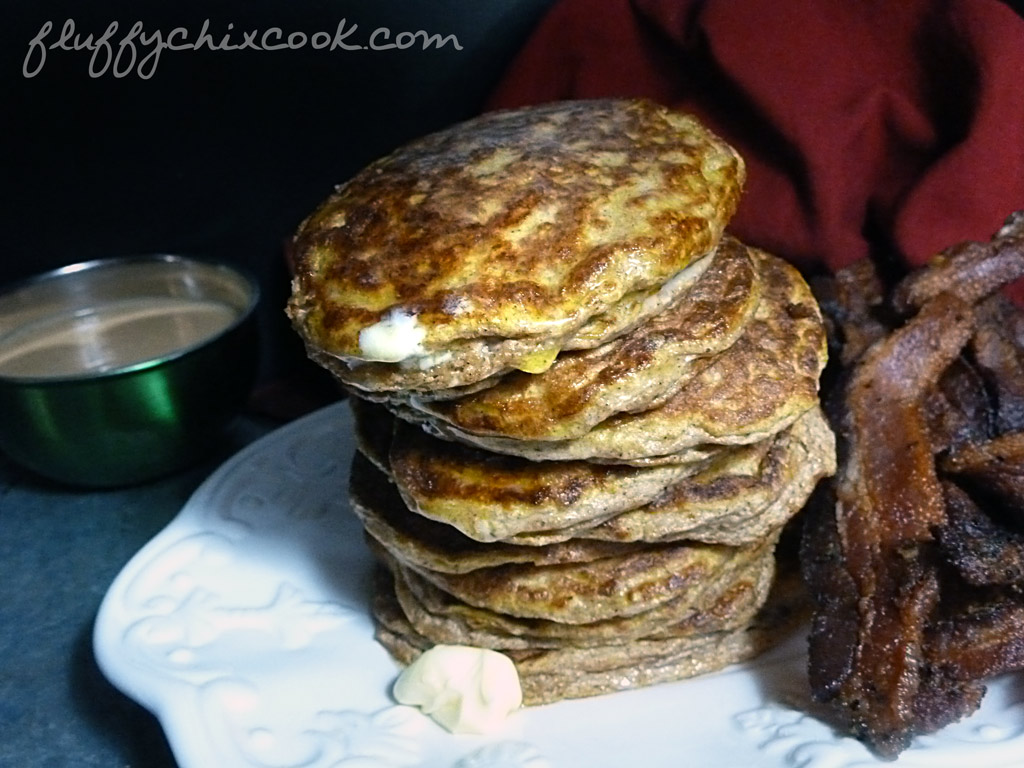 Oh and let me just say, you simply cannot underestimate the power of Jalapeno Bacon. The combination of the two: low carb keto Psylli Pumpkin Spice Pancakes with low carb keto Brown Butter Spice Syrup and Jalapeno Bacon with coffee? Phe-NOM-inal! Try them, I double dog dare ya!
Psylli Pumpkin Spice Pancakes – Low Carb Induction Inspired | Gluten Free
Pumpkin and fall are just natural playmates. And these Psylli Pumpkin Pancakes make you wonder where the diet is—they're that good. And Induction friendly too!
Ingredients
Toppings (Optional)

4 tablespoons unsalted butter (to put on pancakes)
Instructions
Combine dry ingredients stir to mix well. Add wet ingredients into a separate bowl and stir until smooth. Add wet ingredients into dry. Stir with a spoon or spatula until evenly mixed. If batter thickens too much, thin with a tablespoon of egg whites.
Heat nonstick skillet over medium high heat. Brush with olive or use cooking spray. Place one heaping kitchen tablespoon of batter per pancake, into the pan. Gently tap into the batter to spread it out to about 2 1/2-inches. Batter will spread to about 3-inches. Cook until bottom is set and golden (about a minute), then flip and finish on the second side (about another minute). Cook 2-3 at a time and don't overcrowd.
Remove and butter pancakes. Serve with Sugar Free Pumpkin Syrup.
Notes
This Induction friendly, pumpkin spice pancake recipe is quick, delicious and lusciously low carb keto all the way! You won't believe you're eating a low carb recipe! The shortcut is always making sure to have a bag or two of pork rinds made into crumbs, waiting to go. Process the skins into crumbs in the food processor. The measurements in recipes, for pork rind crumbs, are always after processing into crumbs!
These make about 12-14 good-sized 3-inch pancakes. They are fluffy and rise beautifully. And the double hit of pumpkin in the caramel glaze just adds to the experience.
Serving Ideas Serve with your favorite main dish from breakfast to dinner and in between!
Nutritional Information Per 3 Pancake Serving with Butter & Syrup: 406 Calories; 36g Fat (80.1% calories from fat); 14g Protein; 6g Carbohydrate; 3g Dietary Fiber; 3g Effective Carbs
Per Serving (3 Pancakes Only, no toppings): 149 Calories; 8g Fat (51.9% calories from fat); 13g Protein; 5g Carbohydrate; 3g Dietary Fiber; 2g Effective Carbs
Copyright © 2012 Fluffy Chix Cook. All rights reserved.
http://fluffychixcook.com/psylli-pumpkin-spice-pancakes-low-carb-induction-inspired-gluten-free/
Copyright © 2016 Fluffy Chix Cook. All rights reserved.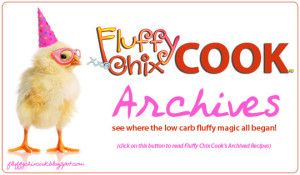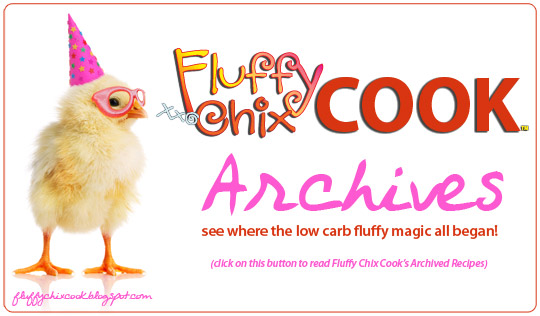 Copyright © 2012 Fluffy Chix Cook. All rights reserved.
We are not dieticians, nutritionists or medical professionals. The materials on this blog are for informational (and fun) purposes only. We do not fact check, nor do we worry about sources. Please do your own fact checking. We encourage you to look things up and check with your doctor or health care professional before acting on anything seen on Fluffy Chix Cook. xoxo